Aussies Callum Scotson and Cameron Meyer continue to lead Six Day in London, Cavendish and Kennaugh win final Madison Chase
London Six Day – Day 3
Three laps down in the standings going into the last race of the night, the Brits took a lap and won the final sprint to move to within one lap, and two points ahead, of leaders Callum Scotson and Cameron Meyer.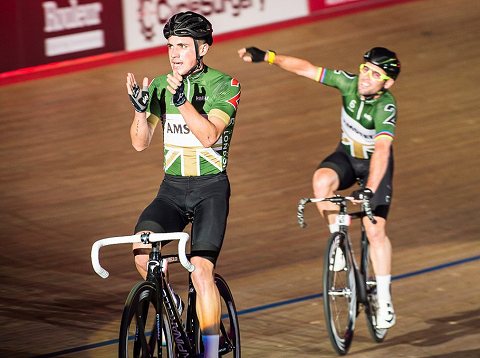 Photo: @sixdaycycling (Ben Pipe)
Cavendish had earlier suffered another mechanical problem in his 40-lap derny heat, his foot again unclipping from the pedal which resulted in him losing a lap but fuelled the fires for a stellar Madison performance. "It's difficult to try and win here with the best Madison and Six Day riders," Cavendish admitted. "It's Pete's first Six Day so we can't really think about the overall we just have to think about trying to win what we want to win."
"Pete was great today, he really gritted his teeth in that last race and that's what you need to be a Six Day rider. Kennaugh admitted he was feeling the effects of the frantic pace over the opening three days but was delighted to get his first professional Six Day race win. "It's been a long night to be honest, I was average in the first chase then I really struggled in the points race — I just didn't feel on top of my game at all," he said.
"It's the third night so I was starting to wonder if I was going to get a win, Cav's picked one up on his own in the first two nights and I'm still trying to get to grips with it all but it feels amazing to get that first win."
Day 3 begun with the 45-minute Madison Chase and it was Kenny de Ketele and Moreno de Pauw who hit back from a relatively disappointing Day 2 to start Thursday with a bang – one of four teams to take a lap before going on to win the final sprint for the line.
The night's first 40-lap derny heat saw Yoeri Havik continue the form that helped him and Roy Pieters win Day 2's closing Madison as he won the race that saw Cavendish finish last. Three more teams then had their shot at points in the two-lap Madison time trial but it was overnight leaders Marc Hester and Casper Pedersen who remained in the hotseat as no-one could top their effort from night two.
And there was more Danish success in the team elimination as Casper von Folsach and Niklas Larsen continued their impressive form with another win – much to the shock of the young duo. "It's quite surprising to be honest. This is the first time we targeted this event and I think it's what you call a lucky punch," said von Folsach.
After the Danish dominance it was time for the home crowd to have something to cheer about as they celebrated back-to-back-to-back British wins. It was Mark Stewart who got the ball rolling with a supreme points race performance to rack up 43 points, thanks in large part to a win in the final sprint, to beat de Ketele and Pedersen into second and third place, respectively. "I thought I'd try and go for it and take the first sprint, not really think about it and use the legs and it worked," he admitted.
Meyer and Scotson still lead overall for Australia. Photo: Drew Kaplan
But the Brits were not done there and Chris Latham staged a huge attack in the final two laps of the second 40-lap derny race to pip countryman and Six Day London 2015 teammate Ollie Wood into second place – Scotson finishing third to put the Australian team back into the overall lead heading into the final race of the night.
And the shorter of the night's two Madisons exploded from the gun with the Manx-men gaining a lap in the opening stages alongside Dutchmen Havik and Roy Pieters, as well as Hester and Pedersen. Cavendish and Kennaugh then took a single point in the first sprint to move into the race lead and that was secured by a lengthy final attack to guarantee taking the final sprint
Other Events
In the sprinters' competition it was all about the big Kiwi boys Ethan Mitchell and Eddie Dawkins – who both broke the Six Day London track record in the 200m flying lap time trial. It was Mitchell who stopped the clock fastest though, in 10.171s – just 0.008s ahead of his countryman. That set up a match sprint final between the two, Mitchell again getting the better of Dawkins.
"We have Kiwi cups every day at home in training. Eddie managed to get it last night but I managed to sneak underneath him there and hold on for tonight's sprint," Mitchell  said. "But Eddie managed to get himself a warm beer so I'm sure he'll come out fighting tomorrow." Mitchell did indeed have a cheeky sip of a fan's pint on the startline – but according to the Olympic silver medallist it was only what he was owed.
"He took a photo of me so I thought the only payment worthy of that photo was a wee sip of his beer and it was bloody delicious," he said. "It was cold, it was a nice Kiwi temperature." The day's remaining sprint event saw American showman Nate Koch get a first win of the race, in the keirin, while earlier in the night Bryan Boussaer and Jules Hesters wrapped up the 1878 Cup with a third 40-minute Madison win of the week.
---
… continued after advert
RESULTS
OVERALL
1 MEYER / SCOTSON 0 216
2 HAVIK / PIETERS 0 208
At one lap
3 DE KETELE / DE PAUW -1 235
4 TORRES / MORA VEDRI -1 230
5 CAVENDISH / KENNAUGH -1 218
at three laps
6 LARSEN / VON FOLSACH -3 205
7 ENGLISH / DOWNEY -3 177
8 PEDERSEN / HESTER -3 174
9 KNEISKY / THOMAS -3 161
10 REINHARDT / THIELE -3 139
at four laps
11 WOOD / STEWART -4 177
at five laps
12 BURKE / LATHAM -5 127
at seven laps
13 STOPLER / VAN ZIJL -7 53
at eight laps
14 PSZCZOLARSKI / TEKLINSKI -8 74
at 10 laps
15 HACECKY / KANKOVSKY -10 55
at eleven laps
16 SCHMIEDEL / BEYER -11 45
Madison Chase
1 CAVENDISH / KENNAUGH 0 11
2 PEDERSEN / HESTER 0 –
3 HAVIK / PIETERS 0 –
at one lap
4 ENGLISH / DOWNEY -1 11
5 TORRES / MORA VEDRI -1 4
6 LARSEN / VON FOLSACH -1 3
7 WOOD / STEWART -1 2
8 BURKE / LATHAM -1 2
9 MEYER / SCOTSON -1 –
10 KNEISKY / THOMAS -1 –
11 PSZCZOLARSKI / TEKLINSKI -1 –
12 REINHARDT / THIELE -1 –
13 HACECKY / KANKOVSKY -1 –
14 DE KETELE / DE PAUW -1 –
at two laps
15 STOPLER / VAN ZIJL -2 –
16 SCHMIEDEL / BEYER -2 –
Derny Race 1
1 Chris LATHAM
2 Ollie WOOD
3 Callum SCOTSON
4 Morgan KNEISKY
5 Casper VON FOLSACH
6 Moreno DE PAUW
7 Albert TORRES
Points Race
1 Mark STEWART 43
2 Kenny DE KETELE 32
3 Casper PEDERSEN 27
4 Cameron MEYER 24
5 Niklas LARSEN 20
6 Mark DOWNEY 20
7 Sebastian MORA VEDRI 6
8 Vojtech HACECKY
9 Peter KENNAUGH
10 Maximilian BEYER
11 Nick STOPLER
12 Roy PIETERS
13 Theo REINHARDT
14 Adrian TEKLINSKI
15 Steven BURKE -17
16 Benjamin THOMAS -20
Team Elimination
1 LARSEN / VON FOLSACH
2 REINHARDT / THIELE
3 ENGLISH / DOWNEY
4 KNEISKY / THOMAS
5 CAVENDISH / KENNAUGH
6 MEYER / SCOTSON
7 TORRES / MORA VEDR
8 DE KETELE / DE PAUW
9 PSZCZOLARSKI / TEKLINSKI
10 HAVIK / PIETERS
11 BURKE / LATHAM
12 HACECKY / KANKOVSKY
13 WOOD / STEWART
14 PEDERSEN / HESTER
Derny Race
1 Yoeri HAVIK
2 Marc HESTER
3 Kersten THIELE
4 Felix ENGLISH
5 Sebastian SCHMIEDEL
6 Wojciech PSZCZOLARSKI
7 Mark CAVENDISH
… continued after advert
Final Overall Under 21 Three Day
1 BOUSSAER / HESTERS 0 113
2 LONGSTAFF / VAUGHAN -2 102
3 AUGENSTEIN / WEISPFENNIG -2 86
4 FYNBO / BIRKEMOSE -2 58
5 MEW JENSEN / MOLLERUP -2 29
6 MEYERS / HEINDERSON -2 20
7 PAGE / ROSE-DAVIES -2 16
8 ROTHERHAM / PARTINGTON -3 11
9 DRAPER / COOPER -4 38
10 CADAVID / RAYMOND -4 8
11 DAVIES / TILLETT -4 6
12 MACKAY / GUGGEMOS -4 3
13 WALTERS / HAMES -9 3
14 ROSING / BRADSHAW -28 –
15 GRAY / LORD -36 2
Madison Day 3
1 BOUSSAER / HESTERS 0 29
2 LONGSTAFF / VAUGHAN -1 44
3 AUGENSTEIN / WEISPFENNIG -1 33
4 DRAPER / COOPER -1 24
5 FYNBO / BIRKEMOSE -1 15
6 MEW JENSEN / MOLLERUP -1 11
7 MEYERS / HEINDERSON -1 10
8 PAGE / ROSE-DAVIES -1 9
9 CADAVID / RAYMOND -1 6
10 DAVIES / TILLETT -1 3
11 ROTHERHAM / PARTINGTON -1 2
12 MACKAY / GUGGEMOS -3 1
13 WALTERS / HAMES -5 –
14 ROSING / BRADSHAW -11
15 GRAY / LORD -15 –
---
Overall – Sprinters
1 Ethan MITCHELL 134
2 Edward DAWKINS 116
3 Max LEVY 114
4 Juan PERALTA 111
5 Matthew ROTHERHAM 90
6 Nate KOCH 74
Flying 200m
1 Ethan MITCHELL NZL 10.171 70.789 km.h
2 Edward DAWKINS NZL 10.179 70.733 km.h
3 Max LEVY GER 10.362 69.484 km.h
4 Juan PERALTA ESP 10.530 68.376 km.h
5 Matthew ROTHERHAM GBR 10.771 66.846 km.h
6 Nate KOCH USA 11.381 63.263 km.h
Sprint Final
1 Ethan MITCHELL
2 Edward DAWKINS
3 Max LEVY
4 Juan PERALTA
5 Matthew ROTHERHAM
6 Nate KOCH
Keirin Final
1 Nate KOCH
2 Max LEVY
3 Matthew ROTHERHAM
4 Juan PERALTA
5 Ethan MITCHELL
6 Edward DAWKINS
Send your results as well as club, team & event news here
---
Other Results on VeloUK (including reports containing results)

---
Other News on VeloUK