Post race chat with defending Hill Climb champion Adam Kenway of Raleigh GAC after he was second in the 2017 Hill Climb Championships at Hedley on the Hill.
Feature: Adam Kenway (Raleigh GAC)
At the British Hill Climb Championships on Sunday, up a mile long twisty turny climb up to Hedley on the Hill west of Newcastle in the North East, Adam Kenway finished second, five seconds off the winners time.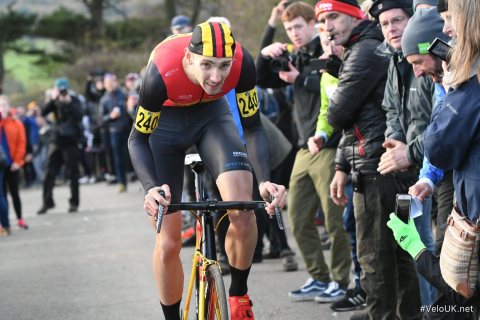 The defending champion, Adam has been racing in the champion's colours thanks to Primal Europe, the team's clothing provider, and went into the Championship at Hedley on the Hill as a favourite but looking at a poll on social media, the eventual winner Dan Evans was the more favoured rider on the course in the North East.
As he rolled back down the hill afterwards, Adam as ever was all smiles saying "Dan is a cracking rider and it was a really good ride by him. I haven't really lost today even though he beat me. I probably could have gone a bit harder at the bottom on my ride but at the top I rode well. I am happy with second in the national championship, happy with my season and the form but can't wait to eat some cakes!"
"Dan is a worthy champion."
Adam explained how the riders who finished behind him are also cracking riders so he is pleased with second. Talking about his ride he says "I expected it to be a bit harder at the top so I didn't go too hard at the bottom, and I got to the final hairpin about three quarters the way up and I just went for it. If the course had of been a bit longer, maybe there would have been a different result but hill climbing is all about timing the effort…"
Adam (right) with Kieran Savage (3rd), Dan Evans (champion) and special guest, Jeff Wright a legendary hill climber.
Adam explained as well, that on the climb that had a lot of gradient changes, there were only four or five gear changes in the mile long race against the watch. "I managed to keep on top of the gears," he says "and when it got steeper, I got out of the saddle, kept the gear going and over the top, sat back down and accelerated again".
With the season over now, will we see Adam back again in 2018? "After a long road season, the hill climb season is less enjoyable just because you're a bit tired and don't have the enthusiasm you normally do which you need for hill climbs! But the championship next year is supposed to be right up my street (not literally of course); two and half to three minutes with some steep twenty percenters in it so keep that trophy warm Dan!"
Thanks to Adam for his updates and have a good rest before we see you back next road season.
Send your results as well as club, team & event news here
---
Other Results on VeloUK (including reports containing results)

---
Other News on VeloUK