It's less than a week away and the British 2018 CycloCross Championships will soon be upon us – VeloUK went to see the course with competitor & consultant to the organisers, Keith Murray recently
Preview: British 2018 CX Championships
Hetton Lyons Country Park, Downs Pit Lane, Hetton Le Hole, HOUGHTON LE SPRING, DH5 0RH
– Day 2 to be streamed live – a page will be live prior to the event starting…
Preview
It's still three weeks away but the British 2018 CycloCross Championships will soon be upon us so VeloUK went to see the course with competitor & consultant to the organisers, Keith Murray
It was the day after the Bradford Trophy, a month out from the championships and I was keen to see what would be different to the National Trophy course that was held at Hetton Lyons last year. There to meet me was Keith Murray, a well known figure in cyclo-cross both nationally and in the North East and who has helped organise National Trophy events as well as compete in them and the National Championships for many years.
Click for a bigger version …
To be successful on the course at Hetton Lyons Country Park (near Sunderland) will take fitness, luck and skill Keith says adding "it is the ultimate course for the national champs which it should be".
The course, as we found walking it on a freezing cold morning the day after the Bradford National Trophy, has a lot of elevation and riders will always be going up hill and down track as those who rode the Trophy there will already know.
And whilst the organisers have pinned down lots of details for the big weekend, the only guessing game will be the conditions but we can't even begin to predict what they might be other than cold.
The Course
At the National Trophy last year at Hetton Lyons Country Park there was a big bottle neck on the run up to the bank just after the start so the start of the course for the 2018 Championships will have more of a sweeping run into the first off road section and will miss the run up on the out lap.
This will add around 50 or so metres into a right hand turn taking the riders up through the trees on a drag of a climb to join the course and the section that was pretty muddy last year. Still is if it was frozen solid!
Keith says of this opening section, "I think that will add to the race in that anyone who doesn't get a great starting position, isn't going to get held up with a back log of riders so that will make it more of race on that first lap".
That opening lap aside, the course overall is pretty similar to the last National Trophy and it has a mix of terrain; muddy bits, grassy sections, off camber and tarmac. "We have made minor tweaks like taking out some off camber bits which didn't add anything to the race for example" says Keith.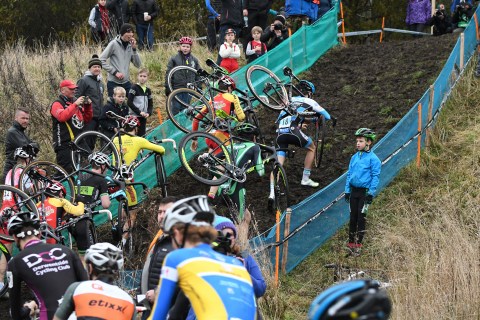 "The whole mantra for this course is for the riders to be racing each other rather than battling with the course. Obviously, if we have torrential rain and it is really muddy, it might be a man versus course battle but if it's icy like it is today, it will be a totally different race".
The feature of the course which the guys from the Hetton club dug out of the grass bank a few weeks before the Trophy last year, is a sweeping off camber right hand descent which will feature again in the 2018 championships.
It is, Keith says, a true 'cross course with some running on the one bank where you may be able to gain ten seconds on someone but equally there are some drags where if you haven't got the tyre pressures right, and can't find the line where there is traction, a runner will lose those ten seconds and a punchy rider will do well. "It will suit riders like Nick Craig, Paul Oldham and Ian Field" added Keith.
Like it is for any region, the event is the jewel in the crown for CXNE. Mike Charlton and Lisa Cooke are the lead organisers with Hetton Hawks cycling club and Keith says they have had a fantastic response from cross riders and their family and friends in the North East to volunteer and help at the championships.
Since the rebirth of 'CXNE', they have held five National Trophy events, two at South Shields that Jamie Brady headed up, a couple at Durham that Keith Murray was involved in and then Hetton Hawks put on an amazing race last year.
This championship, says Keith, will have the pinnacle of organisation and be a show piece of the sport and show how far it has come since CXNE was reborn ten years ago. "It will show we have the resources, organisation, the riders and the volunteers to put the British Championships on" explained Keith.
Hurdles – Coming off the tarmac with a right hander and onto the grass, the hurdles are immediately before the pits – here is Beth Crumpton taking them in her stride at the Trophy held at Hetton Lyons Country Park.
The Pits. The exit from the first pit will be slightly different and the approach to the run up will be slightly longer.
The Bridge: Steve Hesler, the construction guy, he's planning his MKII bridge that will be bigger, steeper, faster. Last year Tom Pidcock was pulling cross ups on it so that will be on the cards again and the bridge is good because it gives the riders some speed into the grassy back section. I think we will change section that a little so you hit the off camber section with a bit of speed rather than turning on the camber and sliding into the tapes if it's wet.
The bit in the woods is still there and has been opened up a bit more with a steeper, faster drop into it preceded by a swooping corner and a punchy climb into the woods. Here Ffion James at speed on the descent into the woods last year
THE EVENT SCHEDULE
FRIDAY THE 12TH OF JANUARY
5am – Course Building
1pm – Commisaires course inspection
2.30pm – Course open for practice
4.00pm – Course closed
SATURDAY THE 13TH OF JANUARY
8.15-9.15 Course open for practice
Race 1: Veteran Women 09:30
Race 2: Veteran Men 50+ 11:00
Race 3a: Youth Under 16 Girls 12:15
Race 3b: Youth Under 14 Girls 12:16
Race 4a: Youth Under 16 Boys 13:15
Race 4b: Youth Under 14 Boys 13:16
Race 5: Veteran Men 40- 49 14:30
SUNDAY THE 14TH OF JANUARY
Official Practice 08:15 – 09:15
Race 1: Under 23 Women 09:30
Race 2: Under 23 Men 10:45
Race 3: Junior Men 12:00
Race 4: Elite Women 13:15
Race 5: Elite Men 14:30
The Riders
Whilst entry was (is) still open, there is a list of riders already entered and on it are those expected to be in contention for the titles. The British Championships are in some ways hard to predict, especially in the non Elite categories, because not all the contenders do the National Trophy and that leaves the way open for some surprises.
In the Elite men though, the battle for the win should be between defending champion Ian Field (Hargroves-Ridley-Montezuma's) and Grant Ferguson who was second in Bradford. Lewis Craven sprung a surprise with third at Bradford ahead of Field and so has thrown his hat into the ring as a medal contender but the surprise is no entry for Liam Killeen which is a shame as the former champion always adds that extra spice to a race. Fingers crossed he races it…
Other riders to watch out for include Jack Clarkson, former champions Nick Craig and Paul Oldham, David Fletcher, Steven James and Rob Jebb.
In the Elite Women, Helen Wyman has been in sparkling form in the World Cups and will be chasing at least her 10th title but Nikki Brammeier riding for an exciting new team (details next week) has won the last two years and those two should be the main contenders along with Beth Crumpton and Hannah Payton.
Of all the races though, the Under 23 ones for Men and Women look like being absolute blinders. Being first up on the second day, the first race on the Sunday will be the Women's race and what a corker of a line up this is. To begin with, a former World champion in Evie Richards. Add to that mix a very talented Sophie Wright, Ffion James, and Anna Kay and the fight for the stripes in this race should be a good one.
Others to look out for include Emily Ashwood, Xan Crees, Harriet Harnden, Abbie Manley (Hargroves-Ridley-Montezuma's) Amira Mellor, Amy Perryman (Hargroves-Ridley-Montezuma's), Kara Perryman (Hargroves-Ridley-Montezuma's) and Sophie Thackray. No doubt there will be others!
And if the Under 23 Women's race is exciting, then the Men's Under 23's will be the same or more so. Tom Pidcock leads the charge and the double world champion in cross and the time trial (Junior) has already shown at Under 23 level he will take some beating.
Ben Turner likewise has shown great form and will be in the mix and Daniel Tulett too should be another name ringing out over the loud speakers in the race. Billy Harding has led the way in the Under 23 national trophy whilst other names to listen out for are Frazer Clacherty, Calum Fernie, George Fox, William Gascoyne, Ross Harnden, Thomas Mein, Cameron Orr, Joe Williams and Harry Yates (Hargroves-Ridley-Montezuma's)
The first race to kick off the championships weekend will be the Women's Veteran title race where National Trophy star and new world champion Kate Eedy is a favourite as is Maddie Smith who was in awesome form at Bradford. Another new world champion competing will be Helen Pattinson (Hargroves-Ridley-Montezuma's) whilst other names to look out for are Marie Jackson, Alison Kinloch and Lucy Siddle.
… continued after advert
The second race of the championships will be the Veteran 50 Plus with favourites being Tim Davies, Pete Middleton and Tim Gould. There is though a familiar name in the entry list, five times a consecutive winner of the British National Cyclo-cross Championships between 1978 and 1982, Chris Wreghitt. The results this season don't suggest he'll be a contender but he's a class act providing of course it's the same Chris Wreghitt!
Other names expected to be in the fight for the stripes are Roy Chamberlain, the North East's Noel Clough, Steven Davies (Hargroves-Ridley-Montezuma's), Julian Gould, Dave McMullen, Phil Roach and Mick Style.
One of the favourites for the Junior Men, Cameron Mason
The racing that day is then all Youth based until the final race on Saturday is the Vet 40 one. First up for the Youth races are the Under 16 Girls where Millie Couzens is the overwhelming favourite with Anna and Maddie Wadsworth expected to be in the mix along with Anna Flynn, Lucy Hart, Chloe Hinchliffe, and Eluned King.
In the Under 14 Girls races at the same time, this will be a tough battle for the jersey with the likes of Zoe Backstedt, Grace Lister and Ella Maclean-Howell just three names expected to feature. Emily Carrick-Anderson, Anoushka Minale and Madeleine Osborn are others showing good form.
It is then the turn of the boys and in the Under 16 Boys event, the favourite list is headed up by the current National Trophy Series leader Oliver Stockwell. Based on current results others like Emile Alexander and Daniel Barnes will be in the battle at the front along with Joseph Pidcock, Alec Gregory, Finlay Pickering and Adam Bent.
The Under 14 Boys is too close to call as well with so many of these young lads taking it in turns to win in the National Trophy with Joshua Tarling winning at Bradford but Ben Askey wasn't far away and others like Sullivan Berry and Griff Lewis should also feature at the front of the race.
Nick Craig, a favourite for the Veteran 40 event
The final race on the Saturday is the Vet 40s and in this picking a winner is a little difficult because although Nick Craig has pretty much dominated the National Trophy Series, he will have his challengers. Paul Oldham for example and Ian Taylor who have both beaten Nick this season but there is so little between them, that the battle for the jersey should be an enthralling one. Others in the mix should include Daniel Alexander, Darren Atkins, Neil Ellison, Adrian Lansley and Lee Shunburne among others.
Fast forward to Sunday and after the Under 23 championships, the Junior Men take to the course and in there, the favourite is a young rider doing big things in Europe, Ben Tulett. But keeping him honest will be the likes of Euan Cameron, Oliver Draffan, Matthew Ellis, Jenson Young and the National Trophy Series leader Cameron Mason who knows how to handle his bike and has the power too for pushing the pedals around quickly.
As always, the British Championships is always a step up from the Trophy races and some great racing is expected ….
Other Related Links
– Bradford National Trophy Result
– National Trophy Standings with One Round to go
– 2017 British Cyclo-Cross Championships Day 2
– 2017 British Cyclo-Cross Championships Day 1
… continued after advert
2018 NATIONAL CYCLO-CROSS CHAMPIONSHIPS
SATURDAY – SUNDAY 13-14 JANUARY 2018
9:30 am SATURDAY: VETERAN WOMEN'S CHAMPIONSHIP – 40 minutes
2017 Champion: Maddi Smith.
Veteran 40-44 (born 1973-1977)
1 Melanie Annable Allen Valley Velo
2 Lucy Siddle Allen Valley Velo
3 Louise Wainwright Bolsover & District Cycling Club
4 Verity Appleyard Brotherton Cycles
5 Kate Eedy Team Empella Cyclo-Cross.Com
6 Emma Payne Fossa Racing
7 Sarah Grimshaw Horwich CC
8 Alison Kinloch PH-MAS/Paul Milnes/Oldfield ERT
9 Karen Poole Sportstest RT
Veteran 45-49 (born 1968-1972)
10 Maddi Smith Bolsover & District Cycling Club
11 Pamela Glover Derwentside CC
12 Caroline Harvey Edinburgh RC
13 Helen Pattinson Hargroves-Ridley-Montezuma's
14 Alison Sarmiento Harrogate Nova CC
15 Caroline Mansfield The MI Racing Academy
16 Louise Hamilton Mountain Goat Coaching
17 Helen Dussek Nottingham Clarion CC
18 Mandie James Pearce Cycles RT
19 Nicola Hartle PH-MAS/Paul Milnes/Oldfield ERT
20 Joanne Newstead XRT – Elmy Cycles
Veteran 50-54 (born 1963-1967)
21 Julie Phelan Here Come The Belgians
22 Catherine Kilburn Mid Devon CC
23 Marie Jackson Paul Milnes – Bradford Olympic RC
24 Jo-Anne Perry PMR
25 Brenda Callander Stirling Bike Club
Veteran 55+ (born 1962 or earlier)
26 Nicola Davies Beacon Wheelers
27 Sally Reid Team Jewson-M.I.Racing-Polypipe
28 Elizabeth Clayton Stirling Bike Club
29 Suzanne Young Individual Member
11:00 am SATURDAY: VETERAN OVER 50 MEN'S CHAMPIONSHIP – 40 minutes
2017 Champion: Chris Young.
Veteran 50-54 (born 1963-1967)
1 Timothy Davies CC Abergavenny/JP Signs & Print
2 Andrew Moss Adept Precision RT/NE Healthcare
3 Simon Hale Army Cycling Union
4 Richard Atkinson Ashburn Wealth
5 Brian Johnson Barnesbury CC
6 Thomas Bardgett Beacon Wheelers
7 Michael Leaney Bolsover & District Cycling Club
8 Martyn Dymond C and N Cycles RT
9 Terry Smith Colchester Rovers CC
10 Roy Chamberlain Team Corley Cycles
11 Peter Hutchinson Cotswold Veldrijden
12 Sean Hoban Velo Club Cumbria
13 Edward Sarmiento cyclocrossrider.com
14 Robert Smith Derwentside CC
15 Calvin Price Dunfermline CC
16 John Elwell East Bradford CC
17 Simon Whitham Team Empella Cyclo-Cross.Com
18 Andrew Edmond Ferryhill Wheelers CC
19 Noel Clough Fietsen Tempo
20 Simon Hime Finchley Racing Team
21 Stuart Pickering http:// giant-helston.co.uk
22 James Melville Glasgow United CC
23 Robin Myers Hamsterley Trailblazers
24 David Headon Horwich CC
25 Patrick Hayes Hub Vélo
26 John Docker Huddersfield Star Wheelers
27 Tim Gill Ilkley Cycling Club
28 John Wood Ilkley Cycling Club
29 Dave CoplandIpswich Bicycle Club
30 Mark James Team Jewson-M.I.Racing-Polypipe
31 Stephen Knight Team Jewson-M.I.Racing-Polypipe
32 Harvey Levann Team Jewson-M.I.Racing-Polypipe
33 David Smith Kendal Cycle Club
34Stephen Crawford Kinross CC
35 Mark Rowson Macclesfield Wheelers
36 Mick Style Manchester Wheelers Club
37 Andy Collins Mid Shropshire Wheelers
38 Matt Wilson Mountain Goat Coaching
39 Michael Aspey Northumbria Police Cycling Club
40 Nigel Gregory Pedal Power Loughborough
41 Andrew Cracknell Pedalon.co.uk
42 Ian Knights Prima Team Racing
43 Richard Muchmore Renvale RT
44 Stephen Clayton RT 23
45 Stephen Bottomley Shibden Cycling Club
46 Stephen Newton Stockton Wheelers CC
47 Gary Worton Stockton Wheelers CC
48 Stephen Whitehouse Stourbridge CC
49 Graeme Gow Tyneside Vagabonds CC
50 Kevin Holloway GS Vecchi
51 Robert Tutt Velo Club Venta
52 Michael Bowen West Suffolk Wheelers
53 Adrian Hill Wilsons Wheels Race Team
54 Sean Beswick Zepnat RT – Lazer Helmets
55 Julian Gould Zepnat RT – Lazer Helmets
56 Timothy Gould Zepnat RT – Lazer Helmets
57 Pete Middleton Zepnat RT – Lazer Helmets
58 Wayne Nicholson York Cycleworks
59 Steve Shepherd Individual Member
60 Murray Swanson Individual Member
Veteran 55-59 (born 1958-1962)
61 Alistair Dow Edinburgh RC
62 Ian Brown Fietsen Tempo
63 Steven Davies Hargroves-Ridley-Montezuma's
64 John Graveling Harrogate Nova CC
65 Charles Warren Harrogate Nova CC
66 Mark Ferguson High Peak Cycles RT
67 Michael Scott Holmfirth Cycling Club
68 Ian Robson Ipswich Bicycle Club
69 Kirby Bennett Team Jewson-M.I.Racing-Polypipe
70 Peter Busby Team Jewson-M.I.Racing-Polypipe
71 Philip Roach Team Jewson-M.I.Racing-Polypipe
72 Glenn Coltman Leicestershire Road Club
73 Jan Shearsmith Manchester Wheelers Club
74 Paul Dalton Matlock CC
75 Robin Delve Mid Devon CC
76 Anthony Dyment North Hampshire RC
77 Gary Hipwell Rugby Velo
78 Chris Wreghitt Second Wind
79 Grant Johnson Sunset Cycles
80 Tim Costello GS Vecchi
81 Andrew Smith Individual Member
Veteran 60-64 (born 1953-1957)
82 Geoff Turner Barnesbury CC
83 Robin Akers Beeline Bicycles RT
84 James Sutherland Bolsover & District Cycling Club
85 David Robinson Flex-Tech Ettridge Cycles RT
86 Timothy Stowe Team Jewson-M.I.Racing-Polypipe
87 Clifford Featherstone MTS Cycle Sport
88 Barry Kipling MTS Cycle Sport
89 Peter Harris Pearce Cycles RT
90 Brian Perks Pedalsport Cycling Club
91 Roger Mitchell VC Veldrijden
92 Malcolm Cross Velo Club Venta
93 John Gilling Individual Member
94 Peter Payton Individual Member
Veteran 65+ (born 1951 or earlier)
95 Joseph Rowe Bush Healthcare CRT
96 Dave McMullen Cotswold Veldrijden
97 Philip Jones Crosstrax
98 Colin Murley Derwentside CC
99 Peter Mooney Rugby Velo
100 Victor Barnett Welland Valley CC
12:15 pm SATURDAY: UNDER-16 & UNDER-14 GIRLS CHAMPIONSHIPS – 30 minutes
Under-16 Girls 2017 Champion: Harriet Harnden
Under-14 Girls Champion: Eva Young
Youth Under-16 Girls
1 Anna Wadsworth Beeline Bicycles RT
2 Maddie Wadsworth Beeline Bicycles RT
3 Molly Peel Bourne Wheelers CC
4 Chloe Hinchliffe Bradford Olympic
5 Rebecca Dawes Clifton CC
6 Lucy Buckley Cycle Derby CC
7 Ellie Dilks Cycle Derby CC
8 Roisin Lally Derwentside CC
9 Anna Flynn Edinburgh RC
10 Bethany Barnett Kings Lynn CC
11 Josie Nelson Lichfield City CC
12 Charlotte-Louise McGreevy LIV AWOL
13 Iona Moir LIV AWOL
14 Lotta Mansfield The MI Racing Academy
15 Amelie Wayte The MI Racing Academy
16 Lucy Hart Mid Shropshire Wheelers
17 Eva Young Pedal Power RT
18 Jasmine Lomas Pedalsport Cycling Club
19 Millie Couzens PH-MAS/Paul Milnes/Oldfield ERT
20 Jasmine Kent Pink Jersey Race Team
21 Freja Smith Racing Metro 15
22 Amy Cantelo Solent Pirates
23 Ella Lawrence Solent Pirates
24 Poppy Pattinson Solent Pirates
25 Eluned King Towy Riders
Youth Under-14 Girls
81 Madeleine Osborn Abergavenny Road Club
82 Amelia Cox Bicester Millennium CC
83 Evie Steed Bolsover & District Cycling Club
84 Eleanor Peel Bourne Wheelers CC
85 Emily Richards Bourne Wheelers CC
86 Ella Maclean-Howell Cardiff J.I.F.
87 Ella Jamieson Clifton CC
88 Elizabeth McKinnon Derwentside CC
89 Phoebe Skinner Derwentside CC
90 Eva Newby Furness Future Flyers
91 Holly Bailey Heanor Clarion CC
92 Katie Hadnum Hetton Hawks Cycling Club
93 Willow Morris Hetton Hawks Cycling Club
94 Anoushka Minale Hub Vélo
95 Amy Mourne Huddersfield Star Wheelers
96 Freya Whiteside Ilkley Cycling Club
97 Eleanor Bolton Lee Valley Youth Cycling Club
98 Libby Bell Leicester Forest CC
99 Zoe Backstedt Maindy Flyers Youth CC
100 Harriet Limb Matlock CC
101 Annabel Parker Matlock CC
102 Daphne Jones Mid Shropshire Wheelers
103 Grace Castle Mountain Goat Coaching
104 Hermione Pickering Paul Milnes – Bradford Olympic RC
105 Emily Carrick-Anderson Peebles CC
106 Christina McGorum Peebles CC
107 Ruby-Soho Smith Peebles CC
108 Lucy Dalgleish Salt Ayre Cog Set
109 Sapphire Curtis St Ives CC
110 Beatrice Pauley St Ives CC
111 Eilidh Shaw Stirling Bike Club
112 Kacey Eyeington Stockton Wheelers CC
113 Phoebe Roche Sutton Cycling Club/ C & N Cycles
114 Katie Galloway West Lothian Clarion CC
115 Grace Lister Wolverhampton Wheelers
116 Amber Brameld Individual Member
117 Anna Reid Individual Member
1:15 pm SATURDAY: UNDER-16 & UNDER-14 BOYS CHAMPIONSHIPS – 30 minutes
Under-16 Boys 2017 Champion: Ben Tulett
Under-14 Boys 2017 Champion: Adam Bent
Youth Under-16 Boys
1 Thomas Crapper Abergavenny Road Club
2 Aled Trott Abergavenny Road Club
3 William Truelove Abergavenny Road Club
4 Spencer Davies CC Abergavenny/JP Signs & Print
5 Arthur Boulton Banjo Cycles
6 Matti Egglestone Beacon Wheelers
7 Bryn Richards Bourne Wheelers CC
8 Aidan Lawrence C and N Cycles RT
9 Sam Bishop Charlotteville CC
10 Euan Sanderson Cleveland Wheelers CC
11 Michael Newall Cycle Derby CC
12 Ben Chilton Derby Mercury RC
13 Lucien Cuming East Bradford CC
14 Ethan Whiteside East Bradford CC
15 Daniel Vincent Eastlands Velo
16 George Ball Furness Future Flyers
17 Alfie Savage Furness Future Flyers
18 Gregor Robb Glasgow Riderz
19 Benjamin Peatfield Green Jersey RT
20 David Hird Halesowen A & CC
21 Simon Wyllie Halesowen A & CC
22 Joshua Charlton Hetton Hawks Cycling Club
23 Thomas Godber Hetton Hawks Cycling Club
24 Harrison Lee Hetton Hawks Cycling Club
25 Harry Morris Hetton Hawks Cycling Club
26 Adam Jackson Huddersfield Star Wheelers
27 Ewan Berry Team Empella Cyclo-Cross.Com
28 Kieran Riley Langdale Lightweights Racing Team
29 Max Bolton Lee Valley Youth Cycling Club
30 Luke Prenelle Lee Valley Youth Cycling Club
31 Jamie Johnston Leslie Bike Shop/Bikers Boutique
32 Rory McGuire Leslie Bike Shop/Bikers Boutique
33 Emile Alexander Lichfield City CC
34 Daniel Barnes Lichfield City CC
35 Matthew Kingston Lichfield City CC
36 Robert Rowson Macclesfield Wheelers
37 Joe Thorp Macclesfield Wheelers
38 Benjamin Bright Marsh Tracks Racing – Trek
39 Jack Brough The MI Racing Academy
40 Joshua Giddings The MI Racing Academy
41 Edward Woodward The MI Racing Academy
42 Zack Harrop Mossley CRT
43 Tyler Koch Mossley CRT
44 Adam Bent Nutcracker Altura Racing
45 Dexter Leeming-Sykes Otley CC
46 Gareth Davies Palmer Park Velo RT
47 Euan Macleod Palmer Park Velo RT
48 Duncan Pritchard Palmer Park Velo RT
49 Daniel Hepton Paul Milnes – Bradford Olympic RC
50 Alec Gregory Pedal Power Loughborough
51 Marcus Hiley Pedalsport Cycling Club
52 Corran Carrick-Anderson Peebles CC
53 Finlay Pickering PH-MAS/Paul Milnes/Oldfield ERT
54 Joseph Pidcock PH-MAS/Paul Milnes/Oldfield ERT
55 Max Poole PH-MAS/Paul Milnes/Oldfield ERT
56 William Dykes Salt Ayre Cog Set
57 Jake Edwards Salt Ayre Cog Set
58 Tom Lees Salt Ayre Cog Set
59 Sam Murray SCOTT Racing
60 Jack Ackroyd Shibden Cycling Club
61 Samuel Howes Sleaford Whls CC
62 Sam Freeman Solent Pirates
63 Henry Johnson Team Striking Bikes
64 Samuel McGhee Sutton Cycling Club/ C & N Cycles
65 Ben Flanagan Tyneside Vagabonds CC
66 Matthew Wells Tyneside Vagabonds CC
67 Joe Kiely Welwyn Wheelers CC
68 Archie Peet Welwyn Wheelers CC
69 Oliver Stockwell Welwyn Wheelers CC
70 Alexander Ball West Lothian Clarion CC
71 George Freeman West Lothian Clarion CC
72 Andrew Turner West Lothian Clarion CC
73 Callum Reid Individual Member
Reserves
74 Duncan Crawford Carnegie Cyclones
75 Finton Price Carnegie Cyclones
76 Ross Birrell Edinburgh RC
77 Louis Moore Edinburgh RC
78 Leo Law Furness Future Flyers
79 Callum Thornley Peebles CC
Youth Under-14 Boys
81 Emyr Truelove Abergavenny Road Club
82 Jensen Windsor Alford Wheelers
83 Bjoern Koerdt All Terrain Cycles Ride In Peace
84 Thomas Wadsworth Beeline Bicycles RT
85 Alex Galpin Bourne Wheelers CC
86 Dan Galpin Bourne Wheelers CC
87 Oliver Peace Bronte Tykes Junior CC
88 Jack Hastings Cardiff J.I.F.
89 Jasper Dilks Cycle Derby CC
90 Otto Chilton Derby Mercury RC
91 Harry Purcell Derwentside CC
92 Michael Tait Derwentside CC
93 Sebastien Cuming East Bradford CC
94 Spike Elwell East Bradford CC
95 Samuel Morris East Bradford CC
96 Ben Ramsden East Bradford CC
97 Callum Watson East Bradford CC
98 Ethan Grimshaw Eastlands Velo
99 Harry Jordan Eastlands Velo
100 Alfie Atterton Edinburgh RC
101 Finlay Cooper Edinburgh RC
102 Archie Ellen Edinburgh RC
103 Frederick Fuller Edinburgh RC
104 Euan Walkingshaw Edinburgh RC
105 Scott Fisher Furness Future Flyers
106 Benjamin Mashiter Furness Future Flyers
107 Alex Barker Halesowen A & CC
108 Joseph Brookes Halesowen A & CC
109 Cody Lee Hetton Hawks Cycling Club
110 Ben Partridge Hetton Hawks Cycling Club
111 Jed Smithson Hillingdon Slipstreamers
112 Cole Nicholson Hoddom Velo
113 Oliver Akers Holmfirth Cycling Club
114 Tom Scott Holmfirth Cycling Club
115 Oliver Griggs Hub Vélo
116 Seb Cliffe Ilkley Cycling Club
117 Owen Prenelle Lee Valley Youth Cycling Club
118 Zak Machin Lichfield City CC
119 Ben Marsh Matlock CC
120 Jude Chamberlain The MI Racing Academy
121 Harry Owen VC Londres
122 Arlo Carey Palmer Park Velo RT
123 Jamie Gostick Palmer Park Velo RT
124 Nathan Cracknell Pedalon.co.uk
125 Oliver Coughlan Pedalsport Cycling Club
126 Harry Ellison Pedalsport Cycling Club
127 Riley Blackmore PH-MAS/Paul Milnes/Oldfield ERT
128 Sullivan Berry Redditch Road & Path CC
129 Corey Whiteford Royal Albert CC
130 Ben Askey RST Racing Team
131 Dylan Edwards Salt Ayre Cog Set
132 Benjamin Livesey Salt Ayre Cog Set
133 Ellis Murray SCOTT Racing
134 Christopher Hilbert Sherwood Pines Cycles- Forme
135 Felix Clacy Solent Pirates
136 William Ryan Solihull CC
137 Ben McMullen Sprockets Cycle Shop Race Team (Scotland)
138 Matthew Brennan Stockton Wheelers CC
139 Dominic Bell Sutton Cycling Club/ C & N Cycles
140 Daniel Holmes Tyneside Vagabonds CC
141 Dominic Switzer Welland Valley CC
142 Caelan Miller Welwyn Wheelers CC
143 Euan Woodliffe Welwyn Wheelers CC
144 Sam Chisholm West Lothian Clarion CC
145 Joshua Tarling West Wales Cycle Racing Team
146 Luke Harris WORX Factory Racing
147 Griff Lewis Ystwyth Cycling Club
Reserves
148 Toby Kershaw Pedalsport Cycling Club
149 Jude Lomas Pedalsport Cycling Club
2:30 pm SATURDAY: VETERAN 40-49 MEN'S CHAMPIONSHIP – 40 minutes
2017 Champion: Nick Craig.
Veteran 40-44 (born 1973-1977)
1 Dave Allen Alford Wheelers
2 Chris Annable Allen Valley Velo
3 Raymond Robinson Army Cycling Union
4 Steve Clark Barnesbury CC
5 Alan Nixon Blumilk.com
6 Richard Skinner Blumilk.com
7 Andrew Taylor C and N Cycles RT
8 Phil Cook Cestria CC
9 Daniel Guest Cotswold Veldrijden
10 Ronnie Batey Cycleways-SG Petch
11 Nigel Dilks Cycle Derby CC
12 Antony Glover Derwentside CC
13 Chris Mather Derwentside CC
14 Tim Berry Team Empella Cyclo-Cross.Com
15 Mike Warbeck Fechan Flyers
16 Andrew Parry Forza Cycles Racing Team
17 Lee Shunburne Fossa Racing
18 Steve Wood Geared Up & CN Cycles RT
19 Crispin Doyle Hargroves-Ridley-Montezuma's
20 David Morris Harrogate Nova CC
21 Chris Glass Hetton Hawks Cycling Club
22 Robert Jebb Hope Factory Racing
23 Paul Oldham Hope Factory Racing
24 Nigel Wood Kendal Cycle Club
25 Richard Edge Nottingham Clarion CC
26 Adrian Lansley Pedalon.co.uk
27 Jamie Norfolk Pedalon.co.uk
28 Richard Crabtree Pedalsport Cycling Club
29 James Dalton Pedalsport Cycling Club
30 Tim Kershaw Pedalsport Cycling Club
31 David Shaw PH-MAS/Paul Milnes/Oldfield ERT
32 Neil Halliday RAMcc
33 Nick Taylor Red Rose Olympic CC
34 Stephen James Renvale RT
35 Colin Miller Ride Coventry
36 Keith Murray SCOTT Racing
37 James Thompson SCOTT Racing
38 Graeme Cross SR Albannach
39 Mark Calvert Team Trident
40 Simon Gibbs Tyneside Vagabonds CC
41 Neil Ellison WDMBC/Specialized Ruislip
42 Kristian Spreckley Withington Wheelers
43 Matthew Eastwood York Cycleworks
44 Henry Aarvold Individual Member
45 Matthew Livesey Individual Member
46 James Raw Individual Member
47 George Richardson Individual Member
Veteran 45-49 (born 1968-1972)
48 Paul Crapper Abergavenny Road Club
49 Christian Roberts Allen Valley Velo
50 Giles Dumont Aurelius Cycles
51 Stefan Macina Aurelius Cycles
52 Paul Mashiter Barrow Central Wheelers
53 Mike Simpson Beeline Bicycles RT
54 David Whittle Bicester Millennium CC
55 Simon Meadwell Bournemouth Jubilee Wheelers
56 Jason Hurt Brother NRG
57 Adrian Lawrence C and N Cycles RT
58 Ian Taylor C and N Cycles RT
59 John Murfin C and N Cycles RT
60 Malcolm Gray Cestria CC
61 Nicholas Whitley Chester RC
62 Anthony Turner Cotswold Veldrijden
63 Simon Pateman cyclocrossrider.com
64 Robert Wimble Drogan Racing Team
65 Craig Donagher Fechan Flyers
66 Matthew Crouch Fossa Racing
67 David Haygarth Here Gome The Belgians
68 Philip Hinchliffe Holmfirth Cycling Club
69 Andrew Brindle Horwich CC
70 Ian Cliffe Ilkley Cycling Club
71 Paul Maven InfinityCycles-Cube Store Cycling
72 Philip Simcock Team JMC
73 Keith Law Lakes RC
74 Phil Smith Lakes RC
75 Franco Porco Leslie Bike Shop/Bikers Boutique
76 Gary McCrae Leslie Bike Shop/Bikers Boutique
77 Neil Mansfield The MI Racing Academy
78 Bill Kay MTS Cycle Sport
79 Raymond Honour MTS Cycle Sport
80 Bryan Holland North Road CC
81 Richard Gostick Pedalon.co.uk
82 Dermot Mckee Pedalsport Cycling Club
83 Mike Young Pedalsport Cycling Club
84 Crawford Carrick-Anderson Peebles CC
85 Michael Burdon PH-MAS/Paul Milnes/Oldfield ERT
86 Craig Tabiner Port Sunlight Whls CC
87 Alan Collins Portsmouth North End CC
88 David Kent Prima Team Racing
89 Warren Drew Rapha Cycling Club
90 Darren Atkins Ride Coventry
91 Michael Hardcastle Royal Air Force CA
92 Nicholas Craig SCOTT Racing
93 Andrew Peace Shibden Cycling Club
94 Chris Taylor Shibden Cycling Club
95 Steven Henshall St Helens CRC
96 Richard Noble Tyne & Wear Fire And Rescue Service CC
97 Tony Mills York Cycleworks
98 Daniel Alexander Zepnat RT – Lazer Helmets
99 James Bryan Zepnat RT – Lazer Helmets
100 Phillip Craker Individual Member
09:30 am SUNDAY: UNDER-23 WOMEN'S CHAMPIONSHIP – 40 minutes
2017 Champion: Evie Richards
1 Evie Richards Trek Factory Racing
2 Emily Wadsworth 100% ME
3 Sophie Wright 100% ME
4 Ffion James Abergavenny Road Club
5 Nicole Clarke (Jun) Birkenhead North End CC
6 Emelia Clarke cyclocrossrider.com
7 Hannah Saville cyclocrossrider.com
8 Lily Greenhalgh (Jun) East Bradford CC
9 Marie Lynn (Jun) EDCO Continental
10 Anna Kay EDCO Continental
11 Ishbel Strathdee (Jun) Edinburgh RC
12 Alderney Baker (Jun) Team Empella Cyclo-Cross.Com
13 Xan Crees (Jun) Team Empella Cyclo-Cross.Com
14 Abbie Manley (Jun) Hargroves-Ridley-Montezuma's
15 Amy Perryman (Jun) Hargroves-Ridley-Montezuma's
16 Kara Perryman Hargroves-Ridley-Montezuma's
17 Katie Scott (Jun) Hargroves-Ridley-Montezuma's
18 Ruby Boyes (Jun) Huddersfield Star Whlrs
19 Emily Bridson (Jun) LIV AWOL
20 Connie Hayes (Jun) LIV AWOL
21 Lauren Higham (Jun) LIV AWOL
22 Elizabeth Marvelly (Jun) LIV AWOL
23 Poppy Cooke (Jun) PH-MAS/Paul Milnes/Oldfield ERT
24 Amira Mellor PH-MAS/Paul Milnes/Oldfield ERT
25 Sophie Thackray PH-MAS/Paul Milnes/Oldfield ERT
26 Poppy Wildman (Jun) SF Racing
27 Fiona Turnbull (Jun) Speedflex Race Team
28 Cecilia Hime (Jun) St Ives CC
29 Harriet Harnden (Jun) T-Mo Racing
30 Emily Ashwood (Jun) WXC World Racing
10:45 am SUNDAY: UNDER-23 MEN'S CHAMPIONSHIP – 50 minutes
2017 Champion: Billy Harding
1 Billy Harding PH-MAS/Paul Milnes/Oldfield ERT
2 Cameron Orr 100% ME
3 Kieren Brown Argi+ 8point8 – The Winter Green
4 Ben Turner Beobank-Corendon
5 James Madgwick Bloodwise QSW
6 Christopher Rothwell BW Cycles
7 Christian Webster-Reed Cestria Cycles RT
8 Stephen Lee Derwentside CC
9 Finlay Robertson Derwentside CC
10 Ryan Middlemiss East Bradford CC
11 Harry Yates Hargroves-Ridley-Montezuma's
12 Daniel Charlton Hetton Hawks Cycling Club
13 Thomas Mein Hope Factory Racing
14 Benjamin Horrobin Horwich CC
15 Max Gibbons Ludlow Brewery Race Team
16 Ross Harnden Malvern Cycle Sport
17 Joseph Ricciardi Team Manx Telecom
18 Ewan Grivell-Mellor Mid Shropshire Wheelers
19 James Edmond Mountain Goat Coaching
20 Nicholas Hamilton Mountain Goat Coaching
21 Roddy Weir Muckle Cycle Club
22 Calum Kennedy North Sports/Kinesis UK
23 Brandon Stock Northern Ride
24 Calum Fernie Nottingham Clarion CC
25 Frazer Clacherty OMX Pro Team
26 Kieran Jarvis Cycle Team OnForm
27 George Fox Paul Milnes – Bradford Olympic RC
28 Simeon Young Pedalsport Cycling Club
29 Joe Williams PH-MAS/Paul Milnes/Oldfield ERT
30 William Gascoyne Sherwood Pines Cycles- Forme
31 Daniel Tulett Specialized Racing
32 Thomas Pidcock Telenet Fidea Lions
33 Tyla Loftus Wheelbase Altura MGD
34 Tom Martin Wheelbase Altura MGD
35 Mark McGuire Wheelbase Cabtech Junior RT
12:00 noon SUNDAY: JUNIOR MEN'S CHAMPIONSHIP – 40 minutes
2017 Champion: Thomas Pidcock
1 Joseph Beckingsale Abergavenny Road Club
2 Ben Tulett Beeline Bicycles RT
3 George Bazley Bristol Cycling Development Squad
4 Ben Bishop Charlotteville CC
5 Fred Gill Chelmer CC
6 Sam Smith Cheltenham & County CC
7 Joseph Allan Derwentside CC
8 Oliver Draffan Derwentside CC
9 Edward Davies Dulwich Paragon CC
10 Sean Flynn Edinburgh RC
11 Jake Jackson Ellmore Factory Racing
12 Freddie Grover Fast Test Racing Team
13 Timothy Elsmore-Martin Fossa Racing
14 Samuel Wood Geared Up & CN Cycles RT
15 Joseph Law Green Jersey RT
16 Barney Clacy Hargroves-Ridley-Montezuma's
17 Will Cooper Hargroves-Ridley-Montezuma's
18 Harry Dridge Hargroves-Ridley-Montezuma's
19 Joel Hawkins Hargroves-Ridley-Montezuma's
20 Ben Dowson Hetton Hawks Cycling Club
21 Paul Errington Hetton Hawks Cycling Club
22 James Mitchell Hetton Hawks Cycling Club
23 Tom Whitworth Huddersfield Star Wheelers
24 Callum Wilson Huddersfield Star Wheelers
25 Michael Strange Ilkley Cycling Club
26 Jack Parrish Ipswich Bicycle Club
27 Cameron Mason Leslie Bike Shop/Bikers Boutique
28 Toby Barnes Lichfield City CC
29 Marcus Holmes Lichfield City CC
30 Finn Mansfield The MI Racing Academy
31 Harry McGarvie North Sports/Kinesis UK
32 Tom Dussek Nottingham Clarion CC
33 James Swadling Nottingham Clarion CC
34 Cory Edmondson Nutcracker Altura Racing
35 Matthew Lister Paul Milnes – Bradford Olympic RC
36 William Thackray Paul Milnes – Bradford Olympic RC
37 Jay Allen Pedalon.co.uk
38 Callum Macleod Pedalon.co.uk
39 Euan Cameron PH-MAS/Paul Milnes/Oldfield ERT
40 Jonny Gill PH-MAS/Paul Milnes/Oldfield ERT
41 Joe Howcroft PH-MAS/Paul Milnes/Oldfield ERT
42 Oliver Howson PH-MAS/Paul Milnes/Oldfield ERT
43 Jenson Young PH-MAS/Paul Milnes/Oldfield ERT
44 Matthew Toman Rossendale RC
45 Joe Coukham Shibden Cycling Club
46 Matthew Taylor Shibden Cycling Club
47 Harry Walshaw Shibden Cycling Club
48 Alexander Harper Solihull CC
49 Harrison Knight Solihull CC
50 Jacob Knight Solihull CC
51 Harry Birchill Southfork Racing.co.uk
52 Matthew Ellis Steve Poole Plant Hire / Raleigh
53 Charlie Aldridge Stirling Bike Club
54 Toby Perry Thanet RC Race Team
55 Sebastian Bacon Wolverhampton Wheelers
1:15 pm SUNDAY: ELITE WOMEN'S CHAMPIONSHIP – 40 minutes
2017 Champion: Nikki Brammeier
1 Nikki Brammeier MUDIIITA Canyon
2 Christina Wiejak Barrow Central Wheelers
3 Fran Whyte Bicester Millennium CC
4 Clare Ross Brixton Cycles Club
5 Jemma Ridley Derwentside CC
6 Kate Smith Derwentside CC
7 Kate Eedy Team Empella Cyclo-Cross.Com
8 Emma Knight Evans Cycles Race Team
9 Ruby Miller Hargroves-Ridley-Montezuma's
10 Annabel Simpson Hope Factory Racing
11 Hannah Payton Team Kinesis UK
12 Rebecca Preece Leisure Lakes Bikes.com
13 Lydia Brookes Les Filles Queen of the Mountains RT
14 Emma Jane Hornsby VC Londres
15 Erica Moks Mountain Goat Coaching
16 Lauren Cracknell Pedalon.co.uk
17 Bethany Crumpton Storey Racing
18 Joanne Clay TORQ Performance
19 Helen Wyman Xypex – Verge Sport
20 Jennifer Forrester Zepnat RT – Lazer Helmets
2:30 pm SUNDAY: ELITE MEN'S CHAMPIONSHIP – 60 minutes
2017 Champion: Ian Field
1 Ian Field Hargroves-Ridley-Montezuma's
2 Benjamin Shucksmith Alford Wheelers
3 Bryan Laycock Alnwick Cycling Club
4 Peter Ruffhead Arctic Tacx RT
5 Daniel Preece Army Cycling Union
6 John Routledge Barnesbury CC
7 Tony Fawcett Bergamont UK
8 Simon Meadwell Bournemouth Jubilee Wheelers
9 William Brown Brother NRG
10 James Vickers Carnac-Planet X
11 Christopher Burns Cestria Cycles RT
12 Jonathan Fletcher Cestria Cycles RT
13 Grant Ferguson CST American Eagle
14 Ronnie Batey Cycleways-SG Petch
15 Antony Glover Derwentside CC
16 Dean Ridley Derwentside CC
17 Daniel Atkins Didcot Phoenix CC
18 Adam Cooke EMC
19 Samuel Holder Forever Pedalling
20 Jonathan Bayley Gosforth RC
21 Nicholas Barnes Hargroves-Ridley-Montezuma's
22 Michael Butler Hargroves-Ridley-Montezuma's
23 Paul Elcock GS Henley
24 Daniel Booth Hope Factory Racing
25 Jack Clarkson Hope Factory Racing
26 Steven James Hope Factory Racing
27 Robert Jebb Hope Factory Racing
28 Paul Oldham Hope Factory Racing
29 Dave Powell Horwich CC
30 Robert Burns Islabikes
31 Jonathan Dennis Kibosh
32 Neil Phillips Kibosh
33 Bruce Dalton Team Kinesis UK
34 Giles Drake Leisure Lakes
35 Iain Paton Leslie Bike Shop/Bikers Boutique
36 Mark Cotton VC Lincoln
37 Scott Chalmers Magspeed Racing
38 Liam Killeen Malvern Cycle Sport
39 Ellis McCoy GS Metro
40 Jon Moss Muckle Cycle Club
41 Gary MacDonald Nevis Cycles Racing Team
42 Callum Riley Newdales Cycles RT
43 Robert Watson Paceline Cycles North
44 Sam Allen Pedalon.co.uk
45 Alan Collins Portsmouth North End CC
46 Kieren Jarratt RAF CC
47 Gareth Brookes Rapha Cycling Club
48 Freddie Checketts Rapha Cycling Club
49 Stephen James Renvale RT
50 Ian Lee Royal Air Force CA
51 Jeremy Hicks Rugby Velo
52 Nicholas Craig SCOTT Racing
53 Keith Murray SCOTT Racing
54 Martin Woffindin Secret-Training
55 David Fletcher Sherwood Pines Cycles- Forme
56 George Thompson Sleaford Wheelers CC
57 David Earth Steve Poole Plant Hire / Raleigh
58 Thomas Payton Stourbridge CC
59 Paul Barrett Sunderland Clarion CC
60 Liam Casey Tyneside Vagabonds CC
61 Simon Gibbs Tyneside Vagabonds CC
62 Lewis Craven Wheelbase Altura MGD
63 David Lines Wheelbase Altura MGD
64 Stuart Reid Wheelbase Altura MGD
65 Alexander Forrester Zepnat RT – Lazer Helmets
66 Gareth Whittall Zepnat RT – Lazer Helmets
67 Thomas Armstrong Individual Member
68 Joshua Jones Individual Member
69 Lee Williams Individual Member
Send your results as well as club, team & event news here
---
Other Results on VeloUK (including reports containing results)

---
Other News on VeloUK