While the mud has barely settled and the bikes are lovingly polished, Team Hargroves Cycles Ridley Montezuma's remembers the memories of the 2018 National Cyclocross Championships
Team News: Weekend to Remember for Team Hargroves Cycles Ridley Montezuma's
A Weekend to Remember: 2018 National Cyclocross Championships
While the mud has barely settled and the bikes are lovingly polished, memories of the 2018 National Cyclocross Championships in Hetton Lyons will take comfortably longer to dissolve in the memory of our fabulous team.
Arriving in high spirits with optimistic goals Friday scouting went well on what appeared to be a technical and slippery course with a significant amount of climbing and tricky descending, including a large dog-leg bridge and fast off-camber section.
World Masters CX Champion Helen Pattinson talking about the course before racing began
First up on Saturday was the team's World Masters Champion, Helen Pattinson in the Veteran Women's race. Despite the course beginning to dry, this race experienced the big descent at its most risky with no significant rutting. It was always going to be a three-rider race for overall honours, which eventually resulted in gold for MTB expert and defending champion Maddi Smith. Riding in her rainbow jersey, Helen arrived with realistic hopes of winning and was disappointed with silver as a vet 45.
Later in the day the veteran men took to the more rutted and generally drier course, with Crispin Doyle hoping to find some late season form similar to last season. The race was fast and furious as expected with such a classy field, however a finish of 21st Vet 40 was a pleasing end to a marginally frustrating season for Crispin.
Helen Pattinson racing to a silver medal in the Vet 45
Day two revealed a significantly faster course with barely a bike change needed all day. It was the turn of our under 23 and junior women to race in what promised to be a weekend highlight. World Cup winner and U23 world champion Evie Richards proved to be fastest woman of the weekend, nevertheless the fight for junior medals was tactical with 1st year junior team rider Amy Perryman icing a near perfect season with a superb silver medal, while Katie Scott grabbed an excellent 5th. U23 rider Kara Perryman was involved in a serious crash off the start but showed true grit in running half a lap to change bikes, despite not having much skin left on her right leg.
Encouraged by the girls' superb rides, the juniors boys were fired up for a fast start, with once again the eventual winner Sean Flynn firing off the fastest lap of the weekend. Everyone else hung on while the race settled a little. Strong rides from both Barney Clacey (9th) and Will Cooper (12th) demonstrated great progress this season and future promise, while Harry Dridge (37th) had to fight hard after a disastrous start caused by a rider ahead crashing.
The final two races were left to the senior women and senior men. Ruby Miller is no stranger to elite CX having been 2008 youth champion, and having had a reasonable season by her high standards, the hard fought 9th place was a pleasing result in a race dominated by two giants of women's CX on the world stage, Helen Wyman and Nikki Brammier.
Having struggled with illness over the last few weeks, five times defending national champion and all-round British CX superstar Ian Field arrived expecting a strong challenge from two professional and Olympic mountain bikers. This was precisely how the race developed with the three riders moving clear to slug it out lap after lap. Ian was forced to set the pace and try to break his rivals.
It was only a small mistake by Liam Killeen that offered an opportunity for three to become two. Grant Ferguson attacked in the late stages, gapping Ian at a moment he was not able to respond. Silver was not what Ian had raced for, but given the last few weeks, it was a case of damage limitation racing a stronger rider on the day. It is now on to the final world cups and world champs.
Almost any other team would leave with three silvers and three top 10's on top of the British CX world, but such is the standard of the team that plans are already being made for a stronger return!
Ian Field flat stick at the front of the race in the Mens event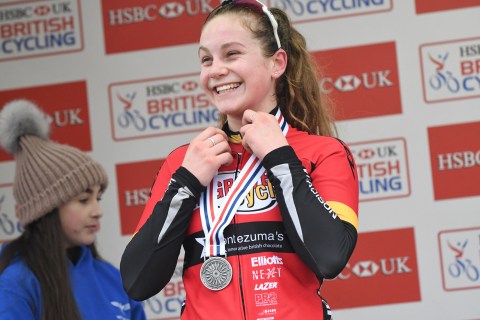 Safe to say Amy Perryman was pleased with her Silver medal

---
Cycle Division's New Shop
---
Send your results as well as club, team & event news here
---
Other Results on VeloUK (including reports containing results)

---
Other News on VeloUK