After the euphoria of the Gold medals on Saturday, there was disappointment on Sunday as GB failed to medal in the two men's races
CX Worlds: No Medals for GB on Sunday
After the euphoria of the Gold medals on Saturday, there was disappointment on Sunday as GB failed to medal in the two men's races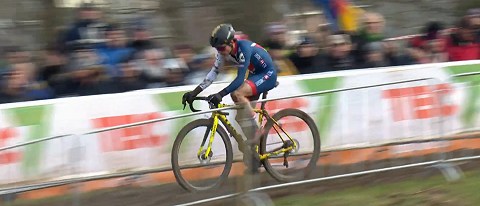 In the morning's Under 23 world championship, favourite and world cup winner Tom Pidcock got as high as sixth place during the event before dropping back and eventually finishing 15th, almost four minutes down on a rider he's beaten many times before, Eli Isberbyt. Dan Tullet was five places behind Pidcock in 20th and Ben Turner, 25th.
Tom Pidcock "The race was torture to be honest. I wished I wasn't there and I am partly going to forget about it and partly keep in mind for next year. This morning I woke up and was I might be ill because I was coughing and couldn't breathe really. There was something wrong with me that is for sure. I was telling myself the best is all you can do and I'm looking forward to getting home and getting to sleep in bed."
… continued after advert
Elite Men
GB went into the race with just one rider, Ian Field (Hargroves Cycle Ridley Montezuma's) and he completed the race in 33rd place. He explained after, "that was the toughest race I have ever done I think".
"I got a reasonable start from the fourth row, so it was always tough on such a short start straight and just about managed to stay out of trouble. I tried to keep my race how I wanted to, do the same thing each lap and try and not make mistakes in those conditions and I seemed to do that."
"I had good legs on the bike, and the running wasn't too bad initially and then after twenty minutes, there was just too much running for me and then it begins to impact you on the bike. I am reasonably pleased with that considering the December I had (illness) which is when you do all the building for January. I can hold my head high after that and say I was their in Valkenberg when it was it was a pig of a race."
"This championships was another level. How heavy the ground was, the sheer amount of running, the technical nature of the course, it just topped them all really."
---
Cycle Division's New Shop
---
Send your results as well as club, team & event news here
---
Other Results on VeloUK (including reports containing results)

---
Other News on VeloUK