Breaking away with three miles to go, Matt Holmes of Madison Genesis solo'd to victory in the Danum Trophy, chased all the way to the line by second placed Adam Kenway of Vitus Pro Cycling. Third was Ed Hopper who won the sprint from what was left of the leading group
Feature Report: Danum Trophy
Breaking away with three miles to go, Matt Holmes of Madison Genesis solo'd to victory in the Danum Trophy, chased all the way to the line by second placed Adam Kenway of Vitus Pro Cycling. Third was Ed Hopper who won the sprint from what was left of the leading group 
L-R: Ed Hopper, Matt Holmes and Adam Kenway
Matt Holmes (Madison Genesis): "I'm pleased with that win. I attacked just before the climb to get a gap and I thought if I can get to the steep section and keep the gap, no-one will catch me and that is what I did and it worked. The run in was pretty easy, flat for a bit, then downhill and then you're on   the final run in in the cross winds. We set off really fast and I thought it was going to be harder than yesterday (Oakenclough RR), but then it slowed down and after two or three laps everyone was trying and it started to split and  then were off the front like a normal national B."
Matt explained that although the race he won was short (60 miles) racing both days would have done him some good for the racing that is to come. Speaking about his second place the day before, Matt explained "I attacked from the gun yesterday and there  were only six of us riding along and then Bibby had to come up and catch us and I was cramping so knew it was going to be tough to win and Bibby is hard to beat on a finish (climb) like that."
Adam Kenway (Vitus Pro Cycling):  "It was aggressive from the gun and the first time up the climb (12% ascent) Josh said to me 'I think this is a good place to attack' so I attacked and from then on, there was either, me Josh, Liam, Julio, Deins up the road. Josh got away early on and his group got bigger and I was part of a group of ten that got across."
"The group though was too big and I saw three riders who I know go off the front and I nipped across, and we were drilling it and working well, not really hard but just working well. Then Josh came across with Matt Holmes (eventual winner from Madison Genesis) and Ed Hopper and from then on it was great. We were all strong and on the last lap, I was on the front where I didn't want to be and Matt went and I was always about ten metres adrift of him and over the top and he opened the gap."
"I kept my effort going knowing Josh could sit in with the chase group and if I was caught, would have fresher legs but I hung for second on my own. I loved the circuit and the cross winds were not as bad as you'd think as they were a little tailwind so they never affected us that much. You always like to win but if at the start of the day, someone had offered me second, I would probably have accepted it because there were some really good riders in this race today."
Ed Hopper (Ribble Pro Cycling): "I'm happy with the result. I have had a pretty hard start to the year so it's the first race I've come into a race feeling pretty good trying to follow the big boys and pick the right moves. "
Asked about the chase after Kenway and Holmes at the end, Ed explained "we were all trying, there were four of us working and a Vitus rider at the back who wasn't going to chase his teammate and the gap stayed pretty stable so at 500 metres to go, I sat in a little to save some energy and felt pretty confident before I went with 300 to go from the front."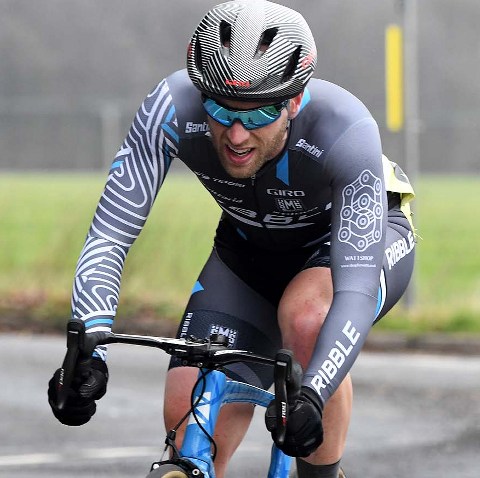 Summing up the race, Ed says "there were not many times going up the 'berg' it was steady. Pretty much every time someone was giving it a go and if there wasn't an attack there, there was a headwind section after where someone would go and there were quite a few moves going all day".
"It was a nice course, standard UK pot holes but nice mix of roads. The descent was nice and wide because you don't want too much of a grippy descent so there was plenty of room on that and some narrow lanes too that were false flats and the standard of riding was safe too."
Ed's next race is the Behind Bars Crit in Birmingham.
Russell Downing (Holdsworth, former winner): "It was a very grippy race and the first time I have raced that circuit which I've trained round before. Dean (Downing, DS) was just saying people were going out the back early doors and it was one of those races we were on the back foot and never really got to the front. These races you have to have the legs to move forward or bring breaks back and mine are not quite there yet. It was good to race locally though and I did my best to get stuck in."
Russ is working hard to be race fit for the Tour of Yorkshire which his team has been selected to ride. "Getting in that race was a goal for the team and I don't want to go there and make an idiot of myself. I have to box smart these days because the legs aren't quite there but the head knows what it's doing. We'll do some recons for the race now and we're looking forward to it."
"We knew we were going to be up against it getting in the race and if we'd got a no from the race, it would have been hard to refocus, but we're on it now and everyone in the team is looking forward to that goal. We have selected nine riders for the seven so they all know they have to pull their weight or they won't get in the seven." Rus then explained he went a bit deep in the Danum Trophy race so he was off for a short ride to clear the legs.
… continued after advert
The Race
The race rolled out of the headquarters with a few miles of neutralised before the flag was dropped shortly before the main climb
After second the day before in another road race, Matt Holmes (Madison Genesis) stepped up one to win the Danum Trophy
Adam Kenway (Vitus Pro Cycling) was second
The rest of the seven man break sprint in for third headed by Ed Hopper of Ribble Pro Cycling
Second time up the climb and the main peloton was altogether but at the back, many a rider was being shelled.
Another six miles later and Joshua Hunt of Vitus Pro Cycling with another rider from Team Chronomaster was leading by a few seconds
A lot can happen in six miles and sure enough, a break soon formed led here by two of the country's leading riders, local Connor Swift and Matt Holmes, both Madison Genesis.
Another group soon joined the leaders 
The leaders go through the finish with five laps to go and change is in the air for the selection
And a lap tater, seven riders were clear led here by Adam Kenway (Vitus) and Joe Evans.
They were bring chased by this group led by Matt Nowell (Canyon Eisberg), Russell Downing, Ryan Perry,  Julio Alberto Amores Palacios (Vitus) and Connor Swift of Madison Genesis)
The seven leaders though were working well and resisting the chase, led here by eventual winner Matt Holmes (Madison Genesis)
… continued after advert
Result
1. Matthew Holmes Madison Genesis
2. Adam Kenway Vitus Pro Cycling
3. Ed Hopper Ribble Cycling
4. Joe Evans Saint Piran
5. Joshua Hunt Vitus Pro Cycling
6. Kieran Savage Yorkshire Road Club
7. Jonathan Fowles Team Chronomaster
8. Connor Swift Madison Genesis
9. Russell Downing Holdsworth Pro Racing
10. Matthew Nowell Canyon Eisberg
11. Ryan Perry www.drag2zero.com
12. Julio Alberto Amores Palacios Vitus Pro Cycling
13. Louis Szymanski Cycling Sheffield Giant Sheffi…
14. Jake Womersley Holdsworth Pro Racing
15. Deins Kanepejs Vitus Pro Cycling
---
Cycle Division's New Shop
---
Send your results as well as club, team & event news here
---
Other Results on VeloUK (including reports containing results)

---
Other News on VeloUK