Getting away in a three man move with a lap to go of the 10 mile circuit, Tom Pidcock outsprinted Tom Moses to take the win in the 2018 East Cleveland Klondike GP
Result: East Cleveland Klondike GP
The East Cleveland Grand Prix wasn't a complicated race by any means. With a freezing cold wind blowing, three riders escaped the first time up Saltburn Bank, Erick Rowsell, Connor Swift(Madison Genesis) and Joey  Walker (Wiggins).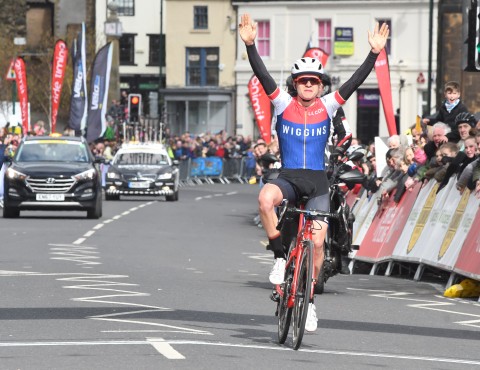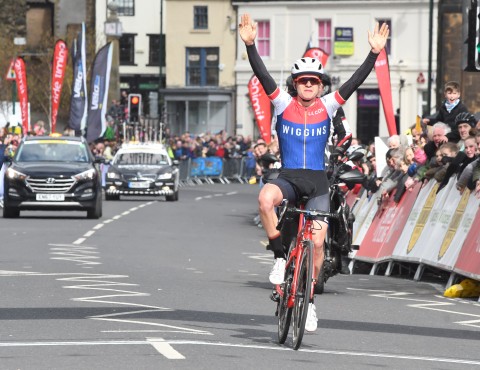 For most of the race, these three riders, with a lead of four minutes at one time, were brought back the third time up Saltburn Bank and from that, Tom Moses attacked with Jonny McEvoy and Tom Pidcock. Steve Lampier chased but couldn't close the gap and so the three became two when Moses attacked again through Skelton with less than 10k to go but he was unable to shift Pidcock whilst Jonny McEvoy (Madison Genesis) didn't have the legs to go with them.
Moses and Pidcock then raced to the finish where the Junior 'Cross and Time Trial Champion showed what a gallop he has too by beating Moses with McEvoy coming in third and Lampier solo'd in for fourth.
Special jersey winners – Tom Moses (2nd); Jonny McEvoy (Madison Genesis, 3rd) Harry Tanfield (Canyon Eisberg, best local rider), Erick Rowsell (Madison Genesis, KoM), Tom Pidcock (race winner)
Top 3 – Tom Moses, Tom Pidcock, Jonny McEvoy
At 11.30 the riders lined up at the race headquarters for a the short ride to the start
In Guisborough town centre the riders lined up with 100 hilly miles ahead of them
At midday the riders left the start on a different run out to last year
In Skelton, a climb riders said was worse than Saltburn or Loftus,  Erick Rowsell, Connor Swift (both Madison Genesis) and Joey Walker are already on the front ahead of a peloton which has already lost riders after only a few miles of racing
And so it was that Swift, Walker and Rowsell went clear and opened up a big gap on the peloton
JLT Condor, Vitus Pro Cycling and One pro were leading the chase.
Rowsell was doing the  KoM points easy well ahead of Walker and Swift
JLT Condor and One Pro were by now bringing them back
And on the third lap on the double climb of Saltburn and Skelton, the winning break was formed after an attack by Tom Moses who was joined by Tom Pidcock and Jonny McEvoy (Madison Genesis)
Steve Lampier (Saint Piran) had missed the move being too far back but was chasing hard just ahead of a small group
In the chase group was Pidcocks teammate Gabz Cullaigh, who won CiCLE the week before and riding the climbs well. Also there was Max Stedman of Canyon Eisbery and Joey Walker of the original break
The chasers never saw the trio again and Pidcock outsprinted Moses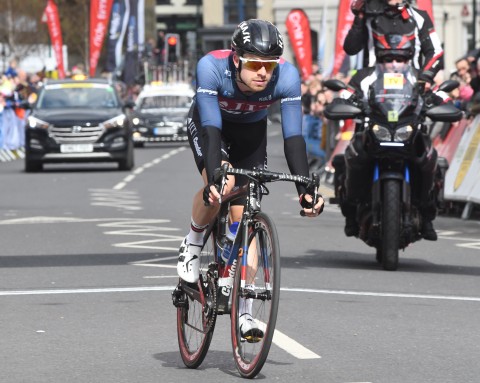 Whilst Jonny McEvoy (Madison Genesis) was on his own in third.
Erick Rowsell of Madison Genesis and his framed jersey for the win in the KoM.
… continued after advert
Result
1 Thomas Pidcock Team Wiggins 3:57:43
2 Thomas Moses JLT Condor st
3 Jonathan McEvoy Madison Genesis +22
4 Steve Lampier Saint Piran +1:11
5 Gabriel Cullaigh Team Wiggins +1:34
6 Karol Domagalski One Pro Cycling st
7 William Harper Saint Piran st
8 Edmund Bradbury JLT Condor st
9 James Gullen JLT Condor +1:38
10 George Pym Madison Genesis +1:41
11 Max Stedman Canyon Eisberg st
12 Oliver Wood JLT Condor +1:50
13 Peter Kibble Wales Racing Academy st
14 Joey Walker Team Wiggins +1:54
15 Seid Lidze Holdsworth Pro Racing +2:28
16 Robert Scott Team Wiggins +2:53
17 Gruffudd Lewis Ribble Cycling +2:54
18 Ryan Christensen Olivers Real Food +2:56
19 Louis Szymanski Cycling Sheffield Giant Sheffie +3:10
20 Rupert Graham Spirit Tifosi Racing Team +3:21
21 Emils Liepens One Pro Cycling st
22 Grant Martin Vitus Pro Cycling st
23 Dylan Kerfoot-Robson Team Wiggins st
24 Matthew Gibson JLT Condor st
25 Alex Luhrs Ribble Cycling st
26 Leon Mazzone Holdsworth Pro Racing st
27 Luke Ryan Richardsons-Trek RT st
28 Will Fox Team KTM UK st
29 Louis Rose-Davies Canyon Eisberg st
30 Isaac Mundy Madison Genesis st
31 Joshua Hunt Vitus Pro Cycling st
32 James Lowsley-Williams Canyon Eisberg st
33 Dexter Gardias Canyon Eisberg st
34 Bradley Symonds Team PB Performance st
35 Joe Evans Saint Piran st
36 Reece Wood Team Wiggins st
37 Matt Clarke Halesowen A & CC st
38 Lawrence Carpenter Ribble Cycling st
39 Elliot Harrison Leisure Lakes Bikes.com st
40 Josh Housley TBW Bottecchia Wigmore RT st
41 Oliver Robinson Team Wiggins st
42 Joe Swinnerton Swinnerton Cycles st
43 James Jobber Backyardbikeshop.com st
44 Jesse Yates Team Wiggins st
45 Freddie Jagger Team B38 / Underpin Racing st
46 Peter Cocker Richardsons-Trek RT st
47 Adam Kenway Vitus Pro Cycling st
48 James Tillett Wales Racing Academy st
49 Ruari Grant Veloclub Edinburgh st
50 Alistair Slater JLT Condor st
51 Peter Williams One Pro Cycling st
52 Damien Shaw Holdsworth Pro Racing st
53 Sean McKenna Holdsworth Pro Racing st
54 Christopher Latham One Pro Cycling +3:29
55 George Atkins Madison Genesis +3:30
56 James Oram One Pro Cycling st
57 Jacob Scott One Pro Cycling +3:32
58 Andrew Tennant Canyon Eisberg +3:33
59 Oliver Maxwell Richardsons-Trek RT +3:37
60 Angus Claxton Wheelbase Castelli MGD +3:42
61 Harry Tanfield Canyon Eisberg +3:54
62 Alex Orrell-Turner Wheelbase Castelli MGD +5:13
63 Erick Rowsell Madison Genesis +6:31
64 Jack Pullar Canyon Eisberg +6:33
65 George Kimber Team PB Performance st
66 Taylor Gunman Madison Genesis st
67 Ian Bibby JLT Condor st
GRN Sportsware KOM Competition
1 Erick Rowsell Madison Genesis 15
2 Joey Walker Team Wiggins 9
3 Connor Swift Madison Genesis 4
4 Thomas Moses JLT Condor 2
Under 23 Winner
1 Thomas Pidcock Team Wiggins
Best Local Rider
1 Harry Tanfield Canyon Eisberg
---
Cycle Division's New Shop
---
Send your results as well as club, team & event news here
---
Other Results on VeloUK (including reports containing results)

---
Other News on VeloUK