Stunning solo efforts from Anna Henderson (Onform) and Harry Tanfield (Canyon Eisberg) saw them triumph in two exciting races in the Abersytwyth round of the Tour Series
Results: Tour Series Abersytwyth
Canyon-Eisberg made it a clean sweep of the penultimate week of the OVO Energy Tour Series as Commonwealth Games Silver medallist Harry Tanfield became the third rider from the team to take an individual win at the fifth round in Aberystwyth on Saturday, following on from success for Jack Pullar and Andy Tennant in Durham.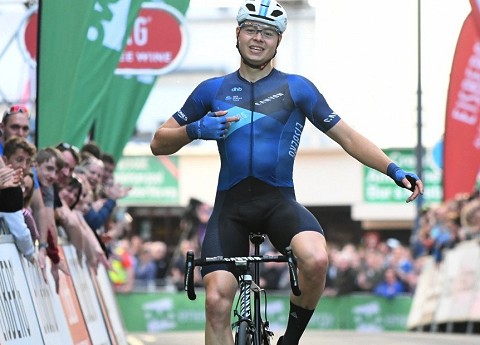 There were dominant maiden winners in both the men and women's events, with Tanfield crossing the line alone, hands aloft, to win by 24 seconds from ONE Pro Cycling's Jacob Scott, who had chased alone. Anna Henderson took her first ever Tour Series victory for Team OnForm earlier in the evening.
However, despite the successes of their riders, with both winners also taking the respective Brother Fastest Laps, neither Canyon Eisberg nor Team OnForm were the team victors on the night, with defending champions JLT Condor and Trek-Drops taking the honours.
The win for JLT Condor, thanks to the presence of Graham Briggs (third), Eisberg Points leader Matt Gibson (fourth) and Jon Mould (sixth) in the lead group of eight – who lapped the main field – moved them to second overall, three points behind Madison Genesis, who retain the Series lead.
Aberystwyth saw a first win for Trek-Drops in the women's Series, the team having been missed recent rounds following injury and illness, but with Team Breeze coming second, the British Cycling development squad extended their lead in the Series to three points over NJC-Biemme-Echelon.
Early on in the race Henderson struck out for home by herself, saying: "I went round the [final] corner, you know take the risk round the corner, and one of the girls dropped the wheel and you know what I thought 'take a risk' and yeah, it paid off. That's a big effort from me – it was a pretty cool technical course that suited me and I really enjoyed that."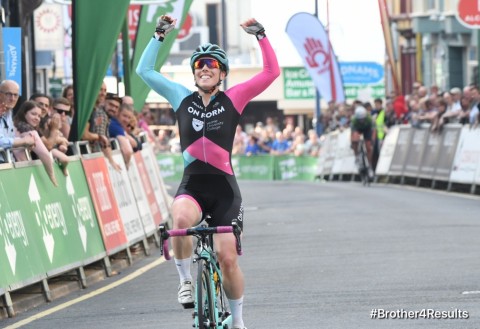 The 19-year-old, who emerged as one to watch during last year's Series continued saying, "I'm still very new you know I'm learning every minute of every race and my team manager and my coach, everybody in the team is guiding me. And yeah it's just a continuous upward spiral.
Nikki Juniper finished second on the night, ensuring that Henderson only marginally trimmed her lead in the Eisberg Points Jersey, with the NJC-Biemme-Echelon rider still holding a 25-point advantage heading to Monday's Bank Holiday event in Stevenage.
Juniper had chased with Trek-Drops' Lizzie Holden, who took third, with freshly-crowned Welsh Criterium Champion Dani Rowe taking the bunch sprint for fourth from Ejay Harris (Storey Racing).
MEN
Individual Classification
1 Harry Tanfield Canyon Eisberg 43 1:07:21.213
2 Jacob Scott ONE Pro Cycling 43 1:07:45.460 +24.247
3 Graham Briggs JLT Condor 43 1:07:51.352 +30.139
4 Matt Gibson JLT Condor 43 1:07:51.800 +30.587
5 James Lowsley-Williams Canyon Eisberg 43 1:07:52.233 +31.020
6 Jon Mould JLT Condor 43 1:07:52.269 +31.056
7 Charles Page Canyon Eisberg 43 1:07:52.560 +31.347
8 Connor Swift Madison Genesis 43 1:07:52.791 +31.578
9 Tobyn Horton Madison Genesis 43 1:08:42.958 +1:21.745
10 Tom Moses JLT Condor 43 1:08:45.482 +1:24.269
11 Chris Opie Canyon Eisberg 39 1:02:53.325 +4 Laps
12 Ed Clancy JLT Condor 39 1:02:53.827 +4 Laps
13 Emils Liepins ONE Pro Cycling 39 1:02:53.876 +4 Laps
14 George Pym Madison Genesis 39 1:02:54.655 +4 Laps
15 Chris Latham ONE Pro Cycling 39 1:02:55.415 +4 Laps
16 Gruff Lewis Ribble Pro Cycling 39 1:02:55.534 +4 Laps
17 Stephen Bradbury Morvelo Basso 39 1:02:56.466 +4 Laps
18 Andy Tennant Canyon Eisberg 39 1:02:57.527 +4 Laps
19 Nathan Draper Team WIGGINS 39 1:02:57.528 +4 Laps
20 James Oram ONE Pro Cycling 39 1:02:58.402 +4 Laps
21 Jonathan McEvoy Madison Genesis 39 1:02:58.618 +4 Laps
22 Josh Price Wales Racing Academy 39 1:02:58.756 +4 Laps
23 Robert Scott Team WIGGINS 39 1:02:59.404 +4 Laps
24 Liam Davies Vitus Pro Cycling 39 1:02:59.711 +4 Laps
25 Will Brown Ribble Pro Cycling 39 1:03:00.142 +4 Laps
26 Jaques Sauvagnargues Team WIGGINS 39 1:03:01.083 +4 Laps
27 Tom Baylis ONE Pro Cycling 39 1:03:28.228 +4 Laps
28 Chris Sherriffs Crimson Performance RT 39 1:03:43.326 +4 Laps
29 Matt Hallam Crimson Performance RT 38 1:03:00.340 +5 Laps
30 Owen Line Wales Racing Academy 38 1:03:00.572 +5 Laps
31 Mikey Mottram Morvelo Basso 38 1:03:00.843 +5 Laps
32 Julio Alberto Amores Vitus Pro Cycling 38 1:03:01.463 +5 Laps
33 Brecon Burnett Wales Racing Academy 38 1:03:01.617 +5 Laps
34 Oscar Mingay Wales Racing Academy 38 1:03:02.589 +5 Laps
35 Alastair Thomas Crimson Performance RT 38 1:03:02.776 +5 Laps
36 Ed Hopper Ribble Pro Cycling 38 1:03:03.957 +5 Laps
37 Nick Yallouris Holdsworth Pro Racing 38 1:03:04.287 +5 Laps
38 Campbell Stewart Team WIGGINS 38 1:03:05.059 +5 Laps
39 Neil van der Ploeg Madison Genesis 38 1:03:10.022 +5 Laps
40 Leon Mazzone Holdsworth Pro Racing 38 1:04:04.016 +5 Laps
41 Eliot Ward Crimson Performance RT 37 1:03:03.437 +6 Laps
42 Leon Stoneman Bikestrong KTM 37 1:03:05.737 +6 Laps
43 Steve Rees-Clark Morvelo Basso 37 1:03:06.305 +6 Laps
44 Ken Buckley Morvelo Basso 37 1:03:07.428 +6 Laps
45 Paul Jones Bikestrong KTM 37 1:03:08.955 +6 Laps
46 Andy Shackel Vitus Pro Cycling 37 1:03:23.437 +6 Laps
47 Matt Burke Wales Racing Academy 37 1:03:39.421 +6 Laps
48 Jake Yarranton Morvelo Basso 37 1:04:04.278 +6 Laps
49 Michael Bradbury Bikestrong KTM 36 1:01:23.430 +7 Laps
50 Reece Wood Team WIGGINS 36 1:03:23.472 +7 Laps
51 Bertie Newey Vitus Pro Cycling 35 1:04:04.277 +8 Laps
52 Tom Webb Bikestrong KTM 34 1:03:21.433 +9 Laps
Team – Aberystwyth
1 JLT Condor 4:32:20.903 10
2 Canyon Eisberg 4:32:26.339 9
3 Madison Genesis 4:35:23.717 8
4 ONE Pro Cycling 4:35:54.967 7
5 Team WIGGINS 4:39:43.981 6
6 Morvelo Basso 4:47:24.024 5
7 Vitus Pro Cycling 4:53:09.578 4
8 Holdsworth Pro Racing 5:12:47.418 3
Brother Fastest Lap Competition
Harry Tanfield Canyon Eisberg 1:28.482
Overall
1 Madison Genesis 55
2 JLT Condor 52
3 Canyon Eisberg 52
4 Team WIGGINS 40
5 ONE Pro Cycling 37
6 Holdsworth Pro Racing 27
7 Morvelo Basso 25
8 Vitus Pro Cycling 24
SPRINT
Sprints Competition Round 6 – Aberystwyth
Sprint 1
1 Matt Gibson JLT Condor 5
2 James Lowsley-Williams Canyon Eisberg 4
3 Graham Briggs JLT Condor 3
4 Harry Tanfield Canyon Eisberg 2
5 Connor Swift Madison Genesis 1
Sprint 2
1 James Lowsley-Williams Canyon Eisberg 5
2 Matt Gibson JLT Condor 4
3 Tom Moses JLT Condor 3
4 Graham Briggs JLT Condor 2
5 Harry Tanfield Canyon Eisberg 1
Sprint 3
1 Matt Gibson JLT Condor 5
2 Connor Swift Madison Genesis 4
3 James Lowsley-Williams Canyon Eisberg 3
4 Jacob Scott ONE Pro Cycling 2
5 Harry Tanfield Canyon Eisberg 1
Finish
1 Harry Tanfield Canyon Eisberg 5
2 Jacob Scott ONE Pro Cycling 4
3 Graham Briggs JLT Condor 3
4 Matt Gibson JLT Condor 2
5 James Lowsley-Williams Canyon Eisberg 1
Round Classification
1 Matt Gibson JLT Condor 16
2 James Lowsley-Williams Canyon Eisberg 13
3 Harry Tanfield Canyon Eisberg 9
4 Graham Briggs JLT Condor 8
5 Jacob Scott ONE Pro Cycling 6
6 Connor Swift Madison Genesis 5
7 Tom Moses JLT Condor 3
Overall
1 Matt Gibson JLT Condor 63
2 Robert Scott Team WIGGINS 40
3 Harry Tanfield Canyon Eisberg 38
4 James Lowsley-Williams Canyon Eisberg 30
5 Connor Swift Madison Genesis 22
6 Richard Handley Madison Genesis 18
7 Jonathan McEvoy Madison Genesis 12
8 Tobyn Horton Madison Genesis 11
9 Tom Moses JLT Condor 11
10 Gabriel Cullaigh Team WIGGINS 9
11 Ed Clancy JLT Condor 8
12 Graham Briggs JLT Condor 8
13 Jacob Scott ONE Pro Cycling 6
14 Alex Paton Canyon Eisberg 6
15 Jack Pullar Canyon Eisberg 5
15 Andy Tennant Canyon Eisberg 5
17 Hayden McCormick ONE Pro Cycling 5
18 Mikey Mottram Morvelo Basso 4
19 Jon Mould JLT Condor 4
20 Charlie Tanfield Canyon Eisberg 2
20 Dylan Kerfoot-Robson Team WIGGINS 2
22 James Oram ONE Pro Cycling 2
23 Adam Kenway Vitus Pro Cycling 1
23 Karol Domagalski ONE Pro Cycling 1
23 George Pym Madison Genesis 1
23 Campbell Stewart Team WIGGINS 1
Guest Teams
Aberystwyth
1 Wales Racing Academy 4:43:23.833 5
2 Crimson Performance RT 4:46:10.692 4
3 Ribble Pro Cycling 4:54:40.158 3
4 Bikestrong KTM 5:00:10.367 2
Overall
1 Wales Racing Academy 9
2 Ribble Pro Cycling 8
3 Crimson Performance RT 7
4 Bikestrong KTM 4
… continued after advert
WOMEN
1 Anna Henderson Team OnForm 25 0:44:08.466
2 Nikki Juniper NJC-Biemme-Echelon 25 0:45:17.102 +1:08.636
3 Lizzie Holden Trek-Drops 25 0:45:18.358 +1:09.892
4 Danni Rowe Waow Deals Pro Cycling 25 0:45:33.359 +1:24.893
5 Ejay Harris Storey Racing 25 0:45:34.279 +1:25.813
6 Jess Roberts Team Breeze 25 0:45:34.511 +1:26.045
7 Annie Simpson Trek-Drops 25 0:45:35.153 +1:26.687
8 Charmaine Porter Team OnForm 25 0:45:55.000 +1:46.534
9 Jenny Holl Team Breeze 25 0:45:55.176 +1:46.710
10 Megan Barker Team Breeze 25 0:45:55.580 +1:47.114
11 Lucy Shaw Trek-Drops 25 0:45:56.460 +1:47.994
12 Manon Lloyd Trek-Drops 25 0:45:57.265 +1:48.799
13 Jo Tindley NJC-Biemme-Echelon 25 0:45:57.500 +1:49.034
14 Anna Kay Storey Racing 24 0:44:12.045 +1 Lap
15 Rhona Callander Team Breeze 24 0:44:16.752 +1 Lap
16 Ellen McDermott Boompods EDCO NRG 21 0:39:50.462 +4 Laps
17 Sarah Walker Boompods EDCO NRG 21 0:39:50.697 +4 Laps
18 Kim Baptista Torelli-Brother 21 0:40:19.483 +4 Laps
19 Christine Robson Jadan – Weldtite Vive Le Velo 21 0:40:20.738 +4 Laps
20 Beth Crumpton Storey Racing 21 0:40:21.541 +4 Laps
21 Jennifer Powell NJC-Biemme-Echelon 21 0:40:22.042 +4 Laps
22 Lily Greenhalgh Torelli-Brother 21 0:40:22.237 +4 Laps
23 Corrine Side Jadan – Weldtite Vive Le Velo 21 0:40:22.278 +4 Laps
24 Ellie Russell Jadan – Weldtite Vive Le Velo 21 0:40:22.339 +4 Laps
25 Monica Dew Storey Racing 21 0:40:22.613 +4 Laps
26 Emily Bridson Admiral LIV AWOL 21 0:40:23.096 +4 Laps
27 Elizabeth Bennett Jadan – Weldtite Vive Le Velo 21 0:40:23.264 +4 Laps
28 Clover Murray Admiral LIV AWOL 21 0:40:23.347 +4 Laps
29 Abbie Dentus Team Breeze 21 0:40:23.550 +4 Laps
30 Gwenno Hughes Torelli-Brother 21 0:40:23.649 +4 Laps
31 Bethany Taylor Bianchi Dama 21 0:40:24.072 +4 Laps
32 Georgie Panchaud Bianchi Dama 21 0:40:24.435 +4 Laps
33 Lauren Humphreys Boompods EDCO NRG 21 0:40:24.874 +4 Laps
34 Connie Hayes Admiral LIV AWOL 20 0:39:02.048 +5 Laps
35 Isabel Darvill VeloSchils Interbike 20 0:39:51.293 +5 Laps
36 Hannah Bayes Admiral LIV AWOL 20 0:39:51.430 +5 Laps
37 Gabriella Homer Team OnForm 20 0:39:51.537 +5 Laps
38 Nikki Kovacs Torelli-Brother 20 0:40:24.419 +5 Laps
39 Rosie Walsh Boompods EDCO NRG 20 0:40:24.943 +5 Laps
40 Melissa Greaves Jadan – Weldtite Vive Le Velo 20 0:40:25.829 +5 Laps
41 Alex Sheehan Bianchi Dama 20 0:40:26.066 +5 Laps
42 Madelaine Gammons NJC-Biemme-Echelon 20 0:40:27.320 +5 Laps
43 Sophie Holmes VeloSchils Interbike 19 0:39:12.056 +6 Laps
44 Natasha Smith VeloSchils Interbike 19 0:39:22.114 +6 Laps
45 Gabrielle Duckworth VeloSchils Interbike 19 0:40:27.055 +6 Laps
46 Cadi Wyn Boompods EDCO NRG 17 0:38:36.840 +8 Laps
Sprints
Sprint 1
1 Anna Henderson Team OnForm 5
2 Nikki Juniper NJC-Biemme-Echelon 4
3 Lucy Shaw Trek-Drops 3
4 Lizzie Holden Trek-Drops 2
5 Manon Lloyd Trek-Drops 1
Sprint 2
1 Anna Henderson Team OnForm 5
2 Nikki Juniper NJC-Biemme-Echelon 4
3 Lizzie Holden Trek-Drops 3
4 Megan Barker Team Breeze 2
5 Rhona Callander Team Breeze 1
Finish
1 Anna Henderson Team OnForm 5
2 Nikki Juniper NJC-Biemme-Echelon 4
3 Lizzie Holden Trek-Drops 3
5 Ejay Harris Storey Racing 1
6 Jess Roberts Team Breeze 0
Round Classification
1 Anna Henderson Team OnForm 15
2 Nikki Juniper NJC-Biemme-Echelon 12
3 Lizzie Holden Trek-Drops 8
4 Lucy Shaw Trek-Drops 3
5 Megan Barker Team Breeze 2
6 Ejay Harris Storey Racing 1
7 Rhona Callander Team Breeze 1
8 Manon Lloyd Trek-Drops 1
Series Sprint Competition Round 5 – Aberystwyth
1 Nikki Juniper NJC-Biemme-Echelon 64
2 Anna Henderson Team OnForm 39
3 Megan Barker Team Breeze 23
4 Neah Evans Storey Racing 18
5 Gabriella Shaw NJC-Biemme-Echelon 12
6 Jess Roberts Team Breeze 11
7 Manon Lloyd Trek-Drops 8
8 Rebecca Durrell Storey Racing 8
9 Lizzie Holden Trek-Drops 8
10 Charlotte Broughton Admiral LIV AWOL 8
11 Rhona Callander Team Breeze 6
12 Abbie Dentus Team Breeze 5
13 Lucy Shaw Trek-Drops 3
13 Rebecca Raybould Team Breeze 3
15 Jo Tindley NJC-Biemme-Echelon 2
16 Jennifer Powell NJC-Biemme-Echelon 1
16 Ejay Harris Storey Racing 1
16 Ellie Dickinson Team Breeze 1
16 Olha Kulynych YRDP 1
16 Jennifer George Torelli-Brother 1
Team Abersytwyth
1 Trek-Drops 2:16:49.971 10
2 Team Breeze 2:17:25.267 9
3 NJC-Biemme-Echelon 2:19:17.985 8
4 Storey Racing 2:19:39.613 7
5 Team OnForm 2:19:52.887 6
6 Boompods EDCO NRG 2:22:58.611 5
7 Jadan – Weldtite Vive Le Velo 2:24:09.232 4
8 Torelli-Brother 2:24:09.248 3
9 Admiral LIV AWOL 2:24:57.135 2
Brother Fastest Lap Competition
Anna Henderson Team OnForm 1:39.411
---
Cycle Division's New Shop
---
Send your results as well as club, team & event news here
---
Other Results on VeloUK (including reports containing results)

---
Other News on VeloUK