Frederik Scheske, Ejay Harris (Storey Racing) and Zoe Backstedt some of the winners at the Hargroves Cycles sponsored Winchester Criteriums
Report/Results: Winchester Criteriums
Frederik Scheske (Team Tor 2000 KALAS) & Ejay Harris (Storey Racing) won the elite races at the ever popular Winchester Criterium on Sunday afternoon (10th) an event that incorporated the South Region circuit championships.
Scheske attacked on the first lap, the "Tour Series Hardened" Benjamin Marks (Morvelo Basso) was the only one to react, the legs were tired but those intuitive racing wits were pin sharp! Working well together they quickly built a lead of 50 seconds as the bunch hesitated. The lead hovered around a minute, the pair getting held up by back markers, a fate that befell the chasers, the pursuit further hampered when Andy Shackel (Vitus Pro Cycling) crashed out taking the luckless Oscar Hutchings (VC Equipe/Flix OralHygiene/Propulse) with him.
Scheske had crashed at the London Nocturne the previous evening but made no mistake this time, leading into the final corner he had too much speed for Marks who had also ridden the London event. Marks won the South Region Circuit title but it was clearly a consolation prize. "I just want to do some road racing" he reflected at the finish.
The impressive Red Walters (Sotonia CC), led much of the pursuit, won the sprint for third place and took the fastest lap award,1.32.326 for the 2,000 metre technical circuit.
In the elite womens race Ejay Harris (Storey Racing) and Jessica Finney (Teamonform) showed their class riding away after a couple of laps never to be seen again. Bethan Stubbs (Bianchi Dama) and Katie Scott (Hargoves-Ridley-Montezuma's) enjoyed their own private battle as they gamely chased the two out front.
Harris, whose next outing is the Women's Tour, put the squeeze on Finney with two laps remaining, pulling away to enjoy a solo victory in front of the supportive crowd with Scott winning the third place scrap.
Zoe Backstedt (Maindy Flyers) took advantage of some caution on the first corner in the U16 girls championships, riding away to a clear victory, there is no doubt about her career path! Backstedt had ridden, and won the U14 race, catching the boys ahead of her but was ineligible for the South Region championship, the title going to the hard working Daisy Davies (Gillingham & Dist Wh). Davies got some "air" as she took the title bunny hopping across the line.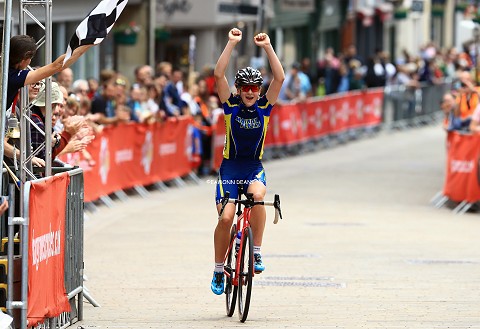 Sam Freeman ( Solent Pirates) won the U16 Boys title, outsprinting Harvey McLean (Behind the Bikeshed) and Aurthur Boulton (Palmer Park Velo RT) after the three had gone clear early doors. In the supporting 3rd/4th Cat race the experienced Jaime Norfolk (Pedalon.co.uk), clearly enjoyed another day in the sun. Norfolk drove a group a 6 clear and was never going to be beaten.
The Winchester criterium continues to go from strength to strength, courage from the council, commitment from the officials, enthusiasm from the crew and the excellent, entertaining, informative Marty MacDonald calling the action on the microphone! Plans are already underway for next year.
3/4 winner  Jamie Norfolk
… continued after advert
Rider Reaction
Ejay Harris: " Jessica came with me,we worked well together, i put some power down with two laps to go! The crowds in Winchester are just as good as the Tour Series events, i had to prove today that i could race when the sun is shining. it's great to have such a great race so local, the technical course really puts the bike handling skills to the test .I am really excited to race the OVO Energy Womens Tour next week, its world tour level so all the big teams will be there, i am really looking forward to it."
Frederik Scheske: " I knew it was technical so i made sure i was on the front of the grid and strung it out on the first lap, i looked round and only Ben was there, i eased up, i knew we would work well together, we've raced together before. Yeah just teamwork to the finish really, he hit me a few times, i knew i could not ride away from him so i did not attack him, i was backing on outsprinting him, i crashed quite heavily at the London Nocturne last night and did not feel great. I backed the sprint and it worked. We both pulled one lap turns, its too technical to swap round the back of the circuit"
Benjamin Marks: " I am very disappointed, i tried attacking him a few times but i did not read him very well, he looked a bit tired, he was not cornering quite as quick as me but I could not come round him on the last corner… i was beaten by the better man…i wanna do some road races, i'm done with crits"
… continued after advert
RESULTS
Elite Women 45 Mins
1 Elizabeth-Jane Harris
2 Jessica Finney
3 Katie Scott
4 Bethan Stubbs
5 Beccy Waters
6 Christine Robson
7 Ashia Fenwick
8 Lucia Bruton
9 Imogen Hutchings
10 Sarah Hickman
11 Natasha Reddy
12 Jennifer Forrester
13 Kirsty McSeveney
14 Maddie Wilson
15 Alison Rothnie
16 Laura Fenwick
17 Danielle Hanley
18 Louise Woolrich
19 Rebecca Steens
20 Hannah Kitchen
21 Lucy Gadd
22 Emma Clarke
23 Niamh Houghton
Elite Men 1hr
1 Frederik Scheske
2 Benjamin Marks
3 Red Walters
4 Luke Nolan
5 Aled Jones
6 Mike Smith
7 Lee Smith
8 Tom Budden
9 Andy Edwards
10 Ashley Fletcher
11 Thomas Treagus
12 Gavin Howell
13 Steve Rees-Clark
14 Matthew Norris
15 Adam Toole
16 Sean Townsend
17 Joe Hickerton
18 Samuel Clark
19 Alexander Forrester
20 Charlie Kelly
21 Charlie Walters
22 Jacob Aries
23 Will Cooper
24 Jake Yarnanton
25 Oscar Hutchings
26 Joseph Clark
27 Harvey McNaughton
28 Jamie Caldwell
29 James Peckham
30 Andy Shackel
31 Thomas Grigson
32 James Cooper
U16 Girls 25 mins
1 Zoe Backstedt
2 Daisy Davies
3 Laura Curle
4 Emma Keiller
5 Poppy Pattinson
6 Amy Cantelo
7 Abigail Old
8 Izzy Brickell
9 Emma Youinou
U16 Boys 25 Mins
1 Sam Freeman
2 Harvey McLean
3 James Ashcroft
4 Arthur Boulton
5 Thomas Day
6 Matthew Hickman
7 Duncan Pritchard
8 Piers James
9 Archie Peet
10 Ethan Court
11 Dan Byrne
12 Nathaniel Brookes
13 Euan Taylor
14 Matthew Houlberg
15 Ryan Abram
16 Danny Havey
17 Oscar Clark
18 Matthew Pandagani-Sayce
19 Joshua Ballinger
20 Rizwan Hameed
21Theo Bugg
22 Isaac Warrington
23 Elliot Tappin
24 Jacob Schnabel
25 Sam Kelly
26 Daniel Banks
27 Alex Bosley
28 Benjamin Ferris
29 Luca Munday
30 Sam Nanopoulos
31 Bradley Perkins
32 Owen Giles
33 Jacques Taylor
3rd/4th Cat Race 40 Mins
1 Jamie Norfolk
2 Barney Clacy
3 Christopher Brettell
4 Oliver Handley
5 Harry Johnson
6 Julian Lockwood
7 Tim Costello
8 Kieron Goodwin
9 Andrew Henderson
10 Paul Ransom
11 Rob Adraham
12 Crispin Doyle
13 Troy Fry
14 Graham Reeves
15 Matthew Ansell
16 Paul Hopkins
17 Christopher Wilson
18 Neil Pooley
19 Graham Biles
20 Christian Humphrey
21 Russell Speight
22 Graham Hollidge
23 Harry Dridge
24 James Richards
25 Sam Murphy
26 Will Budge
27 Alex Caffrey
28 Gareth Dridge
29 Ben Williams
30 Peter Day
31 Nathan Curtis
32 Jeremy Hubbard
33 William Fuller
34 James Duguid
35 William Hayes
36 Justin Menhenett
37 Jason Miller
U8'S/10's 10 Mins
1 Harrison Hendy
2 Charlie Tourtel
3 Oliver Graham
4 Jack Morgan
5 Dawson de Gruchy
6 Frederick Samson
7 Charles Forrester
8 Charlie Shepherd
9 Gabriel Raimondo
10 Thomas Chamberlain
11 Douglas Forrester
12 Oliver Tooley
13 Sebastian Foster
14 Charlie Pettifer
15 Myles Bradley
16 Orla Willis
17 Sam Genazzini
18 Isaac Homewood
19 Lauren Charles
20 Isabella Hall
21 Oliver Foden
22 Evie Bramall
23 Marley Raimondo
24 Ewan Watson
25 Zoe Nicholls
26 Chloe Carter
27 Isaac Eastlake
28 Jack Gillard
29 Isla Pattinson
30 Toulla Cousins
31 Joshua Graham
32 Isabelle Smith
33 Skye Martingale
34 Alex Levey
35 Isla Watson
36 Grace Hughes
37 Lucas Mills
38 Chase Bradley
39 Sophie Beardon
40 Bethan Read
U12'S 15 Mins
1 Oliver Pettifer
2 Ollie Boarer
3 Lewis Seaward
4 Daniel Phillips
5 Owain Williams
6 Alexander Murphy
7 Ollie Huelin
8 Dylan Cherruault
9 Chayton Kennedy-Cook
10 Ellen Phillips
11 Alex Read
12 Finlay Mechem
13 Thomas Nisbet
14 Bobby Buenfeld
15 Oliver Gill
16 Max Mahony
17 Tommy Stroud
18 Oliver Morgan
19 Ellie Montagu
20 Ben Nicholls
21 Rose-Marie Moncrieffe
22 George Connell
23 Daisy Pattinson
24 Arne Esslemont
25 Lewis Ridge
26 Emily Le Gros
27 Sam Budd
28 Samuel Ridgment
29 Rebecca Carter
30 Elizabeth Hart
31 Olivia Allman
32 Edward Samson
33 Kyran Levey
34 Finlay Cousins
35 Charlotte Smith
36 Grace Richardson
37 Samuel Hughes
38 Evelyn Mills
39 Thomas Hampson
U14 Youths 20 Mins
1 Tobias Houghton
2 Jack Cromie
3 Zoe Backstedt
4 Alex Barker
5 Jenson Harris
6 Jamie Whitcher
7 Tom Stringer
8 Benjamin Gill
9 Tom Huelin
10 Adam Potter
11 Oscar Pratt
12 Thomas Taylor
13 Elliot Moreve
14 Joshua Saunders
15 Isabel Sharp
16 Jude Munday
17 Matthew Gilmour
18 Harry Clarke
19 Katie-Anne Calton
20 Niamh Murphy
21 Taylor Evans
22 Sophie Tiller
23 Elena Day
24 Emma Gompertz
25 Freya Eccleston
26 Helena Duguid
27 Sophie Quay-Clark
28 Aoife O'Neill
29 Sophie Naftel
30 Emily Moreve
31 Kaii Mccormack
32 Peter Drabble
33 Samuel Nisbet
34 Andrew Paling
---
Cycle Division's New Shop
---
Send your results as well as club, team & event news here
---
Other Results on VeloUK (including reports containing results)

---
Other News on VeloUK