After a long delay, the Bristol GP took the roads of the city on Sunday where a breakaway dominated the race and from it, Matt Gibson beat Jack Pullar of Canyon Eisberg second and British RR Champion Connor Swift (Madison Genesis) third. Alex Paton (Canyon Eisberg) was 4th in the break.
Result: Bristol Grand Prix
Matt Gibson provided his team with a great victory in Condor's 70th anniversary as he outsprinted Jack Pullar (Canyon Eisberg), British RR Champion Connor Swift (Madison Genesis) and Alex Paton (Canyon Eisberg).
Gibson was part of a breakaway that formed when Harry Tanfield and Alex Paton escaped and were joined Swift, Gibson and Pullar. These five opened up a good gap and in trying to close it down, double World Junior Champion Tom Pidcock crashed and his team's chances of bringing the break back were damaged.
Team Wiggins and One Pro continued to chase the leaders but nothing was damaging their lead. Even when Harry Tanfield pulled the pin as his legs exploded, the break got stronger if anything as Swift and Gibson started to work to make sure the break stayed away. Whilst the leaders completed lap after lap, the list of DNF's continued to grow as the heat and the circuit took its toll.
Back in the chasing peloton, a small group escaped (see below) and from that, Tobyn Horton (Madison Genesis) clipped off to finish fifth before several sprinters for the minus places and also Tour of Britain points.
The start to the race was delayed by well over an hour as safety on the circuit was requested to be improved and there were some tired and hot riders on the start line facing an even hotter race
Two jerseys on the start line, one for the road race series (Tom Moses) and the British Champion's of Connor Swift (Madison Genesis)
The top three in the race, Jack Pullar, Matt Gibson and Connor Swift
The riders roll away with 100km twisty, lumpy kilometres ahead of them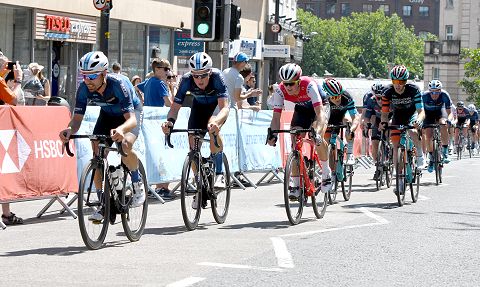 Lap 1 and Jack Pullar (Canyon Eisberg) was already on the front
Soon, after a few laps, Harry Tanfield and Alex Paton (both Canyon Eisberg) went clear…
Connor Swift (Madison Genesis) was quick to see the danger with Jack Pullar (Canyon Eisberg) in tow and Matt Gibson joining them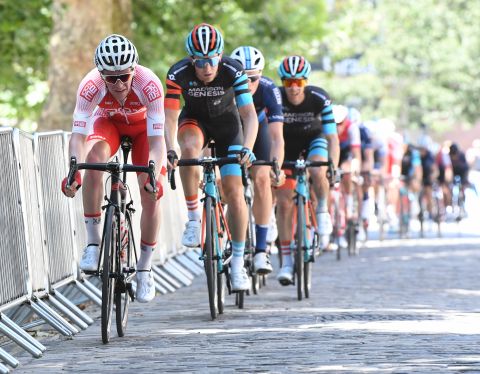 The GB Academy chasing but it a long time before there was any organised team chase …
Tanfield on the proper cobbles leading the break despite feeling he was riding 50 watts down on normal.
Tom Pidcock went off chasing and who should he have with him but two more Canyon Eisberg riders in Rory Townsend and Charles Page
Pidcock then crashed and his race was over as he had to walk to the next pits…
Pidcock's team Wiggins then took over the chase with Madison Genesis and Canyon Eisberg having numbers behind them
When Tanfield pulled the pin, Gibson and Swift started to work in the break
Meanwhile One Pro were working at the front but didn't have the  numbers to make a difference
And to rub salt in the heated wounds, Madison Genesis then clipped off with two more riders along with one from Canyon Eisberg, the GB Academy and Vitus Pro Cycling.
Tobyn Horton stays away to help his team win the team prize. he finished fifth.
Dan Tulett and Rob Scott then sprinted it out for sixth place
ELITE MEN
1 Matthew Gibson JLT Condor 2:20:15
2 Jack Pullar Canyon Eisberg st
3 Connor Swift Madison Genesis st
4 Alex Paton Canyon Eisberg st
5 Tobyn Horton Madison Genesis +49
6 Daniel Tulett 100% ME +52
7 Robert Scott Team Wiggins st
8 George Pym Madison Genesis st
9 Taylor Gunman Madison Genesis st
10 Julio Alberto Amores Palacios Vitus Pro Cycling +57
11 Dexter Gardias Canyon Eisberg +1:01
12 Matthew Bostock 100% ME +1:05
13 Isaac Mundy Madison Genesis st
14 Dylan Kerfoot-Robson Team Wiggins st
15 Erick Rowsell Madison Genesis st
16 Alexandar Richardson st
17 Rory Townsend Canyon Eisberg st
18 Jake Stewart 100% ME st
19 Campbell Stewart Team Wiggins st
20 Richard Handley Madison Genesis st
21 Karol Domagalski One Pro Cycling +1:10
22 Jonathan McEvoy Madison Genesis +1:16
23 Steve Lampier Saint Piran +1:36
24 Peter Williams One Pro Cycling +1:45
25 Joey Walker Team Wiggins +2:28
26 Fred Wright 100% ME st
27 Thomas Baylis One Pro Cycling +3:36
28 Marcus Burnett Spirit Tifosi Racing Team +5:48
29 Rhys Britton 100% ME +5:51
30 William Roberts Wales Racing Academy st
31 Etienne Georgi Team Wiggins st
32 Finn Crockett Wheelbase Castelli MGD st
33 William Bjergfelt Team Tor 2000 KALAS st
34 James Tillett Wales Racing Academy st
35 Oliver Peckover Team KTM UK st
36 James Ireson Morvelo Basso RT st
37 Luke Ryan Richardsons-Trek RT st
38 Adam Kenway Vitus Pro Cycling st
39 Jake Hales Spirit Tifosi Racing Team st
40 Neil Phillips Kibosh st
41 James Phillips Bristol RC +5:55
42 Jacob Scott One Pro Cycling +5:57
43 Ashley Towey Team Tor 2000 KALAS st
44 Anthony Moye Spirit Tifosi Racing Team +6:01
… continued after advert
WOMEN
1 Ejay Harris Storey Racing
2 Monica Dew Storey Racing 0.477
3 Chanel Mason Storey Racing 2.171
4 Ffion James Storey Racing 2.603
5 Bethany Taylor Bianchi Dama 03:13.5
6 Lauren Johnston Avid Sport 03:13.8
7 Rose Osbourne Forever Pedalling 03:16.8
8 Alexandra Sheehan Bianchi Dama 03:18.5
9 Rebekah Nash University of Bristol CC 03:22.9
10 Nicki Carr Tri UK 1 Lap
11 Joss Winter Athletique CC 1 Lap
12 Emily Walton Beeston Cycling Club 1 Lap
13 Molly Hodges Avid Sport 1 Lap
14 Lauren Booth Carnac-Planet X 2 Laps
15 Rosie Nunnerley DAS RAD KLUB 2 Laps
16 Karen Spiteri Avid Sport 3 Laps
… continued after advert
CATEGORY 3/4
1 George Aldridge BIKESTRONG-KTM
2 Christopher Hill Bristol RC 0.418
3 William Hibberd DAS RAD KLUB 0.803
4 Alex Mellor Bristol South CC 1
5 George Jones 73Degrees CC 1.017
6 Rob Walker Cambridge University CC 1.916
7 Patrick Henry Bristol RC 2.447
8 Tim Wilkey DAS RAD KLUB 2.763
9 Thomas Bass Latchem Sunwise Race Team 2.851
10 Christopher Owram Cardiff Ajax CC 3.031
11 Brian Glynn University of Bath Cycling Club 3.398
12 Scott Fryer Somerset Road Club 3.91
13 Nick Ball Team Tor 2000 KALAS 6.066
14 Kenneth Knight 8.308
15 Joel Thomas University of Bath Cycling Club 17.9
16 Will Budge Bristol RC 45.445
17 James Bullen URDT 46.421
18 Josh Griffiths Bristol South CC 01:00.9
19 Nicholas Anderson Salt & Sham Cycle Club 01:01.4
20 James Dudden Latchem Sunwise Race Team 01:02.2
21 Justin Gage Bath Cycling Club 01:04.5
22 Joshua Porter Bristol Cycling Development Squad 01:07.3
23 Dave Cullen Bristol South CC 01:16.8
24 Sam Andrews 01:24.0
25 Edward Jackson Islington Cycling Club 01:24.3
26 Theo Russell Bristol Cycling Development Squad 01:25.0
27 Nick Cox Bristol South CC 01:26.2
28 John Grenfell Bath Cycling Club 01:30.2
29 Troy Fry BIKESTRONG-KTM 02:42.6
30 James Orrock Mapperley CC 02:43.4
31 Kev Witton URDT 02:43.5
32 Daniel Riggs Corsley Cycle Club 02:43.7
33 Brett Smith BIKESTRONG-KTM 02:46.5
34 Thomas Stimpson Salt & Sham Cycle Club 02:47.6
35 Brett Smith BIKESTRONG-KTM 02:48.6
36 Chris Bowie-Hill Bristol RC 02:48.8
37 Tom Brookes Bristol RC 02:49.6
38 Joe Twelvetrees The Cycle Room 1 Lap
39 Thomas Southey University of Nottingham SCC 1 Lap
40 Ryan O Rourke Cwmcarn Paragon Cycle Club 1 Lap
41 Sam Hay Cwmcarn Paragon Cycle Club 1 Lap
42 Paul Enderson BC PM 2 Laps
43 Luke Rogers BIKESTRONG-KTM 2 Laps
44 Aron Jarvis BC PM 2 Laps
45 Sean Lynch-Lawton University of Bristol CC 2 Laps
46 Troy Fry BIKESTRONG-KTM 3 Laps
47 Matthew Dewey Complete Cycle Works 6 Laps
48 Simon Lingard DAS RAD KLUB 6 Laps
49 Tilemachos Makropoulos 7 Laps
50 Louis Salisbury Kenilworth Wheelers CC 7 Laps
51 Samuel Riley BIKESTRONG-KTM 9 Laps
52 Joseph Taylor Clevedon & District RC 14 Laps
53 Peter Fuller VC Norwich 14 Laps
---
Cycle Division's New Shop
---
Send your results as well as club, team & event news here
---
Other Results on VeloUK (including reports containing results)

---
Other News on VeloUK