Alice Lethbridge was the speaker at the August Pedal Club lunch where she gave an excellent account of her rapid rise from complete beginner in 2012 to outstanding time trial champion by 2017
News: Alice Lethbridge at Pedal Club
(by Chris Lovibond)
Alice Lethbridge was the speaker at the August Pedal Club lunch. She gave an excellent account of her rapid rise: from complete beginner in 2012 to outstanding time trial champion by 2017.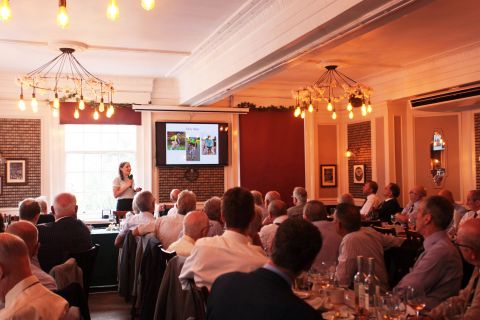 Her story will be familiar to regular readers of VeloUK, but here is a brief summary. Alice was originally a runner but, as we have often heard before, injuries made a change of activity desirable. Impressed by the Olympics and living near Box Hill she bought a modest £250 bike to ride up it. She quickly joined a club and started time trialling, winning an event on that first bike. Road racing was soon included in her interests along with a significant change of club to Drag 2 Zero. Her recent successes are well known.
The Pedal Club members are probably not all close followers of ladies' time trial results, but they are well aware of the amount of effort needed to cover 100 miles in substantially less than four hours, so when Alice mentioned her 3.42 comp. record there were some sharp intakes of breath. She then went on to say that she is not just a competitor but has also promoted events and even went out to help at this year's Breckland Twelve since the organisers were shorthanded. By this point it is fair to say the listeners really were really warming to their speaker.
This was a striking picture: a slender young woman before an audience which looked, superficially, so different but where it was clear there was a strong bond of mutual interest. The spirit of club cycling could be seen here, surviving and passing from one generation to the next.
Alice with cycling icon Alf Engers
---
Cycle Division's Shop
---
Send your results as well as club, team & event news here
---
Other Results on VeloUK (including reports containing results)

---
Other News on VeloUK