Young MI Academy riders win jerseys in prestigious invitation only West Vlaanderen Youth Tour over 3 days and 4 stages
News: Success for MI Academy in Belgium
A team of five young MI Academy riders set off for Belgium to compete in the prestigious invitation only West Vlaanderen Youth Tour over 3 days and 4 stages over the weekend of 17th to 19th August.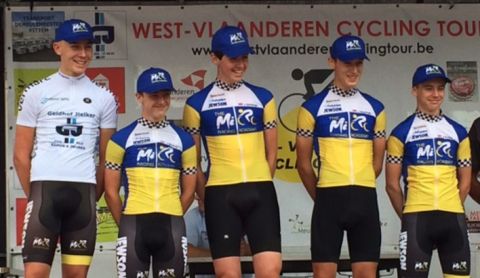 This tour has UCI status and attracted 24 teams of 5 riders with the a peloton of 120 riders in total with 19 teams from Belgium the USA national team, a strong dutch team and our own UK MI Academy riders all riders are under 16 and born in 2002/2003. Selected were Josh Giddings, Jack Brough, Edward Woodward, Jamie Kennerson and guest rider Bryn Richards from Bourne Wheelers, all but Ed were born in 2003 so were some of the youngest in the race.
Day 1 consisted of two stages a 61km road race on narrow roads around Meulebeke and an individual time trial of 6.5km in the early evening. The racing started fast and furious with four jerseys on offer so there was the inevitable crashes during the race which held up Jamie and Ed at the back of the field, however at the front Josh, jack and Bryn were mixing it with the best with Josh picking up a 1st and 2nd in the sprints competition and all of them making it into breakaways, eventually 6 riders went clear and gained 10 seconds at the finish, Josh sprinted in at the head of the bunch for 9th place and taking the white jersey for best young rider born 2003 a jersey he would target and eventually win outright. Jack and Bryn got held up in a finish line crash and finished 44th, 75th respectively
The evening time trial seen our riders put in some solid performances and increased time gaps over the competition, Josh just missed out on the win by 1 second taking 2nd, Jack 13th, Ed 49th Bryn 65th and Jamie 70th, the team competition is based on the first three riders so this catapulted us from 12th team in the morning to 4th after day 1 and Jacks brilliant ride seen him leap to 2nd behind Josh in the white jeresy
… continued after advert
Day 2 consisted of a really tough road race of 67.5km around Bellegem, with a long drag of 750m to the finish to be tackled 9 times again the racing was fast as the intermediate sprints meant there was constant attacks and pressure at the front, one such break had all four jerseys in it plus key riders from the USA this lasted the longest at one full lap but was eventually reeled in as two riders went clear for last 7km lap with USA national rider Luke Lamperti winning and taking the yellow jersey. Jack was best placed rider in 34th with Josh running out of energy in 44th but keeping his white jersey Bryn 90th and Jamie 110th. Ed unfortunately had a crash within the last lap and did not finish a brief trip to hospital for a check up meant he could not start the final day and his tour was over.

The final Day 3 was going to be tough a slightly longer stage of 69km over 9 laps of a rolling circuit with a 500m drag to the finish, racing started fast as usual with the bunch constantly in one long line, numerous attacks were contained by the super strong USA team as they defended the yellow jersey. A flurry of intermediate sprint points and time bonuses seen the US riders lead halve over the race distance with Josh picking up a few points in one sprint.
As the bell rang for the 'laaste ronde' the bunch were altogether coming into the last 1km the USA were leading out the yellow jersey with Josh using their train to get him at the front, he kicked hard from 100m to go going clear only to be pasted in the last 10m by the green jersey and eventual stage winner, Josh was a close 2nd, Jack 61st, Bryn 98th and Jamie a DNF
This was a fantastic experience for all our riders especially as three of them are only used to riding in small fields of 40 riders so this was a big step up in performance
The team made a massive impact on the race winning the white jersey and eventually finishing 5th team from 24.
Final performances across the three days
Final overall standings
Josh 6th at 36secs, Jack 12th at 56secs, Bryn 63rd at 1.42
White jersey best 2003 rider
Josh 1st, Jack 2nd
Red jersey intermediate sprints competition
Josh 2nd
Green jersey overall sprints competition
Josh 5th
Team competition
MI Racing Academy 5th
---
Cycle Division's Shop
---
Send your results as well as club, team & event news here
---
Other Results on VeloUK (including reports containing results)

---
Other News on VeloUK