Britain's Matt Gittings finished a creditable fifth in the  European Derny Championship as Nick van der Lijke led a Dutch one-two 
Report: Gittings 5th in Euro Derny Championship
Nick van der Lijke led a Dutch one-two to win the European Derny Championship in Erfurt on Saturday as Britain's Matt Gittings finished a creditable fifth. Van der Lijke and his teammate Maikel Zijlaard proved too strong for defending champion and home crowd favourite Achim Burkart, who had to settle for the third spot.
The 26-year-old van der Lijke (Roompoot-Nederlandse Loterij) said the Dutch double had come as a surprise. "Maikel and myself were talking last night and thought we might make the podium, but we never expected this," he said. Van der Lijke made his decisive attack early in the 120-lap 30km final, taking with him Hagens Berman Axeon rider Zijlaard, paced by his father Ron, Burkart and Italian Davide Vigano.
"It was better for me that way rather than wait to the finish," he said.
Paced by former Six Day star Rene Kos, Van der Lijke was able to keep a comfortable buffer between himself and his compatriot with Burkart unable to mount a sustained challenge. Gittings, fifth in Hannover in last year's final, closed on the fading Vigano at the back end of the race as he outsprinted Denis Rugovac of the Czech Republic in a frantic finish for the minor places.
Later came an enthralling and gruelling battle for the European Steher Championship as home rider Franz Schiewer, paced by Gerhard Gessler, prevailed in the one-hour test of speed and endurance. Dutchman Reinier Honig, with Jos Pronk, made the early running until being eventually overhauled by local hero Schiewer, who retained the title he won in Berlin last year.
Daniel Harnisch, paced by Peter Bauerlein, took third spot, but the chances of another German, former champion Stefan Schafer, were compromised as he was forced into a bike change. Friday's closely contested Derny heats saw victories for Van der Lijke and Zijlaard, with the only surprise the exit of Germany's Jasper Frahm, paced by Bauerlein.
Gittings qualified comfortably from heat one, just behind Vigano, who later raced in the Steher heats, reaching the final as the fastest fourth-placed finisher. Saturday's competition at a packed Erfurt Arena saw victory for Frahm in the minor Derny final followed by victory for another German, Robert Retschke (Holger Ehnert), in the Steher consolation race.
The scene was then well set for the two major finals, which did not disappoint in the first combined European and Steher championships, that proved a popular success for the paying customers and those watching the excellent TV coverage on a livestream via the UEC website.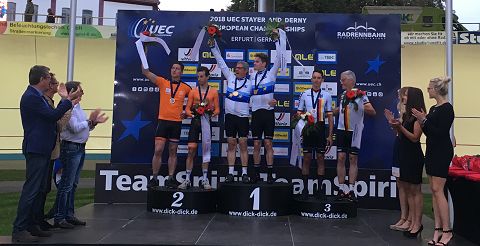 ---
Cycle Division's Shop
---
Send your results as well as club, team & event news here
---
Other Results on VeloUK (including reports containing results)

---
Other News on VeloUK