His team may have folded after a decade at the top, but former pro road race champion and a team manager since the mid 80's, John Herety is proud of what the team achieved and rightly so
Feature Interview: John Herety (JLT Condor)
His team may have folded after a decade at the top, but former pro road race champion and a team manager since the mid 80's, John Herety is proud of what the team achieved and rightly so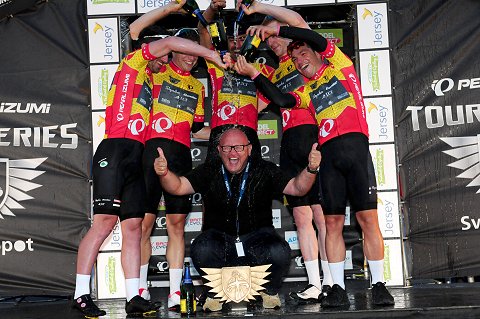 Probably the best picture I have taken of the team in all their years – John celebrating a Tour Series victory with his riders
Having started my own cycling career in 1973, I remember reading about John Herety when he raced and became one of the country's leading riders, both as an amateur and professional and that helps to put into perspective his contribution to the sport in this country over many decades.
The Manchester rider had many a success and that included the British Professional Road Race Championship in 1982 and also he rode with many of the biggest world stars of the sport in that era like Freddy Maertens, Roger De Vlaeminck and Joop Zotemelk
Household names then but sadly, probably all new to the fans of today. Thanks to John's success as a manager however, 'Mr H' is still a familiar name to many fans today through being the co -owner of a winning British squad.

2007 and John is interviewed at his team launch for the Recycling team
His palmeres as a rider was equally outstanding though – victory in the Manx Trophy during that race's glory days, a stage in the Peace Race which was a massive event of its time and of course, a stage win in the Milk Race (National Tour). There are many other top performances too in that palmeres but getting ill saw John move into team management in the mid 1980s.
So his experience as a rider and manager is second to none and I got to know him when he was a Great Britain cycling team manager and then afterwards with teams like the Recycling one (2006/2007). After that team, John got involved with the one that he has become synonymous with for the last decade carrying various sponsors names as well as the name Condor.
… continued after advert
The team was never owned by JLT or Rapha but has been a team owned and run by John Herety and Grant Young from Condor Cycles. "It has always been well run" says John, "and we always did things properly so I could sleep at night. We never went over budget."
Asked about how it all began, John explained "in the early days, Rapha Condor had a small club team and were doing Premier Calendar events and such like. I bumped into them when I was manager of the Recycling team at the Tour de France prologue in London and we had a conversation and it started from there."
But the team he currently owns with Grant Young is just one of many teams he has worked with over the years since 1985 and the problems the sport faces now, have happened before as John explained how he's seen it in the sport over and over.
2009 and the launch of the Rapha Condor team
"It (the issue of teams folding) is kind of magnified this time because people, with the amount of people riding bikes at an all-time high, cannot understand why the scene is as bad as it is when we have all these people riding bikes and all this success at World Tour level,"
But as John explained, the scene now and over the last few years has never been as good so whilst it isn't good, it also isn't that bad either. When I first started covering the sport, there were teams like Harrods, Men's Health, and Team Brite to name those that I remember from 20 years ago.
"Those teams had a lot smaller budgets back then and it was quite acceptable to race for a bike and prize money" John explained. "Team Brite did come in with more money and that attracted all the top riders so they were dominating and I don't think that was good for the scene but you can't blame Brite. It's not their job to dumb down; it was up to other teams to step up".
"I thought about it the year we dominated the season a fair bit and I was thinking 'is this good for the sport' and in the end after talking to people, the question to me was, what are you going to do – lose races on purpose? It wasn't our job to do that. We set the standard for other teams to aspire to and I'd like to think that is a legacy we left".
John back in the day as manager of the GB Academy with a Tour de France overall winner (Geraint Thomas)  in the squad, multi stage winner (Mark Cavendish) and multi Olympic champion (Ed Clancy) as well as a seasoned pro in Roger Hammond who are all still involved the sport.
Was the cycling scene ever as good as it is now, team wise, I asked "No. I am all for looking forward and you have to learn from the past but not dwell on it. In six months time, it may have been good for the sport our team disappearing. The racing may be better, it may encourage other teams to step up because of the riders that are available they didn't think they could get before. It could be a blessing in disguise".
"So no, I don't think it has ever been as good as it is now. There are certainly a lot of riders with mortgages at the moment that could not do that before this period of the sport so you have to thank the Madison's of the world for stepping up and also what Tim is doing at Canyon Eisberg who have had an incredibly successful year."
"The riders from my team will pop up somewhere else and if they don't, maybe they didn't want it enough and they need a change of direction and to go back into the real world".
John admits that whilst he hasn't paid as much as some teams have for riders over the years, his riders have come to his team to ride for many reasons other than the amount of money they get paid. "There have been times when riders would definitely have got more from other teams, but they would not have got the race programme" added John.
John and I spoke for an hour and that could have gone on for a lot longer because what this team owner doesn't know isn't worth knowing. Take the way he dealt Matt Gibson and his (glandular fever) chronic fatigue illness, something that curtailed John's own career. I remember John telling me a few years ago when I met the team in Australia that he was going to under race and train Matt until he was strong enough to come back and this season Matt Gibson did just that. There is many a team that could learn from John.
Junior road worlds and John giving advice to Ben Swift
We then talked about team campers/buses and their effect on the sport. Okay, not a huge subject but an example of change and how it effects the sport. "I fought against that aspect of it as I didn't think riders at that level required such a luxury but in the end I was wrong. So we got one but they (camps/buses) have changed the sport in that riders now stay put in them before races. Before the camper, our team was famous for interacting with the public at stage starts etc and the camper and buses stopped that. Now I have to force riders to get out and meet the people!"
We then took a trip down memory lane to the 80's when he raced and the scene in Britain. John talked about when the pro crits dominated the racing and were taken away to make way for a national tour.
"There was a strong UK scene when I raced here with the Kellogg's town centre races. That scene boomed in the 80s but when the organisers switched from the city centre series to a Kelloggs Tour of Britain, whilst all the British pros got to ride the tour, they weren't anywhere near as competitive as they were in the criteriums."
"For the crits, the organisers would bring the Tour de France riders to the crits and with the exception of Alan Peiper and Phil Anderson, they'd get their asses kicked. The organisers put the city centre races on because they fitted the market place in the UK. People got it and came to watch or watched it live on TV."
2011 and another Tour Series victory
"It was a very smart business model and the events were well run but as organisers, they weren't getting creditability from the UCI so they wanted to step up and so they did. The city centre crits disappeared and were replaced by a national tour and that changed the pro scene and it stumbled a little bit".
"Sweetspot (Tour of Britain organisers etc) have learnt from those days and as Mick Bennett was involved in both those organisations back then (crits and national tour), he knows only too well what is needed and he now has his Tour of Britain that gives his company the creditability from the UCI and the World Tour teams but he's also supporting the home scene with the Tour Series.
Going back to his team of the last decade that became part of the fabric of the sport, and asked for a highlight or three, he says "it is difficult to pick them but winning the national road race championship (Abergavenny with Kristian House) was a big deal, as was the Tour of Normandy (Tom Stewart). We also won the Tour of Korea with two different riders (Mike Cuming and Hugh Carthy) so that was also a big one".
"The thing we are so proud of is we lasted as long as we did and we did it in a way where we were never trying to be something we weren't. I was never interested in ProConti and wanted to be the big fish in a little pond and do this well rather than going up a level or two and doing that poorly."
"We are respected around the world as a team and I am proud of that. If we had tried to go up (to ProConti), maybe we would not have lasted as long as we have." John then added how they raced worldwide has shown the sport from Britain in a good light in the way the riders have performed and he feels that has probably gone under the radar here.
And it isn't just about riders as staff who have worked for John have also gone on to bigger and better things. Tom Southam being just one. John then told me that after the team folding announcement he had a World Tour manager call him and thank him for the way John has taught his staff correctly and professionally".
That World Tour manager isn't the only person who has spoken to John directly and indirectly. The announcement has been met with a lot of comment from the cycling world.
John has known since the agreement with JLT was signed years ago that the end to that sponsorship would come and said they have tried very hard to find a replacement for eighteen months. "We have tailored the proposals to fit particular companies and so we have been trying very hard. The amount of money we require though just can't be signed off by someone in a marketing department thinking it's a good idea; it has to be approved by people higher up in the company."
… continued after advert
John then explained how getting that approval does mean finding someone who either likes the people in charge of the team or the sport itself and so knows about cycling and how to make it work for their company.
"That was true of JLT" he says. "I can only thank JLT for what they have done for the team. They have been a fantastic sponsor."
The team's time with JLT Condor started as a young under 23 development team but JLT soon started to get the 'bug' and were asking says John, 'what would it take to win races'?
"We gave them a budget to win races and they then asked what would make the biggest difference – more money? and I said no, the biggest difference is made by having a longer contract so they ended up giving us money for three years."
"I have no doubt the success of the team the last three years has been because of that three year contract and the stability it gives you. The riders may not have had two year contracts but because they knew it was carrying on, there was some security there if they did their jobs well and performed well and had the chance to stay on as it is always easier to stay on than transfer".
So what now for John? "I don't know what lies in the future" he says. "We're paid until December 31st so we have a period of time where we don't have to make any snap decisions. We'll look at anything that comes along and we're open to offers!"
"I am missing it already and it's only a week since the Tour of Britain but I know many of the team's riders have contracts which I am pleased about."
"There is an opportunity now for a team to be put together at the last minute and they'll get a very good team for a relatively small budget which is the irony of this. I would love to start again, like I did 12 years ago, a small team and start the process."
So how much I asked to start again?
Around £200,000 for the overall budget. It is not easy to get those figures off anybody but we'd have a very strong team for that money and we could see where it takes us…"
We wish John luck in finding the money to continue with a team whether that be an Elite one or a UCI one… and thanks for the chat…
Amateur team(s)
Cheshire Road Club
Abbotsford Park RC
Altrincham RC-Rotalac Plastics
1981 ACBB (France)
Professional team(s)
1982–1984 Coop-Mercier
1985 Ever Ready
1986 Percy Bilton
Managerial team(s)
Percy Bilton
1999–2005 Great Britain[2]
Recycling.co.uk
Condor Racing Team (with various major sponsors, Rapha, Sharp, JLT)
---
Cycle Division's Shop
---
Send your results as well as club, team & event news here
---
Other Results on VeloUK (including reports containing results)

---
Other News on VeloUK