Anna Henderson heads up new elite women's team called Brother UK – Tifosi p/b OnForm and will comprise a mix of youth and experienced riders
Team News: Brother UK – Tifosi p/b OnForm
Team OnForm is excited to announce the launch of its new elite women's team. The team will be called Brother UK – Tifosi p/b OnForm and will comprise a mix of youth and experienced riders.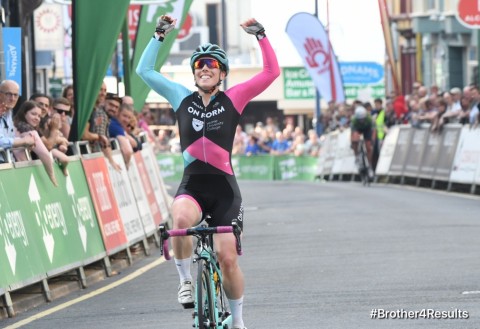 A real winner is Anna Henderson who continues who race program with a British based team
It's going to be one to watch in 2019! We are delighted to reveal that Anna Henderson, the current British criterium champion who is representing Great Britain at the UCI World
Championships in Innsbruck this week, is the first rider to join the team. Details of the rest of the team will be announced over the coming weeks.
Team OnForm has racked up an impressive list of achievements since its inception in 2017, something that everyone involved is immensely proud of. OnForm was set up with an academy philosophy to develop riders and support team alike. The formation of this new tier elite team within the OnForm structure will give more riders opportunities to race within the OnForm set up. It will also create a team that the younger OnForm riders can aspire to be part of.
This development philosophy, as well as the support, sponsors, enjoyment, energy and all that OnForm has demonstrated in the past two years will carry into Brother UK – Tifosi p/b OnForm. There will be plenty of opportunities to see the team in 2019 as the race programme will also be similar, supporting the UK domestic racing scene, as well as regular trips to Europe to compete.
The Tifosi bike the team will be riding 
Team Manager, Simon Howes, says "it's great to be able to show progression year on year. With the recent news of teams finding it difficult to recruit sponsors, being able to provide at least another 10 spots within the senior women's UK race scene shows our long term commitment to support and nurture talent. "None of this would have been possible without our partners, such as Writtle University College, Perkins Garages and Campagnolo, amongst many others, who all believed in our ideas and philosophies from day one. Their support and confidence in what we are striving to achieve has allowed us to add Brother UK – Tifosi p/b OnForm to our team portfolio.
"I'm indebted to two key individuals," continues Howes. "Phil Jones MBE, Managing Director of Brother UK has been inspirational and very supportive of the ideas we've put to him. His advice and managerial knowhow has been invaluable to my decision making. The other is Andrew Paine, Managing director of Perkins garages, whose input, ideas and motivation has no limits. I've no doubt with Andrew's input Team OnForm will never sit back on its laurels."
… continued after advert
Brother UK is a well known sponsor in the UK cycling scene, supporting a diverse portfolio of six teams. They are keen for others to share their philosophy. Phil Jones comments that "Cycling is a Great British success story and one that Brother UK is proud to be a part of. Our reward for partnering with teams at the grassroots is the chance to make a real difference to the sport, as well as to see at first hand some of the brightest young talents take centre stage for the first time; riders like Anna Henderson, for example. We're getting good outcomes from supporting cycling and we actively encourage other companies to get involved and enjoy the same rewards. UK cycle sport urgently needs more of these win-win partnerships."
Jones adds, "We're hoping to see further development on the very solid foundations on which Simon Howes has built the team. One of the many inspiring aspects of Team OnForm is that it grants opportunity to talent in all roles – to aspiring soigneurs and sports directors, as well as to riders. We'd love to see this continue. The development of a parallel identity for Team OnForm as an unofficial skills hub for the UK racing scene would be a fitting achievement for someone of Simon's experience and standards."
Chicken Cyclekit will be providing the team with the new Tifosi Auriga with Campagnolo Chorus. Mike Catlin, their Commercial Director said "Chicken Cyclekit are incredibly happy to have the Tifosi bicycle brand associated with Team Brother UK – Tifosi p/b OnForm for 2019. We share the same values as the team and are pleased to support such a talented group of riders and the team that surrounds them. Our philosophy in recent years has been to support the UK racing scene as much as possible with our brands, and it is very evident how much women's racing has grown in popularity in recent seasons and it's fantastic to be a part of continuing that growth. For us, to have an opportunity to become a title sponsor with such a great team really offers everything we want from a partnership."
The team also adds further experience on the management side. Paul Freeman, formerly Sports Director of UCI teams who guested as Sports Director at the recent Ras na Mban, has been appointed as 2019 Sports Director. The new team bike will be on display at The Cycle Show in Birmingham later this week. Visit the Chicken Cyclekit stand to see more.
---
Cycle Division's Shop
---
Send your results as well as club, team & event news here
---
Other Results on VeloUK (including reports containing results)

---
Other News on VeloUK