A long standing competitor in bike races in the UK is Will Bjergfelt who will ride for SwiftCarbon Pro Cycling in 2019 – he takes the Q & A
Q & A: Will Bjergfelt (SwiftCarbon Pro Cycling)
A long standing competitor in bike races in the UK is Will Bjergfelt who will ride for SwiftCarbon Pro Cycling in 2019. In 2018, Will rode for TeamTor2000 is also part of the Great Britain Paracycling team – he takes the Q & A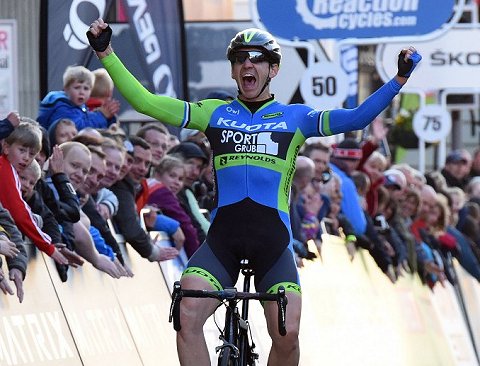 Guessing this is one of Will's proudest moments – second in a round of the Tour Series at Barrow behind Chris Lawless when riding for Andy Swain's Kuota team
1. How did you get into the sport of cycling?
WB: I started out as an overweight MTB'r who fell completely in love with cycling and racing. My cycling has shaped my life in so many ways from giving me confidence and fitness as a young man to being dedicated and driven to win in all aspects of my life.
2. Full time rider, student or working?
WB: Working (although some may claim part time with all my leave) LOL. I've been lucky to work for the same company for 18 years+ and they have always supported my racing and do so even more now that I'm part of the GB Paracycling team
3. Best race for you in 2018 and why?
WB: Final round of the UCI Para-Cycling World Cup TT in Canada. I took my first World Cup win beating the current road World Champ in the process
4. Best organised/fun race you did in 2018?
WB: Road Nationals (Beaumont Trophy course). Still gutted though that the Cav group I was riding in was pulled when about to start the finish loop with 20km remaining whilst we were still within (I'm told) eight minutes of the winning riders.
Will racing in Bristol in 2018
5. Toughest race of 2018 and why?
WB: Victor Berelmont, National B road race. Conditions were horrendous, torrential rain and cold. Got round though and ended up placing 6th.
6. Funniest moment in a race in 2018?
WB: Not sure I had any in 2018 but in 2017 a bird soiling my arm in the neutral of the final stage of the An-Post RAS comes to mind, calling up my Neon-Velo team car to clean me up.
7. Do you train alone or have others to help you get through the ride?
WB: When I'm at home, I train mostly on my own as I'm set specific sessions that aren't really sociable. I do get away though and train sometimes with Adam Duggleby.
8. In the winter – training on the road or indoors?
WB: A good mixture. I'll be spending plenty of time in the Velodrome prepping for track worlds, intervals often carried out on Zwift on my Wahoo Kicker and some of my classic Mendip loops.
… continued after advert
9. How many hours on the bike can you fit in during an average winter training week?
WB: 12-15 hours with another 3 in the Gym.
10. Is there any off the bike training (running/swimming/gym etc)?
WB: Yes, I have been tasked this winter with gym work twice per week to try and even up as much as possible my power imbalance and improve my core.
11. Do you train with any gadgets (Heart rate/power) or just go on 'feel' of the ride
WB: Yes, all my data is gone over by multiple coaches at GB and Rowe & King. I use a Wahoo Bolt head unit and either Info-cranks or Rotor Power depending on the bike.
12. Which pieces of the clothing would you use to keep warm and dry on a rainy, cold day like winter now?
WB: Definitely my Kalas Thermo-Winter jacket. Its really good at keeping the top half of your body warm and dry.
… continued after advert
13. What are your key goals for 2019?
WB: UCI Para Track World Championships is my first target, after that a switch back to road and Tour Series will be a target before Para Road Worlds and the Yorkshire UCI C1, in September.
14. If there was one race you could get a ride in during 2019, what would that be and why?
WB: I love the Rutland Cicle Classic, although being part of a bigger UCI team now, selection will be firmly in Paul's hands if he decides to send me.
15. Favourite pro race to watch on tele and why?
WB:Paris-Roubaix. It's got so many dimensions that make it totally un-predictable.
16. Do you race in the winter to keep the top end or focus only on training?
WB: Yes a little, I've been dropping into my local track league at the Geraint Thomas Velodrome in Newport as well as last weekend being a part of the GB Para team for the London World Cup that was incredible with mind blowing crowd.
17. Finally, best thing about being in a UCI team for 2019?
WB: The potential for a new team to step up and hopefully supporting and encouraging the wealth of young new talented riders selected for the squad.
---
Cycle Division's Shop
---
Send your results as well as club, team & event news here
---
Other Results on VeloUK (including reports containing results)

---
Other News on VeloUK