We have so many Q & A's and the latest to come in is from Noze at Cycling Holiday Spain who has had 20 plus training camps in 2018 in the sunny climate of Southern Spain and is a popular resort for Brits
Q&A: Cycling Holiday Spain
We have so many Q & A's and the latest to come in is from Noze at Cycling Holiday Spain who has had 20 plus training camps in 2018 in the sunny climate of Southern Spain and is a popular resort for Brits. Cycling Holiday Spain has been a great supporter of VeloUK for many years and has entertained many a star rider at his villas when they travel there for a pro style training camp.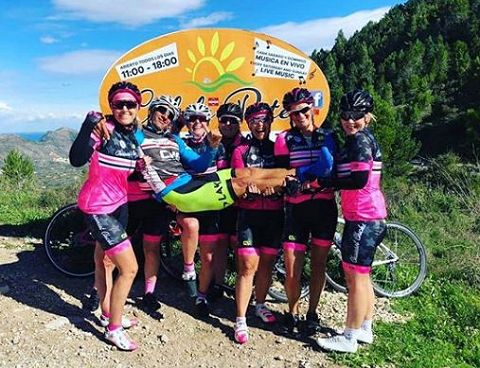 VeloUK:. How many different training camps would you have there in a season approximately?
Noze. Generally speaking we run about twenty plus training camps during the season starting from September through to mid November. We shut over Christmas and open again January time . In the past, we have also run Christmas camps which have gone down very well and always attract a great crowd!
VeloUK. Are you getting more and more British riders coming to Spain to ride with you?
Noze: As we have built up a solid reputation, we are seeing more riders from the UK which is fantatic and we have so many friends from there now! Also, this year we have had teams and clubs from other parts of Europe such as Norway.
VeloUK: What was the longest (or one of the longest) rides you did on a training camp in 2018?
Noze: Generally speaking, most rides are around four hours where you knock up 6000 feet of climbing easily. One of the longest rides we did was nearly 180 km which is a hell of a lot here. I named that ride the 'leg breaking tour of the Costa Blanca'! It was an epic day with over 10,000 feet of climbing and seven hours plus riding in the saddle! It took in many climbs used in La Vuelta such as the Cumbre del Sol and Tudons and the Aitana.
VeloUK: What have been the funniest moments you remember from camps in 2018?
Noze: There are so many funny moments at CHS. There is always something to make you laugh on a daily basis. Me and my bro like to have a laugh as we love what we do and always pranking around at the camp! Halloween was funny shopping in a Spanish supermarket for Haribos after dinner wearing masks – it was a bit like the ex presidents in the film Point Break when they go into the bank!"
VeloUK: What is the most requested breakfast before a training ride?
Noze: Breakfast is a big deal here at CHS and we like to fuel up our clients. We do everything from cereals and porridge to poached eggs or omelettes . Its true to say porridge is a winner here and we use jumbo oats and get through bucket loads of it and lots of peanut butter too! We also do shakes and smoothies too!
VeloUK: What is the most popular after ride meal?
Noze: Over time we, have have developed with rider feedback post ride lunches. My brother's home made Spanish omlette "Tortilla Espanola" is awesome and we make sure we make enough! Lunches are carb and protein rich and include fish, eggs, pasta, rice salads and beans. There is always plenty to go round. We also provide an immediate post ride protein recovery shakes.
VeloUK: What is your favourite training route with the riders who come to stay with you?
Noze: There are sooooo many good routes here for riders we are spoilt for choice. Personally, I love riding up to Guadalest. It's right on the doorstep and never ever loses its appeal. From here, you can take on the Aitana, Gorga and the Col de Rates. We alll love the Col de Rates. You will see the pros testing up there and of course the Col de rates Cafe does the worlds best apple strudel!
VeloUK: What is the longest some one has come and stayed with you for?
Noze: The longest people stay for is two weeks and one one guy managed to ride very day – his name was Paul Cackett and is highly regarded as a seasoned well conditioned athlete and a great all round guy! He is back in February so I had better get my legs ready!
VeloUK: Post riding, what do people do for the rest of the day?
Noze: Most clients on return to camp will fuel up on the lunches here, jump in the sauna and then get their complimentary massages. By then it's dinner time so a film in the training camp cinema or tinkering with bikes, gym etc
VeloUK: How is the weather there in January?
Noze: The weather in January is generally clear blue skies as the low pressures are over the UK and we have high pressures over us! Temperatures can be 18 degrees but cold in the mornings and evenings! The weather here is stable unlike Majorca which being an Island is much more unstable.
… continued after advert
VeloUK: When do the 2019 training camps start?
Noze: 2019 camps start in January though to June. This year we are running a camp in August to coincide with La Vuelta Espana stage 2 – 193 km Its on our door step!
VeloUK: What improvements have you made to the resort in 2018?
Noze: We have made great improvements to the camp this year including Smart TV and coffee machines in all rooms. We also have a new dedicated reading area full of magazines and books which overlooks the pool and the Sierra Bernia mountain!
VeloUK: What part of the post ride stay at the resort do riders like most – the massage, the pool, the pool table, the bed (for sleep of course LOL)
Noze: We get a lot of repeat clients and friends. They all love the food at the camp. It is all home cooked from fresh ingredients . My bro is a great cook -, just ask anyone who has been here and his deserts are sweet as! One of the most liked services we offer is massage in the evenings. It really does help the legs recover and is also very relaxing for the mind and spirit too!
VeloUK: Do many riders leave their bike at home and hire one from you to make the journey easier?
Noze: We do have hire bikes Merida Sculturas but most of our clients like to bring their own rig to experience riding it on perfect roads!
VeloUK: Finally, how much notice does some one need to give you when making a booking – ie, if it starts snowing, can they get on the phone and organise a stay!
Noze: We are flexible and always accommodate people if we have space even if they contact us the night before!
---
Cycle Division's Shop
---
Send your results as well as club, team & event news here
---
Other Results on VeloUK (including reports containing results)

---
Other News on VeloUK