Scott Thwaites has joined Vitus Pro Cycling Team, powered by Brother UK, completing a significantly strengthened line-up for Cherie Pridham's team as the start of the 2019 season draws closer. We talk to Scott about the move back to Britain
Feature Interview: Scott Thwaites (Vitus pro Cycling p/b Brother UK)
Yorkshire's Scott Thwaites (28) has joined Vitus Pro Cycling Team, powered by Brother UK, completing a significantly strengthened line-up for Cherie Pridham's team as the start of the 2019 season draws closer.
Yorkshire's Scott Thwaites (28) has joined Vitus Pro Cycling Team, powered by Brother UK, completing a significantly strengthened line-up for Cherie Pridham's team as the start of the 2019 season draws closer.
The Yorkshireman first raced for Pridham in 2006, and has since built a reputation as a consummate professional, able to ride at the sharp end in the Spring Classics, and to protect his team leader for the entirety of a Grand Tour. His skills in domestic racing have previously made him British Criterium champion and overall winner of the Premier Calendar.
His team boss Cherie Pridham said of the signing, "I'm delighted to welcome Scott to Vitus Pro Cycling Team, powered by Brother UK. Strength-in-depth is the defining characteristic of our 2019 squad, and Scott embodies the unwavering standards demanded of a top professional."
"It was a pleasure to work with Scott when he was still an emerging talent with obvious potential, and now he has completed nine years as a professional, it's very satisfying to be working with him again" Cherie added. "A rider strong enough to finish two Grand Tours and nine Classics can only be a significant addition to our squad."
… continued after advert
Thwaites first came to prominence in 2009, when he won the British Under 23 mountain bike title. After honing his road skills with Pridham, he joined Endura Racing in 2010, for whom he won the Lincoln GP in 2011 and the British Criterium title in 2012. When Endura Racing merged with Team NetApp from Germany to create the Team NetApp-Endura squad in 2013, Thwaites graduated to the Pro Continental ranks, and after four years with Ralph Denk's team, joined Team Dimension Data in 2017.
His journey to the continent saw him achieve many a top 10 or podium place in classics like Kuurne-Brussels-Kuurne and Strade Bianchi and many many others. Scott has also ridden, and finished two Grand Tours, the Tour de France and Vuelta Espana. Races he has ridden also include Tour of Flanders, Gent Wevelgem, E3 GP, Tirreno Adriatico and Het Volk.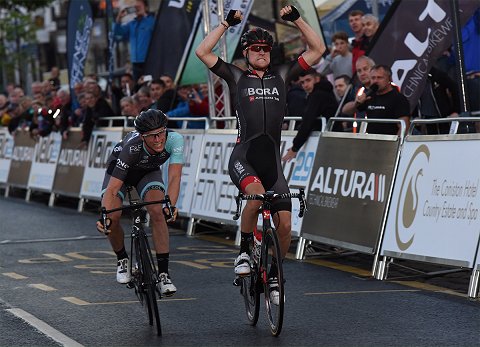 That is some palmeres and a real coupe for team owner Cherie Pridham to bring Scott back into another of her teams a decade after the first time. Speaking to Scott today (Tuesday, Jan 18), he explained "I have been keeping an eye on the British scene ever since I went to race on the continent and there are a lot of guys back home I train with, some of whom are the main guys who race this scene."
"The standard is getting very strong now, especially the strength in depth. In the past, it used to be a handful of riders who were dominating everything but now there are a lot of riders coming through and the teams are getting bigger and racing more like professionally. The races are more controlled and it's getting closer to what the bigger races like those in the World Tour are like. So it is going to be exciting for me to come back and see how I go. It may take me a bit of time to adapt to the racing here in Britain as it is different in some respects".
Coming from a WorldTour team where he had a role to play, returning to Britain will give Scott the opportunity to be a team leader again. "That is one of the things I have missed over the years. In the bigger races, I have been working for others and it is always nice to get the opportunity to try and win races, something you don't get in the World Tour unless you are the team leader. Coming back to the UK will be a great opportunity for me to try and win something and get that buzz for racing."
"That was one of the reasons for coming back to the UK. After the accident (see below), I could have left the sport and done different things and it was a thought for me especially as I am getting older and it was serious accident which makes you think about what you want in life."
"In the end, I looked at it and realised I love racing and have managed to overcome the accident and get back to full fitness and I was performing well at the end of the year. I feel I'm as strong as I was before the crash so the main thing for me is to get that love of racing back and the enjoyment and try and win things. The British calendar offers some great opportunities to do that and I'm looking forward to getting stuck in and trying to get my hands in the air."
At 28, Scott is in the peak of his career and so I asked does he feel he is still improving as a bike rider … "I have always been a slow and steady rider, getting better each year but never had that big jump to really stand out. I think I've made good progress through the years riding at Pro Continental and World Tour and even at the start of 2018 (pre-crash), the numbers were a little better than the year before and I knew for some of the races I was going into about where to move in the race, what to do, and it was a just a shame I had the accident which came at a really bad time."
"Looking back, the main thing for me was being able to recover from that crash and perform at a good level because with things like that, you never know and a slight difference can be the difference to doing what I am doing now and being excited to be starting a racing season to not being able to get back on the bike like some others have unfortunately ended up. So I am really thankful I can still race and continue to improve."
"I am only 28 and feel like I have been racing for a long time which I have, but at 28 there are plenty of years left and I'm just taking the racing as it comes. I don't have any massive expectations. Of course, if I have a really good season, I'd love to go back to the World Tour as I have a sense of belonging there and want to continue improving and to see where I could have got at that level."
The crash in early 2018 where Scott fractured several vertebrae, was a training one on a twisty road where he hit a car which he admits was his fault with a small lapse in concentration and one many riders will probably relate to. "Sometimes you look up in time and manage to avoid the obstacle at the last minute and other times you're not as lucky. I was very unlucky in that I did a lot of damage to myself but it could have been a worse."
Thankfully Scott has recovered from the crash and is returning to ride with team owner Chez. Asked about his first stint in a team with Cherie, he explained "I was still a schoolboy riding a year up (because of the date of his birthday) in the juniors with the Merlin Development team. It was my first proper team with bikes and kit and travelling to races together. It was a great introduction to racing at that level. I had a few years racing with Chez and it was always great and one of the reasons why I trusted her and know what I am going to get from her. It gave me the confidence to go for it."
From those days as a teenager, Scott has come a long way. Asked about his career highlights, he says "when I was racing in the UK, I never thought I'd be racing at WorldTour and I was just enjoying what I was doing."
"You do a bit better and then a bit better again and all of a sudden your team steps up a level and it goes from there. Every year it was a new thing and it was incredible to be on that journey to the top and I think as a bike rider, you always watch the Tour de France and want to be there so to get that opportunity in 2017 was a nice way of capping my career."
"At that point, I was hoping to go on and do bigger and better things and maybe even win a stage in the future but the accident just put my feet on the ground and made me realise what I have achieved in my career and I think going forward, whatever happens, I can look back and see I have a Commonwealth Games medal, ridden the Tour and a lot of the big classics and I am proud of that whatever happens. It also gives me the motivation to go and win some races this year and see if I can get back to WorldTour level as it would be nice to be lining up at the Tour again in the future".
Finally, in the Vitus Pro Cycling p/b Brother UK team, Scott is going to be a senior figure in the team with many a young rider looking to do what he has done, ride at the highest level. Asked how he feels being like a mentor to these young riders doing what he did so many years ago, Scott replied "when I was the age of some of the riders in the team, I never expected to get to this level"
"I was always grateful for opportunities I had when I as younger whether it was at Merlin, Endura and so on; they were great opportunities so I just tried to do the best I could and kept taking it step by step. If the young guys keep their feet on the ground, keep working on improving and taking in information, they will progress".
"There are so many experienced guys around in the British scene including those in the team; guys like Briggsy and Ed Clancy who have won a lot of big races. So I think the young guys have got to be not afraid to just ask things. A lot of people think if you ask, you look like an amateur or don't know what you are doing but when you first start as a professional racer, what kid does know a lot about what they are doing and they need to learn from somewhere. So, its about having that confidence to ask and they will gain more by doing that and getting the right information than trying to guess or do their own thing and hoping it's the right thing".
"I am just hoping they see me as their equal because I am just another guy on a bike, I'm nothing special because of where I have been or what I have achieved. I will be doing the same races for the same team at the same level so they just have to come up and ask and tap into my knowledge and I will be happy to share my experiences and what I have learnt over the years. Hopefully that will help get them to where I have been and help them get that opportunity".
Our thanks to Scott and good luck to him in 2019 and returning to the top step of the podium … Vitus Pro Cycling Team, powered by Brother UK has made a number of key signings in the closed season, including triple Olympic champion Ed Clancy, and Graham Briggs, who, like Thwaites, are former British criterium champions. Additionally, Pridham has retained two of her brightest young talents in Liam Davies and Tim Torrie, while recruiting rising star Red Walters alongside a host of established talents, including Commonwealth Games medalist Chris Latham and British Cycling Academy graduates Joe Holt and Ali Slater.
The team will begin its 2019 campaign at the Eddie Soens Memorial on Saturday March 9. With events being added to the team's calendar continually, Pridham is assembling a race programme that supports her ambition of making Vitus Pro Cycling Team, powered by Brother UK the most successful UCI Continental team in Britain.
---
Cycle Division's Shop
---
Send your results as well as club, team & event news here
---
Other Results on VeloUK (including reports containing results)

---
Other News on VeloUK