After many a year with John Herety's teams, Ed Clancy will be in new team colours in 2019 after signing for Vitus Pro Cycling p/b Brother UK
Feature Interview: Ed Clancy (Vitus Pro Cycling p/b Brother UK)
After many a year with John Herety's teams, Ed Clancy will be in new team colours in 2019 after signing for Vitus Pro Cycling p/b Brother UK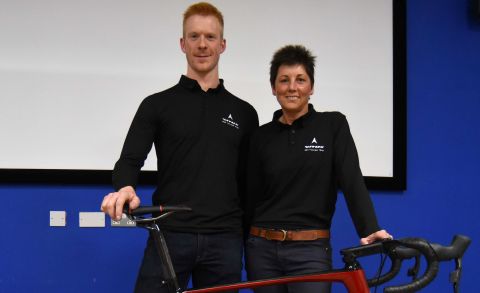 Ed Clancy with team owner Cherie Pridham at the team launch in November
Whilst many will look at Ed Clancy and only know of his ability to win three Olympic Gold medals on the track as well as his prowess in the crits, the new signing for Vitus Pro Cycling p/b Brother UK has a lot of experience on the road having ridden for T-Mobile's development, team Sparkasse with Mark Cavendish at the start of his career. Ed also rode for Belgian team Landbouwkrediet for two seasons in Europe.
In Britain, Ed has ridden for British teams Halfords and Motorpoint (Phil Griffiths) before he joined John Herety where he has been since 2011. Over the years, his palmeres has steadily grown. Stage wins in Korea, Tour de Berlin and the Sun Tour along with a lot of wins in circuit races. A look on Cycling Archives has Ed with 60 plus career wins including six world championships, 15 world cup wins, and of course three Olympic Golds.
How the years have passed since this day – Newcastle (Staffs), 2004 and the GB Academy in training under the guidance of team Sky coach Rod Ellingworth with Team Pursuit training and Ed Clancy leading the way, as he is over a decade later …
In Britain, his ten wins in the Tour Series makes him one of the 'winningest' riders in the series with victories from a win in the first series in 2009 to two wins in 2018 showing he is as fast as ever. Currently Ed is focused on a full on training block with the Great Britain team with the goal of going for another World Title in the Team Pursuit before the road season kicks off.
Speaking to Ed about moving to a new team for the first time in eight years, he explained "it is going to be a new experience because you get settled in your ways and every year I knew what I was going to get with John Herety but then I've been very happy with all the teams I have ridden for."
"I know a few of the guys in the new team like Latham, Brigga, and Ali but a lot of the teammates are going to be new to me so it is going to be very much a development process with them. I have known Chez (team owner Cherie Pridham) and Eddie for a long time and have spoken to them in previous years but for whatever reason in previous years, I was happy to stay with John".
Ed with a young VIP at the team launch 
"He has done so much for me in my career and not just at JLT Condor. I worked with him right back in the days of the Great Britain Academy (2004).Vitus Pro Cycling p/b Brother UK approached me as early as May or June so it there was always going to be a decision to be taken".
"I am massively grateful to John for what he has done for me in all the teams we have worked together on. I am massive fan of Johns, always have been and always will be. He's a good person and cares about you as a person and as a cyclist. Don't get me wrong, when he comes down on you it can be harsh but he's always fair".
The 2019 season is an important one for Ed in that it's pre Olympic year and the 2020 Olympics is a big goal for Ed's. "Already I feel my focus has changed in the last few months. I have been busy on the road and track with GB. There's been a lot of road based camps in Portugal and I am very much track focused. The World Cups and World Championships are very much at the forefront of my mind".
… continued after advert
Looking back at 2018 and mixing track and road, Ed had two victories in the Tour Series including the series finale in Salisbury. Post Tour series, the attention turned to the track, and he explained "I really had a tough time making the transition from the Tour Series to the European Track Championships but then had a break and re-evaluated the training".
"I am just so happy with the fact the Team Pursuiting is back to the way it can be and that I'm back to being one of the best in the team. Although we haven't won a World Cup, we have had some great performances and it's a matter of time to when we have four decent guys on the line and start tearing things up".
Ed and the GB team however know they will all have to have their best form on the day with so many nations now in the hunt for the Team Pursuit title at the Worlds and then the Olympics.
Asked how the road season fits into the pre Olympic training jigsaw, Ed says "as soon as we get back from the Track Worlds which will early March, we have plenty of time to do the road. The Europeans (Track) are back to their usual time of Sept/Oct so we have a big gap for the road which will be nice."
"I did think this season (2018) was compromised with road and track competing with each other and there was no escaping that with it being Olympic qualification. So next year it will be clear cut; track and no distractions all the way up to March and after the track, it will be about performing on the road and doing as well as we can in the Tour Series and the crits as usual".
Having teammates he knows well was important to Ed in choosing his team for 2019 – pictured with Graham Briggs and Chris Latham and some banter before going on stage…
Ed is also looking forward to working with the young guys at Cherie's team. "Every race in the GB Olympic training programme is going to be pretty much British based and there is a big development side to this team which works well for me because as much as I want to win the crits, for me you know my potential in a hilly Prem is pretty limited but it does open the door for me to help out the young guys. Myself, Graham, Latham and Ali can help captain these guys a bit and mentor them onto better things".
For Ed, coming to Vitus Pro Cycling p/b Brother UK with former teammates in GB and JLT Condor is going to be very important. "It is a massive help. Everyone knows I am pretty big mates with Graham (Briggs) and Ali (Slater) and Latham (Chris) too from our time at GB".
"When I was I was looking for a team, and this happened all very quickly, whilst I was willing to be loyal to John if there was an option to continue, when at the Tour of Britain and it looked like two or three teams were folding and whilst I knew I would get a team, I wanted to make sure I was going to be in the right place; a complete team where I had a few teammates I enjoyed racing with, and was allowed to do my track stuff and be happy first and foremost"
That team was to Vitus Pro Cycling p/b Brother UK.
Team owner Cherie Pridham says of signing Ed … "Ed's achievements as a bike rider speak for themselves. You don't win three Olympic gold medals and so many rainbow jerseys by chance. He is a world-class athlete, and a significant addition to our roster," Pridham said. "We know too that Ed's value to the team extends far beyond his unquestioned ability to win races. It's hard to imagine a more inspiring figure for our younger riders: highly successful, but friendly, approachable and entirely down-to-earth".
"His career exemplifies the value to a professional cyclist of hard work and a level head. Gold medals haven't changed Ed. He's a model professional, able to lead by example, and will be a vital asset to the team next year, both on the bike and off."
When we asked Ed if he felt he needed a trade team as well as the GB one, Ed replied, "It did cross my mind to Team Pursuit it out for the last two years and there were pros and cons for that and whilst the Team Pursuit is getting more and more specialised, I still think the crits at least, if not week long tours, have their place helping me with the track, especially Team Pursuiting."
Quite a line up – Bradley Wiggins and Geraint Thomas (both Tour de France winners), Paul Manning and Ed Clancy celebrate a World Championship victory in Majorca
"For sure, the Tour Series will be a big part of this year's preparation for the track. If you look at the numbers you do; we had the Tour Series before London and before Rio and in Olympic year, you do need to be choosy which Tour Series rounds you do, but the numbers you get and the racing is great. You do have to weigh it up with the travel, rest and recovery and team and track commitments in Olympic year but this year, you're still working on the foundation and fitness".
The Team Pursuit, which is Ed's 'event' with Team GB, is something I have seen him do many many years. "When I started Team Pursuiting as a junior/under 23, the Aussies had the world record, a 3.56 at Athens and I remember we used to try and do a flying kilometre at world record pace and we couldn't get our head round how fast it was and the Aussies were doing it from a standing start over 4k".
"Then the game moved on. GB were the dominating force in 2008 and 2012 and we did have a head start on the rest of the world and part of that was because we were first to realise the best team pursuiters are not just the best road riders because it's a specialist thing. People are catching up on us now though …"
How fast can GB go I asked? It is so dependent on conditions, the tracks and technology. Condition (of the riders) dependent to. If you're lucky, you can get four guys with their A game on any one day and that isn't an easy thing to do".
"We have managed to do it at the last three Olympic Games and hopefully we can do it next time (Tokyo) . We'll go as fast we can and we are doing what we think it will take to win and that is all we can do."
"We do have a long term strategy and we're doing what can so we can get it out on the big day. We are not delusional and think we'll turn up and it will be easy. Those young Aussies and Kiwis are good, the Danes too and the rest of the world is learning not just from us but each other".
Ed and his stead for 2019 …. 
Disc Brakes
Our final topic was disc brakes. Very few riders have raced the Tour Series on a bike with disc brakes but Ed has done just that and will do so again on his Vitus team bike in 2019. "I like my mountain bikes and I would never considering riding one without disc brakes and I get they are different to road bikes."
"They are bigger and heavier and so you're not fussed about the extra weight but in terms of a brake, there is no doubt the disc brake is a better thing. Better modulation and better ultimate power."
… continued after advert
"Will it make you faster in a 10 mile TT? No. But it terms of a crit bike, it makes total sense to me. To me it seems logical. The weight penalty is extremely minimal especially when you stick an 80 kilo rider like me on top of it and for me to have better confidence of the braking, have better modulation, no wear and so on. I'm all for the team using disc brakes".
"In the dry, if you have a well set up rim brake, you have more than enough stopping power but for ultimate feel and modulation, I do think they are better. Using carbon rims with a rim brake, it's not what it's designed to do where as with disc brakes, it's purpose built."
Our thanks to Ed, who's experience is not just going to help his young GB teammates but also the younger riders in Vitus Pro Cycling p/b Brother UK. And who knows, after all the wins in his career including those in 2018, victories in 2019 look like continuing and we hope for Ed, one of the nicest most level headed riders you can meet, they do so because on the podium his beaming face is one hell of an image! Good luck Ed!
---
Cycle Division's Shop
---
Send your results as well as club, team & event news here
---
Other Results on VeloUK (including reports containing results)

---
Other News on VeloUK