Preview – Just in this evening are the start lists for the opening classic of the season, the Men's & Women's Het Nieuwsblad (used to be Het Volk) – we also have some rider quotes pre race including double winner Ian Stannard
News: Het Nieuwsblad Startlists
The opening weekend of the Spring Classics is upon us as we start racing the Belgian cobbles at Omloop Het Nieuwsblad writes the EF Education team. Cobbles biting at tires slowly drain most of the peloton of its energy. Riders, sports directors and mechanics tick off each cobble sector and climb as it passes. They are all attentively listening to the race radio, poised and alert, ready to help any of their riders with mechanicals, punctures or crashes.
Getty Images
There will be many. The cobbles are far less forgiving than the roads we race on during the rest of the season. The Spring Classics require equipment adjustments, a fair bit of luck and a huge uptick in resources from a professional cycling team.
"I think on paper we currently have 21 bikes ready and 55 or 56 wheel sets, which is ridiculous, right?" says EF Education First sport director Andreas Klier says ahead of Omloop Het Nieuwsblad, the official spring season opener. We enlist locals, who have become friends, to disperse throughout the route with the spare equipment".
Despite the added challenges and drama that come with these races, the Classics are heartily embraced. With them come mud, beer and the glorious enthusiasm that Belgians bring to bike races. Omloop Het Nieuwsblad lifts the country out of its winter slumber, signaling the build-up to two of the biggest one-day races on the calendar: Tour of Flanders and Paris-Roubaix.
"These races are a big party for the spectators," Klier explains. "It's like the World Championships and the Olympic Games from now until Paris-Roubaix."
… continued after advert
Stannard after win number 3
A two-time winner of Omloop Het Nieuwsblad, Ian Stannard relishes racing on the cobbles and is hoping to start his Classics campaign strongly. He will co-lead Team Sky's charge alongside Dutchman Dylan van Baarle at both Omloop and Kuurne-Brussels-Kuurne, raced on Saturday and Sunday respectively.
"I started in Valencia and Algarve but it's nothing like being in Belgium and racing here," he said. "The fans are awesome – even on the plane over last night there were Belgian fans asking me questions about the race. It's exciting to be here. I can't wait. I love racing here. There's no messing around, no worrying about how you are going to play one day to the next, it's just bam! Get stuck in. Have fun. You can hear the great crowds, smell the barbecues they're having, they're all having a beer on the side of the road… the whole thing is fun, there's a real buzz about it. Just being in Belgium is great."
Stannard's win in 2014 – Getty Images
This year's Nieuwsblad route is a little different to the one Stannard won back-to-back on, in 2014 and '15. Yet the roads are similar and, now 31, Stannard hopes to put that experience to good use. "Obviously I haven't raced the new route. It's a bit of an unknown tomorrow, but generally over the years you start to learn the roads and where you're going. You pick up little reference points as you're racing, and I try to help the younger guys with that, like [Owain] Doull and [Chris] Lawless.
"I remember racing with Bernie [Eisel], Mat Hayman, Jez Hunt, all those guys, and they passed on their knowledge to me: what to look out for, where to be, and it's right to pass that on. It helps us all as a group and a team to get better." In terms of his own form, Stannard is hopeful. "You do all these stage races and you get a feel for where you are but you don't really know until you go for it in a one-day race and put it all on the line. I've done some good training, I'm feeling really good, really strong, but won't know until tomorrow night! Hopefully it will go well and I'm at where I think I'm at."
The Course
The first Classics race of the weekend, Omloop Het Nieuwsblad, is 200km with 13 climbs and famous cobble sections, such as the 2km Haaghoek and 2.3km Paddestraat. Like previous editions, the cold winter weather and stress of the nervous peloton navigating through road furniture and battling for position, the race is expected to be as chaotic with an quite unpredictable final.
The race begins in Ghent, as it did last year. The 199.8km course weaves through the Flandrien countryside over seven cobble sectors and 13 climbs, known to the Flandriens as 'bergs'. A 12km flat section will lead the peloton down into the finish at Ninove after the cobbles and hills have wrung them out to dry.
The infamous cobbled climb of the Muur de Geraardsbergen, with ramps up to 20 percent, followed shortly after by the Bosberg, serve as the finale. Expect attacks to come thick and fast.
"The tactics are you can't really have tactics in this type of race!" says EF Education's Sep Vanmarcke. "Basically, in all these Classics the first half of the race is to mainly make the riders a bit tired and then from half-way the hills and the cobbles start, as do the attacks."
Getty Images
Vanmarcke is a seasoned Classics racer. The Belgian won Omloop het Nieuswblad in 2012 and has finished third in the spring season opener for the last two seasons (2017-2018). A born and bred Flandrien, Vanmarcke currently lives in Anzegem, only 40 kilometers from the start of Saturday's race. "Anything can happen," says Vanmarcke. "It's so nervous that people crash a lot. You need to fight a lot for your position, and I need to be with my teammates and trust that they will bring me to the right position. Then in the final it's man-to-man and it's just very different and hard to choose the tactic."
After winning the opening stage of Tour du Haut Var this year, Vanmarcke goes into the Classics' season with renewed self-belief. "This win gives me a lot of confidence, you just think 'Okay, I am in good shape.' whereas other years you think 'Am I good enough?' and now I know I should be good enough," Vanmarcke says. A win like this means a lot to Vanmarcke, who over previous years has felt the pressure that naturally comes with being Belgian, leading the team at the biggest one-day races on the calendar and following in the footsteps of cycling's greats. He admits that there have been times when this pressure has been too much for him, and he's struggled. His recent win has sparked a response that counter-balances that sense of stress.
"Every Belgian rider wants to be on this top level. But also I've started to feel it over the last few days when I'm training or in the supermarket, to feel people are awake again because the Classics are coming. People are super happy I won that stage and on my training days, they've been stopping their cars to shout 'Congratulations', 'Good job', 'Keep going' and 'Good luck this weekend,'" Vanmarcke says, trying to convey just how much the momentum is beginning to build.
"If you are Belgian and you sit at breakfast and open the local newspapers you can read the pressure," Klier laughs. Thousands of people make the pilgrimage to this sacred cycling ground to celebrate the men and women who tackle these fabled roads. Riders are expected to maintain peak form for six weeks, from opening weekend until mid-April when the Spring Classics come to a close with Paris-Roubaix.
"It's not always easy to find an even balance, to be in the best ever shape now but then to keep that form up to Flanders, Roubaix it's not easy," Klier explains. "Sep has been training with the intention of building his form to peak around Flanders and Paris-Roubaix as opposed to previous years coming into this opening weekend in peak form and then trying to hold it all the way through. The team asked me this year just to focus from E3 Harelbeke through to Paris-Roubaix," notes Vanmarcke.
It's a shift for Vanmarcke from previous years, and there's also a bit of a shift in the team. Vanmarcke isn't the only one coming in with a win. The team has garnered five victories in the first eight week of the year. "All the riders just love racing at the moment," Klier says. "There is the fun factor on top of the motivation. I saw a lot of smiling faces when I looked around at the training camp. I hope we're also going to have smiling faces on Saturday or Sunday."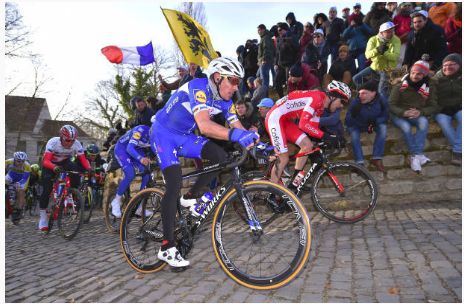 Deceuninck – Quick-Step
The team with the most pressure on their shoulders will be Deceuninck – Quick-Step. Philippe Gilbert. "Omloop will be as usual an open race with a lot of riders capable of winning it. As a team we can count on a strong collective and on our spirit. Our goal is to be there in the final with as many riders and play a role. But this race is one of the most unpredictable of the season."
Bob Jungels: "This morning I did the recon together with the team. It's always a bit of a surprise when you come back from altitude. I had time to recover but this kind of races on cobblestones are different from all the other races in the world. I know most of the hills from the Eneco Tour and other races I did here in the region. I'm feeling quite good and we will see how the legs will respond in a one-day race compared to a stage race as Tour Colombia".
Zdenek Stybar won the final stage of the Volta ao Algarve last Sunday and seems ready for the races this weekend. "The victory on Sunday was a nice moment but now it seems like a long time ago already. It is a new part of the season for us now and we start again at the opening weekend. I'm happy about my condition and we will see what we can do on Saturday and Sunday."
Yves Lampaert: "I come back from Tour de la Provence and Volta ao Algarve, for me it was the perfect preparation for the upcoming period, I felt I was getting stronger every day, so the feeling is really good. The recon was important to do, there were some new parts in the parcours that I didn't know so for me it was very good I got to see it now before the race. I am really excited to start on Saturday, it's what I've been working for all winter. Coming here for the press conference it's super nice to see how Maes 0.0% is so engaged in the team and the concept of The Wolfpack. Also the exhibition is beautiful, it brings a lot of good memories back from the crazy year we had last season! Hopefully we'll get to do the same this year."
Defending Champion of Het Nieuwsblad
Michael Valgren – The defending champion of a Spring Classic will always be a marked man, but in the end, it is often the legs that decide who is the strongest on the tough Belgian roads. "It is great to be heading into opening weekend as the defending champion of Omloop Het Nieuwsblad. Having the number 1 race bib will be special and it will bring back some good memories from last year, but now this weekend is also a new race. I know I have done the work and prepared well for this year's classics season. It's so difficult to win any of these classics but we are going to try and getting off to a good start this weekend will be great, for me and our team." – Michael Valgren
Lotto Soudal
Tim Wellens and Tiesj Benoot with be the two Lotto Soudal leaders for Saturday. Tim Wellens: "I can look back on an excellent Ruta del Sol, topped off with two stage wins. My legs felt really good and that feeling won't change much in one week time. Because of that, the confidence towards the Classics – for me starting with the Omloop – is great. Contrary to last year, I want to save some energy going into the finale. I will try to wait as long as possible to attack. Of course, choosing the right moment is always difficult in the Flemish races, as each climb can be decisive. Besides, I read that there is going to be a tailwind during the finale, which could play a role as well. Maybe it will cause the race to be more open."
"The preparation is over now. The races which I am aiming for – the Omloop, Strade Bianche, Tirreno-Adriatico and the Walloon Classics – are right behind the corner. This is my second time participating in the Omloop and this year, I will be leading the team together with Tiesj Benoot. I consider Greg Van Avermaet – who may win for the third time – as the biggest favourite on Saturday. I also reckon that Michael Matthews will be amongst the possible winners, although his name has not been mentioned a lot so far. The Omloop marks his first race of the season, but he will certainly be in good shape."
Tiesj Benoot: "Wednesday evening, I arrived in Belgium after an altitude training in the Sierra Nevada with Jens Keukeleire. I feel very good and I look forward to the first Belgian races. Feeling great on training is always nice, but it is still something else to put that in practice. The tailwind will constitute a major difference compared to last year. This will be an advantage for the offensive riders, including myself. I think we have a really strong team in general. We can go for the victory in the Omloop with these seven riders."
"The competition will be tough, because everyone is very eager to begin the spring season. There will be a lot of candidates for the victory. We all had a different preparation, so it is hard to evaluate the opponents. In December, we have done a recon of the course and we also tested the equipment. Soon, we will brush up on everything together and go through it profoundly. An additional recon wasn't really necessary. I also know the surroundings very well. The Muur van Geraardsbergen is undoubtedly a crucial climb on the course. Also the Molenberg will be an important point in the race. I think the finale could start early this year. My other goals are every upcoming one-day race and Tirreno-Adriatico as well. If I can take a win in one of those race, my spring campaign would be successful."
Matteo Trentin (Michelton Scott): European champion Matteo Trentin, who is in good form after already picking up three race victories this season, says "I feel good and confident, I knew I had a really good winter and now having the team working the way we have been working the last few races it is really good and it gives confidence for myself and for the team going to the Classics. It is going to be completely different racing than what we have seen so far but we will see. Both races are pretty different races, Nieuwsblad is probably more like a classic old style race and Kuurne is more for the sprinters but it depends always with the wind and the weather conditions, that plays a big part in these kind of races."
The Brits
In both the mens and womens race are British riders looking to make their mark. In the men's race is double winner Ian Stannard with Chris Lawless and Owain Doull. Harry Tanfield meanwhile races for Katusha. In the Women's race, Danni Christmas rides for Lotto Soudal whilst in the Bilga team with DS Julian Winn is Lizzie Banks. The Barnes sisters Hannah and Alice race for Canyon SRAM and Lucy Garner rides for Hitec. Crystal Lane Wright races for Isorex as does Emily Meakin. Good luck to them all!
Omloop Het Nieuwsblad Team Presentations and Women's Race To Be Streamed LIVE
Flanders Classics and Proximus are joining forces this coming weekend to allow fans to watch a livestream of the riders sign on ahead of spring's opening classic, Omloop Het Nieuwsblad, followed by a broadcast of the women's race on Saturday 2nd March.
Tomorrow before noon, Proximus Sports will show the presentation of both men's and women's teams, meaning everyone will be able to experience the show in 't Kuipke from the comfort of their own home. The livestream will be available on the Proximus Sports Facebook page. After the online broadcast of the team presentations, Flanders Classics and Proximus are pleased to support the elite women's Omloop Het Nieuwsblad, offering a full broadcast of the race live on the official Proximus Sports Facebook page.
The stream can be found on Saturday here – https://www.facebook.com/ProximusSports/
… continued after advert
OMLOOP HET NIEUWSBLAD MEN
TEAM DIMENSION DATA
1 ANDERSEN Michael Valgren DEN
2 VERMOTE Julien BEL
3 HAGEN Edvald Boasson NOR
4 NIZZOLO Giacomo ITA
5 TILLER Rasmus Fossum NOR
6 VENTER Jaco RSA
7 BAK YTTING Lars DEN
DECEUNINCK – QUICK – STEP
PL/DS PEETERS Wilfried
11 LAMPAERT Yves BEL
12 DECLERCQ Tim BEL
13 GILBERT Philippe BEL
14 KEISSE Iljo BEL
15 JUNGELS Bob LUX
16 SENECHAL Florian FRA
17 ŠTYBAR Zdeněk CZE
LOTTO SOUDAL
PL/DS FRISON Herman
21 BENOOT Tiesj BEL
22 DE BUYST Jasper BEL
23 FRISON Frederik BEL
24 KEUKELEIRE Jens BEL
25 MAES Nikolas BEL
26 VAN GOETHEM Brian NED
27 WELLENS Tim BEL
AG2R LA MONDIALE
PL/DS JURDIE Julien
31 NAESEN Oliver BEL
32 GODON Dorian FRA
33 DENZ Nico GER
34 DILLIER Silvan SUI
35 DUVAL Julien FRA
36 GOUGEARD Alexis FRA
37 VANDENBERGH Stijn BEL
ASTANA PRO TEAM
PL/DS MICHAELSEN Lars
41 BALLERINI Davide ITA
42 BIZHIGITOV Zhandos KAZ
43 DE VREESE Laurens BEL
44 GIDICH Yevgeniy KAZ
45 HOULE Hugo CAN
46 LUTSENKO Alexey KAZ
47 NIELSEN Magnus Cort DEN
BAHRAIN – MERIDA
PL/DS HOFFMAN Tristan
51 TEUNS Dylan BEL
52 BOLE Grega SLO
53 COLBRELLI Sonny ITA
54 GARCIA CORTINA Ivan ESP
55 KOREN Kristijan SLO
56 PIBERNIK Luka SLO
57 AGNOLI Valerio ITA
BORA – HANSGROHE
PL/DS RADOCHLA Steffen
61 ACKERMANN Pascal GER
62 DRUCKER Jean-Pierre LUX
63 OSS Daniel ITA
64 PÖSTLBERGER Lukas AUT
65 SAGAN Juraj SVK
66 SCHWARZMANN Michael GER
67 SELIG Rüdiger GER
CCC TEAM
PL/DS PIVA Valerio
71 VAN AVERMAET Greg BEL
72 VAN HOECKE Gijs BEL
73 VAN HOOYDONCK Nathan BEL
74 VENTOSO ALBERDI FranciscESP
75 VAN KEIRSBULCK GuillaumeBEL
76 WISNIOWSKI Lukasz POL
77 SCHÄR Michael SUI
EF EDUCATION FIRST
PL/DS KLIER Andreas
81 VANMARCKE Sep BEL
82 DOCKER Mitchell AUS
83 HOWES Alex USA
84 LANGEVELD Sebastian NED
85 PHINNEY Taylor USA
86 SCULLY Tom NZL
87 BRESCHEL Matti DEN
GROUPAMA – FDJ
PL/DS GUESDON Frederic
91 HOELGAARD Daniel NOR
92 DUCHESNE Antoine CAN
93
94 KONOVALOVAS Ignatas LTU
95 KÜNG Stefan SUI
96 LE GAC Olivier FRA
97 SINKELDAM Ramon NED
MITCHELTON SCOTT
PL/DS LAPAGE Laurenzo
101 TRENTIN Matteo ITA
102 DURBRIDGE Luke AUS
103 EDMONDSON Alexander AUS
104 HEPBURN Michael AUS
105 JUUL JENSEN Christopher DEN
106 SMITH Dion NZL
107 AFFINI Edoardo ITA
MOVISTAR TEAM
PL/DS LASTRAS GARCIA Pablo
111 ROELANDTS Jurgen BEL
112 BARBERO Carlos ESP
113 BETANCUR Carlos COL
114 ERVITI Imanol ESP
115 ARCAS Jorge ESP
116 SEPULVEDA Eduardo ARG
117 PEDRERO Antonio ESP
TEAM JUMBO – VISMA
PL/DS VERHOEVEN Nico
121 VAN AERT Wout BEL
122 ROOSEN Timo NED
123 TEUNISSEN Mike NED
124 VAN DER HOORN Taco NED
125 VAN POPPEL Danny NED
126 EENKHOORN Pascal NED
127 WYNANTS Maarten BEL
TEAM KATUSHA ALPECIN
PL/DS DEMOL Dirk
131 DEBUSSCHERE Jens BEL
132 BIERMANS Jenthe BEL
133 HOLLENSTEIN Reto SUI
134 KUZNETSOV Viacheslav RUS
135 POLITT Nils GER
136 SCHMIDT WÜRTZ Mads DEN
137 TANFIELD Harry GBR
TEAM SKY
PL/DS KNAVEN Servais
141 STANNARD Ian GBR
142 DOULL Owain GBR
143 KNEES Christian GER
144 LAWLESS Christopher GBR
145
146 BASSO Leonardo ITA
147 VAN BAARLE Dylan NED
TEAM SUNWEB
PL/DS ELIJZEN Michiel
151 BAKELANTS Jan BEL
152 CURVERS Roy NED
153 KRAGH ANDERSEN Asbjørn DEN
154 FRÖHLINGER Johannes GER
155 MATTHEWS Michael AUS
156 PEDERSEN Casper Phillip DEN
157 VERVAEKE Louis BEL
TREK – SEGAFREDO
PL/DS DE JONGH Steven
161 STUYVEN Jasper BEL
162 THEUNS Edward BEL
163 KIRSCH Alex LUX
164 MULLEN Ryan IRL
165 PEDERSEN Mads DEN
166 FRAME Alex NZL
167 BEPPU Fumiyuki JPN
UAE TEAM EMIRATES
PL/DS PEIPER Allan
171 PHILIPSEN Jasper BEL
172 FERRARI Roberto ITA
173 MARCATO Marco ITA
174 MOLANO BENAVIDES Juan COL
175 BYSTRØM Sven Erik NOR
176 SUTHERLAND Rory AUS
177 BOHLI Tom SUI
COFIDIS, SOLUTIONS CREDITS
PL/DS MARICHAL Thierry
181 LAPORTE Christophe FRA
182 CLAEYS Dimitri BEL
183 HOFSTETTER Hugo FRA
184 TOUZE Damien FRA
185 VAN LERBERGHE Bert BEL
186 VANBILSEN Kenneth BEL
187 WAEYTENS Zico BEL
CORENDON – CIRCUS
PL/DS ROODHOOFT Christoph
191 DEVOLDER Stijn BEL
192 DE BONDT Dries BEL
193 JANS Roy BEL
194 JANSSENS Jimmy BEL
195 MEISEN Marcel GER
196 STALLAERT Joeri BEL
197 VAN TRIJP Maarten NED
DIRECT ENERGIE
PL/DS ARNOULD Dominique
201 TERPSTRA Niki NED
202 GAUDIN Damien FRA
203 LIGTHART Pim NED
204 PETIT Adrien FRA
205 PICHOT Alexandre FRA
206 CARDIS Romain FRA
207 TURGIS Anthony FRA
ROOMPOT – CHARLES
PL/DS BOOGERD Michael
211 BOOM Lars NED
212 ASSELMAN Jesper NED
213 DE WITTE Mathias BEL
214 STEELS Stijn BEL
215 REINDERS Elmar NED
216 VAN POPPEL Boy NED
217 VAN GINNEKEN Sjoerd NED
SPORT VLAANDEREN – BALOISE
PL/DS DE CLERCQ Hans
221 ALLEGAERT Piet BEL
222 CAPIOT Amaury BEL
223 DECLERCQ Benjamin BEL
224 PLANCKAERT Edward BEL
225 SPRENGERS Thomas BEL
226 VAN HECKE Preben BEL
227 WARLOP Jordi BEL
WALLONIE BRUXELLES
PL/DS DETILLOUX Christophe
231 DEHAES Kenny BEL
232 ISTA Kevyn BEL
233 TAMINIAUX Lionel BEL
234 LIEPINS Emils LAT
235 WIRTGEN Tom LUX
236 PLANCKAERT Baptiste BEL
237 SPENGLER Lukas SUI
WANTY – GOBERT CYCLING TEAM
PL/DS VAN DER SCHUEREN Hilaire
241 BACKAERT Frederik BEL
242 DE GENDT Aime BEL
243 DEVRIENDT Tom BEL
244 MEURISSE Xandro BEL
245 BAUGNIES Jerome BEL
246 KREDER Wesley NED
247 VLIEGEN Loïc BEL
WOMENS OMLOOP HET NIEUWSBLAD DAMES
TEAM VIRTU CYCLING
PL/DS SMALL Carmen
1 MALLING SIGGAARD ChristinDEN
2 GUARISCHI Barbara ITA
3 KOSTER Anouska NED
4 BASTIANELLI Marta ITA
5 KRÖGER Mieke GER
6 MOBERG Emilie NOR
LOTTO SOUDAL LADIES
PL/DS SCHOONBAERT Dany
11 CASTRIQUE Alana BEL
12 BRAAM Danique NED
13 CHRISTMAS Danielle GBR
14 NGUYEN Thi That VIE
15 MOONEN Puck NED
16 VAN DE VELDE Julie BEL
DOLTCINI – VAN EYCK SPORT UCI WOMEN CYCLING
PL/DS VANHAESEBROUCKE Franky
21 VANDENBROUCKE Saartje BEL
22 VANDENBULCKE Jesse BEL
23 VAN VELZEN Bryony NED
24 ALEXANDRE REIS Daniela DPOR
25 SICOT Marion FRA
26 ERAUD Severine FRA
HEALTH MATE – LADIES TEAM
PL/DS VAN GANSEN Patrick
31 SCHWEINBERGER Christina AUT
32 SCHWEINBERGER Kathrin AUT
33 MUSTONEN Sara SWE
34 WATERREUS Kylie NED
35 SÜßEMILCH Laura GER
36 DELBAERE Fien BEL
UCI -CENTRE MONDIAL DU CYCLISME
PL/DS HENRY Jean-Jacques
41 ESPINOLA Agua Marina PAR
42 CAMPBELL Teniel TTO
43 KOLESAVA Anastasiya BLR
44 SHARPE Alice IRL
45 YAPURA PLAZA Maria ARG
46 REUSSER Marlen SUI
ALE CIPOLLINI
PL/DS LACQUANITI Fortunato
51 HOSKING Chloe AUS
52 PALADIN Soraya ITA
53 QUAGLIOTTO Nadia ITA
54 YONAMINE Eri JPN
55 PEÑUELA MARTINEZ Diana COL
56 KASPER Romy GER
BIGLA
PL/DS WINN Julian
61 BANKS Elizabeth GBR
62
63 THOMAS Leah USA
64 SPEROTTO Maria Vittoria ITA
65 HARVEY Mikayla NZL
66 HANSELMANN Nicole SUI
BEPINK
PL/DS FILIPPONI Matteo
71 ZANARDI Silvia ITA
72 STEIGENGA Nicole NED
73 GUDERZO Tatiana ITA
74 BARBIERI Rachele ITA
75 RAGUSA Katia ITA
76 PERINI Chiara ITA
BOELS DOLMANS CYCLINGTEAM
PL/DS STAM Danny
81 BLAAK Chantal NED
82 VAN DER BREGGEN Anna NED
83 J VAN DEN BOS Jip NED
84 BUURMAN Eva NED
85 MAJERUS Christine LUX
86 SCHNEIDER Skylar USA
BTC CITY LJUBLJANA
PL/DS PENKO Gorazd
91 PINTAR Urska SLO
92 BUJAK Eugenia SLO
93 BOOGAARD Maaike NED
94 LONGYKA Anja SLO
95 VAN DE REE Monique NED
96 ŽIGART Urška SLO
CANYON / /SRAM RACING
PL/DS LAUKE Ronny
101 BARNES Alice GBR
102 BARNES Hannah GBR
103 CECCHINI Elena ITA
104 CROMWELL Tiffany AUS
105 NIEWIADOMA Katarzyna POL
106 RYAN Alexis USA
CCC – LIV
PL/DS BLIJLEVENS Jeroen
111 SKALNIAK Agnieszka POL
112 DEMEY Valerie BEL
113 MARKUS Riejanne NED
114 KUIJPERS Evy NED
115 MOOLMAN-PASIO Ashleigh RSA
116 KOREVAAR Jeanne NED
FDJ NOUVELLE – AQUITAINE FUTUROSCOPE
PL/DS BARRE Cédric
121 BRAVARD Charlotte FRA
122 GROSSETETE Maëlle FRA
123 KITCHEN Lauren AUS
124 RICHIOUD Greta FRA
125 GILLOW Shara AUS
126 WIEL Jade FRA
HITEC PRODUCTS – BIRK SPORT
PL/DS LIMA Tone Hatteland
131 STOUGJE Chanella NED
132 LUTRO Amalie NOR
133 HEINE Vita NOR
134 GARNER Lucy GBR
135 LORVIK Ingrid NOR
136 SOLVANG Julie NOR
MITCHELTON SCOTT
PL/DS VESTBY Martin
141 ROY Sarah AUS
142 WILLIAMS Georgia NZL
143 ALLEN Jessica AUS
144 ELVIN Gracie AUS
145 BROWN Grace AUS
146 VAN VLEUTEN Annemiek NED
MOVISTAR TEAM
PL/DS SANZ Jorge
151 BIANNIC Aude FRA
152 FOURNIER Roxane FRA
153 GONZALEZ BLANCO Alicia ESP
154 GUTIERREZ RUIZ Sheyla ESP
155 JASINSKA Malgorzata POL
156 RODRIGUEZ SANCHEZ GloriESP
PARKHOTEL VALKENBURG
PL/DS ROL Raymond
161 DUYCK Ann-Sophie BEL
162 VAN VEEN Esther NED
163 WIEBES Lorena NED
164 KNETEMANN Roxane NED
165 UITERWIJK WINKEL Meike NED
166 DE VUYST Sofie BEL
TEAM SUNWEB
PL/DS MARCHE Nicolas
171 BRAND Lucinda NED
172 ENSING Janneke NED
173 LABOUS Juliette FRA
174 MACKAIJ Floortje NED
175 KIRCHMANN Leah CAN
176 SOEK Julia NED
TREK – SEGAFREDO
PL/DS TEUTENBERG Ina-Yoko
181 CORDON RAGOT Audrey FRA
182 LEPISTÖ Lotta Pauliina FIN
183 LONGO BORGHINI Elisa ITA
184 VAN DIJK Ellen NED
185 WINDER Ruth USA
186 WILES Tayler USA
VALCAR CYLANCE CYCLING
PL/DS ARZENI Davide
191 VIGILIA Alessia ITA
192 CONSONNI Chiara ITA
193 GUAZZINI Vittoria ITA
194 POLLICINI Silvia ITA
195 PERSICO Silvia ITA
196 SANGUINETI Ilaria ITA
ISOREX CYCLING TEAM
PL/DS HELDERWEIRT Fabian
201 VERSTICHELEN Femke BEL
202 LANE-WRIGHT Crystal GBR
203 GRÖNDAHL Antonia FIN
204 MOREAU Marjolein BEL
205 MEAKIN Emily GBR
206 DELESTRAIT Camille BEL
KEUKENS REDANT CYCLING TEAM
PL/DS DE DECKER Andy
211 BORGLI Stine NOR
212 LACOMPTE Amber BEL
213 VAN GEYTE Katie BEL
214 RAVNDAL Birgitte NOR
215 VAN DE GUCHTE Quinty NED
216 MEERTENS Lone BEL
MULTUM ACCOUNTANTS LADIES CYCLINGTEAM
PL/DS COOLENS Jos
221 RIBEROLLE Marion Norbert FRA
222 TURBLIN Chloë FRA
223 VAN DEN STEEN Kim BEL
224 CREAMER Lauren IRL
225 HUITFELDT Josefine DEN
226 UYTTENHOVE Aiko BEL
ROGELLI-GYPROC
PL/DS VAN DE VIJVER Heidi
231 AMMERLAAN Rozemarijn NED
232 BEX Nathalie BEL
233 VERHOEFF Ingrit NED
234 HOOLWERF Cathalijne NED
235 JONKERS Eva NED
236 KNAVEN Britt NED
---
Cycle Division's Shop
---
Send your results as well as club, team & event news here
---
Other Results on VeloUK (including reports containing results)

---
Other News on VeloUK