Vincent Christan and Polly Mason winners in the Essex Roads CC road races at East Hanningfield, nr Chelmsford – report & photos from Fergus Muir
Report: Essex Roads CC Road Races
by Fergus Muir
Women's race
Polly Mason takes the win
Norwich rider Polly Mason won the Essex Roads CC Women's Road race alone, one minute 41 seconds ahead of the sprint for second place. Mason, riding for the Great Yarmouth-based DAP CC escaped from the bunch with what proved to be just under an hour's racing remaining. A group of five – Mason, Maddie Wilson (Guernsey Velo), Jayne Paine (Les Filles), Francesca Cutts (Team LDN) and Cindy Berry in her new DAP CC colours, rode off the front as the race climbed into a headwind on the former A130 at Little Claydons.
With 18 miles to go just Mason, Cutts and Paine remained in the break, while the bunch was compact and looked remarkably relaxed. Mason, as she described later, took her turn at the front of the break, looked round and found herself alone. With one eight mile lap remaining of the East Hanningfield- Howe Green – Pan Lane circuit, Mason was clear, with Cutts and Paine still well in front of the bunch.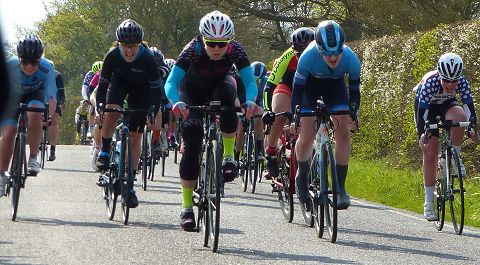 The sprint for second place
At the finish, Mason came in alone while Kerry Middleton (LDN), Louise Moriaty (Les Filles) and last year's winner Isabel Darvil (Datalynx-Parenesis) took the next places in a tight sprint. In the morning race for third and fourth cat men, also over 51 miles, Vincent Christian (ELV) won from Chris Owen (Cambridge CC) and David Veitch (Lea Valley CC).
The bunch at Little Claydon
The race at Howe Green in the early stages

… continued after advert – results for both races
3/4 Men
1 Vincent Christan East London Velo
2 Chris Owen Cambridge CC
3 David Veitch Lea Valley CC
4 Sean Dunlea Bloodwise QSW
5 Neil Coyte 6AM Cycling
6 Jason Fitchew Ford Cycling Club
7 Callum Stewart East London Velo
8 Mark Powell Stowmarket & District CC
9 Lewis Kemp Lee Valley Youth Cycling Club
10 Aidan Kerrigan Lee Valley Youth Cycling Club
11 Matthew Watts Strada-Sport
12 Justin Fisk Stowmarket & District CC
13 Mark Harris Pro Cycle Hire UK Racing Team
14 Lukasz Szeloch Redbridge CC
15 Bjorn Krylander Cambridge CC
16 Ross Courtnell Essex Roads CC
17 Mark Cain Army Cycling Union
18 David Clark Orwell Velo
19 Jacob Chambers Essex Roads CC
20 Maximilian Eagle Chelmer CC
21 Spencer Wilson PERSONAL BIKEFIT
22 Andrew Diplock Cambridge CC
23 Christopher Thomas East London Velo
24 Simon Higgs Essex Roads CC
25 Frank Moore Cycling Club Hackney
26 Lubomir Belak St Ives CC
27 Robert Speers Cambridge CC
28 Stephen Messenger East London Velo
29 Sam Baxter DAP Cycling Club
30 Peter Blenkinsop Fast Test Racing Team
31 James Newton CC Sudbury
32 Edward Ryan
33 Daniel Pugh Southend Wheelers
34 James Sherwood Orwell Velo
35 Miles Burrage Essex Roads CC
36 Stephen Fuller Cambridge CC
37 Damon Bond Chelmer CC
38 Thomas Barningham ViCiOUS VELO
39 Nick Boyle Chelmer CC
40 Peter Blencowe Cambridge CC
41 Chris McGlynn 6AM Cycling
42 Paul Donegan Chelmer CC
… continued after advert
2/3/4 Women
1 Polly Mason DAP Cycling Club
2 Kerry Middleton Team LDN
3 Louise Moriarty Les Filles Racing Team
4 Isabel Darvill Datalynx-Parenesis Cycling
5 Emily Knight Project 51
6 Gem Atkinson Scarpa Racing
7 Katrina Murphy Dulwich Paragon CC
8 Maddie Wilson Guernsey Velo Club (LBG)
9 Elizabeth Danckert Army Cycling Union
10 Cindy Berry Pedal Power Cycles Ipswich
11 Emma Jane Hornsby Scarpa Racing
12 Miriam Bullock East London Velo
13 Amy Marks Team LDN
14 Harley Pell Liv Awol
15 Karine Jones Verulam – reallymoving.com
16 Maeve Savage London Dynamo
17 Ellen Inglis Team JRC
18 Kess Claxton Cycle Team OnForm
19 Lizzie Jenkins Islington Cycling Club
20 Toni Wilkes Project 51
21 Nicole Oh Les Filles Racing Team
22 Katie-Ann Elliston Southend Wheelers
23 Jayne Paine Les Filles Racing Team
24 Victoria Strila TW1 Racing
25 Charlotte Heywood-Mahé Les Filles Racing Team
26 Katherine Dennis UCL Cycling Club
27 Francesca Cutts Team LDN
28 Jane Wilson
29 Isabella Torrie Liv Awol
30 Kirstin Hamilton Ipswich Bicycle Club
31 Elizabeth McKie Verulam – reallymoving.com
32 Isabella Johnson Datalynx-Parenesis Cycling
33 Nicola Lynch Newmarket Cycling &Triathlon C…
… continued after advert
---
Cycle Division's Shop
---
Send your results as well as club, team & event news here
---
Other Results on VeloUK (including reports containing results)

---
Other News on VeloUK