Vitus Pro Cycling p/b Brother UK ready for CiCLE Classic Challenge using the latest tubeless tyre technology
News: Vitus Team Ready for CiCLE Challenge
The Vitus Pro Cycling p/b Brother UK team is ready for the CiCLE Classic Challenge using the latest tubeless technology from their sponsor Schwalbe who are also the race sponsor. Riding for the team on these tyres as they have all season will be Scott Thwaites, Ed Clancy OBE, Ali Slater, Mikey Mottram, Adam Kenway and Chris Latham. All of them have ridden the race and know the challenges they lay ahead.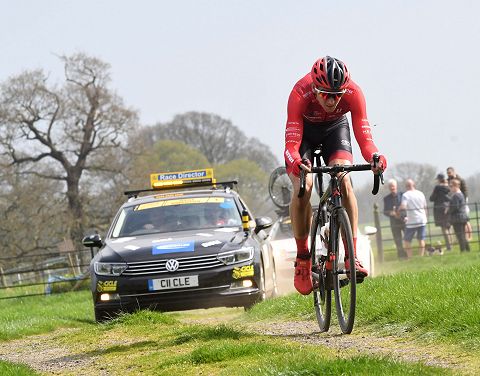 Adam Kenway, who was in the day's break last year and won the King of the Hills prize, races across Stapleford Park chasing a new breakaway
Anyone who walks or rides the off road sectors will easily understand why the key to winning the race is to avoid having a puncture or destroying a wheel or two on these punishing sectors. A single puncture may not destroy a rider's hopes but in this race, a double puncture is not unheard of so some luck is needed along with a set of legs that have more power left in them than a rider's rivals after 200km.
In recent previous editions of the race, riders have used tubeless technology or at least, stuck some 'gunk' into the tubes to seal any holes made by flints and so on and so this year is not so much a first but a year with more challenges. More teams for example are on disc brakes now, including Vitus Pro Cycling p/b Brother UK which will provide challenges for those making the wheel change. Bike changes are another option normally in a race but in this race, getting to a rider with a bike from the team car in convoy is a major challenge.
… continued after advert
The narrow gravel tracks, like Somerberg, are the race's signature and provide a two-fold challenge: not only do they significantly increase the likelihood of punctures, but they also make it more difficult for team vehicles to reach stricken riders, especially for vehicles allocated a position from the middle to the back of the race convoy.
"Some of the roads are just about wide enough to pass, and so it takes much longer to reach the front of the race if we're called up from a position towards the back of the convoy," Pridham explained. "If you're moving up on the right to get to riders, you've got to make sure you have passing room; that's often not the case at the CiCLE Classic and the rider has to wait at the side of the road."
"Trying to follow a rider through a gravel sector (see above) is nigh-on impossible and you can have riders from other teams stopping in front of you. It's chaos, and so the pre-race draw for the convoy is critical."
When VeloUK asked website supporter Continental UK their advice on combating the challenge of racing over rocky gravel roads, they explained "competition 28mm Roubaix tubulars (Pro Ltd) are preferred as it is easier to ride on a tubular rim with a flat tyre than clincher rim that has a flat tyre on it when help isn't immediately to hand" They add, "if riding clinchers, the wider the better" and suggested their new GP5000 28/32mm tubeless with RevoSeal to be the most bullet proof option!
… continued after advert
The Vitus Pro Cycling p/b Brother UK team will be on Schwalbe's Pro One Evo TL MicroSkin rubber as they have since the beginning of the season. Most recently, the team were racing at the UCI-sanctioned Tour du Loir-et-Cher in France, where team manager and owner Cherie Pridham said the self-sealing technology saved her team from at least four punctures on the gravel-sectored fourth stage.
"This is our first season with tubeless tyres, and I'm delighted to say that the Schwalbe Pro One Evo TL MicroSkin has already proved its value. At the Tour du Loir et Cher, the technology saved us from at least four punctures, on the fourth stage with its gravel sectors. When our mechanics inspected the bikes after the stage, they could see that the sealant had done its job on a number of tyres," she said.
At last year's race, the Brother UK neutral service crews replaced more than 30 wheels and Pridham brought a host of volunteers to support her riders, equipping each with spare wheels. This year, Cherie will deploy a similar strategy and hope for a favourable result from the pre-race draw for convoy position.
Here's the breakaway at the end of the race last year, no car behind them and look at that gravel … any wonder teams are pulling out all the stops when it comes to tyre technology …
Tim Ward from Schwalbe says "our tubeless technology has already proved its value to Vitus Pro Cycling Team, p/b Brother UK at the Tour du Loir et Cher, and I'm sure it will be of benefit in the CiCLE Classic, where running lower pressures without loss of grip or traction and with a reduced risk of pinch flats will be critical. Pinch flats are the most common type of puncture in that race, in our experience; and it can be very easy to break a wheel at the CiCLE Classic too."
Breaking wheels is certainly a danger and whilst punctures are common, so are broken wheels and so the race can be an expensive event for teams and riders. For those wondering where the danger sectors are for the race, Barleyberg is the first but that surface has been improved a lot since last year.
So the gravel road in Owston at Manor Farm is where riders will need to be light on the wheels as the gravel is covered in course stones. The other key sectors are the ones in the second half of the race; Somerberg which is 2k long and has to be done twice is quite harsh. Then there is Sawgate which is also quite severe and if giving a star rating, it would be five out of five as the race is full speed at this point close to the finish and there is no messing on the gravel lane. And finally, Stapleford Park which the first year was quite hard on tyres and last year not so much. The Saturday recce may reveal more …
We look forward to seeing how the riders in Vitus Pro Cycling p/b Brother fare on Sunday … they certainly have the experience, the quality of riders and equipment – they just need lady luck to look after them too … we wish them luck. Watch this space to see how they go on the day…
---
Cycle Division's Shop
---
Send your results as well as club, team & event news here
---
Other Results on VeloUK (including reports containing results)

---
Other News on VeloUK