A young lady winning races and looking like a proper star of the future is Izzy Sharp who is an Estrella Bikes ambassador
Q&A: Future Star – Izzy Sharp
A young lady winning races and looking like a proper star of the future is Izzy Sharp who is an Estrella Bikes ambassador. Izzy was 4th overall in the recent Isle of Man Youth Tour (in her age category) and we have done a Q & A with the young rider
Izzy with Zoe Backstedt
1. Tells us about your Estrella bikes?
Izzy: I ride an Estrella Ligero for road, training and racing and a Estrella Piste for track training and racing.
2. What groupset do you have on your bike(s)?
Izzy: I have a Shimano Ultegra group set on my road bike which came with the bike.
3. What wheels are your favourite ones for racing on and why?
Izzy: Cero 35mm carbon on my road bike but my all time favourite has to be my custom made track wheels. They are Reynolds Kom carbon tubular rims with Royce titanium hubs. Super lightweight coming in at 1040 grams for the set.
4. How was your winter training and did you have a warm weather training camp?
Izzy: I had a great winter training, mostly track, rollers and Zwift due to weather but got out on the road when I could. It's always tough getting through the winter training with limited races. I have to remind myself why I am working so hard and what I want to achieve when the season starts again. I try to do as much variety as possible to keep it interesting. I didn't do a warm weather training camp but hoping to this year.
5. How many hours a week do you have time to train?
Izzy: It's hard still being at school and keeping a balanced life with friends and family. If I had it my way every hour I could possibly do but I'd say roughly seven hours a week. I have started my GCSE's at school and studying PE and BTec PE which means I have PE every day so can sometimes feel quite tired trying to train too but I love it so I do my best and most importantly fit in my rest days or as I call it, 'day in bed'.
6. What is the longest ride you do per week?
Izzy: This varies, longest roughly 50 miles.
7. What was your first race this year?
Izzy: The icebreakers in January
8. What races are you most looking forward to in 2019
Izzy: The Isle of Man Youth Tour and anything that means I'm on my bike – racing is the best bit.
9. What would it take for you to look back at 2019 and feel it was a great success?
Izzy: It's ambitious but I'd love to win a national jersey for road or track. That would be amazing but there are so many great riders I think it's going to be tough.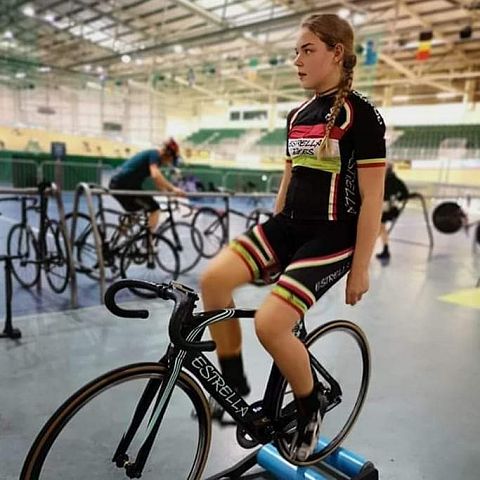 Some Key Results
– Ice breaker round 1: 3rd
– Ice breaker round 2: 1st
– South Region Youth Series Round 1: 1st
– Pembrey Youth 2 day National: 1st
– VCL youth omnium Round 1: 1st
– Castle Combe Easter Classic: 1st
– 6 day Madison & Points race with Zoe Backstedt:=1st girls, 6th overall
Brought to you by Estrella Bikes

---
Cycle Division's Shop
---
Send your results as well as club, team & event news here
---
Other Results on VeloUK (including reports containing results)

---
Other News on VeloUK