Another day in the mountains  and another GC day in the Giro d'Italia as stage 15 sees Italian rider Dario Cataldo win the stage with Simon Yates third and Hugh Carthy fourth – Richard Carapaz leads whilst Primoz Roglic loses time after his team car goes awol and the former race leader crashes
Giro d'Italia: Stage 15
The Italian rider Dario Cataldo (Astana Pro Team) won Stage 15 of the 102nd Giro d'Italia, 232km from Ivrea to Como. Mattia Cattaneo (Androni Giocattoli – Sidermec) and Simon Yates (Mitchelton – Scott) finished second and third, respectively with Hugh Carthy 4th. Richard Carapaz (Movistar Team) retains the Maglia Rosa and increases his lead over Primoz Roglic.
Photo: Getty Images
Dario Cataldo said: "I still can't believe in it! Today in the morning I could not even think the day will end like this! For a few days I was sick, but still tried to fight on in this race to provide my best to the team and our leader Miguel Angel Lopez. In the team we all stay together, we all work for one goal, riders, staff, directors, all our sponsors, our partner Samruk Kazyna… We have one goal and everyone is trying to do his best for that. So, despite I did not feel good in the morning, I went out to the start with an aim to give my best".
"There were many attacks in the group from the start, and in a moment I attacked together with Mattia Cattaneo. A bit later we realized we are only two in front, we decided to push hard as long as possible to see if we could break away. In the end, the peloton gave us space and we started to work more regular. We worked really well together. Anyway, it was a super long a hard day and despite a big gap we had, the peloton still had a chance to catch us. The last climb Civiglio was a tough one. Cattaneo tried twice to drop me, but every time I had legs to answer."
"I was afraid of these attacks, but, hopefully, I was able to follow it. I knew I have better chances in sprint, so even he left me to lead out our group inside the final two kilometers, I just did it, because there was no place to play the games since the chasers were close. Anyway, I preferred to launch my sprint from the first position and it worked out perfectly! That's something amazing to win a stage of the Giro d'Italia! I am so happy! – added Dario Cataldo.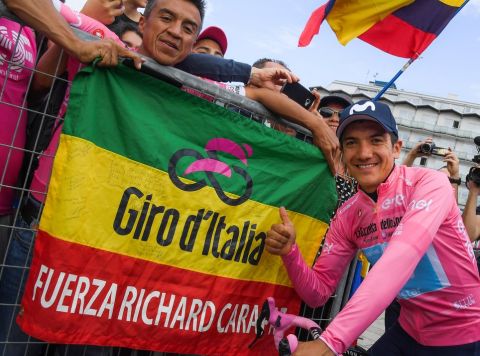 Photo: @giroditalia
The race leader Richard Carapaz said: "We knew it'd be a difficult day and, most importantly, a tense finish. We felt quite alright when it comes to legs, both my team-mates and myself. Nibali was the one with a stronger will to attack today, driving the pace late into that final climb and also descending quite fast. He really helped splitting the field and we eventually gained some seconds as a result."
"In my case, I just tried to follow his wheel into the downhill, yet trying not to risk too much to avoid any crashes. After the descent, I was able to bridge back to his wheel, and we were able to gain those seconds against Roglic, which are always good. (Asked about thoughts on Nibali) He's really strong, one of the most dangerous rivals I'll face next week, I think we'll come across each other a lot (laughs). Hopefully we can have a beautiful battle and make the fans enjoy the show. I'm so happy to see everyone in my country supporting me, I send them my love and thank them for staying close to me. Now it's all about enjoying that final rest day – it will be good for both myself and the team before the upcoming, tough stages in the final week."
Third for Yates on Stage
Simon Yates has sprinted to third place behind a two-man breakaway after another attacking attitude on stage 15 of the Giro d'Italia. For the second consecutive stage Yates was a major instigator after his Mitchelton-SCOTT teammates took things into their own hands on the 232km 'Classics-style' stage. Yates finished alongside Vincenzo Nibali (Bahrain-Merida) and leader Richard Carapaz (Movistar Team), just 11 seconds behind stage winner Dario Cataldo (Astana Pro Team).
Gaining some seconds on the likes of Primoz Roglic (Jumbo-Visma), Mikel Landa (Movistar Team) and Bauke Mollema (Trek-Segafredo), Yates moves up one position to eighth overall ahead of the second rest day. Expectations that the stage would be one for a breakaway, expectations were for a big fight and a large move to form. Despite some efforts, including from Esteban Chaves, after a fast first hour of racing just two riders rode themselves to an advantage.
As the race entered the final 100km, the stage looked likely to be contested by the leading duo. Until then, the peloton, led by leaders Movistar Team, showed no interest in chasing and the gap was out to over 15 minutes. In a quick shift in momentum, Mitchelton-SCOTT moved to the front of the peloton and took racing into their own hands. The increase in pace saw the gap reduce by five-minutes in less than 30km and sparked a new energy from the bunch as they reached the latter climbing section of the race.
As they approached 50km to go and the Colma di Sormano climb, Lucas Hamilton set the tempo on the front and the deficit to the break continued to reduce. Yates made two swift attacks on the Sormano – the first immediately covered by Movistar, the second saw a small gap emerge, before the GC favourites worked together to close it over the top of the climb. The final climb set the scene for more attacking for Yates, this time with Vincenzo Nibali and Richard Carapaz setting off in pursuit. The attacks caught Yates, but he chased the pair down the descent before sprinting to third place, just 11 seconds behind the surviving breakaway pair.
Simon Yates: "I'm getting better day by day, but really at the end of the day I have nothing to lose now. If I go from far out, they don't chase me and I can gain some seconds or if I go from far and they catch me, it doesn't matter because I'm a very long way down so I can try these things. It was only a small breakaway for a long day. Mid way through the stage I was feeling good, Whitey geed me up a bit and the guys did a really great job. No one else wanted to commit to the chase, they were happy for the breakaway to stay away, but the big guys did a really great job into the bottom of the climbs and the rest of the guys were great on the climbs, especially Lucas. It's his first Grand Tour and he is ripping up climbs for fun."
… continued after advert
4th for Carthy
On stage 15, Hugh Carthy showed his legs were back again and used them to launch an early attack causing a ripple effect of attacks behind him from the main GC contenders. After plunging down into Como with some of the best descenders in the peloton, Carthy came away with a mighty impressive fourth place and a three point gain overall, up to 14th place. That now brings week two to a close, and if the last few days of exciting racing are anything to go by, hang onto your seats for the final week, it's going to be thriller.
Hugh Carthy: "Legs came back today, yesterday they were lacking a little bit but today I felt fresh all day. To attack like I did on the final climb was instinctive and I knew going early is to mess with people's heads. I just knew I had to do a time trial to the top of the climb and there were plenty of people to keep me motivated along the way. Following Nibali and Carapaz on the descent was nice, you get caught up in it and the fear goes out your head, it was good to ride instinctively. The rest day is feeling well deserved now for everyone, I just need to switch off now and then hopefully come back again a bit stronger."
Primoz Roglic: After the descent of the Sormano, Roglic was forced to swap bikes with Antwan Tolhoek as his team car had stopped for a nature break, something which has been widely criticised by former riders. Roglic quickly returned to the group with all the GC favourites, but was subsequently unable to immediately answer an attack by Nibali and Carapaz. During the descent, the Slovenian tried to close in on his competitors, but he crashed.
"It wasn't a good day for me, but it wasn't the worst either", Roglic said. "All in all I can live with the outcome of this stage, taking all the bad luck into account. I had to swap bikes in the run-up to the Civiglio. It always feels different when you are riding someone else's bike instead of your own. Nibali and Carapaz were very strong today. At the top of the Civiglio I was not far behind, but I took too many risks. It is still a long way to Verona and anything can happen. I still feel pretty good. First I will enjoy the rest day and then we will see what will happen next."
Bauke Mollema: "When they first started to attack on the last climb, I got dropped pretty fast and then it was just full gas to the top. I was with Zakarina and Sivakov at the top and I went full gas in the downhill. I knew the downhill very well from Lombardia and I watched the video again yesterday, so I could drop those guys. At the bottom I caught Roglic who had crashed and that was perfect for me to go with him to the finish."
… continued after advert
Stage 15
1 Dario Cataldo, Astana Pro Team 05:48:15
2. Mattia Cattaneo, Androni Giocattoli – Sidermec
3. Simon Yates, Mitchelton – Scott @ 11 secs
4. Hugh Carthy, EF Education First @ 11
5. Richard Carapaz, Movistar Team @ 11 01
6. Vincenzo Nibali, Bahrain – Merida @ 11
7. Miguel Angel Lopez, Astana Pro Team @ 36
8. Rafal Majka, Bora – Hansgrohe @ 36
9. Domenico Pozzovivo, Bahrain – Merida @ 36
10. Mikel Landa, Movistar Team @ 36
12. Bauke Mollema, Trek – Segafredo @ 51
13. Primoz Roglic, Team Jumbo – Visma @ 51
19. Edward Dunbar, Team Ineos @ 01:06 21
84. Scott Davies, Team Dimension Data @ 31:45 131
90. Jack Bauer, Mitchelton – Scott @ 31:45 119
133. Conor Dunne, Israel Cycling Academy @ 37:08
Overall
1. Richard Carapaz, Movistar Team 64:24:00
2. Primoz Roglic, Team Jumbo – Visma @ 47 secs
3. Vincenzo Nibali, Bahrain – Merida @ 01:47
4. Rafal Majka, Bora – Hansgrohe @ 02:35
5. Mikel Landa, Movistar Team @ 03:15
6. Bauke Mollema, Trek – Segafredo @ 03:38
7. Jan Polanc, UAE Team Emirates @ 04:12
8. Simon Yates, Mitchelton – Scott @ 05:24
9. Pavel Sivakov, Team Ineos @ 05:48
10. Miguel Angel Lopez, Astana Pro Team @ 05:55
14. Hugh Carthy, EF Education First @ 14:38
21. Edward Dunbar, Team Ineos @ 26:45
119. Jack Bauer, Mitchelton – Scott @ 02:44:11
131. Scott Davies, Team Dimension Data @ 03:02:59
138. Conor Dunne, Israel Cycling Academy @ 03:20:28
---
Cycle Division's Shop
---
Send your results as well as club, team & event news here
---
Other Results on VeloUK (including reports containing results)

---
Other News on VeloUK