On Saturday (last weekend), Charlie Quarterman of the Zappi team raced his way to a '10' title then on Monday, his new team, WorldTour squad Trek Segafredo no less, announced he was racing for them – I spoke to Charlie after he won the 10 title
Feature Interview: Charlie Quarterman
On Saturday (last weekend), Charlie Quarterman of the Zappi team raced his way to a '10' title, something I remember a certain Bradley Wiggins doing so not a title to be scoffed at. Then on Monday, his new team, WorldTour squad Trek Segafredo no less, announced he was racing for them.
Charlie is a British rider who's name would pop up all the time in Europe when racing for the Leopard Pro Cycling team. In 2019, he went back to his roots, racing for the man who's club he raced for before heading to the Leopard Pro Cycling team, Flavio Zappi's development team. It has been quite a year for the rider who turns 21 this week and then starts his career with Trek Segafredo in two well known races in Europe, the Flanders Classic and GP Fourmies.
Being a rider who mainly races in Europe, we don't get the pleasure of his company racing here much but after he won on Saturday in Cambridge, we got to speak to the Oxford high flyer.
In 2019, the big splash was made beating the likes of Ethan Hayter in the British Under 23 Time Trial Championship as well as two great results in the Under 23 Giro. Fourth in the prologue, showing his TT skills and then third on stage 7. Looking through the results of the year though it shows how difficult it is for riders to know what teams are looking for in order to get signed as Charlie explained. He says it isn't always about results but showing off a skill that makes you stand out. After his years with the Leopard racing team, Charlie came into 2019 with clear goals racing for his former club boss, Flavio Zappi.
"I set out at the start of the year wanting to go professional but I know it's not an obvious path to follow. You just have to hit the season as hard as you can and I targeted March and April and the classic style races before the Baby Giro and the national championships".
On getting the nod from Trek Segafredo, he explains "it is not always about the rider with the most consistent results or a stand out win and so on. You have to have a skill you are selling, something that makes you stand out whether that's being the most consistent or like me, having the time trial, or be willing to work for the team and other riders. I think if you go about it the right way, you get noticed".
On being signed up by such a well known team, he says in the team's press release "I'm unbelievably happy with this move. Although I know this is where the real hard work starts, it's an absolute dream of mine to join a team like Trek-Segafredo, so I can't wait to get my first races with them under my belt".
"I'm hoping to make a name for myself as a TT specialist and to learn the trade in the top Classics in the world. It's hard to predict how I will perform in the first races, but I'm aiming to repay the team for its belief in me with work for others and by taking some strong results for myself!"
Josu Larrazabal, Head of Performance at Trek-Segafredo says of Charlie: "Great Britain being a strong nation of time trialists, the U23 TT championship is a race with a real battle of specialists. If you can win it, that means something. He is a time trialist and just like every other TT-specialist, Charlie is also a strong rider that can play an essential role in the Classics and other one-day races. In the younger categories, he had some excellent results in these kinds of races, and we cannot wait to see how far he can go in one-day races at the professional level".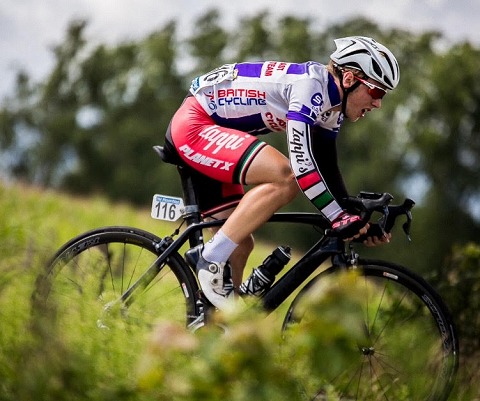 Charlie back in 2016
Right now, Charlie's preparing for the Under 23 World Championships, so the team wanted to grant him the opportunity to compete in a few one-day races at the end of the season to allow him to prepare really well for his biggest goal of the current season.
Asked about season highlights, Charlie says "you can't beat winning a national championship so no question about that." At the time he won it, he said it was an incredible feeling especially after coming out of the Giro as tired he was, something that did worry him. "I did everything I could to go to the championships in the best condition possible and I did the ride of my life. It was pretty much perfect. "
Of other season highlights, he says the Baby Giro was incredible. "The atmosphere before the starts was amazing and again at the finish. It was such a beautiful race and area to race in". The season also had its down sides like the European Time Trial championships (under 23) where he was 16th, a minute off the winner.
As with any race for any rider, the result is just the start of the story. For Charlie, a dropped chain on the tailwind section of the course saw him lose 40 seconds and whilst he admits he was struggling power wise that day, he adds he would not have won even without the mechanical.
… continued after advert
Back to the start
His year highlight though has been a season long one and that's being back in the Zappi colours. "The support from the team has been brilliant, having the right guys around you to race and train with means a lot to me".
The rider who turns 21 this week has a long history with the club and team named after Italian former professional Flavio Zappi who has had plenty of solid results to his name. Second in the Giro's KoM classification in 1984, 12th in Milan San Remo, 18th in Paris Roubaix and third in GP della Liberazione in 1980. Add to that top 10's in stages of the Giro as well as racing the Giro three times, Flavio was a seasoned professional.
This year for Charlie, followed two years at the Leopard Pro Cycling cycling team out of Luxembourg. Going back even earlier in his career, Charlie from Oxford explained he has been around the Zappi club and team since the beginning.
Winning the Under 23 title a highlight for Charlie
"He used to have the club in the centre of Oxford and when I was first riding my bike, I heard people say it was the place to go. Everything is based around the café and it was the place to go to if you wanted to race and ride fast. The first time I met him I was at a hill climb and some random mad Italian man was chasing me up the climb shouting and it took off from there. He found me after that race, we talked and a few months later I was on a training camp with him in Portugal in the winter and then racing a few months later. He has given me that motivational push from the start really".
"When you are young, you need someone with that passion behind everything and he really cares about what the young riders are doing whether they are under 16 or under 23s." I then said, with thoughts of the Wiggins team stopping this year, that for under 23's, getting that experience is difficult without teams like Wiggins or Zappis?
"It is difficult" he replied. "The good thing about the Zappi team is Flavio is there the whole time and spends so much time with the riders, you can pick up so much stuff from him about racing, training, and the lifestyle of the sport.
Charlie in the CiCLE Classic in 2019
10 Champs
A long way from the races in Europe, I expect I wasn't the only one to be surprised to see Charlie's name on the start sheet for the 10 champs, a reserve no less funnily enough. He explained afterwards he didn't really know what to expect. "Because the event is run by a different organisation, and I was still riding my UCI position, I felt it was a different ball game really but I knew if I did a decent ride, I'd be up there in contention".
Charlie then explained how his season right now is centred around the time trial. "I am building up towards the world championships at the moment so I am definitely working on my time trialing. I'm doing time trials with local clubs and keeping things ticking over. It is rare for me to do a fast one like this although it turned out not to be so fast (there was a strong wind that day making it tough).
His work on the time trial is all in the hope he gets selected for the World championships in Yorkshire. He adds he knows he's on a short list but not yet heard if he's made the Great Britain team for the event. "You never know what's going to happen with selection as there is so much competition for places being a home worlds."
His preparation for a possible worlds ride will now involve a lot of racing WorldTour races as he gets ready to join Trek Segafredo. His ride came about through agents who noticed him in the Giro. That alone shows why teams like Zappi and Wiggins racing in Europe was so important for the riders as that would never happen in Britain.
… continued after advert
Until now, the racing has been quite varied. "Last year with Leopard I was doing top level races '.1' ranked events and I did do the German Tour (the one that was last week) last year so I have raced against the strong guys."
This year though Charlie admits he hasn't done any '.1' ranked events but the Baby Giro was certainly a tough event. "The Baby Giro is probably the closest to the level I will be racing at. A lot of guys from there were going WorldTour and the level was so high as everyone was so motivated and on top form. It was almost like the Tour de France for under 23s as everyone was so focused on it".
International Under 23 racing can also be a great level for young riders coming into the WorldTour ranks. Asked if the Under 23 racing is controlled like the WorldTour racing he's about to start racing in, Charlie says "it depends on the day. In northern Europe, there tends to be a lot of strong teams and it can be controlled but then in Italy, especially with all these crazy guys, no one wants to be the team that rides on the front all day so you can spend all day following attacks and hoping it's the one that goes".
His races this weekend are the Brussels Cycling Classic and a race I remember well as a classic in the 70s, the GP Fourmies. The latter race goes back to 1928 and in 1971 Barry Hoban won it. Others include Eddy Merckx, Didi Thurau, Max Sciandri, Andrea Tafi, Michele Bartoli, Marcel Kittel, Philippe Gilbert and no less than three Aussies (Sunderland, Cooke and McEwan).
On the rest of his season, he says "I have some races with Trek Segafredo coming up next weekend and then I'm building towards to the Worlds and the Chrono de Nations in October. So lots of racing to come. I am looking forward to mixing it with the WorldTour riders but also terrified! I don't know want to expect."
"I want to learn from them but also want to pay them back for having that belief in me really".
Like many a time trialist in a team, that will mean results in time trials is a big aim as well as work on the front of peloton's in helping control races, work that will make him stronger and help him develop as a rider. As he well knows, the hard work is only just starting as he gets the cycling career well and truly off the ground.
Thanks Charlie for the chat… and good luck!
---
Cycle Division's Shop
---
Send your results as well as club, team & event news here
---
Other Results on VeloUK (including reports containing results)

---
Other News on VeloUK