One of the riders to retire after the Madison Genesis team stopped at the end of the road season is Tom Moses – we spoke about his career and will he carry on racing …
Feature: Tom Moses (Madison Genesis)
When the Tour of Britain finished recently, it signalled the end of the cycling careers for a number of the riders in the Madison Genesis team which is stopping after this year's road season. Among the riders to confirm they are stopping racing at the top level in Britain are Richard Handley, Ian Bibby, Erick Rowsell and George Pym.
Another of the riders to retire is 27 year old Tom Moses and we spoke to Tom at the end of the season to look back at his career. Tom said when we started our chat, "it seems like I have been around a while" and he certainly has, starting racing in 2006 in the Youth ranks.
Tom winning the CiCLE Classic
Tom, winner of senior British races like the Tour of Reservoir and races in Europe such as a stage of the Tour of Normandy, has been at the top of his sport in this country since his days as a young rider and achieved a lot of success in the sport. For example, in 2010, Tom was sixth in the Junior Paris Roubaix, a result that these days could help kick start a rider's career.
"That would be a bad ride these days" he replied when I asked him about that. "Even though it was only ten years ago, there wasn't really many young Brits going on to do anything from that so not really" was his reply when I asked whether he had dreams of WorldTour after that result.
"There was no obvious pathway (outside of GB) like there is now where as those doing well these days can see a pathway like going on to do under 23 and then WorldTour but when I was junior there wasn't' really any people above me going straight onto WorldTour like these days."
A big difference of course between then and now is the role agents play in taking young riders and placing them in teams.
Rolling the clock back to the beginning of how he got into cycling, Tom, when asked about his beginning in the sport in Keighley, explained "my family had always been into cycling but it wasn't my family that got me into it; it was Chris Young (the cyclo cross legend)".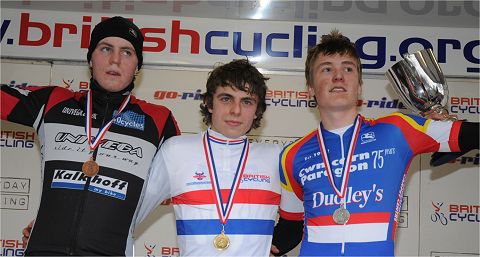 2009 and Tom Moses has the stripes on the podium with Dan Mclay and Sam Harrison
"He was a caretaker at our school and ran a cycling club there so I went along to that and then there was a cyclo cross race at our school. So I did that and that was it and I started doing a lot of cyclo cross races. Chris then got me into racing on the road. I won the Junior cross champs as a first year junior".
On the road, Tom was also pretty dam good. In 2010, he started the season winning the Cadence Road Race in Wales (Junior National Series) and followed that up with a win in the Bath RC Junior Road Race. "I was pretty happy as a junior in the national series with two wins and I think my worst result was a sixth so I was always right up there."
I could also see Tom was getting results on the track but the love for that was not really there. "I got on the GB academy mainly from my road results and as a consequence I had to do track which I never really liked a lot although I enjoyed doing the Madison and bunch races but I wasn't really a team pursuiter".
The GB Academy saw him step into the Under 23 ranks and the beginning of his senior racing days. "I had done really good rides as a junior, especially in the UK, and had some decent results abroad but when I stepped up to under 23, I struggled and didn't find my legs until my third year as a senior so I am glad I stuck with it".
While his first years as a senior were tough ones, in 2014, he started getting some very impressive results like a stage win in the Tour of Normandy. Did the thoughts of going up to World Tour start to kick in then I asked?
"When I won a stage of the Tour of Normandy and won the CiCLE Classic and was also getting some good results abroad, that was a year when I had world tour teams saying they were keeping an eye on me and if I had a good second half of the year, they will look at me a bit more."
"I just didn't quite have as good a second half of the year as the first. I did a good ride at the Commy Games where I was riding at the front but I then punctured and that was one of the biggest regrets. When I punctured, the neutral service guy on the motorbike, his hands were so cold, that he couldn't get the wheel out of my bike and I had to do it and by the time I got back on the bike, I was like last man on the road so I just got off as there were only two laps to go and I thought that was me done."
The Commonwealth Games may not have gone to plan for Tom but one race that has been good for Tom is the Tour of Reservoir. "That's a good race – three stages and the overall I think I've won. It is the perfect terrain for me, the climbs are not too long and I do like that finish up to the dam wall so it's been perfect for me. If there is a race made for me, it's that one".
Tom Pidcock and Tom Moses fighting out the Klondike GP
Tom was also second to another Tom (Pidcock) in the Klondike GP in 2018 showing that he was still one of the top line riders in Britain. "Yes, the form is still there, even this year, my best result was third at the Tour of Res but the second day was way too hard for me now with those climbs on stage 2 and guys like James Shaw there. So I still have it but I feel I have done all that I can achieve in the UK scene really. Even though I am only 27, I have ticked those boxes. I don't think I can win a lot more. I would like to have won Ryedale at least once and I certainly gave it a good go".
Tom was also a pretty mean rider at crit racing scoring some victories along the way. How did he feel about the Tour Series? "I didn't really do that much of it to be fare" he replied. "I have been a UK based rider for the past decade and I really only did two years worth at the Tour Series because when I was at JLT, I wasn't really in the crit team and would just do the road races".
"If I ever did do one, I was just there making the numbers up as they were not always going for the team comp so it wasn't my big strength but the last few years, it's been like I felt I had done everything I could in the road series so I may as well give the crits a good go and see what I can do. A change of motivation".
Tom on the CiCLE Classic podium in 2014 with Mark McNally who rode at ProConti level and Tom Scully who is a world tour rider 
So why stop racing then? "I have a mortgage and responsibilities so as soon as it stops being a career, I have to stop. It is not because I don't want to do it anymore, but because it's not a feasible career anymore."
Was it a shock that Madison Genesis were going to stop I asked? "It was a bit of a shock to us but it was nice to know early so all the lads could get themselves sorted finding new teams or find out what they wanted to do after cycling. It was very last minute when JLT went down so that was a bit of mad rush for everyone. It was way better to know early so we could sort ourselves out".
Did the fun go out of the sport when it became a career I asked Tom? "When it's a career, you do come under stress because you have to get the results to keep earning a living. You have your own house and responsibilities so you are fairly well committed so you can't have a bad year because if that happens, that effects your life style. So it changes from just being fun to a job."
Winning the Tour of Reservoir
So racing in Britain is stressful? I would say so because the events matter so much to the teams with the qualification for the Tour of Britain; it just means managers have stress on them from the team owners and their sponsors and that goes onto the riders so you can't afford to mess up and have a bad race especially if you are big budget team and you are not getting the results against smaller budget teams."
"So yes, you have stress on you and that does put pressure on people so it becomes a stressful sport."
And how does the Tour of Britain qualification affect the racing? Does it become negative I asked Tom? "Riders don't get a chance to take a race on" he replied. "Say there is a breakaway with one from each team and you know you can get third if you sprinted against that group. But you also know if you try to attack them to win with one k to go, you might win, or get sixth, and you can't take the risk of doing that".
"So you wait for the sprint and get third. You can't afford to take the all or nothing approach which would make for exciting racing. You need to play it safe. The only time that you get away from that is if you are in a team that has already qualified and you can attack out of that group and then they'll look at each other knowing they have to sprint for the Tour of Britain points where as you can ride off the front because you're not in the qualification race. Bit like Alex Richardson at Lincoln, not taking anything away from his ride, but that is what can happen".
… continued after advert
Race Safety
It is a subject that comes up a lot in Prems and Tom explained that he doesn't think during his racing years it has got any worse. "Teams have got a lot more professional over the years and when that happens, it is hard for the races not to be run professionally as well to keep up with professionally run teams and racing."
"This year though there were consistent events happening that made it unsafe for riders, but with the racing getting faster, bigger fields, and more professional teams it must be harder for the organisers when you don't have a professional organisation running the races."
"In Mendips there was a section of the race when the NEG had gone the wrong way so there wasn't any motorbike out riders out front of us for a few miles. At that point, the race should have been stopped as there was nothing stopping the oncoming traffic and when you are racing like that in a bunch, all over the road, you expect it to be a closed road as it should be. That is just one little thing and that is all it takes to have a serious accident".
"You feel safer in the Tour de Yorkshire and are more confident that on the road ahead of you, there is nothing there to catch you out and coming towards you. That said, it is rare in a prem that you would have things coming towards you."
Chatting about career highlights, he says the Tour de Yorkshire, Tour of Britain, and Commonwealth Games were great events to do before adding that he did a lot of cool races with JLT. "We did stuff in Asia, America and Australia so I had a pretty good time of it".
"I had a bad back during and after the Isle of Man this year and a week off after it which was a shame as I really wanted the Tour of Britain to be my last race. In the weeks before it, it was getting closer and closer and my back wasn't getting any better and I was thinking I have not done the training to do the Tour of Britain. That made me realise that when I look back, I won't remember what the last race was but what the good races were".
"Races like when Hugh Carthy won the Tour of Korea. That was a mega trip. Rich (Handley) won a stage, Mike (Cuming) won a stage, Hugh won the overall and we had such a good week. There were other trips like the Tour of Japan which were great trips and I had such a good time with the lads."
His time with JLT however did mean having to be a domestique a lot of the time. How did that fit with him? "I was with JLT for five years – most of my cycling career with John Herety who had strong teams".
"It meant you got a lot less chances for yourself but the way John had us thinking, the mentality of the team was going for a team win rather than any one individual rider. JLT was very business-like. It was your job and what you do which is how we got the results we did. As a rider, you were very clear when you set off for a race what your job was within that race."
"There are a lot of lads who are not happy doing that and would be unhappy as they wanted the results for themselves. I remember a crit at Abergavenny and Briggsy was flying that week and John said to me, 'you need to make the race as hard as you can for Briggsy by racing flat out and if you can only manage 20 minutes, then it's a job well done."
"So I took it literally and went flat out for the first twenty minutes making it hard and then blew up after twenty minutes. I remember rolling into the pits after being flat out and John laughing at me because he created that mentality with his riders of doing their job rather than racing for yourself. John was great manager with people management skills."
Having been a former pro, Tom says John had a great insight into the sport as well. "When John was racing, it was very different to now but he has always been in the sport so he could see how it was changing and what he needed to do to get the best out of riders which was good. Like when he got Tim Kennaugh involved as a coach for the team where all the riders were coached by the same person. It was so much more organised than anything else I saw in teams so he got the good results".
… continued after advert
The future and racing …
Being only 27 though is very young for a rider to be retiring so I asked will he keep racing? "I don't think so" Tom replied. "I would not want to be racing knowing that I could be better than I am, or performing better than I would be. I would not want to work full time and try and race."
"I am all or nothing. I have raced enough now to know what my level is and that's what I'd want to be at so I would rather stop completely rather than carry on. I have a lot of mates around here who have been through the same thing, ridden for teams and come out of it and are now riding for fun. There will be a lot more mountain biking I expect."
What about cyclo–cross where it all began? "All I can think of is for cycling to be fun" Tom replied "means not racing but just going out and riding the bike. Even the last few years I found myself not enjoying the racing but still enjoying the bike so it will be nice to have a break from racing completely but who knows in a few years, I might start missing it and have a bit of comeback as I'm still young enough to do that."
As for disciplines in cycling he enjoys most, Tom says "I really do enjoy the off road cycling like mountain biking and cyclo-cross as it's the sort of thing I have not been able to do whilst I have been racing full time on the road because you can't risk injuries. So I am looking forward to that because whilst it's cycling, it's about enjoying yourself at the same time instead of going out and training and staring at a power meter".
Finally, as I know the importance of the 'family' in cycling, I asked Tom outside of the racing, will he miss the mate-ship? "I probably won't miss the racing that much but the going to the races with the lads and having a good time I will. Being round the lads who are like your best mates, the weekends won't be the same anymore!"
We'll certainly miss the likes of Tom as well and wish him well in his new career and hope we do see him back racing at some point.
… continued after advert
---
Cycle Division's Shop
---
Send your results as well as club, team & event news here
---
Other Results on VeloUK (including reports containing results)

---
Other News on VeloUK