One of the riders of the year, if not THE rider of the season is John Archibald who's season has been nothing short of brilliant. We chat to him about 2019 …
Feature Interview John Archibald
Looking back at 2019, it is hard to know where to start with the achievements of John Archibald who rides for Ribble Pro Cycling & Huub Wattbike. In January, he was smashing world records in the Individual Pursuit and a few months on, was then on the podium in the Tour de Yorkshire after a day in the break on stage 3.
In June, he medalled in both British Road championships (both on Ribble bikes, Road and TT) and then in July, solo'd for 100 kilometres to win the Stockton GP. If all that wasn't enough, he then medalled in the Team Time Trial Relay for GB at the Worlds and backed up a few days later to ride a brilliant Individual Time Trial. Throw in some top fives in the Tour Series, top 10s in Prems and the season has just been packed with highlights.
A few days ago, I caught up with John at the launch of his track team, Huub Wattbike and asked him was his season as special to him as it was to us fans? "Absolutely. If I look at the way I have progressed over the years, the form is still going upwards so I think this year the way things have gone on the road and how the track went before it, I am very pleased".
When I asked John was it just a natural progression over the years or has he trained specifically to improve his form on the road, his reply was "an element of both. Experience in riding road events does have a role to play; getting used to riding in a peloton with over hundred riders in it and dealing with the longer distances as well as realising that we're not super human and you have to save energy very wisely and spend your energy very wisely".
"The preparation has changed for me too and the training being full time, living in Derby, riding a lot more miles and doing slightly more specific prep has helped."
So John is a full time cyclist? "Yes, in Derby, I'm living the full time athlete life. I worked for five years and came away from that, moved to Derby and committed to this track project (Huub/Wattbike) and the road season with Ribble (Cycles) was a bonus and this year has worked out to be a big success."
When the fans see John catching WorldTour riders in a time trial and beating them in a road race, the question has been raised, why isn't John in the WorldTour? So I asked John, would he be tempted by such an offer?
"Yes, I'd definitely be interested" was the reply. "With the way the season has gone, you are always switching focus, from track to road to worlds and there is always so many different things to focus on so moving up is always the last thing on my mind. I'd certainly be interested in pursuing it further, I just haven't chased it or put myself out there for it."
"I am in the older age bracket (28) but the advantage I have got is I am still improving and I still want it. It's not like I have been doing it for 15 years and stagnated but instead have raced for only five years and still have room to grow."
Pic: Getty Images
John's Highlights
As I have mentioned from the get go, picking a highlight from John's season is tough as there are so many, but for John, the British Road Championships was certainly an important one.
"The nationals was a highlight for me simply because when you are not expecting a big result and then two come up in the space of a few days, you can't not be shocked by it. The whole process towards that National Time Trial Championship was on the subtle hope you're going to get a medal but you know you're on the fringe of it so to get that as a reward was a great highlight. Then, in the road race, that topped it off really. There was no way I was expecting a medal in the road race."
"There will be plenty of riders who feel they missed out on a medal when they had a shot at it. With well over a hundred riders in the field, there are plenty there that feel 'you know what, I could have been that guy' and there is luck involved in it and I was in the right place at the right time and had the gas to do the job."
The Road Worlds too was a highlight for John with two big rides. Which one did he favour as a favourite? "The Team Time Trial (TTT) Relay was the main highlight really. I was happy with the Individual Time Trial but the fact in the TTT I was out on the course with two guys I know very well, Harry and Dan, and we had a strategy for the execution of how we'd ride the race and we nailed it, so to do that on the day and then the girls back it up as well, the whole process was a great experience."
"The Individual Time Trial was such a rush in contrast. I was so nervous, I didn't quite enjoy it as much but I am still very grateful for the opportunity to do it and happy with my performance."
The one thing John did not get for the Individual Time Trial due to his last minute selection was the same level of preparation he had for the Team Time Trial Relay. "I got the call on the Saturday before it (when Geraint Thomas withdrew) and the race was on the Wednesday. They told me I had been nominated and asked 'how do you feel about doing it'? I was like, yes, I want to do it. I was well up for the challenge but nervous because of the lack of preparation towards a one hour eight minute time trial compared to an 18 minute team time trial that comes a few days before."
"The individual time trial was a very different event but I still felt I did myself justice. It just wasn't a dream result. Coming 14th is respectable but not what I'd be chasing. I'd like to think I could have gone better. With time trials, it's about how much average speed you cannot lose, what high speed you can maintain, and there are bits on the course where if you know the course really well, you're not losing speed round the corners and can attack the course aggressively. Knowing where to distribute the power best so there would have been a lot of gains to be made to doing that properly."
"I don't feel I got the optimisation right but I did get everything out on the day and I'd like to think if I had six weeks to prepare my fitness differently, look at the course differently, there was room to improve there."
Pic: Getty Images: On a special bike for the World Championships from Ribble Cycles 
Result aside, the performance saw John catching World Tour riders and spend quite a while in the 'hot' seat, an experience he enjoyed. "I was really fortunate being an early starter, I got the most time in the hot seat in contrast to people like Alex Dowsett who finished fifth, just missing a podium place, and who probably got only around ten seconds in the hot seat so I got a great experience with that. With the home crowds in front of us giving us a lot of support, interviews as well, means we got a fair amount of publicity for it".
John and Dan Bigham were also on new bikes for the Worlds from their sponsors Ribble Cycles. Asked to tell us about them, John says "the frame was lighter after they stripped off a lot of paint off the frame and forks and I had some new Watt shop extensions that I didn't have previously. I ran a single 58 tooth chainring, Walker Brother wheels, the Ceramic speed pulleys and the bearings in the wheels."
"There were a lot of people worried about me using a 58 chain ring because of the hills on the course. Matt Brammeier asked me what gear is that and I said 58 and there was a sharp deep intake of breath but I was fine for the course. There was one steep hill which was well over 10 per cent for over a minute but you carried so much speed into it, the gears I had were fine."
… continued after advert
Epic breakaways
A long way from Yorkshire in terms of the public focus, and very different to the World Championship spotlight, another highlight for many who saw it was John's win in the Stockton Grand Prix prem.
John won his first 'Prem' with a 100km solo breakaway. "It has been swamped by everything else" says John. "If that had been the one result of the season, you'd be happy with it. That whole day was a strange experience."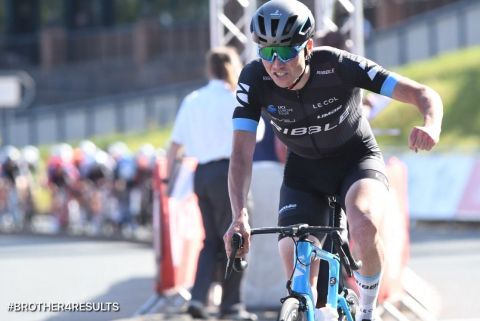 "The way everything unfolded the way it did, you could not have predicted it. I pulled away from the break with 100km to go and they must have looked at me, and thought 'you know what, we'll see him in 30 minutes' and I kind of thought that might happen as well."
"But as the gap grew and grew, it was an unreal scenario and I really enjoyed that day. Especially for the team and their first prem win and to be at their home based event, it was pretty cool".
The Track Season Beckons
With the road season over, John is now focusing on his next goal, World Cup wins on the track. I started by asking did he get a break from training post road season? No, was the answer.
"Since the national road championships, I have been on the track twice a week just because it coincided so well with the team time trial at the Worlds. The training on the track was so useful for what was going to happen on the road for the Team Time Trial so I've been on the track twice a week and in the gym all year so that stuff never ends."
"Ideally you would look for a season break somewhere but for the last two or three years, we've survived pretty well not having one and gone well off of it. Hopefully we won't crack this year!
I think a lot of it is mental freshness and when you come from such a different discipline of doing four hours on the road doing premier calendars and then change focus and are doing a four minute pursuit, the mental approach and change in physical training, you come into it mentally refreshed".
To get to the World Track Cups though will mean a lot of travel. "I am getting used to that now" John says. I can pack a bike box in 30 seconds now! Those logistics are the night mare of the whole thing. All the travelling through airports trying not to get ill and staying fresh".
"We're a small team carrying two bike boxes each, our own luggage and so on so it's not as stress free as some people might think it is. It will be exciting to see the places though. Going to a place like Minsk, it's not a place you'd to go normally so it's cool to do these events. The home one in Glasgow will be awesome with friends, family and sponsors coming to support us the same as London last year so that will be cool ".
Having made such a splash in the media with his World Records in the Individual Pursuit (IP), is that the focus I asked? "the IP is a secondary focus at the moment" was the reply. "I still think of the IP a lot and still want to do well in it but the way the training is dictated at the moment for these World Cups, it's all Team Pursuit focused and that is not necessarily a bad thing".
"The one thing I did last year with the Team Pursuit was that I worked on a whole lot of weaknesses in the IP by accident so when it came to doing the Individual Pursuit, I was suddenly going very fast even though I had not focused on it so if the same logic plays out this year, I could still do some good Individual Pursuits and there is one in Minsk. Hopefully I can apply to do the World Championships again, that would be the ideal scenario."
Why not a Great Britain Rider?
Finally in this interview, for a rider who has broken world records on the track, showed his versatility by winning the Points Race British championship and of course being part of a World Cup winning Team Pursuit foursome, it begs the question, why isn't he on the Great Britain team programme?
I never felt the GB team was a closed shop when I worked on it but now looking in from the outside, it certainly seems that way. Has GB asked John to be part of the squad?
"No, I am not sure how to describe that one" was John's response. "I have been in the set up where I have raced with them and been away to events with them but the conversation about joining the programme has never been breached and it looks like the riders they have is set in stone until the Olympics (Tokyo) and whether they open it up after that, I don't know".
"If it was offered to me, I'd like think I'd enjoy that way of life. I enjoy the life of an athlete now and I know I can dedicate myself to that style of living. I enjoy the training and every aspect of being an athlete and living like that in Manchester for sure appeals to me. What has held me back is my opening lap and perhaps if I can improve that, I will be more of a prospect for them."
Lets hope so because if the riders at the Huub Wattbike team have shown, is they are forward thinking athletes keen to break new boundaries and it will be ever so interesting to see how quick they can go this track season with new riders.
We wish John, and his team, lots of luck for the coming winter and look forward to seeing them race on the track and on the road with the Ribble Pro Cycling team. Thank you John for the chat!
---
Cycle Division's Shop
---
Send your results as well as club, team & event news here
---
Other Results on VeloUK (including reports containing results)

---
Other News on VeloUK