If there is one rider who made a splash in 2019 with his agressive racing and a solo victory in the Tour Series, it is Freddie Scheske of Vitus Pro Cycling p/b Brother UK – here's a Q&A
Q&A: Freddie Scheske (Vitus Pro Cycling p/b Brother UK)
If there is one rider who made a splash in 2019 with his agressive racing and a solo victory in the Tour Series, it is Freddie Scheske of Vitus Pro Cycling p/b Brother UK – here's a Q&A
Freddie with team owner Cherie Pridham after a brilliant race at Aberdeen
Does getting a new contract with the team help motivate you even more after a really good season
Freddie: It definitely gave me a spur of motivation in the team's confidence in me, and allowed me to train and race towards the end of the season without pressure.
What was the highlight of the season – Salisbury?
Freddie: It's hard to beat Salisbury, being my first Nat A win, but it all happened pretty quick and the whole day was a bit of a blur. I also had a uni exam at 9am the day of the race, so it was just a lot to take in in one day.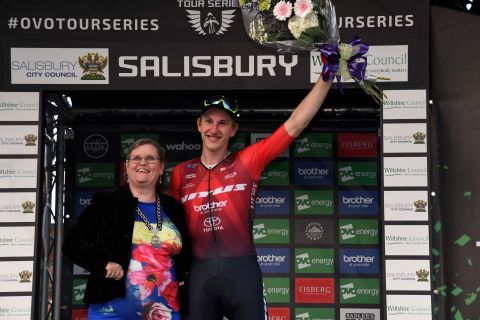 Your last win was part of the team at a 24 hour race – tell us about that.
Freddie: We collectively actually raced for 25 hours! It's the night the clocks go back, so while everyone was getting an extra hour in bed, were racing an extra hour! It's an odd race though, because we were never doing more than 2 hour stints, and most were 1 hour. So even though its an ultra endurance race, we were riding as if it were a Crit, with a couple hours rest between each one!
Are you glad the season is over or could you have raced a bit longer?
Freddie: The end of the season came a bit early for me. I missed out on Rydale and Bourne with illness which I was pretty annoyed about, so I reckon I could have done a little more.
Are you having an end of season break or is that done and are you back training?
Freddie: At this point, I'm back training. As I said, I missed the last two races of the season, and had a forced early break. Now I'm ready to get back into the winter miles, but will do a bit of track racing and maybe the odd cyclocross race to keep it fun and not just long rides in the cold.
The victory at Salisbury
Knowing what the races are like now with the team and what suits you, will your training be different this winter?
Freddie: I've always felt like crit racing was a strength of mine, so will obviously focus on that. But I'm not going to neglect my road race form, and have actually got back in touch with an old coach, James Taylor, who knows a thing or two! Very excited to be working with him, and no doubt will hit next season more prepared.
What do you feel your strengths are now you have had a full season with the team?
Freddie: Aside from the Crit races, I'd like to think I'm quite good at working with the team, communicating and executing team plans in the road races.
After the high speed crashes you have had which has shocked many a fan on the barriers, how has the body held up – are you over the injuries?
Freddie: Surprisingly, bar some road rash, I came away from the crashes unscathed. I count myself very lucky, and hopefully learnt my lesson.
What has been the best race for you (the most fun) in 2019?
Freddie: Salisbury will always be a highlight, but arguably I had the most fun at the Manx International. Being part of Ed's lead out and just the whole team atmosphere all weekend was ace.
… continued after advert
Are there things that annoy you in the peloton?
Freddie: I think as a whole it's been fairly positive, and the general atmosphere between teams is pretty good, everyone knows each of you are out there to do a job, and let you get on with it.
Funniest moment in 2019 with the team?
Freddie: Clancy
What was the toughest race in 2019 and why?
Freddie: Klondike probably, just the way it played out. The team missed the break and so had to ride pretty much the whole race on the front, and it was really cold that day. Worked out with the result in the end though.
Where in the country are you based?
Freddie: Exeter, Devon #Southwestisbest
Are you at Uni still or is that finished?
Freddie: Two more years of uni. I appreciate the distraction from training, having a set schedule to work around forces you to ride even when you don't really want to, and you done have time to second guess it.
Do you find it hard or easy to relax in the peloton when a breakaway has gone up the road and you are waiting for the break to come back.
Freddie: It's relaxing if you have a teammate in the break, otherwise it can be pretty stressful, but you've always got to trust in the teams strength to control it, it can come down to the wire though.
… continued after advert
Do you get to choose what you have in your bottles on the bike in races and if so, what do you prefer, water or an energy drink.
Freddie: I normally start with one of each, keep a bottle of plain water in the back bottle cage, just something to wash down all the energy drink.
In road races, do you prefer proper food (cake, sandwiches etc) or energy gels and bars
Freddie: In the longer races I really appreciate a little bit of "real" food, but so much research has gone into the bars and gels that Named Sport provide us with, I know I'm getting what I need, and are designed to be eaten on the bike, so just more convenient in the first place.
Is there one thing you have learned in 2019 that stands out?
Freddie: Probably patience, not getting too involved in that mad rush that happens in the first 20 mins of every race, sometimes even longer, but wait it out and then the strong move will go over the top.
When you are not training in the winter, what do you enjoy doing?
Freddie: Devon is an amazing county, love exploring Dartmoor and Exmoor with the dog, or mountain biking. Or I'm pitting for my girlfriend at Cyclocross races.
Do you train alone or in a chain gang?
Freddie: I do the majority of training on my own, but there are a few strong riders in the Uni cycling club that I will ride with.
Finally, are you eager to race again or happy to wait for the first to come along in 2019?
Freddie: Having finished racing essentially at the end of July, I'm dead keen to get racing again.
---
Cycle Division's Shop
---
Send your results as well as club, team & event news here
---
Other Results on VeloUK (including reports containing results)

---
Other News on VeloUK