Q&A with Conor Kissane from Ireland, second in the Irish Hill Champs, Conor who rode for Ireland in the Ras Mumhan, tells us about his Estrella bike, the advantages of having a coach and his 2019 hightlights …
Q & A: Conor Kissane
What category do you ride Conor there
Conor: I am a cat 1
Where are you based in Ireland?
Conor: I am based in Killarney, a town in County Kerry in the south west of Ireland. I race with Killarney cycling club
When did you stop racing this season or are you still racing in the winter? (CX)
Conor: My last race was the national hillclimb championships on the 29th of September (he was second). I decided not to race CX this year to take some time off and focus on putting in a good winter for the 2020 season
What bike from Estrella do you have and how have you equipped it groupset wise?
Conor: I choose the Ligero disc V2, kitted out with Shimano Ultegra Di2 and Hunt 50 carbon aero disc brake wheels
What is the best thing about your Estrella bike?
Conor: There's a long list here! The thing that stood out to me after getting back on my winter training bike was just how smooth the Ligero is. It accelerates and holds speed with such little effort, there is no buzz or vibration from the road either.
The integration of all the cables is very slick too, it makes the bike look so clean. The fact that I could choose any finishing kit and also get my frame custom painted to match my club kit is a testament to the customer service offered by Darren and his team at Estrella. I'm already looking forward to racing it next year.
What are your 2019 highlights?
Conor: My biggest highlight would have to be riding for the Irish team for the first time in Ras Mumhan and being able to play a part in helping my teammate win the yellow jersey. Getting my first open win as a cat 1 at the Lacey cup in March was also another highlight for the 2019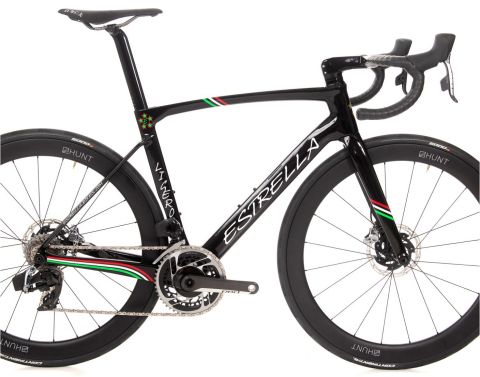 Photo from Estrella of their Ligero disc brake bike…
What was the most fun/enjoyable race you did in 2019?
Conor: I would have to say the Drumm Cup was the most enjoyable race of the season. My clubmate won the race and I finished third but it was one of those days where my legs just felt great and everything seemed to go right. From making a split off the front of the bunch early in the race to getting in the break from that split and then being able to bridge across to what turned out to be the race winning move on the final lap with my teammate and seeing him take the win to cap it off.
What was the toughest race you did in 2019
Conor: Mentally, it would have to be the national road race championships. I raced it for the first time in 2018 and managed to make the break when it was a surreal experience riding in a break with people like Nicolas Roche, Ryan Mullen, Eddie Dunbar and Conor Dunne.
So I was looking forward to racing it this year on what was a really tough course. It was a struggle from the start. I didn't feel great and found myself in the second bunch when the race split early on. The race was stopped due to a bad crash about 40km in, less than 5km after the restart I came down in another crash which ended my race.
Physically it was definitely the silver Pail GP. The race was only 80km long but it was just constant attacking from the start. It really only settled down with 15km to go when three of us managed to get a small gap. We still had to ride hard to hold the gap and I was already on my hands and knees.
We ended up sprinting it out for the win but I cramped up and had to settle for 3rd. Normally getting a good result in a race takes some of the pain away but I was never so happy to cross a finish line.
Was there one thing you learned in 2019 that stands out?
Conor: I think I definitely learned how to read a race a lot better and how to react in different situations.  A lot of that was probably down to being more patient and having a bit more confidence in myself. Before, I would try to be in every break in case it was the one that stuck where as now I'm a lot better at saving energy for later in the race. I still have a lot more to learn though.
Has the serious training begun already this winter or still to come?
Conor: I've been back to structured training since the start of November but still building on the base fitness. I haven't had any crazy intervals or sessions yet but I am looking forward to the suffering again
Are your winter training days structured from day to day or a mix of riding the bike for fun and then getting serious with top end work on specific days?
Conor: I do follow a structure in training but I also like to have fun. I don't think most of us would be cycling if we didn't enjoy it. In a way, we all enjoy the training side of things but meeting your clubmates for those long weekend rides and not having to worry about watts or heart rate and just enjoying being on the bike with friends is a highlight of the week.
Do you have some one coaching you and if so, how does having a coach help you most?
Conor: I did for the first time this year with an Irish company, Huphup. It definitely helped to know exactly what you are doing each day and to not be second guessing your training. I would be a fairly motivated person so skipping sessions wouldn't have been a problem but doing too much at certain points of the season probably held me back in previous years so to get on top of that this year was all down to feedback from my coach
Is there an effort/drill in training that you dread having to do?
Conor: Not really. I suppose I would favour doing longer intervals but enjoy sprint and vo2 max type training just as much. In the past I would avoid doing the strength type sessions where you ride in a big gear at low rpms, but having done more of them this season and seeing the positive impact it has on my performance has made me learn to like it a bit more, any session with the words "hill" and "reps" I'm all for.
When do you expect your 2020 season to begin ….
Conor: The first races usually kick off in early March here, so around then. It's pretty hectic up to the first stage race which is Ras Mumhan over Easter.
Finally, what races in 2020 are ones you really want to work towards being part of and your ambitions for the next season.
Conor: The Ras Tailteann is back on the calendar for 2020. This would be Ireland's most famous race and a massive target for most Irish domestic riders including myself. It would be great to put in a strong consistent week and maybe challenge for the county rider prize.
Ras Mumhan is also an important race and it would be great to get some results there. It would be nice to get some redemption at the national road race championships too and finally the national hillclimb championships, after finishing second for the second year in a row, and third for the two years previous to that, it's an event that's always on the back of my mind even though it's the last race of the year.
Thanks Conor and good luck in 2020 …
---
Cycle Division's Shop
---
Send your results as well as club, team & event news here
---
Other Results on VeloUK (including reports containing results)

---
Other News on VeloUK