Star Interview! An Independent Pedaler in 2019 as well as racing for Brother UK/Fusion & Drops, Joss Lowden had an outstanding year with big wins in road races and time trials – we quizzed her recently
Q & A: Joscelin Lowden
Bronze at the Worlds, winner of the South Coast Classic & 2nd in the Klondike GP, Joss Lowden had a stunning year including two other RR wins as well as wins in the 10 Championship & Closed Circuit TT Championships and second in the Hill Climb Championship – we quiz Joss
1. Are you missing the racing yet?
Joss: It's just under two weeks since my last race (at the time we did the Q&A), so not yet! But I'm having a few weeks off the bike and am definitely missing riding and training.
2. What was the big highlight for 2019 and why?
Joss: The World Championships – this was just such a cool event; the crowds were incredible and being able to ride to a medal on home roads felt very special.
3. Do you concentrate on time trialling or other disciplines as well?
Joss: Road racing as well. I seem to go through waves of what I'm most focused on but I've really progressed with my TTing so that's a strong focus
4. What is your favourite distance and why?
Joss: I have done a lot more 10's that anything else as I do like these shorter all out efforts. They hurt a lot but it's pretty exciting as it's like being on a roller coaster! But I'm keen to do some more 50's as well. I like being able to really zone in and it becomes a bit more of a mental game as well.
5. Do you have a favourite type of course – circuit/dual carriage way etc.
Joss: Ordinarily I would have said I like the sporting courses, so the hilly TTs, but I actually really liked riding Thruxton as it was so straight forward with no interruptions.
Individual champion (right), Joss was also team champion with fellow Independent Pedalers Emily Meakin and Emma Lewis
I think circuit racing needs to have a much bigger place in the TT calendar. It feels very safe and you can just concentrate on pushing the pedals and holding the position without the worry of traffic or potholes. I don't particularly like racing on busy main roads, it makes me nervous being so close to traffic.
Some people handle it really well but it's not really my choice the type of course. Overall, I would say the sporting courses in the Spring are the most challenging and good fun too as it has a slightly mad feeling about it!
6. What event stands out for you to ride – ie, what is a must ride event for you?
Joss: British Nationals, it's a big event in the calendar and the closed roads and crowds make it exciting. Also I love the CTT Team Time Trial in June. This is so much fun and gets a really good level of competition entered too.
7. How often do you like to race?
Joss: I like to have race blocks, so a few weeks of racing, then a few weeks off. Once racing, it's hard to get really good training in so it is good to have a few weeks without a race every so often to get my head down and train. Racing usually means nights away from home, lots of travel and long days so it's good to try and make sure there are some weeks without races, but it's hard when you are going well as that just makes you want to race more!
… continued after advert
8. Do you ride to power or feel or both?
Joss: Both. I have power and am pretty dialled in to using it in training and racing but I often let my legs decide too. I do tend to go out pretty hard and try and hold on. Might not be the most sensible option and definitively hurts but that does seem to be a good way to PB
9. You're about to catch your minute rival – do you keep the same effort or ease back and then surge past them?
Joss: It depends on the course to some extent. On busy roads you definitely don't want to hang about too long going past and it's very hard not to ride on the wave of adrenalin from catching someone either. I think I need to just 'squeeze' a little to speed up a bit but I wouldn't box myself to sprint past!
10. Gears are getting bigger and bigger – what is the set up on your TT bike gear wise?
Joss: I have a 60T on the front, and then depending on the course I may change the back from a 25 to a 32. I sit at about 85-90RPM so can get a nice straight chain with that sort of gear ratio.
11. What are your favourite tyres to race on?
Joss: Vittoria Corsa Speed 2.0, Tubeless clinchers.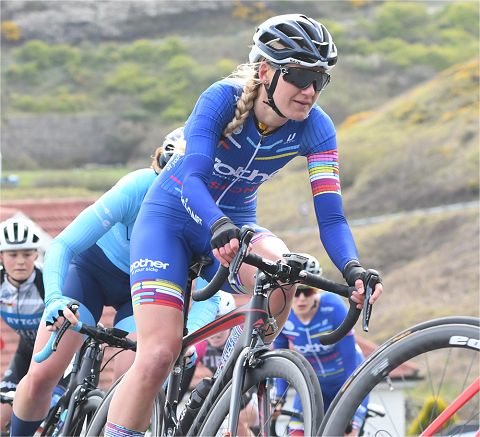 Joss (Brother UK/Fusion) racing up the steep slopes of the Klondike GP steep climb at Saltburn – Joss was second to Anna Henderson in the race
12. What have you done to make yourself as aero as you can be? (Wind tunnel/bike fit etc)
Joss: I've done a bit of aero testing on the track and then out on the road using a Notio Konect which measures your Cda. I haven't been in the wind tunnel yet, that could be for next year. I do like to test on the road or track though as this is where I will be riding so it's realistic to know how I can hold position or put down power.
You need to have time and ideally some help so you can try a few different things, like stack height or saddle position and then tweak and test again.
13. How have you got faster in time trials overall?
Joss: I've definitely got faster. Although I've only just started riding 'fast courses' so it is hard to measure on sporting courses. My power has improved this year especially in the TT position. I don't actually train that much in the TT position but I have done quite a lot of training specific to the sustained power and then also things like over/unders as the more rolling courses mean you have to put down more power and go over threshold on the climbs but need to be able to settle back into pace and recovery quickly.
14. Do you train on a TT bike or both a road bike and TT bike?
Joss: My TT bike is what I always turbo on but not always in position. I like to do the longer Zone 2 or 3 stuff on the extensions but the higher power/shorter efforts I tend to sit up. This is what works for me. I know other people that do the opposite. I try and get out and ride on my TT bike too as it's critical to improve handling. This is really important for me to work on as I've had a few shoulder breaks which means I'm pretty weak in my upper body and I think it compromises the handling, so it's something that is important to work on. I do most of my riding on my road bike outside though.
15. How many hours a week are you able to dedicate to training?
Joss: Usually about 10 – 15 hours with some weeks closer to 20 in the winter.
16. Have you ever motorpaced on a TT bike?
Joss: Not on a TT bike – that's something for this winter actually
… continued after advert
17. Do you take a break from riding the bike during the season or after the racing is finished?
Joss: I'm having a couple of weeks off now. I've just had shoulder surgery so need a few weeks to just let that settle then will start winter training. I find the end of season break is as much about the mental rest from racing and just thinking about it all the time, as it is from the physical side.
I don't feel tired as such, it's just nice to be able to enjoy doing other things and not stressing about getting to bed on time and all the other controls that make socialising a bit restricted.
18. Does your training in the winter go through phases?
Joss: Winter training is when I look to get the volume in, so longer rides out and some long turbo's too. I go to Spain for about 4-6 weeks for team camp and to train so it's easier to get longer rides in as it's not so compromised by the weather. I'm really lucky as I work part time (for itelligence, an IT/analytics company) and it allows me flexible working that I can fit around my training while I am away
19. When do you expect to start your racing in 2020?
Joss: Waiting to see the calendar. Could be as early as January or February for road racing. My TTing will probably start in March.
20. Finally, the team The Independent Pedaler, is one of the highest profile teams in time trialling – how does being part of such a strong team support you and does it help motivate you even more to bring the team more success?
Joss: It's been a really exciting year for TTing and I like to think that the professional approach of the team and the support from such good sponsors will help to develop the TT scene in the UK.
The team is very strong so it's very motivating to work hard because you don't want to let the team down by being the weak link! Being surrounded by a team all going through the same sort of training and experiencing the same challenges helps a lot too as we can support each other.
It's very rewarding getting good results when the support is so good as it feels like we are giving back to the team and sponsors when they have been so good to us as riders.
Thanks to Joss for a great insight into her racing and good luck in 2020! 
---
Cycle Division's Shop
---
Send your results as well as club, team & event news here
---
Other Results on VeloUK (including reports containing results)

---
Other News on VeloUK