A question and answer interview with second year junior Rebecca Dawes from Yorkshire who will be racing for the RFDA cycling team, a female only Under 14 to Under 23 team based in Yorkshire. 
Q & A: Rebecca Dawes (RFDA)
– Where are you based in the UK?
Rebecca: York, Yorkshire
– What category will you be riding in 2020?
Rebecca: Junior (2nd year)
– Tell us about your team for 2020, who sponsors it, how did you come to ride for it and what races are you and the team targeting?
Rebecca: I currently ride for RFDA a female only U14-U23 team based in Yorkshire. I came to ride for them due to my racing within Yorkshire, but also due to the main sponsor of the team, RaceScene, always having been a part of my cycling as I have always got my bikes from there and they have supported me over the last few years.
Racescene have helped towards the set-up and basis of the team, but Polypipe have given us the best support in the world helping towards bikes, races and our amazing kit. We also have a new bike wheel company called Zed wheels on board, who have also just sponsored a new British CX team.
The wheels they provide are great, you don't have to worry about the handling or anything, you just trust them. For us, we don't specifically have races as a team we target as we just want to race and enjoy riding our bike and getting the best results we can. Although we are all really looking forward to Junior national series next year as the girl's events are getting more attention now.
– What are the aims and aspirations for the team as a whole?
Rebecca: As a team we all have our different aims and aspirations as a whole, some of us want to make a career out of cycling and go far with it, whereas some of the girls are just enjoying racing their bike. The juniors are all working towards moving up towards the next category for them, so for me next year I am working towards my 2nd cat. Though as a team we are all about developing riders to their best ability and making sure we are happy and enjoy it.
– Is junior women's racing becoming more popular with riders with its own series?
Rebecca: Junior women's racing has become more popular I feel since I started racing as when I started racing, there was nobody racing within the junior women's ranks as such but last year at junior national series and nationals, there was over 40 girls. I don't think this is generally due to the national series as we still only have four events and one was cancelled last year. I feel it is just more girls feel they can do the sports they want and feel less pressure about doing what they like as people don't see cycling as unpopular as much anymore.
… continued after advert
– What type of races do you do when there are no junior only women's race?
Rebecca: Last year was definitely different to racing as a youth where I went from doing 30 races a year due to being able to do 2-3 races a week in the main season to being lucky if I could do one race a week as a junior due to little women's racing still being available.
Due to this, a couple of times I did crit races with the men and used them as training or competed in more time trials this year to previous years as I had the time and did a couple of summer cross races. I am hoping next year to do some track races as well.
– Racing at your age can be difficult with a lot of other distractions tempting riders of your age away from the sport – what keeps you in the sport?
Rebecca: When I was younger, I really struggled to fit in with other people around me, but I found with cycling that I made friends so much easier and will have for the rest of my life. As well as this, cycling gives me a way of escaping from reality in a sense it just gives you freedom and a way of relaxing after being at college. Though ultimately, I want to make a career out of my cycling.
– Tell us about your junior women teammates? Do you know them, raced against them, and met them at a team get together yet?
Rebecca: Most of the girls I already know due to last year's racing and they are still with the team next year. We have lost a couple of riders due to them progressing up the sport and getting more support, which is the whole idea of our team to develop but gained a few new girls for next season.
We have all been messaging and keeping in contact on social media before we have our team get together in January when we get our new kit. Most of them we already know from racing together either at regional events or national events.
– What is your favourite training area where you are based?
Rebecca: Being based in Yorkshire, the majority of riders presume I live on a hill, but all the Yorkshire riders laugh at the fact I'm the smallest and lightest rider and live in the flattest area in Yorkshire, living in York. It takes me around 15 miles just to get to a "hill" of some sort. I love riding out towards the Howardian hills, as you have the great Yorkshire scenery to view and the great hills around. Otherwise, I keep towards Selby and Wheldrake which I got to watch the Tour de Yorkshire come through this year.
– What are your 2019 highlights?
Rebecca: 2019 wasn't the best year for me in terms of results due to exams and plenty of bad luck. Although in terms of highlights getting to race in the Netherlands at the Healthy Ageing tour was a huge experience being a part of the nations cup. As well as this, getting to meet loads of new friends due to joining the team and the step up of racing. Finally, probably the other highlight of 2019 would be going to France to ride my bike with my dad, coach and team mate this year and getting to see the Tour which was an incredible experience.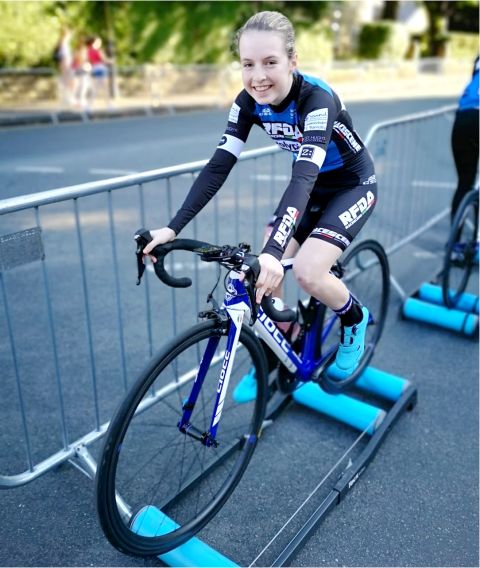 – What was the most fun/enjoyable race you did in 2019?
Rebecca: The most fun and enjoyable race of 2019 would probably be Ilkley town centre as I loved the course, and the atmosphere was incredible being in the E/1/2/3/4 race for the women where I finished 22nd overall and was 8th Junior in the race. This was close with Otley and Barnsley as it was just incredible to race with the elite women and compete at the highest level.
– What was the toughest race you did in 2019
Rebecca: There would be two races I found the toughest this year. First would be regional road race champs where we had one of the toughest courses ever round the Howardian hills 15 miles from my house with a 1 in 4 climb on the course that we had to do 3 times. I was right in the middle of my exams at this point so was more mentally fatigued than anything but still had a decent result out of it.
On the other hand, I found Scarborough junior national series hard more for the pressure I felt before the race after my performance the year before there. I had been in 8th place on the road at the youth championships last year until I crashed out with a lap to go with a broken elbow. Besides the horrible climb to deal with, I found it hard to not worry before the race.
… continued after advert
– Was there one thing you learned in 2019 that stands out?
Rebecca: Probably, just focus on me and not to worry about other people around me. I can't control how they do.
– Any scary moments in 2019 in races?
Rebecca: Yes, unfortunately I had a bad crash towards the end of the season that pretty much finished my season off. I was competing at a local event at the Leeds circuit and crashed during the sprint. I didn't break any bones but suffered a terrible concussion where I had been knocked out and couldn't remember anything for the first 20 minutes after the crash. It took me a few weeks before I was allowed back on the bike and to get training properly again.
– Your bike for 2020 – what will it be and how will it set up (groupset/wheels etc)
Rebecca: Ciocc Morpho, Zed wheels, Shimano Ultegra groupset
– Favourite type of race, road race, TT or crit?
Rebecca: Crit
– Has the serious training begun already this winter?
Rebecca: Yes, it began a couple of months ago
– Do you only train on the bike or do some off the bike training too?
Rebecca: The last couple of years I only trained on the bike but this year I've started doing some gym work.
– When do you expect your 2020 season to begin?
Rebecca: I'm hoping around February, but it won't be for another couple of months until it properly becomes serious and my goals start.
– Finally, what races in 2020 are ones you really want to work towards being part of?
Rebecca: I can't wait for the Junior Tour of Wales next year. Its going to be great to do an event that all the juniors get to be together, but as well as experience racing a stage race with hills. Hopefully, some European races as well.
Thank you Rebecca, good luck in 2020! 
---
Cycle Division's Shop
---
Send your results as well as club, team & event news here
---
Other Results on VeloUK (including reports containing results)

---
Other News on VeloUK