After a long struggle to be given a chance in the WorldTour, Matt Holmes didn't just get a ride in a team in 2020 (Lotto Soudal), he also won the final stage of the WorldTour race, the Tour Down Under! We chat.
Feature Interview: Matt Holmes (Lotto Soudal)
After a long struggle to be given a chance in the WorldTour, Matt Holmes didn't just get a ride in a team in 2020 (Lotto Soudal), he also won the final stage of the WorldTour race, the Tour Down Under! We chat.
His performances the last few years in races like the Tour de Yorkshire, where he was 5th in 2017 and 6th in 2019, showed that he deserved a spot in the continental races. Getting that spot however was proving to be difficult with teams saying no to Matt's agent.
For me, his performance in the Tour of Britain 2019, where he was in the mix at the sharp end of the stages during some proper battles for the stage and the GC, showed yet again, he was ready for the WorldTour. Just before the Tour of Britain in the three day Manx International, Matt showed in some horrific conditions he had it what it takes to beat the best on the British racing circuit on a mountain course that suited him. It was his first win in a 'Prem' after going close in races like the Tour of Reservoir and Ryedale Grand Prix to name but two.
Then there was his fourth place in the Olympic Test event in Japan. After that event he said "it was really good to represent the country. It was good GB didn't just take academy riders but climbers who were riding well in the national series and opened it up for riders like me. I hope they pick me for the Olympics because I will be so much stronger and lighter and I know the course well".
That Olympic test race was the start of the big adventure in the World Tour and after that event Lotto Soudal contacted Matt. "I thought I was dreaming until I could finally sign my contract" he said at the time" adding "it will be a big step going from racing in Britain to racing all over the world but I feel I am ready for it and the team has faith in me." That was at the end of 2019.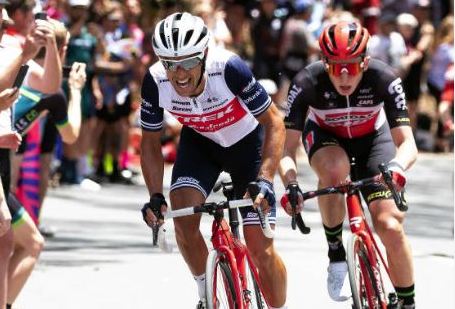 On the wheel of Richie Porte read to pounce….
Now, in 2020, he has that ride in a big name Belgian team, Lotto Soudal and his first race was the Tour Down Under. Speaking this week, I started by asking how the stage win looked now a few weeks on. "It was the biggest thing in my career so far by miles! It was pretty good" he said. "Watching it back, it seems better than it was when it felt like any other race but when you look back, we were moving fast and it looks good on tele".
Matt went into the stage with a lot to motivate him. He'd not had a great race until that final stage but his girlfriend Josie Knight won a British title back in Manchester before the stage and he knew his parents Roy and Christine were going to be at the stage finish.
"I thought about Josie's win all day in the break and how nice it would be to message her before she woke up that I'd won the stage. I thought that would be amazing so there was extra motivation there. And with mum and dad being there too, that was another reason I was able to do it really".
"It was good seeing mum and dad at the finish even though I'd told them not to come because it was quite difficult to get to and I didn't think I was going very well. I said to them they would be better off watching it on tele but luckily they ignored me!"
On that Queen stage in the Tour Down Under, Matt got in the day's big breakaway with teammate Jon Dibben, who like Matt, had ridden for Madison Genesis in 2019. "It was such a massive breakaway but it still wasn't as easy as sitting in the bunch so when Richie Porte has to go when he's 30 or 40 seconds down on us on that final climb, that levels out the playing field. It wasn't far to go when he caught us, and not that steep either, and I just got it right for once".
Matt doing it right … sprinting for the win
Right indeed as Matt was the only one from that breakaway to take Porte's wheel and then outsprint him. Easy to say but bloody hard to do! "I was always waiting, waiting, waiting for the sprint but slowly I realised they were all on the limit", said Matt. "Then Richie came but I did not panic. All I thought was It's great, he's not gonna slow down and he's just gonna take me to the finish, as he was obviously riding his own race for the GC. All I had to do was beat him and that was quite simple. As a team we had no real plan for this stage. Team Director Herman Frison gave us all a free role. So, I went in the breakaway. Also Jonathan Dibben was in the break and he did a perfect team job. I sat on, and he didn't miss one turn all day."
"It was the biggest race (Tour Down Under) at the start of the season and the Queen stage of the race, so, of all the stages to win, that was the one. Being my first race, I can only get better and it gives me the confidence to have a go now and gives me some respect from others in the bunch. They know who I am and what I can do so, so it should make life easier for me."
Was his team surprised by his performance? "I think so. They wanted me to ride for GC, so they thought I was good enough to do that but I didn't have anywhere near the legs I would normally have and there was no consistency as I was having good days and bad days. I think they were disappointed at that but said even 'if you just manage the top 20, that's alright' but I couldn't even manage that so I am guessing they were disappointed before the stage win."
Many riders will go through a whole career and not win a WorldTour race so for Matt to do that in his first race at that level in a World Tour team is truly something special that can't be taken away from him.
Racing with Caleb Ewan has given Matt a new insight into the serious business of pro racing
"Of all the races in a season, the Tour Down Under is a nice one to do to start things off because of the short stages and not particularly challenging courses. They look after the riders so if it's 40 degrees, it's doable. We got quite lucky with the weather though where it wasn't too hot so it was just a nice week to be on the bike really".
"The hills there are no different really to the ones here, short and steep, nothing massive, no mountains but grippy heavy roads which were hard work out training. It's not like Spain where they are smooth and fast".
Matt's performance was especially good considering the preparation was not the same as he was used to. "I knew I was doing the race all winter but at the same time I didn't prepare for it 100 per cent as it's a long season. I was being coached by someone in the team who I'd been asked to work with and I said yes because I didn't want to make a fuss".
"I did what he said and went into the race less than fully fit and that was a bit stressful knowing I wasn't where I needed to be to meet the goals but then as I say, it's a long season so it's okay." Matt's training this winter was very different to the way he had trained in the four years before.
"I talked to the team's coach about ways of making my training more like that of my former coach which was not many hours but a load of efforts whereas the team would normally do a lot of hours and not many intervals. That led to me having a combination of not many hours and not many efforts LoL!"
That's all changed now though as he spoke to the team a few days after he'd won the stage in the Tour Down Under and told them he knew his old coach was good for him, asked them was it okay to go back to working with his old coach and they agreed. Matt is based in Macclesfield now and admits he didn't know there were roads this good in Britain. "Sometimes it can be too hard and riders can do too much round here so you have to sensible but you don't need to move to Spain to get long climbs because there are plenty here."
What lays ahead for Matt?
After his Down Under block of racing, Matt now has up to a month before his next race, Tirreno – Adriatico although he may race the UAE Tour in a few weeks working for Caleb Ewan again. "Nothing is certain until Tirreno and then I do Tour of the Basque country before three races in the Ardennes classics, Tour de Yorkshire and I am on the long list for the Giro depending on how I go between now and then".
That programme is so unlike anything he would have done in the domestic race programme in the UK where mountain races just don't exist except for the Manx GP. "A programme like this is what I wanted really. They have given me such a good race program to start with, it's perfect. I need to do the hilliest races I can and get a kicking and see if I can do it".
"I doubt I will 'do it' to start with as races like the Basque country is for the guys who are 50 kilos but hopefully it will get me up to speed a bit and when I come to Yorkshire, it should be easier than those races hopefully!" Is Matt a climber or a classics rider he was asked? "I don't know. I've never really raced up a climb. I've been stuck in Britain for the last six years, which is not a bad thing. This is my second hilltop finish this week, and it seems to suit me. This will give the team a lot of confidence in me. Up to now I felt they didn't know me very well. I am the new person in the team and they gave me the first easy job in the stages. From now on, maybe I can ask sometimes to ride for me in some stages."
Matt's podium in the Manx International in 2019 – may there be plenty more podiums to come!
It's in Yorkshire that there will be big hopes resting on his shoulders after a fifth and sixth in previous editions of the race. "It will hopefully be easier being in the Lotto Soudal jersey because it is so hard being on a continental team in Yorkshire and Tour of Britain because you're not allowed at the front and it is always harder at the back. To win as a continental rider, you need to be better than the WorldTour riders I think so hopefully now, I'll be allowed to sit near the front and go into the climbs towards the front and that should be a lot nicer hopefully."
This is Matt's first time in a WorldTour team but he's ridden big UCI races with continental teams before so I asked did he notice a difference in the peloton? "Oh yeah, totally. Before it got to the important parts of the race, it was a like a premier calendar, you could ride where you wanted, talk to everyone and ride along but when it got serious, it got a lot more serious!"
It was also Matt's first experience of seeing just how serious it was at this level of racing. The Lotto Soudal team went into the Aussie races with a real weapon in Caleb Ewan from Bowral in New South Wales (Australia). "The team didn't ask me to get involved in the sprints but I did because I wanted to" Matt explained . "It was a good thing for me as I was able to realise it's a lot more serious that people realise."
"On stage 1, we didn't win and that was end of the world. We had such a big de brief after the race, I realised then it was a hell of a lot more serious and if they don't win, they are not happy! Caleb is so good at what he does and he doesn't ask a lot from the team except to be dropped off in the right place in a sprint so he's a good person to work for. The two days we as a team messed up, Caleb told us how it was and what went wrong and what has to be done better. He has to be serious about what he does as he has a lot of pressure on him."
For Matt, there is less pressure being a newbie on the team but it is still stressful. He admits that in the years leading up to getting the contract, he felt good enough to be in the WorldTour. "It's very different here in this world of racing."
Sprinting it out with Ollie Wood at the end of the Ryedale GP – second for Matt
"Like in the Tour Down, the day before the stage I won, I'd given up on the race because I had such bad legs. I'd said to mum and dad, I don't know if I can do this, it's so stressful and hard and I have rubbish legs, it's really hard to deal with. They told me it's like any new job you go into not knowing anyone and it's totally different to what you are used to so you never really feel at home."
"The whole month in Australia I've been sweating and not because of the hot weather but because everything is so nerve wracking and new. Winning that stage though, I now feel part of it and that feels good."
What are the goals for Matt now then? "I don't know really. I'm happy to win anything. It's hard to say what to go for when you haven't ridden the races before and don't know what is coming. I'll do a bit of everything, do as I'm told and try and make the most of the opportunities I get to race. I am sure if I can go in breakaways again, I can get some good results."
Thanks to Matt for the insights into his new world and we wish him lots of luck and hope more victories come his way in 2020 and beyond.
---
Cycle Division's Shop
---
Send your results as well as club, team & event news here
---
Other Results on VeloUK (including reports containing results)

---
Other News on VeloUK