Joshua Crow-Stewart solo'd to victory in the 3/4 (Spring Chicken) and Ollie Maxwell outsprinted Jack Freeman to win the National B (Roy Thame Cup) at Hemel Hempstead's road races on Saturday
Result: Spring Chicken/Roy Thame RRs
In the National B Roy Thame Cup, a breakaway escaped early and from that a three man group went clear with still two laps of the 25km circuit. The three became two and from that, Ollie Maxwell won the sprint against Jack Freeman. Damiel Clayton (Ribble Pro Cycling Weldtite) escaped the remements of the orginal break along with Rupert Graham and after dropped the former winner in his first race of 2020, Clayton grabbed the final podium spot from Graham. There was another solo rider in 5th, Scot Auld (Ribble Pro Cycling Weldtite).
Damien Clayton attacking with a lap to go to chase the two leaders
In the Spring Chicken, Joshua Crow-Stewart attacked early on and despite a chase, the gap grew and grew until it was over two minutes and he solo'd to a worthy victory whilst behind in the bunch kick, Sam Clarfield led a Lee Valley Youth Cycling Club 1-2-3 in the bunch sprint to clean up the minor placings.
Joshua Crow-Stewart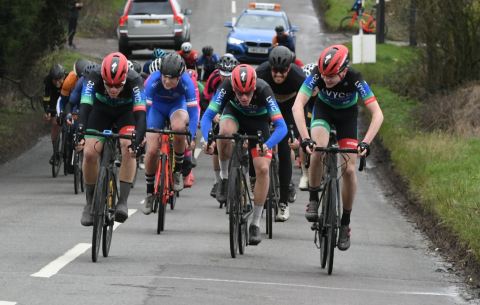 Riders from Lee Valley Youth Cycling Club dominate the sprint for the minor placings
Video Reactions
Ollie Maxwell
Third in the Jock Wadley, Ollie Maxwell made no mistakes in the #RoyThameCup and win from a two up breakaway pic.twitter.com/izpf6YR5Wv

— British Cycle Sport (@VeloUK) March 14, 2020
Jack Freeman
Second placed Jack Freeman #RoyThameCup pic.twitter.com/2hAyxsaAWc

— British Cycle Sport (@VeloUK) March 14, 2020
Damien Clayton
Third placed Damien Clayton of @RibbleWeldtite #RoyThameCup pic.twitter.com/lqk2REg8YQ

— British Cycle Sport (@VeloUK) March 14, 2020
Rory Townsend
Double puncture for Rory Townsend pic.twitter.com/5Lvv3eV8I2

— British Cycle Sport (@VeloUK) March 14, 2020
Joshua Crow-Stewart
The winner Josh gives us his reaction of winning the 3/4 race … #SpringChicken pic.twitter.com/bQ7QnKCTpQ

— British Cycle Sport (@VeloUK) March 14, 2020
National B
1 Oliver Maxwell Saint Piran
2 Jack Freeman Meudon Pedal Heaven Le Col RT
3 Damien Clayton Ribble Weldtite Pro Cycling
4 Rupert Graham Spirit Tifosi Racing Team
5 Scott Auld Ribble Weldtite Pro Cycling
6 Ollie Hucks Leisure Lakes
7 Jacques Sauvagnargues TRINITY Road Racing
8 Ashley Cox Team Bottrill
9 Ben Foames TBW23 Stuart Hall Cycling
10 Ian Vagg Project 51
11 Lewis Bulley Indulek-Doltcini-Derito Cycling Team
12 James McKay Team PB Performance
13 Isaac Peatfield Crimson Orientation Marketing RT
14 Kieran Savage Cycling Sheffield
15 James Bevan Army Cycling Union
16 Ben Stockdale Cotswold Cycles-TREK
17 Cameron Biddle Vredestein Basso
18 Joshua Avery Brother U.K – Cycle Team OnForm
19 Ross Holland Saint Piran
20 Josh Housley Team PB Performance
21 Jamie Fletcher Ellan Vannin Cycling Club
22 Taylor Johnstone Velo Schils – Interbike RT
23 Peter Merritt TBW23 Stuart Hall Cycling
24 Nathan Smith Cycling Sheffield
25 Stefan Gloyn Army Cycling Union
26 Daniel Shoobridge Jam Cycling RT coached by BPC
27 George Mills-Keeling Ribble Weldtite Pro Cycling
28 Angus Hawkins Spirit Tifosi Racing Team
29 Julian Varley Cycling Sheffield
30 Charlie Passfield Spirit Tifosi Racing Team
31 Andrew Critchlow Norwood Paragon CC
32 Jake Hales Spirit Tifosi Racing Team
33 Matthew Humpage Team Flamme Rouge P/b Grenade
34 Tom Lowther Vredestein Basso
35 David Bolland Spirit Tifosi Racing Team
36 Frazier Carr Spirit Tifosi Racing Team
37 Thomas Heal Vredestein Basso
38 Freddy Pett DAP Cycling Club
39 Jamieson Blain BIKESTRONG-KTM
40 Charles Bailey Lee Valley Youth Cycling Club
41 Joseph Clark Cycling Sheffield
42 John Wingfield Team Signum
43 Thomas Wright Brother U.K – Cycle Team OnForm
44 Adam Charleston High Wycombe Cycling Club
45 Robert Abbey Hemel Hempstead CC
46 Jamie Francis ActiveEdge Race Team
47 Theo Bugg Jam Cycling RT coached by BPC
48 Harrison Mayo BIKESTRONG-KTM
… continued after advert

Cat 3/4
1 Joshua Crow-Stewart Arctic Aircon RT
2 Sam Clarfield Lee Valley Youth Cycling Club
3 Matthew Lord Lee Valley Youth Cycling Club
4 Alex Dale Lee Valley Youth Cycling Club
5 Joel Corbishley Velobants.cc
6 George Oehlert Mono CC
7 Ethan Moody Tri UK
8 Luke Houghton Verulam – reallymoving.com
9 Timothy Jones University of Nottingham SCC
10 Jamie Tuttle VéloElite RC
11 Max McMurdo PMRR
12 Max Hale
13 Timothy Maundrell Didcot Phoenix CC
14 Thomas Ward Mono CC
15 Rory Webster Ayr Roads Cycling Club
16 Jacob Avery Aylesbury CC
17 Emile Glorieux Royal Leamington Spa CC (RLSCC)
18 Rizwan Hameed Lee Valley Youth Cycling Club
19 Gaurav Meher Lee Valley Youth Cycling Club
20 Harry Kirby Team Vision Innovative Leisure
21 Kit Buchanan Solihull CC
22 Ryan Palmer JRC-Shutt-Ridley Race Team
23 Charlie Botterill Team Vision Innovative Leisure
24 Martin Stanley Didcot Phoenix CC
25 Tom Coombe Thames Velo
26 Momchil Kozhuharov Club Corley Cycles RC
27 Stuart Hepburn Royal Leamington Spa CC (RLSCC)
28 Matt Bailey RIAK Fitness
29 Kyle Bateman Vector Cycling Race Team
30 Robin Hughes VOST
31 Samuel Hucks High Wycombe Cycling Club
32 Ollie Taylor Didcot Phoenix CC
33 Jack Whitehouse Vector Cycling Race Team
34 Matt Peirce VOST
35 Lubimir Belak St Ives CC
36 Jeremy Godfrey Icknield Road Club
37 Craig Smith Cowley Road Condors
38 Timothy Holmes OCTAVE
39 Oscar Clark Palmer Park Velo RT
40 Thomas Clarke Team Vision Innovative Leisure
41 Gerard Scott Royal Leamington Spa CC (RLSCC)
42 Elliot Tappin Team Vision Innovative Leisure
43 Enrico Guizzardi OCTAVE
44 Danylo Riwnyj London Dynamo
45 William Thamasson Dulwich Paragon CC
46 Steven Burton Aylesbury CC
47 Stuart Gough Vector Cycling Race Team
48 Anthony Walstow Wokingham Cycling Club
---
Cycle Division's Shop
---
Send your results as well as club, team & event news here
---
Other Results on VeloUK (including reports containing results)

---
Other News on VeloUK