Lucas and Jonny Towers along with Irish rider Devin Shortt (all Cero/Cycle Division) went to Belgium recently to ride on some famous cycling roads
Belgium Experience for Jonny, Lucas & Devin
Lucas and Jonny Towers along with Irish rider Devin Shortt went to Belgium recently to ride on some famous cycling roads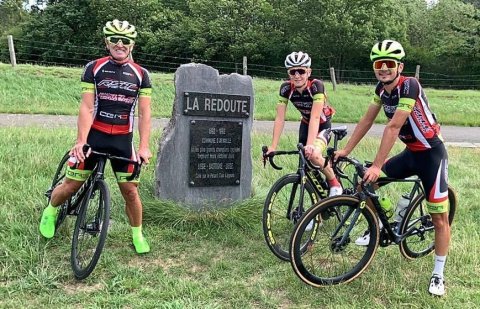 The trip saw Jonny testing a motorbike and his company's market leading motorcycling kit (RST) at Francorchamps Spa. When not on the motorbike though, Jonny along with son Lucas and Devin, pedalled their way along some of cycling's most famous roads.
Lucas, winner of a senior support race at Sheffield in 2019 and preparing for some racing at the end of the month, got the chance to ride the roads used in Liege – Bastogne – Liege and La Flèche Wallonne. "The roads look a lot easier on TV when the pros smash it up them" he explained.
Just two of the famous climbs they rode were Côte de la Redoute and the Mur de Huy (wall of Huy). After a little café stop near the Mur de Huy climb and with café legs not helping, Lucas explained how he hasn't yet ridden a harder climb than the Mur which has an average gradient of 9.3% with some sections around 17% (up to 26% on one bend) according to Wikipedia.
Jonny Towers on another type of bike at Spa
"It was pretty brutal but it was quite interesting to see the towns and climbs these races use so when we watch it on TV, we'll know where they are going and can relate to it."
With little or no racing to look forward in the UK, Lucas looks like he'll be travelling to Spain at the end of the month and back to a professionally run Junior team. In Spain, Lucas is hoping to race at least two events including a stage race at the end of July.
"I have been going quite well in training, so I hope to be all right when we race. Dan (Dig Deep Coaching) coaches me and gives me a good mix of structured efforts. The big difference between the races in Spain and here is that in the races there, the size of the line-up is huge with around 200 riders competing on completely closed roads."
Devin Shortt, the team's South African born Irish rider, also enjoyed the trip back to Belgium. "It was really good. I've been to Belgium when I was younger racing as a junior and youth rider, but we were always racing so when we went for a ride, they were one-hour café rides just spinning the legs. So, it was cool to do some proper training rides in Belgium."
Whilst on a training ride, they met with Lennard Hofstede of Jumbo Visma who went past them mid effort and after that they stopped for a chat. "It was interesting to talk to Lennard about racing such as when it starts and what the difference will be and how he was able to train during this period of lockdown" explained Devin.
Unsurprisingly, Devin admits like so many that he is missing the racing. "I think everyone is at the point where they are really itching to get back racing but we (those outside the pro peloton) can't look forward too much because we still don't know when it's going to happen. So, we can't count down the days yet so we just keep training so we're ready when it does return".
Devin was supposed to be racing in Spain in 2020 but like racing all over the world, that was cancelled and there is yet to be confirmation of events for him. Asked would he consider racing in Belgium, he says "I'm eager to get any racing."
"The first time I went to Belgium, it was my first experience of racing there and when you're young, it's great to go there and learn how to race in a bunch especially in the crits. I'm not much of a sprinter though so for me it's not ideal but at this stage we'd all take anything".
Lucas in his Spanish team's colours looking forward to some racing again
---
Cycle Division's Shop
---
Send your results as well as club, team & event news here
---
Other Results on VeloUK (including reports containing results)

---
Other News on VeloUK