Former professional on the continent and in Britain, Erick Rowsell has ridden the National Road Series for many years so we talk about what it's like racing the proposed Men's events for 2021
Feature Interview: Erik Rowsell
After a long successful career on two wheels, Erick Rowsell now has perhaps the biggest challenge of his career, that of helping steer the sport on a successful path within the governing body of the sport, British Cycling.
Erick being congratulated by the late Mike Hodgson winning at the Tour of Reservoir
Having worked for them myself for ten years before they went corporate with a vengeance, I know how divided the cycling community is on whether British Cycling is doing a good job for the sport. They are very much a 'marmite' type organisation (as probably any governing body is) but one thing is for sure and that is Erick Rowsell is the type of person we wish the organisation was filled with; people who understand the sport having been there, done that and got plenty of trophies to prove it.
When it comes to the racing calendar for the season ahead, it was interesting reading in the Brother Cycling article how the release of the 2020 national road racing calendar was delayed because of unrest. 'A stand-off between British Cycling and members of the national organisers group over branding rights at flagship events delayed publication of the 2020 calendar even before the outbreak over coronavirus' says the article – more here . https://www.velouk.net/2020/11/20/feature-the-way-back-part-2/
The timing of the release of events on the calendar is always contentious and over the years I've been fortunate to have some insiders feeding me info on the calendar because we all want to know what is going to be when so the logistics of the year ahead can be planned. This is especially important for the UCI teams who are trying to dovetail UCI races abroad with the important ones here.
This year (2020), the calendar for 2021 came out in early November and I am sure that was just the pick me up many wanted not just for the logistics required to be done but just to know that racing is in the pipeline pandemic permitting. Here are the 2021 road season calendars:
Senior:
Youth & Junior:
The Calendar Spread Out
There has always been a lot of debate over the number of events in the National Road Series and in 2021, eight are planned for the Men's RR Series and they are also spread out from April and into August.
Erick explained "when everything was cancelled this year, we said to organisers that we'll roll the races over to 2021 so if they were awarded a race for 2020, it will happen in 2021. What we tried to do is shape the calendar a bit though and move some of the dates about so we could the spread the calendar over the full season."
"As a rider you never pay attention to the reasons why the dates they have exist. There are so many different elements to it; clashes with other events, clashes with things in that region, even having enough commissiares available so it can be challenging to get the perfect spread of races on the calendar but I think we have it quite close to how we want it."
"At least once per month from April through to September so it gives the men and women a full season of racing. There are gaps between the races but then some riders like to go abroad and race or do local events and not everyone wants to be up and down the motorway every single weekend" added Erick.
"For a men's a team too, it's important to have a good build up for the Tour of Britain and in the past British conti teams have gone abroad to race and I think the bigger ones will still do that with a double programme to get some UCI racing."
Erick (the British Junior RR Champion) in the race leaders jersey at the well known Junior Tour of Wales 
"I think it's important though there is some British based racing as well as a build up to that race (Tour of Britain). Having Lancaster and then Ryedale, two really tough bike races, quite close to the Tour should be beneficial. But also for the women, for them to have their season extended from July as it was last year, it helps everyone."
The gaps in the program also help in other ways as Erick explains like fitting in the training to keep the fitness and endurance over a whole season. "If you have racing every weekend, you can't fit the training blocks in to build on the fitness" says Erick.
"When you look at the National Series Calendar and see just eight races, it doesn't look very much, but you do have to look at the bigger picture like the Tour Series, the Elite Circuit Series, British Championships and the Cicle Classic and take all that into account."
"With all that, there is a lot of racing that happens and as a bike rider, you do need gaps in the calendar whether it's to fit in training blocks or have those weekends when you are free from driving up and down the motorway all the time. For the bigger teams with a UCI programme, the gaps also give them the opportunity to race abroad. It's good for them to go abroad and access so many more racing opportunities at different levels and where they are racing against different riders."
"I have spoken to so many different teams and riders in the last 10 months or so and there are some that want more racing, some who want less racing and there doesn't seem to be a one general consensus on what would work for everybody. I don't think one thing is perfect for everybody. It's about getting that balance and taking into account everything that is going on in domestic racing as well".
Erick says it would be fantastic to run some test events before we all get into the national events so that we can show we can have racing and that it can be done safely. Let's hope the pandemic rules and regs of the time allow that and things can start that long haul to return to normal as soon as possible.
Erick in the champion stripes as a junior
As many of us know, racing has existed on the continent where Erick once rode and that level of racing has managed to keep their races on the road with lots of covid testing which just was not feasible in domestic racing with the high costs of the tests.
Perhaps in 2021, if required, the new quicker tests (as used in Liverpool) may be a way of forming 'bubbles' within the sport and keep riders and those working in the sport including volunteers, safe. Certainly much to think of ahead of the racing.
Another down side to the effects of the pandemic is the cost to business which affects any sport that such businesses sponsor. Budgets for the teams and race organisers will be stretched to the max in 2021 and every pound will count says Erick who has been talking to the organisers.
It might not be the big sponsor who will be at jeopardy but all the little ones who may put in a few hundred quid but if their small businesses have struggled in 2020, sadly, they probably won't have the luxury of having that extra cash available to sponsor a bike race.
But getting the sport back up and running quickly though is important says Erick, who added it will be important that the sport complies with the rules and regulations whatever they will be come spring time next year.
The learning curve for Erick at British Cycling is a steep one as he learns to deal with a lot more than just going out and racing to get a result in a bike race which was second nature to him after so many years in the saddle. I asked whether, as a former racer, he is learning more about what the demands are on organisers putting on a race?
"Definitely" was the reply.
"As a rider, you do have an understanding of races but there is so much that goes on behind the scenes that you may be aware of but you don't know all the ins and outs of it. I have certainly learnt a lot in the short time I have been in British Cycling from people within the organisation, team managers and the organisers of the races. It certainly opens your eyes to everything that goes on."
"Maybe I'm speaking for myself but a lot of riders are naïve of all the intricate bits that play a massive role in the sport actually functioning. I have loved the learning side of things here though."
… continued after the advert.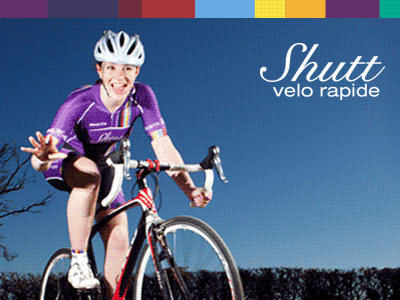 The National Series Road Race Events
When it comes to each of the events in the Men's Series, Erick was an ideal person to talk to having ridden them all and able to give us an insiders view of what they are like. If there is one thing Erick is fully up to speed with, it's the events and how they are raced.
As some one who has ridden these National Series events for the big teams, it was going to be interesting to hear his thoughts on each of the races in the National Road Race Series for men.
Klondike GP (Richard Williamson, Velo29)
This race has been won by a sprinter (Chris Latham) and all-rounders like Tom Pidcock & Rory Townsend. "It's a great race" says Erick, adding "and one you can go to year-on-year and not be too sure what is going to happen.
I remember the first year I rode it and it did finish in a bunch sprint and the other years it blew to pieces. So the way the race pans out each year depends on how the riders decide to race it and that is what makes it exciting."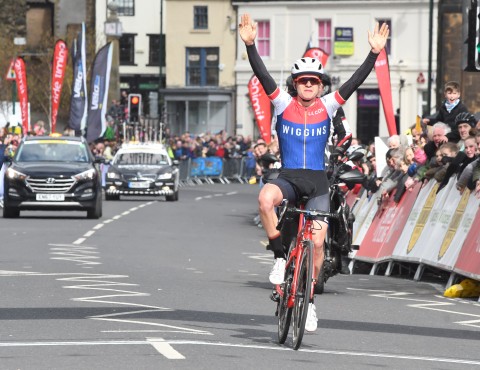 Tom Pidcock winning the Klondike from Tom Moses
"You go to some races on a fantastic parcour and you can almost predict what is going to happen and where the key moments are going to happen especially if the organiser uses the same course year-on-year. As a rider, you probably know when and where the race winning move will go in such events where as Klondike is quite unique."
"It can depend on the wind at Klondike for example and that can vary. When it's windy that can cause splits and the hills are those type that a decent sprinter who can climb a bit, can get over them but it's how much it takes out of them to get over those hills. Or, will the race be blown apart by the better climbers.
It's a great race to start the National Series season with and is definitely challenging. It will certainly get everyone's racing heads on straight away."
Lincoln Grand Prix – Dan Ellmore (Lincoln GP Organiser)
This race is a monument in the British cycle sport calendar and I remember a rider who has finished on the podium several times telling me how important it was 20 years ago. Erick agrees. "Lincoln is a special race and is special because of its history, the course and the amount of people who come out to watch it."
"The course is very challenging too. You look at it on paper, and there is one key section to it (Michaelgate) but there are other key elements to it like the drag up through the feed before you get to the descent down to the climb. That is a massive pinch point and a key one and you have to be at the front there to maintain your position down the hill and into the bottom of the climb."
A 4 time winner – Russell Downing
"So you have to race through the feed whilst trying to stay at the front, thinking about the descent and what gears you will be using on the cobbled climb. It's a course where there isn't really any respite because over the top as you're sprinting to close gaps that have opened up and it's a false flat for a long time."
"Then you have the steep twisty descent later on through the houses and you have to hold a good position through there because you're then into the narrow lanes. It's not until you get to the dual carriageway that you can take a breather but even there, the guys at the back who have been chasing on for a while are swamping you so it's such a demanding course."
"It's one that took me a few years of riding it to learn how to do that climb on what is a short circuit (8 miles). That cobbled climb comes round so quickly and you do it so many times, you can make too many big efforts on that climb early on and pay for them later. The rider who wins it, is one who calculates when to make those big efforts. It's a great race through".
Tour of Reservoir (organiser Steve Walton)
One of the saddest days in cycling this year was the loss of Mike Hodgson, the long time organiser of this much loved race that WorldTour rider Matt Holmes says is tougher to win than riding a WorldTour race.
This year, a new organiser, who has been involved in the race in previous years, will take over the reins and the exact format of the event is yet to be confirmed.
The event for Erick has been a good one and he's been on the podium with it including a victory in the race. "It is a race I have done well in for a few editions. It is one of those races that has some history behind it and whilst it is very rural, last year was a great move to bring the finish into a town centre for the first time which was a big step forward for that race."
James Shaw wins stage 2 from Matt Holmes in 2019 in the new town centre finish
"That added a lot to the race with that big climb at the start and another to finish at the end as well. I think it is fantastic to still have that event on the calendar. It was very sad news hearing about Mike passing away earlier this year and I think it is fantastic that someone was able to step in and take over the race for it to continue and to go forward".
On how tough the race is, Erick explains "Racing in Britain is quite unique. The way races are ridden is different now to how they were ridden five or ten years ago. They are more controlled now and more professionalised but they still have that difficult mix of old fashioned British racing where riders are just attacking and things may not settle down so groups go away and groups come back".
"The WorldTour races in general are very different in that there is a lot more control to them. A lot of big teams to control the race and a familiar story to the race; the break goes, it's controlled and while you don't know the result before the finish, you know how the race will normally pan out. Where as these races in Britain, more often than not, you can have a whole race of attacking from start to finish which is pretty rare in a WorldTour race."
"So when you chuck that onto a course like the one for the Tour of Reservoir with the climbs, the wind, the descents, the small lanes, and all that, it just exaggerates the toughness of it."
Beaumont Trophy (Peter Harrison organiser)
Another of the long running races which has many key moments in its history is the Beaumont Trophy or Curlew Cup (women's event). These include being the British Road Race Championships in 2011 (Wiggins) and 2018 (Connor Swift).
The race at Stamfordham is another race with a lot of history behind it says Erick. "It is a special race and hard having that climb up the Ryals is tough. I can remember doing that years ago when it was the nationals (2011, Wiggo won) and trying to follow the WorldTour riders up there. Bloody hell it was hard."
Wiggins winning at Beaumont in 2011
The course for the race though also has a smaller circuit which doesn't take in the climb so it has different elements to it. One of those is a narrow lane prior to the Ryals climb. "It is like Lincoln in that it has that 'race' to be first onto a small lane that comes prior to the climb so it can be a hard course but one that can be won by sprinters or by climbers" explains Erick.
"It depends on how it's ridden. If it's full on aggression from the start, then it will be different outcome to a race that is controlled by the teams for a sprint."
Going back to the narrow lane before the climb, one that saw the race face challenges in 2019 when a tractor got onto the lane and the race was subsequently stopped, it is quite a unique road being quite long, up and down and oh so narrow (single car just).
"That road is an important part of the race because you descend down a twisty long descent into it so the race can be really on down that descent to try and get into the left hand corner first. So it can be a bit sketchy when you have a 100 bike riders fighting to get into a tiny lane first".
"Once you turn onto that lane and you're in the top 10 or 15, it is not too bad. There's a drag up along it but it's not too bad if you are in the front dictating what happens. If you're further back, then it's likely you'll have been at a standstill on the left hand turn and then playing catch up along the lane before coming to the bottom of the Ryals in the red already. So that lane I think is just as important as the actual climb (Ryals)."
Stockton GP (Richard Williamson, Velo29, organiser)
It's called a sprinter's race as a few editions of it have been won by sprinters like Adam Blythe when it was the British championships and John Archibald (2019), Matt Gibson (2018), Brenton Jones (2017), Chris Opie (2015), Russell Downing (2014), Ian Wilkinson (2013), Graham Briggs (2012)) when it was a Prem.
Last time out though, a solo John Archibald used his time trial ability to stay clear for 100km. Just. "That race is deceptive actually" says Erick. "It is like every race in Britain whereby the profiles are really not that truthful to the race and it depends on how it's ridden. 2019 was a really hard race and went down to the wire with the Tour of Britain qualification riding on it. Our team (Madison Genesis) didn't have an out and out sprinter so we were quite determined to be aggressive."
The narrow climb where a team can easily closed down a chase
"We had Jon Dibben so we knew he could sprint but we didn't want to roll round and have a group sprint so we were determined to make it hard, chasing breaks and making breaks. It does do that climb up through a little lane and because it's on a narrow lane, it is one of them that if you are at the front, it's not too bad but if you're at the back and come into the climb 60th wheel, you are having to push on all the way up and there is no descent afterwards either as it has a false flat for quite a while after".
"The finishing circuit is then like an extended crit with so many corners and roundabouts that again, riders are sprinting in and out of them all the time and that final corner (hairpin) is not your traditional run in to a bunch sprint. There is a massive fight for that hairpin so again, it is like all races in Britain in that it has its own unique character. All the British races have their own challenges and while on paper they look straight forward, they are far from that when you actually race them."
Lancaster GP (Organiser TBC)
"That was an extra addition to the calendar last year and it is great they are going to carry that on" explained Erick. "It was nice to be able to finish in that iconic spot (Williamson Park) as well but that was another really tough race."
"It was up and down all day and as a bike rider, I've never ever had cramp in bike races and I hear riders saying 'I was cramping up' and I wonder what they are on about but that was the first race I got cramp in."
"We'd finished all the circuits and I was in the front group where we were trying to set it up for Ian Bibby at the finish. There were riders chipping off on the main road leading into the park and we were chasing along there trying to keep it together and bring riders back to make sure Bibby was in a good position to go on that climb. It was torture trying to keep it together along that road after we'd done all those laps of that circuit with the climbs on them."
"If you were doing those climbs once or twice, it was nothing major, but when you are doing that climb again and again and again, it is like a lot of British races where it's a wearing down process. But it is a fantastic race to have."
Ryedale GP (Bob Howden organiser)
The final race we know about for 2021 and one we have enjoyed in the calendar since 2005 is the North Yorkshire event that has also been the British championship three times (Russell Downing, Rob Hayles and Ian Stannard).
"It is up and down all race and the roads there just seem to be extra grippy" says Erick. "All roads in Britain are grippy compared to those on the continent but Ryedale seems to be particular grippy and when you chuck in the speed bumps going up that final finish line climb; I've been sprinting for a podium place up there and you can't get a rhythm going when you're riding over those speed bumps all the time. Not that it's an issue at all, it's just an element you have to consider as you race but it's something I have never got used to."
Ian Stannard winning the stripes at Ryedale
"It really is a tough course and if it's raced aggressively, the whole race can be in pieces as we've seen when it has been the Nationals and when it's been a Premier Calendar event. Even when you get some of the bigger teams trying to control it, it's so hard. I can remember riding on the front trying to do that and you're thinking why isn't the gap to the break coming down quicker and it's probably because the peloton doesn't go any quicker than the break and it's probably because we're riding the same speed up the climbs as they are. There are no dual carriageways either to get that speed going and get that chase organised"
"It can be quite a tactical race as well because you can be in an early break and know you stand a chance on that parcour to go a long way".
My thanks to Erick for the great insights into the calendar and the races and lets all hope that in 2021, the events get held and racing gets as close to normal as the pandemic allows.
2021 National Road Series (Men)
Round 1: Klondike Grand Prix, Guisborough (18 April)
Round 2: Rapha Lincoln Grand Prix, Lincoln (9 May)
Round 3: Tour of the Reservoir, Edmundbyers (5 – 6 June)
Round 4: Beaumont Trophy, Stamfordham (4 July)
Round 5: Stockton Cycling Festival Grand Prix, Stockton (18 July)
Round 6: Lancaster Grand Prix, Lancaster (15 August)
Round 7: The Ryedale Grasscrete Grand Prix, Ampleforth (22 August)
Round 8: South of England (TBC)
---
---
Cycle Division's Shop
---
Send your results as well as club, team & event news here
---
Other Results on VeloUK (including reports containing results)

---
Other News on VeloUK