VeloUK chats to Jenny Bolsom of new women's team Saint Piran which will have an ambitious racing programme in 2021 to promote the brand and give female riders the opportunity to ride for team
Women's Team 2021 – Saint Piran
Team Managers/Riders – If you want to do a feature on your team for VeloUK, get in touch and lets get it done! Email me here
Find out more about the Saint Piran team on their Facebook Page
Those who follow the sport will know of the men's Saint Piran team which has been around for a few years now and has many a leading rider in it for 2021 such as Chris Opie and Steve Lampier, a former winner of the Premier Calendar in 2015. The men's team is work in progress at the moment but the big news from the Saint Piran team overall is the formation of a Saint Piran Women's team for 2021.
In charge of that development is Jenny Bolsom who is mixing being a new mum with that of getting the team off the ground. Jenny moved into cycling from a background in triathlon back in 2016.
"My first team was Cycle Engage in 2017 where I learnt and experienced so much from that year and fell in love with racing" Jenny explained. "The last couple of years have meant a lack of racing for me due to a big move and then having Lowen when I've taken the time to enjoy riding the bike and to develop my skills."
"I have missed the training and the commitment needed to successfully race however and I feel I have 'unfinished business' so I can't wait to return to racing in 2021 for our Saint Piran Women's Race Team."
Saint Piran is well known as a very pure brand and Jenny says they owe it to the history of the set up to respect it and follow in its footsteps. "The kit is a replica of the well known plain kit but in our own colourway of 'baby blue and navy' explained Jenny. "We can't wait to show it off! There has been so much interest around the men's team and we just felt there was a need to add to the set up and offer a platform for women to race and be a part of the Saint Piran family."
The Saint Piran Women's team line up for 2021 consists of six riders. "It's a small set up partly due to funding but also to allow us to grow the team organically" says Jenny. "We have Bexy Dew, Evie Lane, Gemma Sargent, Laura Senior, Lucia Bruton and myself".
"We all have a level of experience not just at road and crits but over half of the team will also be racing off road in XC mtb, Enduro, Downhill and CX. We haven't yet all met in person but we are enjoying getting to know one another via zoom meetings!"

The team's most experienced rider is Gemma Sargent (above) (see a feature on the National Series from Gemma here) and Jenny says "we will all be picking her brain and learning from her throughout the season".
Gemma says of 2021 with a new team "I am really looking forward to coming back to these races (National Series) with a new team and try to pass across any tips and knowledge I have to the other girls. Although some of the girls are relatively new to the National Series races, they are very strong, talented riders so it will be great to see what we can do as a team to get some results".
Jenny adds "Equally, we all have our own strengths and everyone brings something to the team. Our youngest rider is Evie Lane, a former youth and junior south west champ at both mtb and crits, who is very excited about returning to racing in 2021".
Evie says of joining "I'm super excited to get back into racing, this time on the road. It'll be fab to have some female team mates and I can't wait to race with them in 2021!". A rider last seen at the Hill Climb Championships is Bexy Dew who says of joining the team "As a Cornish girl, I couldn't be happier to be part of this new adventure and proud to be in a Cornish Race Team."
The Team's Bexy Dew who found success in Hill Climbs in 2020
The team will be aiming to race the Women's National Road Series, the Tour Series, the Ras Na mBan and potentially some additional European races. Alongside these, Jenny feels it's really important to support local races and local clubs so wherever possible their riders will be supporting those type of races and engaging with clubs local to themselves to encourage female participation at various levels.
Several of them will also be racing within other disciplines around the main calendar too added Jenny.
Asked what being part of a women's team means to the girls, Jenny explained "prior to setting up the Saint Piran Women's team, I'd spoken to lots of women about racing and why they do and why they don't race etc."
"I repeatedly heard the words 'team mates', whether that's for encouragement or support, it's a vital part of racing. I advertised the women's team a few months ago with the expectation of hearing from a handful of riders and over 70 contacted me!"
"This was a massive range from individuals new to cycling through to experienced cyclists. Due to this demand I have split the team into two tiers. First is the team I have been speaking about, a fully supported team of six riders. The second is open to riders of all levels and across all disciplines who wish to represent Saint Piran. They are self funded but have support from us in terms of rider development with coaching sessions, training camps, demo days etc."
"Where we require guest riders, they will initially be chosen from this group and will also be first considered for the 2022 season. We hope this will encourage rider development whether that be individuals new to cycling, those who enjoy recreational cycling and those wishing to progress their racing career."
The team is still very much work in progress with many aspects to the team yet to be finalised and delivered. One thing is for certain, their arrival, as the demand for places has showed, is much needed in the sport and we wish them all lots of luck in 2021 and look forward to seeing them on the road.
Photo: Katie, a member of the team's second tier.
Find out more the team's Facebook Page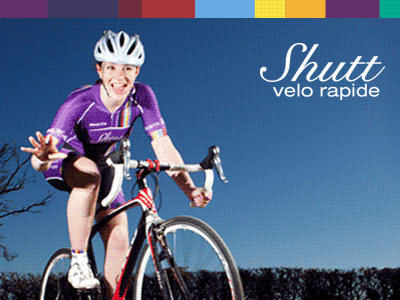 ---
---
Cycle Division's Shop
---
Send your results as well as club, team & event news here
---
Other Results on VeloUK (including reports containing results)

---
Other News on VeloUK