Chat with Head of Performance, Sean Yates, at new Pro Continental team Eolo-Kometa about the team, the signing of two British riders and Sean's highlights as a DS and Rider
Feature Interview: Sean Yates
Chat with Sean Yates, Head of Performance at new Pro Continental team Eolo-Kometa, about the team and the signing of two British riders. The team Eolo-Kometa is currently named Kometa-Xstra.
10 years ago and Sean was one of the founder DS's at Team Sky and he's back in 2020 after a few years out of the job as Head of Performance at Eolo-Kometa
The new title sponsor, Italian internet company Eolo, signed up to the team this year and enables it to step up to Pro Continental level. The team sees two legends of the sport, Alberto Contador and Ivan Basso coming together along with Contador's brother Fran to head up the team which will be looking to make a splash in the sport in 2021 in order to help its ambition to be one of the strongest teams in the sport over the next three years.
Having been a DS after a mega career as a racing cyclist, Sean Yates is well connected in the sport and knows Alberto and Ivan well after having been their DS during their racing days. Over the years, Sean has been a DS with Linda McCartney, Team Sky, CSC, Astana, Discovery Channel, and Tinkoff Saxo and says Ivan was keen for him to be on board with the team. Sean was also DS for British team NFTO and one of his highlights was seeing Adam Blythe win Ride London from under the noses of the bigger teams.
2014 and Adam Blythe takes some big scalps for his team and himself at Ride London
The Kometa-Xstra team has been around a while now but as well as stepping up to 'ProConti' with the new headline sponsor Eolo, it will also be running a development and junior team. The pro conti team is required to have a minimum of 20 riders which is the number they will have in 2021 and among them will John Archibald and Mark Christian.
Sean explained how the team want to compete in some big races in 2021 and as the team sponsor Eolo is sponsoring a lot of RCS races in Italy, the team are hoping they get invites to them so they can make their mark in the sport.
Sean's role in the team is his biggest challenge in the sport since his days at Tinkoff. A serious accident outside of cycling didn't help him after his spell at Tinkoff but he feels the time is now right to get back in the saddle at the sports highest level to help his new team get the success it is chasing. "I thought after Tinkoff and my accident, that was it, but now I'm back in it, and I could be in it for ten years. You just never know what is around the corner."
Head of performance is much more than just being a DS which will be one of his roles. Sean will be overseeing many aspects of the team related to performance such as coaching, nutrition, recovery protocols, equipment, and more.
"We do want to get bigger during the next three years" Sean explains "and the goal is to step up to WorldTour at some point. The sponsor is a personal friend of Ivan's who runs an internet company and is super keen. It's looking good so hopefully racing will start at the normal time."
The Isle of Man's Mark Christian, pictured in 2014, at the Raleigh training camp in Spain, has not had the best of luck getting his chance in ProConti/WorldYour teams but is highly thought of by his peers.
Asked about how two British riders John Archibald and Mark Christian got their spots in a team where Italy has the most riders, Sean explained "I always like to try and help the Brits out now and then. Regarding Mark, Ben Swift contacted me and said there is one guy who deserves a chance who has had some rough luck. Ben said he really rated him so I stuck my neck out after talking to riders like Ben, Russell Downing and Adam Blythe who said he (Mark) is good so I said I'll give him a shot".
The team has quite a lot of young riders with the youngest being 20 (two riders) with eight riders under 23 and 16 under 30. Both Mark and John are 30 and the eldest rider is sprinter Francesco Gavazzi who is 36. Interestingly, Sean says his best year was when he was 34."
"We were looking at some older riders as we have about eight who are coming up through the under 23s so we needed some guys we can rely on to finish a Grand Tour as we hope to get a ride in the Tour of Italy. Mark has ridden the Vuelta and Ben said Mark's strong point is his resilience so he fitted the bill".
John on the podium twice at the British Road Championships in 2019 now gets the chance to ride up a level and see where it takes him
I then mentioned John Archibald and Sean replied "John's a beast. Cycling is obviously in his genes (his sister Katie is world class female rider too) and he's an untapped talent. He's a guy who can ride on the front all day at 40kph and save the rest of the team if they have a leader of the race for example. We didn't have a rider who can ride fast in time trials and he's an untapped road talent".
"With his performances after we signed him, like when he beat Alex Dowsett in the 25 champs, that reinforced my belief in him. He's done a '53' in the Team Pursuit and 4.08 in the Individual Pursuit and you have to have a serious motor to do that. He's relatively late to the sport as well so will only improve so it was really a no brainer."
"We could be in for a big surprise from John and hopefully he'll perform well in the time trials and put us on the map during the year. With time trialling being my first love, if John pulls a result out of the bag to get a top result, that would be great for him and me".
Something else Sean is looking forward to is the knowledge that John Archibald will bring to the team when it comes to going fast in time trials and road races.
Asked what advice does he have for riders coming into a team at that level, Sean explained "it is very different to being a domestic rider. You have to be very disciplined and go with the flow, analyse your performances to see what went right and wrong and get on top of that learning curve as fast as possible".
"They need to accept the role they are given and not hang on to their previous life. It's a small period in a rider's life so immerse yourself into it. The continental way of riding and living the life of a bike rider, being a 'euro dog' as the Americans used to call it on 7Eleven (team)".
Sean during his 'Eurodog' days on the bike as a super domestique. Photo: Getty Images
Sean says that the amount of time trials you get in a year is so small compared to the road races, it's not financially viable to just have a rider to perform in time trials. Riders need to be able to perform other roles in the team too but if they can also win time trials like Rohan Dennis and Filippo Ganna, they are going to hit the headlines which is great for the team.
The team does not have any huge names but it does have solid pros like Luca Wackermann and Francesco Gavazzi for example who have a great deal of experience and pro victories to their name. "The team sponsor wants riders who are committing to racing hard and are keen to get stuck in; riders who will show the team colours in front of the organisers who have selected us for the races".
The good news for John and Mark explained Sean is they will get a chance to shine in races with Sean saying "everyone is on an equal footing and if you have the legs, you'll be there in the final".
Asked about highlights as a DS, Sean says "winning the Giro d'Italia with Paolo Savoldelli (2005) against all the odds with a weak team. With it being my first Grand Tour win (as a DS), it was a pretty big moment for me. The Giro win of Albert Contador (2008) was another" says Sean. "Coming to the Giro, we had a good team but it wasn't something Alberto had targeted that year."
Other highlights for Sean as a DS included the Tour de France win with Bradley Wiggins as well as the Olympic Time Trial. Working with Peter Sagan in the 2016 Tour taking the Yellow jersey with a well executed plan was another great memory for him. "People never see all the work going on in the team car and the recon work" explained Sean, adding "but it was a plan that came together and with Peter, he is such a star, it was really nice to see and be part of".
Sean wearing yellow in the Tour de France. Photo: Getty Images
When it comes to highlights from his racing days, Sean says it was a very long career but that the highlights included breaking comp records in time trials as well as winning the 25. Add to that winning stages of the Vuelta (1988), Paris Nice (1988) Dauphine (1991) and Tour de France (1988) as well wearing the yellow jersey (1994). Sean also says 5th in Paris Roubaix (1994) on a very wet and tough day on the cobbles was a good memory.
Sean also mentioned the National 12 hour tandem record hold he broke with Zak Carr and the World Masters Pursuit championship adding every win is nice and Sean had plenty. Other wins included the British Road Race Championships, the legendary Girvan Stage race (1980), Tour of Belgium and second in Gent Wevelgem. When it comes to experience, Sean has been there and done it both as a rider and DS.
But how did a British based time trialist end up in Europe? "It was because of Tony Mills (a former pro in the 60s) who owned Dauphine Sport and who supplied me with bikes. He got me a ride in the GP de Nations somehow and I flew to Canne and performed well. I was noticed by the French ACBB club and they asked if I wanted to come to ride for their team next year. So it was thanks to Tony I turned pro."
And Sean says he is still riding and alternates between normal bikes and electric bikes and has plans to do some time trials in 2021 which would be awesome to see as Sean was such a legend, icon even, of the time trial scene in Britain and on the continent.
The team will be riding the bike brand that Alberto Contador and Ivan Basso just launched in September, Aurum bikes. My thanks to Sean. Always an honour to chat to such a legend.
Sean greets friend and fellow DS Alan Peiper at RideLondon in 2014. 
Sean with Bradley Wiggins after the victory in the Tour de France, one of Sean's highlights as a DS. Photo. Getty Images
Sean on his Ribble electric bike with Ribble Cycles boss Andy Smallwood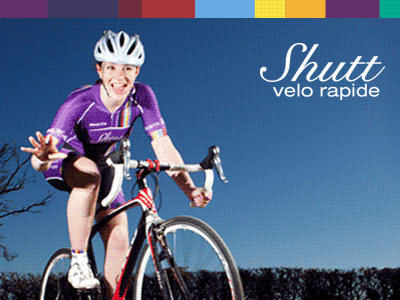 ---
---
Cycle Division's Shop
---
Send your results as well as club, team & event news here
---
Other Results on VeloUK (including reports containing results)

---
Other News on VeloUK