Racing for a UCI team, Lviv, 20 year old Fiona Turnbull from the North East had a busy 2020 and is looking forward to 2021 – "I stood on the podium at the Milton Keynes CX World Cup – that was pretty special"
Feature Interview: Fiona Turnbull
Racing for a UCI team, Lviv, 20 year old Fiona Turnbull had a busy 2020 and is looking forward to 2021. Fiona turned 20 in the summer of 2020, and started racing way back as an Under 12 in the Youth category. "My brother & coach is Hamish Turnbull who he's 11 months older & the current Elite National Sprint Champion" explained Fiona.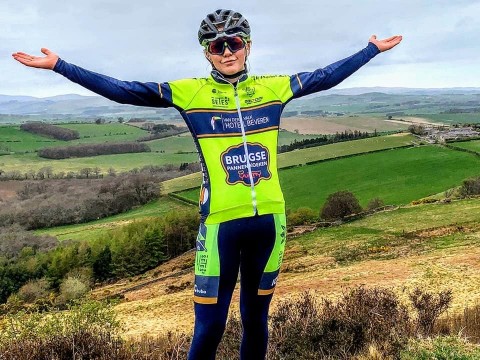 Her brother Hamish started racing as an Under 14 and was probably one of the most successful Youth riders on road & track until he needed to specialise. He was racing initially in the North East & then very quickly in the National Youth series.
"Because we were spending so much time at races, my parents suggested I also raced" Fiona says. "I guess the first time I showed some capability was when I rode at the British Cycling inter-regional championships at Hoghill (Redbridge Cycle Centre, NE London). I was an Under 14 but finished on the wheel of Ellie Dickerson & Jess Roberts (riding for RST/Cycle Division), having lapped much of the field several times".
"I also rode Track, MTB & CX at a National level" added Fiona. "My first National Podium was in cyclocross when the World Cup was in Milton Keynes. I rode multiple disciplines up to the start of 2019, when it became obvious that I needed to specialise".
Milton Keynes World Cup CX (National Trophy) and Fiona made the podium in the Youth Girls races with some very familiar faces, Emily Wadsworth (centre) and Sophie Thackray (left)
Fiona signed with Lviv Women's UCI team, a Ukrainian team and when asked how she came to be riding for them, Fiona explained. "Lviv is a Ukrainian UCI licenced team but operationally it has a squad in the Ukraine & another in Belgium. Many of the sponsors are Belgium & my team management & DS's are all Belgium".
"I was already known a little in Belgium as I've ridden CX there for a couple of seasons with very little support of my own, however I tend to fly under the radar. Talking with my father, he advised a couple of key points. The first was to look for racing opportunities, rather than being offered huge support. Joining too big a team would probably limit my ability to be selected for the squad. The second was to find a sustainable team, that is smart with its resources. A team that offers modest support is less likely to fold & probably offers the best development opportunity. Lviv offers that sweetspot. It's better to be cheap & useful, than expensive & useless."
And Fiona has been busy in 2020 as she explains despite the pandemic. "Actually 2020 has been a pretty busy season for me. Not as busy as planned, but I've ridden multiple World Tour races & several Tours in Europe. It was not so long ago that I travelled overnight to get from the Tour de l'Ardeche to the start line of the Giro, a problem not many UK riders will have had. The Tour de L'Arderche alone was probably more race miles & elevation that most decent riders would have in a normal domestic race season."
"As a team (Ukrainian & Belgium) we came together at the Giro, which hit my schedule at the very last minute, as the squad had been impacted by rider availability due to travel restrictions. I'm confident though I've demonstrated my usefulness to my DS's in 2020."
One worry for British riders heading overseas is the possible language barrier so I asked Fiona how she managed with that? "For the early part of the season, I shared a house with two team mates; Spela Kern from Slovenia & Estefania Pilz from Argentina so English was pretty much the common language between us".
"The team has a strong Flemish & Ukranian element and communication with the DS's has not been an issue. The dinner table conversation is often a mix of languages, but I would say communication is always good. It's better to be with good people regardless of their native tongue. Belgium itself, is pretty easy to live in. When the season resumed, I lived by myself in the team house & managed ok".
Fiona is currently in Spain. "As a youth, I used to come out to Algorfa in Spain for a weeks training during the February half term, with some North East riders. Last year we figured out that riding a full road season immediately into a full UCI Belgium CX season was not optimal, as you really needed time to hone the CX skills (which compromised the road season), so I stopped my CX season & headed to Spain for a winter training block with Henrietta Colbourne."
"This year I finished my road season after the Tour of Brittany was cancelled at the end of October so I came home of a couple of weeks self isolation, then drove down to Calpe. Last year, I started the season in good condition & plan to do the same in 2021. We have a team camp in this region in February just before the Classics start, so I'll likely leave Spain & head directly to Belgium. This area of Spain has everything a cyclist needs with the exception of high altitude, so it's a good & safe place to be."
For any really young bike rider, living away from home and their team staff, keeping the bike running means having to learn the business of being your own mechanic. On how Fiona manages with this, she explained "I'm a fully qualified NVQ L3 Bike mechanic. My parents bought me the course for my 18th birthday present".
Fiona (right of winner Rebecca Durrell) is third in the Stockton GP Road Race for women in 2019
"My father has always been meticulous with our equipment selection & preparation. It's impossible to blame your equipment if your responsible to select, build & maintain it, so I decided I'd better have the skills needed. My first test was to build my Vielo V+1 that I spend a lot of time on. My father gave me the hubs & rims to get me started".
When I was at school, I forsaked my education as I expected to be a professional bike rider when I left school but sadly didn't have the talent. So I asked Fiona is a career in racing something she is pursuing or is cycling her your sport alongside another career?
"My parents gave me the option to take a couple of years out following my A-levels to pursue cycling" Fiona explained. "They were confident that I had the capability. I was on the Olympic Development Apprenticeship program as a youth & did ok."
"I had a knee problem during my final year but my brother was the youngest male rider ever to join the BC talent team, so I think they wanted me to ensure I had equal opportunities. Initially the plan was to take a couple of years to test the water before University."
"My Brother coaches me & can benchmark my numbers against other elite female riders. He sees that I have the ability to continue progressing. My team management have also been very positive about my future, so at the moment the plan is to continue moving forward with cycling. However I've just started a part time degree with the Open University in Data Science. I think combining Data Science with a background in Elite Sport creates a pathway for opportunities after racing" says Fiona, adding "it's also nice to have a couple of different things to focus on".
Racing the Otley Town Centre Women's race in 2019
To test herself though, Fiona has taken off to race abroad instead of taking the option to stay at home and race in Britain. Are the UCI events key for her when racing I asked? "My first race as a Junior was the Tour of the Wolds – this was National Womens RR series & I was 16 yrs old."
"I finished just behind the lead group in a small remaining field (ToW was a great race). Then, in 2018 I had my first taste of Belgian Kermesses and UCI races when I was a part of Team YRDP. I was still a junior but I was very excited to have the opportunity to race internationally with the elite women."
"My last race of 2020 was a local Kermesse in Belgium, close to where I live. That was 85km at a Normalized Average Power > 240w. On the continent, especially during 2020, each race was packed with talent. I think if you're motivated to push yourself & believe you have the capability, then Belgium is the place to be based."
…. continued after the advert.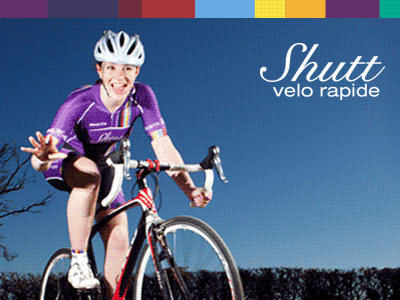 One thing none of us can predict is what the racing calendar will be like in 2021 but when asked what she would like to see next year, Fiona replied "Post Covid, I think planning my season & tapering for key races will be much easier."
"It should start with Lottocups & Classics, moving into Tours with plenty of kermesses when not racing outside Belgium. Hopefully we again do Ardeche or the Giro. The team this year have been very adaptable. When all the races near Belgium were suddenly cancelled, we headed to Denmark to partake in Randers Bike week which was a 4 day stage race which included a TT, a Brit and 2 road races."
"I was 3rd in the TT and on GC so thanks to the opportunities the team created, knew I was in decent condition. 2021, will hopefully be a year where I'm confident to lead a little more rather than follow".
Talking about the events she enjoys racing, Fiona says "the Tour de L'Ardenche is a great race. I think the route was more testing than the Giro. It's a big race but maybe a little more relaxed so it would be great to ride that again next season."
"The Giro was very last minute for me & I was only there to support the team on the initial stages. I punctured in Strada Bianchi, which was more like a DH MTB course. I waited a long time for a wheel (15 minutes), then they only had a 12 speed, so that didn't last long. It would be nice to have another go at that race."
Comparing racing on the continent to her in the UK, Fiona says "I'm not known as an aggressive rider. I'm not one to be off the front and then likely to be out the back. Races of attrition tend to suit my style. I do seem to have pretty good technique on the cobbles, so make up a lot of ground on technical sections."
"Similarly I'm pretty good on ramps & hills. This year in the Giro delle Emilia, I was caught behind the crash at the bottom of the final ramp that took out Lizzie Deignan. I made up maybe 30 places in the last kilometre, so those type of race can suit me. In the UK, we have the Tour of Res & Lincoln that are more attritional but those types of races are few & far between".
With the winter about to turn cold here in Britain, Fiona is intending to stay in Spain for a few months. "I'll be in Spain until the end of February before then heading straight to Belgium. Spain is pretty much the ideal place to be in winter".
"There is a great cycling culture, traffic is respectful, weather is great, roads are interesting & it's pretty economic to live here. My family home is in Northumberland, which is a beautiful place to be. However most of my training is solo, roads are poor & the weather is unpredictable."
"So being able to plan a training block is difficult. Also my parents have just sold the family home & have bought a forest above Loch Ness, so just sold our Watt Bike! If anyone needs cycling equipment feel free to get in touch, we'll be having a clear out!"
Finally I asked Fiona, what has been the highlight of her short career in racing so far. "I stood on the podium at the Milton Keynes CX World Cup – that was pretty special. In 2019, I podiumed at Stockton Velo29 Grand Prix which is part of the National series and one of my home races, which finished in a bunch sprint which is not my forte but I chose a good wheel to follow for the final corner and sprint to the finish."
Note: The team also has Lauren Creamer racing for them in 2021
My thanks to Fiona for that excellent chat and we wish her good luck for the rest of winter and a successful 2021 season.
---
---
Cycle Division's Shop
---
Send your results as well as club, team & event news here
---
Other Results on VeloUK (including reports containing results)

---
Other News on VeloUK