With two sons racing in Europe, and a team travelling to Europe when able, Giles Pidcock is well aware of what it takes to get riders out of Britain and into Continental European races. We chat.
Feature Interview: Giles Pidcock
A topic of great debate is about how to get talented young cyclists into the WorldTour to follow in the footsteps of all the great young riders currently making waves in the pro peloton and the many that have gone before them. There was talk recently of development teams when British Cycling announced the creation of 'Elite Development Team status, supporting the best British talent on their journey towards success on the world stage'.
So VeloUK contacted former Otley Town Centre event organiser Giles Pidcock for his view on getting young riders into Europe. With two sons (Tom and Joe) in Europe, and his own junior team travelling to Europe when able, Giles is aware of what it takes to get riders out of Britain and into Europe.
To get a feeling for the pathways his boys have taken from racing domestically to being in Europe, we chatted to Giles about the early years for both Tom and Joe starting with the elder of the two, Tom.
"Tom as a kid enjoyed winning bike races" says Giles. "He was quite small, a late developer but desperately wanted to win and to be one of the local 'big dogs'. He's ridden his bike every day since he was three so the bike has always been part of him and he used that skill to make up for his lack of speed and power in the early days. And then suddenly when he started growing in 2017, he began to win a lot more."
What did Tom need to take him from winning as a youth rider in 2/3/4 races in places like Otley to the higher echelons of the sport? "For me" explained Giles, "it was about us trying to give him the opportunity to be riding in the right races at the right time. As a Youth rider, it was about starting locally, learning the ropes, getting results and then pushing him a bit more and doing the National Youth Series. This meant as a parent, having to commit to taking him round the country every week."
"He started going to local youth training sessions with the likes of Joey Walker, Gabz Cullaigh, and Ollie & Reece Wood. There used to be a session at Richard Dunn Sports Centre at the foot of the Pennines in Bradford, which was set up by Ollie and Reece's dad Alistair because he wanted somewhere for his kids to train. Kids would come from all over Yorkshire to ride that Wednesday night session. It was totally grim up there in the winter but the kids absolutely loved it."
A very young Tom Pidcock racing as a Youth at Otley
Giles says it was an epic place to teach kids how to ride a bike with its adverse cambers, hills, and changes in surface. "It was awesome" adds Giles. Sadly the facility is closed now, earmarked to be another anonymous housing estate. I wonder if folk who end up living there will ever know that some of the countries best cyclists learnt their trade there".
During his youth days, Giles explained Tom, like many riders, wasn't riding for a flashy Youth Development team but rather local cycle shops (like Chevin Cycles) which again was important says Giles because there is a lot of equipment to buy so you need a relationship with a local bike shop. It helps them and it helps you to support local shops. Everyone needs the help of a local bike shop at some stage and we should all try and support them". This continues today in what Giles is doing with Paul Milnes Cycles in Bradford.
Giles continues to say that in his second year as a youth rider, Tom did join a bigger team (Speedflex RT), which at the time was a bit of a youth 'super team'. Giles played down the importance of being part of a 'super' team for sporting reasons explaining being part of it was more important for the camaraderie. "All the riders hung round together and it was important to be part of that clique for various reasons and one of those was not having your rivals in that clique gang up on him in races!"
Into the Junior and then Under 23 category
Giles explained that when your kids show some talent, you want them to swim in bigger and bigger pools and that was the case with Tom. "We didn't take Tom abroad when he was a Youth, it was only when he was a junior that he raced on the continent. He was on the GB academy which was vital because that gave the riders involved a really good framework and importantly at that age, an international calendar. It is also very track orientated which I still think is good for development".
Tom Pidcock winning the British Crit championship as a junior to go with the world titles in cross and time trial
"Tom topped up the BC Academy program with other UCI races guesting for HMT (Mark Barry), Zappis as well as doing a few John Barclay trips. That was all really important during that first year. He had the basic skills and his strength was coming so it was all about building on that with experience. Not only is the standard higher in Europe but it's important to get used to everything else, the strange languages, the different ways of racing, the whole international thing".
"As riders work their way further up the food chain though, being part of a team becomes more important" adds Giles. "As a junior rider, Tom was in Neil Hendry's team which was VCUK in the first year and PH MAS in the second. Neil took the riders in the team to all the national series races around the country and also got help for them with bikes and kit".
When Tom moved into the Under 23 ranks, he was by then working with Andrew McQuaid, the well-known rider agent who had put the deal together with Sven Nys and Tom for the winter (cyclocross) and because McQuaid was running Team Wiggins, Tom was able to ride for that team in the summer on the road" explained Giles. "It was a great set up for Tom at that time" adds Giles.
"As riders develop through the junior and U23 ranks, it becomes all about the races you get in" says Giles, adding "Team Wiggins, off the back of Brad's name, got invites to all the best development races like the Baby Giro and Paris Roubaix. And I think that's becoming the key for juniors too as the whole approach in the sport is moving to a younger age. They have to get exposure earlier and earlier".
For Tom, enjoying the sport as well as getting in the big races was and remains the key. Giles says of Tom taking his time to move up to WorldTour, "as we saw this year, it was the younger generation making the races and making them exciting".
"I don't think going from junior to WorldTour is the right way. I think riders need to learn the ropes with an apprenticeship in a development team (Wiggins/Trinity) like Tom did. He could have gone to Ineos two years ago but he said 'no, I want to enjoy it, I want to play, I want do what I want to do and ride MTB races, win the L'Avenier (which he crashed out of) and Baby Giro (which he did win) and then once the apprenticeship is served, then move onto the World Tour".
"I think if a rider is good enough to go to the World Tour, then they have a responsibility to themselves to try and make a proper career out of it – and that means being equipped to be able to ride a that high level for ten years or more. That's a long time so it's worth investing in the foundation which is what I think Under 23 racing is all for."
Whilst the GB Academy (Junior) and private teams like Team HMT, John Barclay, Spokes and Zappis have taken juniors to the continent for a long time now to help the young riders make their mark, for a long time now, the Rayner Fund has famously been helping Under 23's racing abroad.
"In the old days, riders would make their name locally and then nationally and then go off to the continent like Paul Sherwen, John Herety and many others who went off to try and make it. It's from this history that the Rayner Fund has done brilliant work over so many years. And with their support, we have all these young riders racing for teams in Belgium, France, and Spain looking to get signed by bigger teams and fulfilling their dreams. But I think in the past few years, the game has moved on and it is almost too late by the time you are an under 23 as more and more riders have make their mark in UCI junior races now."
To their credit, the legendary Rayner Fund remain committed to helping young riders and are developing & evolving their approach and in conjunction with them, ran a successful pilot scheme to try and support some junior riders in 2020". The difference is that these are juniors based in Britain, racing in Europe. In short, taking junior riders from Britain and giving them the opportunity to make a name for themselves in Europe, is the key for Giles. Which is why he has a team with four core riders and access to wider pool of riders who will guest for the team in Europe.
Giles explained how Neil Hendry used to run the team but when he retired from that, Giles stepped in with the backing of Fensham Howes and MAS Design. Despite the fact his boys Tom and Joe have now moved on into Europe, Tom with Ineos and Joe with FDJ Development team (UCI Conti), Giles says what his junior team does in the future is really important to him so he'll continue to do what he has been doing.
Giles (ventre) has plenty of experience of racing and is pictured at a regular event for him, the Eddie Soens memorial, with five time winner Tony Gibb in front and Luke Mellor (JLT Condor pro) behind and now Service Course manager for a world tour team in Girona.
The Fensham Howes MAS Design Junior Team
To help Juniors make their mark in Europe, Giles has his Fensham Howes MAS Design team. With a budget of around £20,000, Giles has chosen four riders which make up the core of the team. When he can take more riders into a race like events in Europe, he invites riders from a group of talented youngsters to join his foursome to travel to the continent.
The £20K says Giles, gets them to the start line in as many races as possible. It pays for hotels and travel as well as entry fees. "We can also afford to kit out and look after our four riders. With help from equipment sponsors and friends and parents chipping in we make a little go a long way" adds Giles.
He added the other reason he picked the number 4 when it comes riders is for when his team ride British National Series races. "Our riders do want to ride the UK races when it fits into our calendar and we want to support the national series, as it's important. But in these races, we are limited to teams of four so if I had six riders, I'd have to have two sit out some races in this country – which is crazy and not fair on the riders. So the model for the team is to be flexible and enable us to give opportunity to a wider pool of young riders".
His team gets sponsored kit from Maap and his team bikes are from Ridley through Paul Milnes Cycles with additional help from Spatzwear for overshoes and gloves etc. The philosophy of the team is simple. Ride the biggest and best races in Europe and try to get results and if you can't get a result, try to get noticed!
The team Giles now looks after racing at the Birkenhead Tour Series round in 2019 where Sam Watson was 4th.
"I see my role as a facilitator, to secure invites to races, do the logistics and create the opportunities (the races). From there it is up to them."
"In our junior team, we don't have team tactics as I want every rider to ride for themselves because they are not going to get a contract saying they worked for another rider for 80km in a 100km race. They have to get results. So we'll have a team briefing before races and talk about wind direction, where it is likely to split and talk about where it's likely to play out in the end game. These meetings get better each year as I get more experience but it's down to the riders to do the training and have the balls to make it happen in a race. And they do end up working for each other but because they have become friends and want to help each other."
Giles' riders are based in the UK but his focus is racing on the continent. "The key focus is about racing UCI races on the continent because that is where the pro teams are looking for results. If a rider comes to their attention, they are looking at that rider's stats on Pro cycling stats – which only covers UCI events, everything else counts for almost nothing".
"I think we have about 18 UCI races abroad like the junior Tour of Flanders, Kuurne Brussels Kuurne, Junior Liege Bastogne Liege and races like that". Giles admits his surname, linked to his son Tom of course, gets organisers attention which means they are prepared to give him an invite to their races and it's the invite, says Giles, that is the 'gold dust' in junior racing because you don't enter these events, you have to be asked.
"Once you get a place in a race" says Giles, "they want to see you make the most of it, to be involved in the race and if possible, try to get a result. They want their race to have the best riders because it is prestigious to them, the organisers all want to be part of story for the next crop of riders."
One area Giles would like to see improve in the UK is for there to be more UCI races here in Britain. "It seems unfair that we produce some of the World's best riders but we don't have any Junior/U23 UCI races here. Races like the Junior Tour of Wales and CiCLE Classic (Junior) could/should be UCI races so the continental riders can come here and we can play our part in developing the sport globally."
Lewis Askey, who rode for FDJ dev team in 2020 and will do so again in 2021, guested for Giles Pidcock's team in 2019 at the Birkenhead Tour Series round
Giles added that he'd also like to see UCI Under 23 events here in the UK as well along with the big ones we already have like the Tour of Britain and Tour de Yorkshire. "Things are pretty bad at the moment economically with Covid and maybe there will be some economic fallout from Brexit but out of devastation comes opportunity – so maybe we need to build from the ground up and work towards these things as we have proven British people are as good at riding bikes as the foreign riders and we've also proved (with big events we've had in the UK) that the public like a big bike race too."
Asked whether the Junior National Road Series in Britain helps Junior riders on the pathway to being a professional rider, Giles says the series is a relatively low cost way of exposing young riders to quality competition. "The National Junior Series also provides exposure to British Cycling Academy coaches" adds Giles, "so if you want to be considered for the GB Academy (Junior/U23), which remains a solid programme, you need to gain exposure in those races as a junior."
"If they want to be a World Tour bike rider however, they need to get to the end of their second year as a junior either on the BC academy (u23) or in a European development team (u23). To get on the latter, you need to do the continental UCI Junior races either by being part of GB's Junior academy or being in a team doing the overseas races like the one Giles has."
So, is a team taking a young (Under 23) set of riders around Prems pointless I asked? "It depends on what they are trying to develop" Giles replies. "If it's about getting them into the Tour Series or the Tour of Britain, great but if it's to help them make it as a WorldTour rider, they need to ride more UCI races."
Giles racing the Clayton Velo Spring event a 'few' years ago 
There are of course already teams that are doing this. Trinity is one, Zappi another whilst teams like Canyon DHB and Ribble Weldtite are both looking to have UCI race programmes in 2021 to help their young riders. Are more Under 23 development teams needed I asked? "Perhaps not" says Giles. "Many of the best under 23s are already abroad in teams like Trinity, Zappi, the GB Academy, Canyon DHB as well dev teams like Sunweb and FDJ".
But is racing WorldTour the be all and end all for a cyclist I asked Giles? "I still do some coaching for the local U14 and U16 riders – a continuation of the Richard Dunn sessions from all those years ago – and we asked ourselves what we were trying to achieve. We talked about getting riders to be pros, winning world titles and all that stuff but in the end we decided that if some of the kids we were coaching were still riding when they were 40, then we would have succeeded."
"I think that's the key, we should all be trying to create bike riders, folk who love the sport as much we do. A lot of young kids have the ambition to get to the WorldTour when they set out but we also need riders at other levels, like the UK scene. There are maybe only 20 riders good enough to ride WorldTour but 200 are good enough to ride the domestic scene where they can race successfully and hopefully earn a living rather than WorldTour which is very much a commercial career based pursuit".
As a WorldTour pro who raced domestically explained in another interview, "racing in Britain is less of a job than in Europe".
"The UK scene is important to domestic sponsors and to make racing as accessible as possible to all – riders and the general public" adds Giles. Speaking of racing domestically, Giles had a team of his Junior riders race the Tour Series round at Birkenhead in 2019. Asked about that, he says "it was a good level of competition and great exposure for the riders. The national crit series events are good for their development too and exciting for them to do."
"They have been brought up riding crits so they are immediately competitive. You saw that from Lewis (Askey) when he was guesting for us at Birkenhead and then Sam Watson getting a top four placing. Tom too winning the crit champs on junior gears. These kids can compete with the local pros in the crits and those events are important for the juniors and the fabric of UK racing".
Joe Pidcock
In the next part of our chat, we moved onto the subject of another of the Pidcock clan who now has a spot in Europe, Joe, who has been signed by the FDJ development team (joining Lewis Askey in the team) which is a UCI Conti team.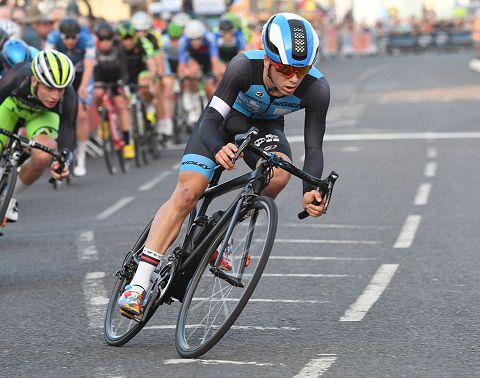 Joe racing at Otley as a Junior
"We approached the main development teams" explained Giles "and FDJ was one of those that came back and asked us for some more data. It went quiet as they spoke to people like Kurt Bogaerts (the former An Post team manager who now runs Trinty Racing and has worked with Tom for a number of years) to get some info on Joe. Off the back of his training data and the references they'd obtained, they offered him a place. That was a big moment after such a dire 2020 with no racing and no way of showcasing his ability. I think it's a fantastic opportunity for him."
Giles added that, as a parent, it is satisfying to have helped his two star cyclists get into Europe. "I feel I've done my bit now and helped them get onto that pathway – it's now up to them. Tom is already quite well established but Joe still has to prove himself. But he's in a good environment with a good programme and good people around him. It's healthy for him to get away from home and take on this challenge."
"I'm now looking forward to running my junior team without one of my own kids in it!" Giles said. "If your own child is in the team, it's hard and I think they get a bad deal because as parents, we don't want to be biased towards them so you tend to be harder on them than you would if they were someone else's child. There won't be that to worry about now so that'll be good."
Asked what his advice is to parents of children committed to making cycling a career, Giles replied "firstly, create a routine where the rider can train properly and keep up with their school work and then commit to taking them to local and national races. Commit also to getting the equipment they need, not what they want because they all want the best but just what they need. They don't need the best stuff. Just a carbon frame, Ultegra groupsets etc and us being supportive. As they get older, they will also need some coaching and the job of a parent becomes more of a facilitator."
State of Racing
The final subject of conversation with Giles who is a handy rider himself, was the state of racing in the UK. The Otley Grand Prix is currently organised by his wife Sonja but before that, Giles held the reigns of the event.
So what's the state of racing in Britain I asked? "Really bad" was the decisive reply. "In the old days, there would be three or four races within driving distance on a Sunday morning and now there might be three or four races in the whole country – so it's hard to get into races whether it be Nat Bs, third cat events etc etc. It's really quite depressing."
Otley doesn't only get the best pro bike riders like Tom Stewart but also some VIPs like an icon in the sport, Bernard Hinault
One event that is being held though is the Otley Town Centre Races. Asked about what is special about his home town event, Giles replied "Otley has always had a strong model of support as it has a diversified sponsorship base with each race having its own sponsor and then there is the event sponsor along with smaller local sponsors. So it is not reliant on council funding and so on. We also provide something really tangible to our sponsors. We invest heavily in our special guest area with proper food, a bar and a good place on the finish to watch the racing. The sponsors really value it, they bring their clients and have a great time. Really, we're in the business of creating a street party atmosphere that happens to have a bike race running through the middle of it. It's a model that works really well".
"And the town supports it as the people love it. The event has its own momentum and we're working on how to televise it again. I think televising it is massive and it's not just about filming the race but we need someone to take the whole UK scene by the scruff of the neck and build stories around the races, the riders (the characters) so everyone tunes in to see what happens next. The Tour de France is like a soap opera and I'm sure we can create the same type of story in the national series races. It doesn't take any more money but it does need more imagination."
"We also need more road races on a Sunday as that's always been the romantic side of the sport where reputations are built and then there should be more mid week town centre races like Otley as it's exciting for the riders and a way of bringing the heros of the sport to the public".
My thanks to Giles for the insights and we wish his junior team lots of luck in 2021 and the same to him and Sonja for the Otley Town Centre Races which all being well, will be on the 30th June in 2021.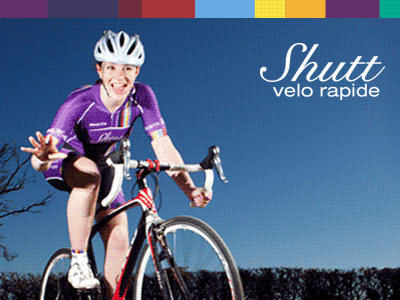 ---
---
Cycle Division's Shop
---
Send your results as well as club, team & event news here
---
Other Results on VeloUK (including reports containing results)

---
Other News on VeloUK