Britain's Georgia Bullard has recently signed for a UCI team and it won't be long before Georgia moves to Spain and begins her season of racing in February pandemic permitting. We chat!
Feature Interview: Georgia Bullard
Brought to you by trainSharp
Britain's Georgia Bullard has recently signed for a UCI team and it won't be long before Georgia moves to Spain and begins her season of racing in February pandemic permitting.
Unsurprisingly, 19 year old Georgia says she is really excited to be joining Bahrain team, VIB- Natural Greatness which will have two British riders (+Olivia Bentley) in a team of nine or ten riders. "I will be living and racing in Spain in Alcoi near Alicante and it will be nice to have some older girls to show me the ropes. That's the biggest thing, having the opportunity ride the bigger races and learn. I am very keen to throw myself into it, learn as much possible, race as much possible. It's a really exciting opportunity".
Her team will be UCI Conti registered and her races will predominantly be in Spain. "It is jam packed calendar which is what I like to hear" says Georgia who is based in Peterborough. "We already have three races lined up for February but everything is a bit Covid dependent at the moment."
Being so young, Georgia realised she hasn't yet established at what level she is at and what her strengths are which is something she will be looking to learn in her time with the team. "It was too much good of an opportunity to pass up" Georgia says. "I want to learn at this stage about being in a UCI environment doing UCI races, learning what they are about and being in a professional set up. I am hoping it will benefit me to hopefully progress in the sport."
"I have lived at home forever until now so I am excited to experience a new culture and way of life and am busy learning Spanish".
Having been born on December 20 (birthday soon!), Georgia found herself a senior rider earlier than most, but with the pandemic, racing in 2020 with Team Torelli was very limited. A race at the start of the season was a learning experience for the young rider. "l rode one race in Belgium, Le Samyn with Team Torelli at the start of the year. It wasn't my finest hour as it was my first race in Belgium and that was a learning curve for me, seeing how different racing is there. Positioning there is everything and a lesson I learned the hard way".
Georgia has been racing the top events in Britain for a few years now. In 2018/2018, Georgia raced for one of the established women's teams, Jadan, and then in 2019, rode for Brother UK/Fusion RT.
Riding for Terry Williamson, was massively important Georgia says. "Riding for that team was an important year for me" adds Georgia. "It was a great year for me as a lot of the girls are more experienced so I had the likes of Claire and Joss and everyone there. That was great for me as they showed me the way and taught me a lot on and off the bike."
"Terry was a wonderful manager being as passionate and keen as he is for the sport and he is very fair and understanding. So he was wonderful. It was a very important season and I loved every minute of it. Made me want to do it more".
The year with Brother UK/Fusion RT (2019) however wasn't without challenges like a big crash in the CiCLE Classic. "Unfortunately, I was in the big crash in the first three kilometres and broke my elbow, and had a row of stitches in my knee. So that was the end of my race which was a shame as it's my local race and I was so excited to race that event".
Asked how she dealt with such a blow to her season, Georgia replied "at first, I was gutted. The thing for me that was hardest was I'd just had a month off racing because I was sitting my A levels and it was only my fourth race back after having a bit of time out to concentrate on my exams."
"Then I was in that crash and it was another four to six weeks I was out of riding and racing. During that period, I was just desperate to get back into racing and the one thing that carried me through that period was because I was so desperate to get back to racing, I managed to stay focused."
"It wasn't a bad break and it did heal quickly and so I got back to racing. I missed the Tour of Reservoir and British Champs where I was sat at home seeing twitter updates and things from teammates. All that makes you miss it more and made me desperate to get back to racing".
But sport can also have its highs and for Georgia, a stage race in Ireland was just that at the end of the season in 2019. "One of my highlights, after I came back from injury, was when we did the Rás na mBan in Ireland, with Brother UK/Fusion RT."
"That was the most wonderful five days. Claire Steels won the GC and Natalie Grinczer won the Queen of the Mountains and we won the Team classification as well. That was a major highlight. It was the first time I rode for somebody else, riding for Claire and Nat, so putting in hard work to win the GC, QoM and team classifications was a really great experience. When we crossed the line on the Sunday, emotions were very high and everyone was very happy. Terry Williamson was elated after we'd worked hard all week to get those results and we pulled it off. I loved riding as part of a team. It was my third year I'd done the race and that race will always be a highlight for me. It is a really great race. I rode it at 16, with Team Jadan for two years as well".
Another highlight for her was the Tour de Yorkshire in 2018. At 17, Georgia was the youngest rider in the race. "I got a trophy presented to me at sign on and it was amazing. They also very kindly put my parents in VIP hospitality and the race was the best thing ever. It was amazing. The crowds were fantastic and the racing was brutal but I loved it. It gave me a taste of riding at that level and rubbing shoulders with the top dogs in the sport made it me think 'this is what I want to do', it was brilliant and a great race to do."
On the podium at Beverley after a Women's support event at the Elite Circuit Series held their
Coaching
Georgia is coached by trainSharp and says coaching has really changed her approach to training. "A key lesson I have learnt is that 'less is more'. I would definitely favour quality over quantity in my training now and this is something trainSharp have really helped me with."
On other advantages to being coached, Georgia says "firstly, it's great to have someone to talk to about your training, be it good or not so good. Being able to discuss each session and ask for advice really adds value to what I am doing. It's also really great to have someone to talk to about the 'off the bike' parts of cycling such as recovery and even advice with team transfers and races."
trainSharp have been fantastic with this. I also think having someone set your training really makes you more motivated to complete it, rather than just setting random sessions for yourself. They know what works so it's nice being able to trust someone to set it for you, which takes away a bit of pressure and actually allows you to properly focus on the riding."
"It's hard giving advice to aspiring female riders as I still very much class myself as one! What I would say is though is to be patient and trust the process. Women and girls definitely develop and progress at different stages so just because it's not happening now doesn't mean that it won't in the future."
Warm up for the Stockton Grand Prix in 2019
"I'd also say to ask for as much help and advice as you can. People are always willing to help and I certainly wouldn't be where I am without the guidance and support of others!
Georgia explained she trains with a power meter and heart monitor as well as measuring cadence in her training. Lockdown did have its effect on training as Georgia admits to enjoy training with others as she's lucky to have a good group of riders like Ali Slater to head out with onto the roads near her. Georgia is also lucky to have some targets in her sight, pandemic permitting in Spain.
"It is nice to know I should have races in February and that gives me a goal to work towards. I said to Alex and Jon (at trainSharp), I have these races in February, can we plan towards that and everything is laid out for when I'm going to do this and that in training".
"I am very motivated to train, always have been, but having that looming in the distance is a good driving factor when it's cold and wet outside. Georgia says she is looking to get a good solid base done over the winter as well as do some solid strength work".
"A large percentage of the training is structured and that is something I really like" adds Georgia. "I like to know what I am doing and how I need to do it and that is where trainSharp come in as they are very good with that."
"In the structure, every day is different and at this time of the year, there are a lot of endurance rides but every day is different during the week. Variety day-to-day is important as it stops you getting fed up with it and helps morale because doing the same thing day-in-day-out, can get repetitive".
"Once or twice week, I have endurance rides and just go off and ride with a group or go off on my own and find some climbs to bash up and not worry about power".
Final question was what drills does she dread from her coaches? "That is more about when I'm gearing up close to the race season when you see the short grim efforts like 'minute on minute off' on the turbo, or the 20/40s up a climb in Spain. They are not the nicest things to do so you dread it but the nice thing is when you get those sessions done, it is a nice feeling knowing it's done and in the bank".
My thanks to Georgia for the chat and we wish her the best for 2021. Our thanks to trainSharp for helping us with the interview. You can start your journey today with trainSharp and remember training isn't just a programme, it is a journey to unlocking the your potential
Email – Paul@trainsharp.co.uk for more details.  https://www.trainsharpcyclecoaching.co.uk/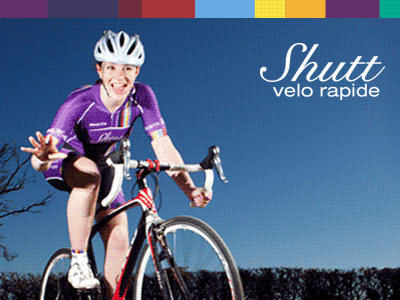 ---
---
Cycle Division's Shop
---
Send your results as well as club, team & event news here
---
Other Results on VeloUK (including reports containing results)

---
Other News on VeloUK