Eleven Junior Men in the JRC Shutt Ridley Junior team for 2021 targeting a variety of races including the British national series
Teams: JRC Shutt Ridley Junior Men
The 2021 JRC Shutt Ridley Junior Men's team has eleven first and second year juniors all with a variety of targets this year. Like everyone else, the team's 2020 racing calendar wasn't very eventful in terms of racing for the junior men.
The team were targeting the national series for Juniors however the first one was just before the first national lockdown and was cancelled along with all other racing. Up until this point in March though, the team's riders were still competing on a very regular basis.
The year started with the Velo29 Croft Circuit Winter Series and the Wooly Mamil series. Amongst other circuit races, this carried them through to March where the team competed in the 59th Eddie Soens Memorial race at the World famous Aintree circuit near Liverpool. After a long period of lockdown, restrictions began to ease and the team saw riders competing in time trials like the Team Sheffield Cuckney Series where they came away with the overall junior win for the series. The team also had riders competing in the Hill Climb and 10 mile National Time Trial championships as well as on the outdoor tracks. More recently, the team's riders have been competing in cyclo cross events during the winter months.
Pictured: Some of the Junior and Under 23 men in the Shutt Velo Rapide team winter kit
Winter Training
Although the country has entered another national lockdown, the team's junior riders are not letting this stop their training and preparations for the 2021 race season. The lads are still putting in all the hours necessary whether that's outside or on the turbo, and going above and beyond to make sure they're ready for the season ahead.
To help them get through this very cold winter spell we are having, they have the support of title sponsor, Shutt VR. "At JRC Shutt Ridley, we're very lucky to have great sponsors that supply us with some of the world's best cycling kit and equipment" say the team.
In the winter months, their riders are particularly enjoying using the Shutt Velo Rapide Roubaix Jacket to keep them warm in the bitter cold paired with the Shutt VR long sleeve base layer, along with the rest of Shutt VR's cold weather range.
The lads though are looking forward to getting their skinsuits on again in the sun for some road race action later in the year! Although most of the lads are on winter bikes at the moment due to the state of the winter roads, their 2021 team bike will be the 'Ridley Noah Fast' again. This year some of the riders will be making use of Ridley's disc brake option and have made the switch over to disc brake bikes for racing and training.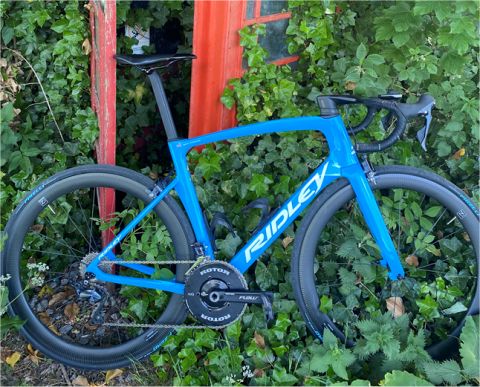 Above: A JRC Shutt Ridley team edition Ridley Noah Fast
The JRC Shutt Ridley 2021 Junior Men's Team
…. continued after the advert.
James Hawkins
● Second year junior
● Based in Sheffield
● Strengths: road races, time trials, climbing, endurance
● Targeting national series and european races
● Favourite pro race: Giro d'Italia
Taylor Hill
● Second year junior
● Based in Sheffield
● Strengths: Climbing, road races, endurance
● Targeting the national series and european races
● Favourite pro race: Vuelta a España
James Hartley
● Second year junior
● Based in Sheffield
● Strengths: allrounder, decent sprint and fast on the climbs
● Targeting national road races and european races
● Favourite pro race: Tour of Columbia
Louis Bombroff
● Second year junior
● Based in Bath
● Strengths: climbing, road racing, circuit racing
● Targeting the national series
● Favourite pro race: Giro d'Italia
Dan Armstrong
● First year junior
● Based in Leicester
● Strengths: endurance, off road
● Targeting national road, cyclocross and MTB races
● Favourite pr race: Paris Roubaix
Ben Leroy
● First year junior
● Based in Sleaford
● Strengths: road racing, climbing, uphill sprints
● Targeting the national series
● Favourite pro race: Le Tour de France
Tom Lees
● Second year junior
● Based in Preston
● Strengths: crits, punchy climbs
● Targeting national road races and the Tour of Ireland
● Favourite pro race: Strade Bianche
Jacob Leigh
● Second year junior
● Based in West Yorkshire
● Strengths: climbing, endurance
● Targeting: National road races
● Favourite pro race: Vuelta a España
George Safranukas
● Second Year Junior
● Based in Trafford
● Strengths: short climbs, reduced sprints
● Targeting: national road races and european races
● Favourite pro race: Le Tour de France
Tim Lane
● First year junior
● Based in
● Strengths: hill climbs
● Targeting UK and Irish HC/track champs
● Favourite pro race: Le Tour de France
George Griffin
● First year junior
● Based in South Manchester
● Strengths: hill climbs, endurance
● Targeting road races and track
● Favourite pro race: Paris Roubaix
---
---
Cycle Division's Shop
---
Send your results as well as club, team & event news here
---
Other Results on VeloUK (including reports containing results)

---
Other News on VeloUK