At a time when teams are folding & sponsors are pulling away, Ribble Cycles have essentially doubled their investment into cycle sport by having a new team in Drops Cycling on their race bikes
Feature Interview: Andy Smallwood (Ribble Cycles MD)
Related Feature: Chat with Drops team owner Bob Varney
At a time when teams are folding, and team's sponsors are pulling away, Ribble Cycles have essentially doubled their investment into cycle sport by having a new team in Drops Cycling on their race bikes.
Speaking about the deal that Ribble made with Bob Varney at Drops Cycling, Andy explained "it further positions us as a brand to watch. In terms of us as a brand flying the British flag from a race perspective, I am really proud that we will have two very strong teams, two very professional teams that do things right. Visually, the bike will stand out in the peloton and it is the credibility of having these athletes on our bikes that will be really good to see. "
Talking about how he and Bob Varney have teamed up, Andy says "I have been keeping an eye on Bob's team for a few years and I must admit, what I have liked about the team is the fact that Bob runs the team in a similar way to the way that Jack runs the Ribble Weldtite Pro Cycling team. It is very much a collaborative approach with the supporters of the team and what I love about it is the fact they think outside the box. Thinking about the bigger picture of getting more people into cycling."
Asked what Ribble Cycles gets from such a deal with a cycling team, Andy replies "the return for a bike brand is no longer just about winning bike races. The return is also about the content that is produced by the team. Like with yourself for example. I look at the content that you produce in regards to the teams; yes a lot of it is race result related, but it's the spin off from that where I see the value. It's telling the stories of the riders and humanising it and making it more 'real world'. That is what I love and is what Bob and Tom (Varney) are about so we're looking forward to having all these riders and building some engaging content."
Andy then added that sponsoring the Drops team is a huge step forward for the brand. "The UK is our biggest market while the international market is growing for us particularly in certain territories in Europe. The US is also becoming a lot stronger for us as well. For us, (sponsoring Drops), it demonstrates we are thinking of the bigger picture as we are much more a global brand now and this is one of the steps we are taking to help us grow our international markets. We felt that sponsoring a women's team like Drops was the right choice as we already have a strong domestic men's team which also has some international events on their programme so we are pleased to also be investing in women's cycling".
The bike for the Drops Cycling team 2021
Having been involved in the sport for 21 years, I have seen great changes in Women's racing and Andy too, who raced, has also seen that the sport is changing. "If I look out from the garden on the weekend and look at the groups coming past and the number of them that are women only or mixed groups, it is significantly different now to what it was when I was racing".
"Back then, the women's racing scene was day and night when comparing then to now. And that goes for cycling in general as well. When I was riding a bike, I definitely felt I was in a minority sport where as now everyone is aware of it. There were very few women racing during my racing days with a handful of races and most races being open to men and women. Where as now, it is completely different with the same level races for women as for men."
"It is a very positive step for us (sponsoring Drops) and me personally. Any brand I have worked with, athlete support has been fundamental to what we do and it has always been a relatively equal split between men's and women's cycling and so it makes perfect sense for Ribble to be splitting its budgets fairly and proportionately across men's and women's cycling".
"Women's cycling is growing as we know and it is something we want to continue to be part of and ensure our products are more accessible in the future. It is not just about giving a team like the men's pro team, bikes and off they go. Having the feedback from riders doing upwards of 15,000 miles a year is invaluable."
"For us, producing bikes, it is about making sure the fit and the features of the bike are appropriate to the type of riding a specific rider wants to do. We saw that with our latest 'step through' eBikes that we have just launched. We were very clear that the bike, even though it was a 'step through' frame, which historically would have been targeted at the female market, the reality is that the 'step through' element is just a feature of the bike and not gender specific at all. It just means the bike is more accessible to more people like maybe a person has mobility issues and it makes it easier to get on and off the bike and that is not a gender specific issue."
"We feel the same about the race bike that the teams will be racing on. It is the same bike that the men's team will be racing on, but the fit and contact points will be specific to that rider's choice and it's the feedback and learning from the riders that will help us in the future to develop our product range to be more gender neutral where through the 'bike builder process' and custom colour, that is where specific elements come into play for individuals".
Even though both the teams on Ribble bikes are UCI Continental ranked, one difference between the races the Drops team will get to do and the men's team is the women may well, as they have in the past, get to ride the 'Classics'. How does Andy feel about the Ribble brand being represented in the Classics via Drops Cycling, he replies "it will be amazing being there amongst the best in the world."
"We will probably be the only British bike brand representing British bicycle manufacturing industry on the global stage. So that makes us proud that we will be representing the UK during a pivotal year for various other things in the UK with what is a very dynamic team".
"Drops is a very colourful and impactful team and I their bike design is a very cool looking bike. I think it will be the best looking bike in the peloton! So it makes us very proud."
One thing that helps Ribble bikes stand out are the custom colours customers can have that has helped create bikes that standout. On that, Andy says "our bikes are painted and fully assembled in the UK and that gives us the ability to produce limited editions very easily and they look very cool."
Talking about the bikes the Drops riders will be on, Andy says "it has been a very collaborative approach and this is the beauty of working with a team like Bobs. We want the riders to be on the best possible bike they can be on to help them fulfil their potential. It was not a case of "we do this handlebar, so you have to use it; it is all about flexibility and making sure the girls on are the right bike for them and are comfortable, and have confidence in their bike."
"Another key factor is we want to make sure the product they are riding on is accessible for everyone. It is not a case of it is a special bike for them with specially made components that are not available to anyone who wants to buy a Ribble bike. We will make sure the bikes they ride are accessible to anybody who wants to access what they are on."
"If we look at the Ribble Weldtite Pro Cycling team, whilst you look around the peloton and see bikes that cost 10 or 12 thousand pounds, you can buy a Ribble team bike for half that and it still gives the rider a performance advantage".
As well as the Ribble brand on the bikes, there is another brand that is home grown too, Level components. "When designing a host of products, we knew integration was a part of that" says Andy. "We knew that it wasn't just about the aesthetics of hiding cables and so on as there was a genuine goal of introducing a performance advantage. But, there was nothing available off the peg and no brand was producing a product which we felt was aligned to what we wanted for our products so it was case of designing the handlebar/stem in the Level brand in conjunction with the frame and the aero benefits it gave."
"So the development of the Level products goes hand-in-hand with the bike development and it allows us to give customers a better performing product that is designed in conjunction with the bike but also, as a consequence of it being our own brand, they get a better product for their money. So there are multiple benefits for us using and continuing to develop the Level brand."
…. continued after the advert.
For those of us who have been in the sport a while, the Ribble brand has a long and rich heritage in the sport. And that goes for Andy himself before he was in the position he is now at Ribble Cycles.
"When I purchased my Ribble race bike 28 years ago, which was a 653 (steel) frame that they custom coloured to my team's colours at the time, one of the things that influenced me back then was that a lot of the big hitters at the time domestically, were on Ribble bikes, (Tanner and Lovatt for example – Ed), and that resonated with me as a young junior rider in the sport."
"I know the brand was associated with Chris Boardman pre-Barcelona (Olympics, 1992), and Geraint Thomas raced on a Ribble in the early days as did Bradley Wiggins but from a result perspective, I think as we currently stand, the Ribble brand has never performed at such a high level as it has now."
By way of example, I mention riders like John Archibald and Dan Bigham who on Ribble bikes have ridden at World Championships (Worlds Bronze in the Mixed team relay TTT for example). Andy says of them "they are two amazing talents. To see John ride away from his rivals in a Premier Calendar road race (Stockton GP – Ed) and stay away and hold on for the win, I'd never seen that before in a Premier Calendar where some one has gone solo with so far out (100km) and held on to win on their own".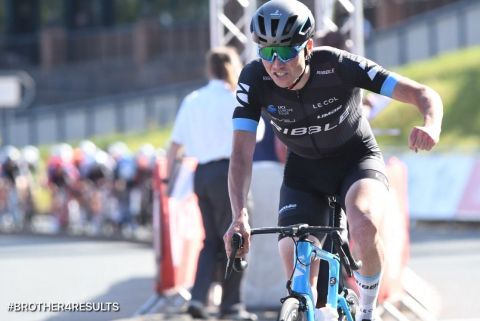 "That demonstrates the talent that Jack and the team (Ribble Weldtite Pro Cycling) have brought on. And their TT (time trial) results speak for themselves. I don't think any team has done as well in the past two or three years as those in the Ribble Weldtite Pro Cycling team have in time trials".
In 2019, Ribble were very busy with new products and since then, have had other new products released into the market. Will we see more new products in 2021 I asked Andy? "2020 was unusual year and our focus has been on growth and adapting to the current situation".
"We did have various R&D projects that were due to launch in 2020, which we have had to push back, because we wanted to concentrate on the customers who had already ordered bikes and our priority was to make sure they got them. In 2021, we do have some very exciting new product launches planned."
"We don't just launch a new product for the sake of introducing a new colour and calling it a new bike. It has to have had meaningful development which is getting more challenging and exciting and some of the new products coming up are game changing. To do that, we have to think bigger, push boundaries to produce something meaningful. Aerodynamics for example has moved on as awareness of aero products has become greater so for us to launch a new aerodynamic product, we have to take it up a level".
"It doesn't become difficult coming up with the ideas, but it is getting more difficult with the amount of attention to detail required and the analysis required to make sure the product you are launching is not just about marketing but there is a genuine benefit there."
Like many brands, Ribble Cycles is more than just a race bike brand but has models for cyclists for all types including eBikes. Where do the race bikes fit into the range of bikes that Ribble Cycles produce I asked Andy?
"The bikes we race on are a relatively small percentage of the whole range but it is certainly a meaningful percentage. The beauty of the race range is that it is where the technology starts; designing it for the race team, and that trickles down into the rest of the range and you end up with a range of significantly developed products because you have it on the race bike."
"The Pro Cycling team race on the SL-R for example, but the SL, which is the more affordable version of that bike, is from the same mould. Aerodynamically there is no difference, it is just the difference in weight and carbon layup but it is much more accessible in terms of price point."
"So whilst the race bike is at the top end, the pinnacle of the range, there is a trickle down effect. So the tube profiles used on the SL-R are the same as those on the used on the Endurance aluminium frame bike which retails for around £1000. So it is the trickle down effect where the race bikes have their real value to the range as a whole."
You can see the Ribble Cycles range of bikes here and they have many innovative features to help customers. My thanks to Andy for the chat as it was most insightful and good luck to the teams on Ribble Cycles in 2021 and beyond.
Related: Drops to race on Ribble Cycles
---
---
Cycle Division's Shop
---
Send your results as well as club, team & event news here
---
Other Results on VeloUK (including reports containing results)

---
Other News on VeloUK