The youngest rider in the Drops LeCol s/b Tempur team, Alice Towers, is making her debut this weekend in Belgium – we chat!
Feature: Alice Towers
The youngest rider in the Drops LeCol s/b Tempur team, Alice Towers, is making her debut this weekend in Belgium. Recently, Alice, a first year senior, was one of the riders from the Drops team who had her photo on a lot of social media recently showing off the team's new colours for 2021 and when I started our chat by mentioning that, Alice replied saying "that was pretty cool."
Cool indeed!
Alice has two races coming up, the first is GP Oetingen on Sunday followed up with the higher ranked UCI event, Danilith Nokere Koerse next week (17th). Alice will be heading out to Belgium today (Friday) to finally get her racing in 2021 up and running and it's quite an exciting time for her.
The team have already been racing abroad and the races have been on TV too. "I watched them on TV and it was amazing" Alice explained. "It was really exciting to see the team in the races, very motivating and I was like I can't wait to get out there."
"It's going to be interesting and I'm fortunate to have already had some experience in UCI races (last year). So I'm not going into the races wondering what is going to happen in them but at the same time, I will end up learning a lot as well."
After a mainly international line up with one Brit (Elizabeth Bennett) in the first races by Drops, the next few races will see more of the British girls like Alice getting the chance to race. The Healthy Aging Tour, which finished today, had two Brits (April Tacey and Joss Lowden) and they will be joined by Alice for the race in Belgium along with international riders in the team.
Alice's last races were in September of 2020 and so Alice admits the off season (winter) has been like a normal winter break and she hasn't had to wait that long to start her racing off. Alice adds however "I'll still have to remember how racing works!"
That is the same for everyone with their first races of the season especially for those who didn't get to race in 2020 like Alice did. "I just need to get the first races out of the way and see how they go" Alice says. "I was meant to start my season in Valencia in the middle of February but that was cancelled."
"I was training for that race before it was cancelled and since then, I had an idea I was going to be starting in March/April time, I just didn't have a definitive date until a few weeks ago when I was given some dates for my races. Since then, I have been training for them."
"I have been doing shorter more intense efforts in training lately and my dad has been taking me out motor pacing so I'm quite lucky to have that. I think I'm just going to have to accept that the first few races are going to be tough and I'm going to get my legs kicked in a bit but the racing will give me that sharpness you have after a block of races."
Lockdown and the ban on group training hasn't affected Alice who says "I have been doing a lot of the training on my own which I quite enjoy."
What isn't enjoyable is the paperwork required to travel abroad for races. "I need a Covid test a few days before I travel and they can be difficult to sort out because you need to work out when you will arrive (which can change) and work backwards so you have to time that right".
"If you are driving there, you have to do forms for every country you drive through as well but I am quite lucky that the team has sorted out some of that for me and I haven't had to do a lot of research myself."
The 90 day rule (out of 180 days) does have riders having to plan their seasons carefully. Alice will spend a few weeks in Belgium before coming back to England. "I don't want to just stay there for ages because of that problem with the 90 day visa rule. I need to be careful how many days I use up there because I don't want to realise at the end of the season, I have run out of days on my visa. I think the season will end up going on quite late this year as well."
After her taster last year in some UCI races, Alice is excited to be heading back to Europe for more. "I am really excited to have this opportunity and lucky too that there is not a lot of pressure on me. I just need do a good job for myself and the team. I'm looking forward to getting started, seeing where I am at and seeing what I need to do to improve and just keep moving forward because I have just been waiting and waiting for this moment."
The Drops team in the Netherlands this weekend including British riders Joss Lowden and April Tacey
"Once I have the first races out of the way, I can look back and see what I have been doing and learning what I could have done differently and better. I haven't met many of the girls on the Drops team either so I am looking forward to the time in Belgium to spend time with them because I haven't met them outside of a Zoom call."
"We have had some workshops over Zoom because the riders are all over Europe and we have had quite a few of those workshops in the past weeks and months which have been really nice as I have got to know the riders and got advice from them but I am really looking forward to seeing them in person even more."
Asked how she felt during a recent period when the teams for the spring classics were being announced and her team Drops was among those teams, Alice replied "It was crazy; Roubaix, Flanders and so on. And that's just the start of the season. Who knows what else they will get invites to. So it will be cool to see the Drops jersey in those races, especially Paris-Roubaix being the first time there has been a women's Edition".
Talking about the 2021 kit, Alice says of it, "I love the kit. When I saw the digital version, I was like that looks nice but kit is always so much nicer in real life so I knew it was going to be nice and I love wearing the kit".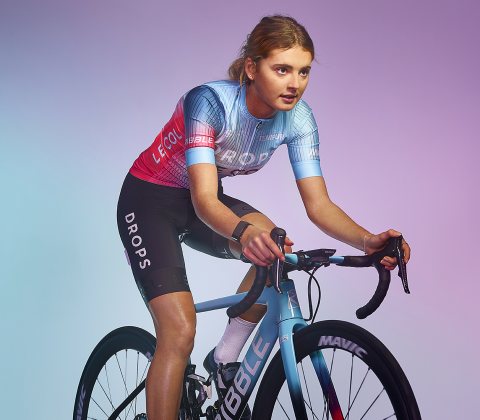 Alice is very pleased too with the Ribble Bikes she has for the season. Alice is used to racing on a high end Scott or Cannondale bike from the Cycle Division shop she rode for but is impressed with the British brand, Ribble. Are they as good as her other bikes I asked? "I'd say so" says Alice. "It is as good as any bike I have ridden so far. The bikes go perfectly and feel really nice, smooth, and fast."
Whilst her first races are in Europe, Alice is also expecting to race in Britain when the Women's national series returns to British roads. "I am still going to be based in Britain so whenever I am not racing abroad, I'll be doing races here."
Alice has done a few of the big British races so knows what to expect in them as well. "I did the Lincoln GP as a first year junior and really liked it and would love to do that again. It was really cool. I loved the cobbled climb Michaelgate".
That cobbles experience will no doubt help Alice in her first races in Belgium and we wish her lots of luck with her new team  and her season debut and look forward to seeing her racing on British roads as well. Good luck Alice!
---
---
Cycle Division's Shop
---
Send your results as well as club, team & event news here
---
Other Results on VeloUK (including reports containing results)

---
Other News on VeloUK