In the Monument that is the Tour of Flanders, Connor Swift showed he has the legs to flex his muscles at the front of the bike race – we chat about it…
Interview Connor Swift – Classics Rider
In this job, it is easy to build up a connection to riders like Connor Swift when they have raced here in the UK. So, when you see them in a Monument such as the Tour of Flanders, on the front of the race giving it full gas as the TV camera tracks their every move, it is a special moment indeed.
Photo: Getty Images
Connor was home in Yorkshire for a short time before heading back out to Europe for another major classic, Amstel Gold in the Netherlands this weekend. I had to start the interview with what was a highlight of Flanders for me and that little 'dig' he had in the biggest bike race in Belgium.
"It's good to get out there and give it a bash" he replied. "I was trying to anticipate the race and get ahead before the big moves blew the race apart. I think other riders wanted the same thing as well so not a lot came of it but I had good sensations."
"The team told me in these races, hold nothing back and try and get up the road and follow the likes of Van der Poel or Van Aert when they go full gas. So I gave it a go but it came to nothing in the end despite having good legs. Unfortunately, when the race did kick off the second time up the Oude Kwaremont, I was little badly positioned and got stuck behind a crash. I never came down but I came to a stand still so I went up the Kwaremont like last man and that was it as the race was kicking off and to be in the race at that point, you need to be in the top 20 guys."
"It was a bit disappointing but it shows you need to be constantly switched on during these one day races and in a good position."
Photo: Getty Images
For a long time, Connor was an integral part of the domestic racing scene winning the prestigious British Road Race championship when with Madison Genesis. He raced the biggest races in the country including the pro UCI ones so when I asked how it felt in the peloton racing a Monument, he says "In the lead up to these races, you are racing with the same guys as a lot of riders are all doing a similar racing block to me in Belgium."
"So within the bunch, it doesn't really feel surreal or any different to other races but it is mega to be in these races and making the most of it at the same time as trying to learn a lot because those sort of races require a lot of experience to do well in."
"I'm still learning the names of all these cobbled climbs as I never raced in Belgium when I was a junior or under 23. It is only while I was with Madison Genesis or Arkea Samsic now, that I am actually piecing together the roads and kind of thinking when in each race or recce, that berg is from that race and it's really important to know the climbs and what is coming up".
Can they be compared to Lincoln's Michaelgate I asked? "Some are a fair bit steeper and others have harsher cobbles so it is difficult to make the comparison because every climb there is different. For example the Oude Kwaremont is two and half K and the cobbles are pretty bad on there and that hurts the legs. So there is a big difference to Lincoln."
Asked about the preparation and learning process for these races, Connor explains "prior to doing these races, I have tried to do some cobbled climbs in the Halifax area (steep and harsh cobbles) to try and replicate that sort of going hard and bouncing around on the bike in training at home. When you are there in the races and near the front, you can choose a smoother line but if you're in the bunch, sometimes you just have to get on with it and get up it".
"The learning process is learning the climbs and breaking them down in your head like when you get to this house or this sign, knowing that is the worst bit of the pave done or the steepest bit of the climb done, and as soon as you know these pointers, you know what is coming and so experience is a big thing."
Having seen the odd image of the Yorkshire chain gang back on the road, I asked Connor about whether he'd managed to get out on it and the reaction of the riders to his rides in the classics. "I went on the chain gang on Tuesday evening but didn't really get the chance to speak to anyone as everyone was pretty serious and we got cracking with some through and off. There's no chit chat on the Yorkshire chain gangs!"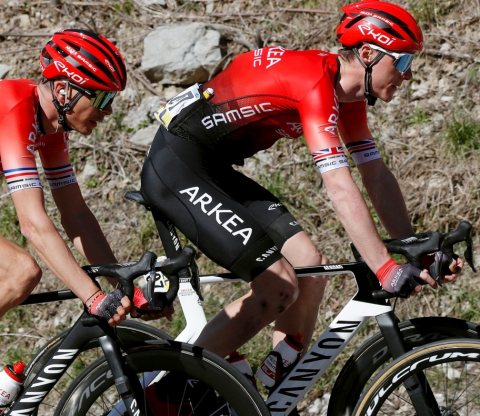 Photo: Getty Images
"All the guys said well done though and asked me a bit about the race. They said it was good to see me attacking and getting stuck in and it is quite nice to have that support. It is also really encouraging seeing the likes of Tom Pidcock and Jake Stewart and those guys, getting up there in these races and getting results. That's great for me to see and motivating me to try get and results in these races which are really good to race."
As he comes to the end of the first part of the season, I asked Connor what the highlights have been. "I feel like I have had a bit of a rubbish start to the season" Connor replies. "I had a good Besseges and a good Provence (both stage races) and I felt that set me up nicely for the opening weekend of the classics."
"Then I crashed in both races. I got to the finish in Omloop but was out of the race and in Kuurne, I crashed even harder and I didn't finish the race. I was then home for a week after losing a lot of skin and was on antibiotics. I went into Paris-Nice still bandaged up and not fully recovered. Paris-Nice is tough race and towards the end of that, I was a bit run down, coughing and stuff because my body was trying to heal when I was racing hard."
Connor followed in a race by cousin Ben Swift, who won the British title the year after Connor did
"I finished that four days before Milan San Remo and I told the team that I was feeling awful on the bike. I was on the brink of being really sick so I took some time off to recover for the Belgium classics. So I missed Milan San Remo which was really disappointing because I really want to race that race."
"I then did the Belgium block and it's the first time racing those races and in those races, experience is key. In those races I also had good legs but the results don't really show it. That is frustrating. I feel like I have been going really well at the start of the season but have nothing on paper to prove that".
"I race Amstel Gold this Sunday and then take a bit of break so that will be the first part of the season done for me. There is a little bit of frustration there but I am also taking confidence from how I am feeling and the fact you need experience from the races and not just the legs."
"Now that I have gained experience in them, and I have learnt a few lessons in a couple of races where I have made mistakes, hopefully, once I have had three weeks without any races and have a little bit of a training camp, I can get the ball rolling again and hopefully get some results."
Watching the classics, many viewers will see the riders suffer a lot of crashes which is a lot different to Prems here. Is the peloton more nervous there I asked Connor? "Probably because of the speed of the race" he replies. "In a Prem, there's attacking from the gun and a break goes and team might ride or not, where as here, the racing is the other way round here, it gets faster and faster and there have been a lot of crashes this season".
"That is how the racing is now, no-one gives anyone any space, and you're left -right on these small roads and so there are a lot of crashes and it is part and parcel of the job."
I mentioned seeing World champion Alaphilippe struggling at one point trying to ride on the side of the road in a cobbled section and Connor explained that trying to ride a narrow strip of concrete next to the cobbles requires a lot of skill to stay on there and make sure your wheel doesn't fall off there because if you do, you end up in the grass.
This weekend (April 18)
On Friday, Connor is off to the Netherlands for another classic. "I am looking forward to the race" he says of a race known for its bergs. "It is a shame it's not the proper route but I am sure the race outcome won't be any different. I'll be there in a supporting role for Warren Barguil who's going well. I'll try and do a good job there before coming back for a rest."
As we don't see a lot of what actually happens in the peloton beyond the first few riders in view of the TV cameras or those at the back, I asked Connor what sort of jobs will he do for the team leader?
Connor's teammate from Leicestershire, Dan McLay
"Warren is a chilled guy" says Connor "He doesn't necessarily want to be at the front all the time so it's case of looking after him as a team because if you are around him as a team, then it's a lot more respected in the peloton compared to him being there on his own."
"Before the climbs, he'll want to move up to make sure he's in the top 20 and we'll shelter him from the wind if that's blowing but you're also sticking with him in the race in case things start to kick off. The team might also want some one up the road for later in the race when Warren might bridge across with a few others, so there are lots of possible tasks for me. If he punctures or needs a bike change, it's about getting him back into the race as fast as possible and also stress free to help him save as much energy as much as possible."
I also mentioned that when ever I see a team line up for a race, there's another familiar name in there, Dan Mclay from Leicestershire. "We room we together" says Connor, adding "and we have a good chat. He's a good guy and it is nice to have a fellow Englishman on the team too."
The final word has to be about the biggest race in the World that Connor did in 2020, the Tour de France. Is that a goal again I asked? "The team will be there and I definitely want to make the selection for it. I am probably on the long list at the moment, so if I do a good domestique role and potentially pick up some good results to show my form, that would be nice and I'd love be there again."
I am sure all of Connor's fans would love to see him in that race again and we wish him well in Amstel Gold this Sunday …
---
---
Cycle Division's Shop
---
Send your results as well as club, team & event news here
---
Other Results on VeloUK (including reports containing results)

---
Other News on VeloUK