A massive massive ride by Lizzie Deignan who attacked solo 80km from the finish, sees her make history in Paris-Roubaix Femmes
News: Lizzie Deignan Makes History
A massive massive ride by Lizzie Deignan who attacked solo 80km from the finish, sees her make history in Paris-Roubaix Femmes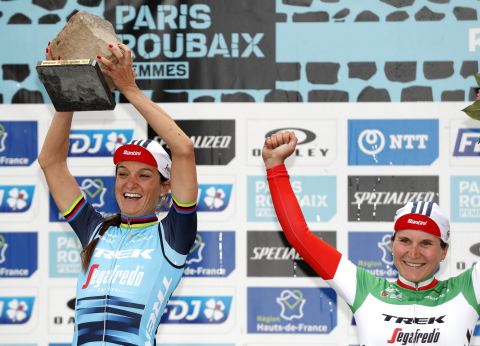 Photo: Trek Segafredo/Getty Images
Lizzie: "I feel very emotional. I don't know, I am just really proud. Sorry, not the best quote, but I am just so happy. I cannot believe it happened."
"At the start of the day we said, 'you know the rulebook: anything can happen'. I was just fighting on those first cobble sections, and I knew that Ellen (van Dijk), one of our leaders, was not in such a good position. And I thought well if at least I am there, I can cover something. And when I looked behind no one was there, and I thought 'well at least then they have to chase."
"I was really riding with the insurance that Ellen, Elisa (Longo Borghini), and Audrey (Cordon-Ragot) were behind me. We had the best team in the race and that's why I won. I didn't know I was going to win until I entered the velodrome because honestly, I couldn't hear anything, my legs were cramping, and I knew that even on the last section you could lose two minutes if you cramp and blow up. I really just tried to keep a regular pace. At this point in the season, I am tired and I knew the best thing for me was to keep this steady pace and keep in front as long as I could".
Getty Images
"We didn't have a chance to dream for so long; it's always been a men's race and I am just so proud of this is where we are, that women's cycling is on the world stage now. I am proud that my daughter can look at the [cobblestone trophy]. She doesn't just have to watch men on the TV anymore, we're here and we're representing and it's thanks to support from people like those in Trek-Segafredo that we're here. We need people that support women's cycling and believe in us. I am just so grateful for all these people – and all those at home watching today, you make a difference too. So thank you."
Now your name's in the history book: "It's pretty special to be able to say that. I am really proud that we are here, and we deserve to be here; I am proud of the whole peloton."
Was it a plan to go so early? "Absolutely not, who makes that plan? I think the plan really was there was no rulebook today. We came in with Ellen and Elisa as leaders and I was the third person to be around and look after them, but I could feel they were not in great position coming into the first cobblestone section. I was there and when I looked behind I had a gap."
Photo: @Paris_Roubaix (twitter)
Entering the velodrome: "It was surreal. I have been watching men do it for years and to say that I am the first women to do it is pretty special."
How she got away: "I carried speed onto the [first] cobbles and got a gap. I thought as long as they have to chase me it's good for my teammates – my leaders – behind. I wasn't thinking about the victory at that point."
"This will take some time to settle in, but I will have a cobble to look at for years to come, so I am really proud."
…. continued after the advert.
ELISA LONGO BORGHINI: (3rd)
"It was a really incredible Paris-Roubaix and I don't think there is anyone who deserved it more to be on the top step of this podium. [Lizzie Deignan] made history, we made history. It's hard to acknowledge this, but it's just an amazing feeling. There's no better person who could be on the top step today. The cobbles today were really slippery, and I crashed 3 or 4 times, but I always made it back. We were told to never give up if we had something because Paris-Roubaix is always like this, you always have the chance to get back and get a result. But today is all about Lizzie – she deserves all the attention because she did something really incredible."
"We were stuck behind a crash and chasing into the first section and Lizzie was in front of the crash. By instinct she got away, and instinct is something that drives Lizzie, we all know that, and today she had a sparkle in her eyes and I was really feeling she was going to win the race."
MARIANNE VOS
Shortly after a sector where there were a lot of crashes in the chase group, Vos found herself alone and chasing Lizzie who was holding the gap. "It was tough, hard work and, above all, very good positioning", says Vos afterwards. "Some sections were very slippery, so I had to try to stay in front. Deignan's attack was super strong. When she was two minutes ahead, I knew it had to be done. After my attack I got a little closer, but then I hung around for about a minute. Then I knew it was going to be difficult.  It was really cool to do. You can't relax anywhere, you have to be constantly alert. The rain, wind and mud made it a wonderful first edition."
---
---
Cycle Division's Shop
---
Send your results as well as club, team & event news here
---
Other Results on VeloUK (including reports containing results)

---
Other News on VeloUK