One of the most popular riders in the British peloton is Harry Tanfield and to celebrate his birthday today (November 17), here is a feature length chat with the Team Qhubeka NextHash World Tour professional who moves across to Ribble Weldtite in 2022.
Feature interview: Harry Tanfield
One of the most popular riders in the British peloton is Harry Tanfield and to celebrate his birthday today (November 17), here is a feature length chat with the Team Qhubeka NextHash World Tour professional who moves across to Ribble Weldtite in 2022.
The interesting thing about Harry, and other professionals like Alex Richardson, is that they spend their seasons abroad quite anonymous in Europe and then they come back here where we get to see their true strengths as racers.
Harry was second in the British Circuit Race championships and fourth in the British Road Race championships against WorldTour and Pro Conti rivals. His move back to Continental level is certainly not due to his strength as a rider but more to do with his current team looking like it will disappear from the pro peloton in 2022 and the other pro teams all being full.
It does seem to be a feature of pro racing that riders playing a domestique role can get the continued support from their team year on year (Luke Rowe being an example of that) but when a team folds, the domestiques who have given their all for their team leaders, are the ones to suffer the loss of a place in the peloton.
Should his current team continue in the sport, Harry may well get asked to continue at WorldTour or Pro Conti level as the British teams like Ribble Weldtite are never going to stand in their way of racing at a higher level but at the same time, Harry seems to be really looking forward to racing with his new team along with his younger brother Charlie (also his birthday today).
Charlie, says Harry, has really progressed on the road a lot since they were last together in a team, Canyon DHB, in 2018 and adds that because of that, both him and Charlie will be carrying lot of responsibility in the team to bring them results.
Harry on the climb of Michaelgate
For Harry, having gone full circle from Continental to World Tour and back to Continental, says he's learned a few things in the sport and one of them is to just enjoy his racing a bit more. "We're both (Harry and Charlie) very fortunate to have a job in cycling where we can do that" says Harry. "Over the years, racing and learning, you learn what you want from the sport and that is to have fun and race well and that is hopefully what we will do and we're both looking forward to it".
Looking back at his time in the WorldTour, Harry's strength was as a domestique. "I love supporting other people which is what I have done for the last three years and especially this year helping Victor Campenaerts out in the classics in Belgium and at the end of the year playing a crucial role for him doing some good rides. It's just completely different to racing for yourself and racing for the win. When you are racing for other people, it's fulfilling and also different; a nice mix."
Asked if it will be a less stressful life racing for a Continental team, especially when it comes to travel, Harry replies "yes but you are still doing a fair bit of travelling around the UK. It's a smaller scene, smaller circuit but it's hard as the races are raced differently."
"Being with Ribble Weldtite will be completely different to racing WorldTour. I expect I'll be one of the leaders in the team with Charlie and some of the other new guys. It is quite a mixture in the team and we have lot of horse power as a team, so I'm looking forward to getting involved. Having the depth we have, should be good for the harder races like the UCI races such as the Holland Cup and the '.1s' and '.pro' races."
For those at the British Road Nationals at Lincoln in October, seeing Harry lose his chance at the bronze medal in the road race in the last few hundred metres was really sad but he says coming into the championships, he didn't know how competitive he was going to be after not racing here for so long.
"Charlie and I were going well and thought if we worked together, we'd have a good shot and the weather conditions played into our favour as well" Harry explained. "It's been four years since I did that course and because I had just come from racing Belgium pro kermesses, I raced the nationals how I was racing out there."
"It was really good and I wanted to get stuck in. I wasn't sure how I was going to feel during the week though. I thought I had used up a lot of my form in Belgium and it was kind of tailing off. It felt that way in the crit but I think that was because I had rested a lot the week before so the crit, whilst it was hard, it was like the perfect 'opener' for the road race."
"I felt better in the road race than I did in the crit. My timing on how things worked out form wise was good as I was strong at the end of the year through the team races helping me build my form back at the end of August and through September after crashing badly in August and writing myself off a bit. That took a while to come back from and I suffered round the BinckBank Tour (used to be Eneco Tour) but in the races after that, I was able to progress as such".
"I was worried about turning up at the Nationals and being a bit shelled to be honest. I think other pros in the race may have suffered more of that end of season fatigue but because I'd crashed in August and had some time off, that probably refreshed things in a good way for me for the back end of the year."
Harry in both the circuit race and the road race, was racing at the front and he says it was a good race to do and great to be in the mix at the end. "Being all day at the front with the likes of Swifty was how I wanted it to be. It's just a shame I couldn't slide away at the back end of the race. Maybe I would have liked it if the race had been longer but the way it was raced might have changed quite a bit if that was the case."
"The only easy moment was when we had an easy lap after seven laps I think and it came back together to create a group of 15 or so but it wasn't the peloton who caught us so I was keen to push on. I probably pressed on too much in the middle of the race and I should have looked after myself more and assessed the situation better. I was just used to riding the pro kermesses all in for 165km and I thought this is like a pro kermesse so I'll ride all in!"
Harry and winner Ben Swift after the British Road Race Championships in Lincoln
Harry had plenty to help motivate him for the Nationals after what he says was a crap year with injuries causing him to miss out on racing. "It was like the season was starting but instead of being April, it was October. I did give it everything in the race but that's how the cookie crumbles sometimes. If I'd won it, perhaps things would be different for me now".
The nationals at Lincoln was certainly different to the racing he'd been doing for his trade team at WorldTour level. "I have been around the block a few times and Worldtour racing is more controlled when you are riding for your team. The nationals though is different when you are riding for yourself even if there are teams in there. Riders may be racing for their team and wanting the best team outcome but ultimately, guys also want their own results so it's completely different to any other pro race even when you're riding for a team."
Harry admits that controlled races which most pro races are, are less fun because before the riders start the race, they kind of know what is going to happen and what their job is going to be. "But that is pro racing and how it is" adds Harry . "The classics are a bit different and more open and things can happen a bit different in them so I enjoy them. Pro kermesses are good fun too but they don't necessarily get you a contract from racing them although some riders do. Like if you rock up and you're World tour and don't get on the podium, it's like what are you doing and if you win them, that doesn't change anything either as you're expected to win them".
"But if you're a low level Belgium team rider and suddenly start getting on the podium in the pro kermesses, then guys are looking to sign you to the bigger pro teams."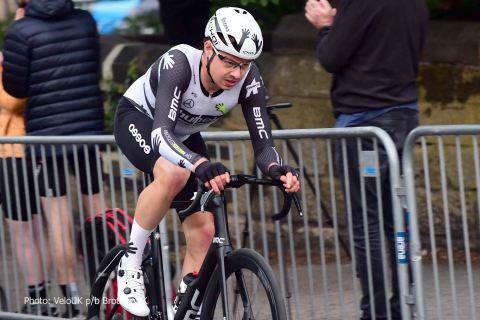 The fans here got to see Harry at Otley this year where he was 5th
Looking back at races he's enjoyed as a WorldTour Pro, Harry explains, "the BinckBank Tour in 2019 because I had some good rides in that and enjoyed that race because I was on a good level and really dishing it out. I had some results on sprint stages and breakaways and TTs so that was probably one of my high lights."
"The BinckBank Tour this year was completely different to 2019 and all I was doing was helping out Victor. I came into the race injured, crashed and untrained so I just got better through the race which was nice. I think was more satisfied helping Victor and really looking after him for the whole race than what I ever was doing in my own race in 2019."
"I had opportunities then and some top 10s but it wasn't as fulfilling as helping Victor in the race when he was third overall and did really good job as he's a great leader".
So playing a team role can be satisfying? "For sure, and we had a really good group in the team and I really enjoyed my time with the team (Team Qhubeka NextHash). It is a shame that all the big guys who are there now have gone because they have to because they can't wait around to see if the team continues. It was a different and very satisfying time with the team and I enjoyed it a lot. We rode well as a unit in the team and I think other sports directors have even been saying to the DS's in our team how well we were riding together and they were jealous of that".
Looking ahead to 2022, Harry explains that he is looking forward to the challenges of trying to get back up a level. "I am looking forward to that. We don't know what the calendar is yet but I have been speaking to Colin (Sturgess) who has been quite proactive in selecting the riders and also selecting the calendar. I've been chatting to him as he builds a potential calendar of races we can get results in and I'm just looking forward to having fun with the team. I find if you enjoy it and appreciate it for what it is, results come with that".
I asked Harry, what he would say to the fans who are disappointed he is taking a step down from WorldTour? "If you see on a piece of paper a rider has gone from Worldtour to Conti, it's a step back and it is, but there is an opportunity to step back up. In reality, the WorldTour teams are full and I didn't have the results I needed to prior to September when most of the teams were full so it was out of my hands that I hadn't performed earlier in the year."
"If you are riding for someone else every single race, you are going to finish off the back or at the back. If you spend 180km at the front in the wind, then you are not going to be around in the last 20k when it's kicking off. Someone looking at stats for a rider and seeing he's finished 130th every day and never out of the bottom 10 guys in races doesn't see in those stats he has been pulling on the front for the whole time."
"I do the job I am told to do and you have faith in what you are doing. Normally, in that situation, you are rewarded with the loyalty of the team and I would like to think that if something comes good at Qhubeka NextHash and it can survive, there may still be an option to ride for the team. It's a possibility and I know Doug is working hard and he's not given up".
"I have enjoyed being with the team this year and didn't want it to stop but if it stops, then it's out of my control. Equally, I am happy with either situation; racing with my brother in Europe and having fun doing the smaller races and getting stuck in with Ribble Weldtite or continuing at Pro Conti level in the job I was doing this year. I would be equally as happy".
"I think I found a good balance from the racing and what I can do and the support I can give. Either/or, I really would not be unhappy. There isn't a lose situation; it's win win and I either stay with a great team here and ride a great programme, or if something happened with Qhubeka NextHash and something comes up and there is a possibility to go there, then I'd look at it but right now that is not the case".
"I just want to enjoy myself and have no stress riding my bike".
Could we see these two with Commonwealth Games medals om 2022? Lets hope so!
Whilst Harry is at home and Charlie at Manchester because of his work with Team GB, they aren't out riding together a lot but a 'family' training camp is planned for Tenerife for three weeks which Harry says will be nice. Asked whether his winter will be a lot different with a Conti race programme, Harry replies "through to January, it won't be any different. I have just had some time off and am now ticking over on the bike and enjoying the time at home. I'll be in Spain in January and maybe February"
Harry's also been an ambassador for Rotor for a few years and says he's hoping that continues. "On a personal level, it would be great to continue with them as I am now. I have used them at Ag2r and this year and it's been fantastic. Rotor are easy to use and no problem. The new Inspider they released at the start of this year has been great and is what I am using in training and have it on the race bike too".
There is one element of Harry's training where he doesn't need the power meter – swimming. "For the time being, I am doing just want I feel like doing whether it's a 10 an hour or an 18 hour week. I'm very relaxed about the training and I enjoy the swimming as its warm!"
Finally, I could not say goodbye before mentioning the Commonwealth Games which are in 2022 in Birmingham. Back in 2018, both Harry and Charlie came back from Australia and the Games there with medals.
"I'd like to get into my TT game again which I haven't done for the last few years. If I did ride in the UK again, I can't not do Time Trials because that's what you do in the UK and there is no reason why I wouldn't get back on the TT bike and get back to a decent level. I have not had much luck on the TT bike but then that's because I haven't ridden it. I think with anything you don't give a focus too, the results go backwards as such. With the commys next year, I'd love to do the road race and the TT".
And we'd all love to see Harry racing and going for gold in both those! Thanks Harry for the chat and happy birthday!
---
---
Cycle Division's Shop
---
Send your results as well as club, team & event news here
---
Other Results on VeloUK (including reports containing results)

---
Other News on VeloUK