Joining Pro-Noctis-Redchilli Bikes-Heidi Kjeldsen for 2022 is one of the outstanding young riders in 2021, 18 y/o Lucy Ellmore. A win at Capenwray, 7th at Ryedale & top 10s in the Tour Series shows what a talent Lucy is – here is a Q&A with her
Q&A: Lucy Ellmore
The former Otley CC rider lives in Yorkshire and has been racing for five years. Lucy says that she came into cycle racing because she has always loved cycling. "I have always loved cycling and it was a new way to challenge myself in the sport. There were lots of local races I could try and I was hooked from the start!"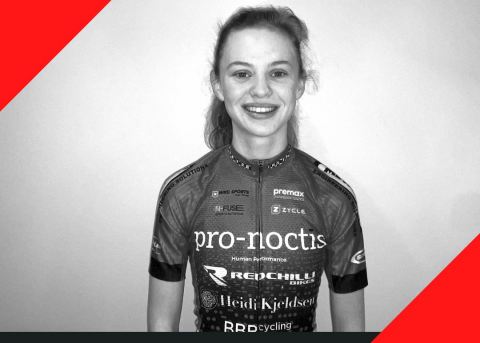 Here is Lucy's Q&A – many thanks!
Q: How difficult was 2020 with little racing or did it give you time to reset, refresh and focus on 2021?
Lucy: I didn't find the lack of racing in 2020 difficult as I felt very lucky that I could continue to do the sport I love when many other people were not able to practice their sports due to the restrictions. I was still very motivated to go out and train and it also enabled me to do cycling challenges that I wouldn't otherwise get chance to do in the racing season.
Q: Do you think you came out of 2020 stronger, the same or less strong as you were before that season of no races?
Lucy: I think I came out of 2020 much stronger as I was really motivated and excited to train the best I could for 2021.
Q: What was the highlight of your racing in 2021?
Lucy: The Capernwray road race was my highlight of 2021 as I went into the race with no expectations after being unwell so was over the moon to take the win. I also really suffered in that race and pushed myself to the limit which makes the result even more satisfying.
Lucy finishing 7th at the Ryedale GP, one of the toughest races in the UK
Q: What race in your career is the one that still gives you the biggest buzz?
Lucy: The Otley GP has always been my favourite race and having previously raced for Otley Cycle Club, the home crowd has always provided the most incredible atmosphere.
Q: How well do you know your new team?
Lucy: I was really grateful for their support at the Owen Blower Memorial road race in August when I needed another rear wheel mid race and they very kindly lent me one of theirs.
Q: Were there learning moments in 2021 races and if so, what were they?
Lucy: I have learnt about the importance of positioning in the bunch and where to be at the right time. This can make a huge difference to the end result and is something I have really tried to work on.
Q: What's the furthest you have travelled for a bike race in 2021?
Lucy: Banbury and Castle Douglas are the furthest places I have been to for a race in 2021, they are both the same distance away from me at 160 miles!
Q: If a younger rider asked you to describe how a national level women's road race unfolds, is there a common way the races are raced or does that depend on the course?
Lucy: It usually depends on the course but there are normally attacks at key points in the race, e.g. at the top of a climb or if the pace of the group has dropped.
Q: During a race, has there been a lot of team talk between you and teammates on what to do in certain situations during an ever changing race?
Lucy: In previous teams I have been in, there has been a wide range of abilities so I am not usually in a situation where I can work with teammates. I am sure this will be different next year with Pro Noctis which has excellent teamwork.
Q: Do you go into a race nervous or intimated by other riders or do you have the confidence to hold you own?
Lucy: I usually manage to hold my own in races which I think is important so that you don't get pushed around by other riders. I'm sure I will feel even more confident going into races surrounded by such strong team mates next year which I am really looking forward to working with.
Q: How much training (hours and/or days) do you do in a given week in winter and summer when you are racing?
Lucy: I normally train for 6-7 days a week all year round. My hours on the bike vary depending on the focus of that week and what races I may have at the time.
Q: Do you train on a training bike or the race bike …
Lucy: Most of the time I train on my alloy winter bike all year round so that my race bike feels even faster when I come to use it in a race, and I find this motivates me to push a little bit extra when it matters the most.
Q: Do you cross train at all, running, swimming, gym or other disciplines like MTB
Lucy: I go mountain biking sometimes to mix it up a bit, especially in winter and I also do gym work.
Q: Where is your favourite training ride?
Lucy: I love riding up the Wharfedale Valley. It's where most of the club rides went when I used to do them, and it always brings back fond memories of when I first started with Otley CC. It also has amazing views and plenty of hills which I love!
Q: What type of race suits you best?
Lucy: Hilly races suit me as my natural build is that of a climber and these races tend to be really brutal too which I like.
Q: What are your tips for staying warm on a long winter ride?
Lucy: Good quality winter kit, in particular insulated shoes, good waterproof overshoes and warm winter gloves, really make a huge difference between enjoying the ride or feeling miserable. I have gone through many winters without these things, and it turned around my winter riding experience when I invested in the right kit.
Q: What are goals for 2022
Lucy: To continue to develop and learn as much as possible to try and be the best rider I can. I'd also like to work on my teamwork skills and race as a team which is a new skill for me but a very important one.
Some of Lucy's results from 2021 – pretty good for an 18 year old!
Capenwray RR: 1st
Ilkely Town Centre Race: 5th
Yorkshire RR Test Event: 3rd
Bashall Eaves Autumn RR: 3rd
Ryedale GP: 7th
Owen Blower Memorial: 5th
The Crown Cup (Pimbo): 5th
Tour Series Castle Douglas: 9th
Tour Series Sunderland: 9th
British U23 TT Championship: 10th
Barnsley Road Race: 11th
---
---
Cycle Division's Shop
---
Send your results as well as club, team & event news here
---
Other Results on VeloUK (including reports containing results)

---
Other News on VeloUK