After a broken collarbone in September, Anna Kay (Star Casino) came back with a stunning win in Belgium and the top results continue to come with 5th in the Trofee Kortrijk Urban Cross. We chat.
Feature Interview: Anna Kay
Brought to you by www.trainsharpcyclecoaching.co.uk
After a broken collarbone in September, Anna Kay (Star Casino) came back with a stunning win in Belgium and the top results continue to come with 5th in the Trofee Kortrijk Urban Cross.
After only her second race of the season, a training crash saw Anna prevented from racing for well over a month before she returned to racing and kick started her season with a win in a CXNE race where she lives. Anna then headed for Belgium and after only her second race there, got her hands in the air with a glorious victory. The sport is so huge in Belgium that no win is ever easy with its depth of competition so talking to Anna a few weeks after that win, I asked her has that victory sunk in?
"Oh yes" was the reply. "I had a day when I felt really really good and then realised I have to do it again LoL".
To get that victory so soon after returning from injury surely added to the elation of winning, something Anna agreed with. "Definitely. I didn't expect to come back to racing with that level of form. I feel in a better place than I was at the start of the season two months ago but I did put in a lot of graft over the six or seven weeks I was out of racing."
"My coach Paul (trainSharp) has kind of held me back but pushed me as well in places, so I have had more rest which I think has helped whilst I have also trained areas that I need to focus on like my longer efforts, and power. The resting has helped me adapt to do those efforts. So credit to Paul for that because I don't like resting!"
Many look at the cyclocross season as being quite short but Anna pointed out: "the season is from September to end of February and you can't expect racing every weekend to be good for all those months so it is wise to have a mid season break. I've had to take a few months off racing with the injury so my season will only be November, December January which I hope works in my favour and I don't have burnout during the rest of the season."
One of the biggest races for British professional cyclocross riders is the British Championship. I asked Anna, was that a big goal for her? "The Nationals is always a goal but you get so much pressure to do well and it is one race in like 30 and luck may or may not be on your side. At the last national champs, I didn't have a great day when I probably could have won it but sometimes it just isn't your day".
"So it is hard to put all your focus on the one race especially for me. My season is too short now to try and commit to one race when it could all go wrong. So my goals need to change and I'll spread the goals out with the nationals being one along with a few other races. Like some now and a few at the end of the season but not just one big goal like how some riders target the worlds for example. I am looking for more of a consistent season".
It has been in the news how Wout van Aert will do six cyclocross races in eight days over Christmas so I asked Anna whether, as she is in a Belgian team, she will have a similar race programme? "Probably not six in eight days like Wout van Aert and others as I am in quite a nice position in I can pick and choose my races. I don't have to do all the World Cups or some of the races that don't suit me."
"It's good for the team if I get TV coverage so it's better to do the races where I might be at the front or get a better result because the course suits me. It will be busy but not jam packed like it is for some riders".
Anna and father Bill Kay racing together
One result that I saw when publishing them on VeloUK recently was to see Anna and her father Bill in the same race together. It is a common format in some regional racing that the 50 plus riders race with the Women and in that race, the elder of the Kay family (Bill) got the better of Anna but it was Anna's first race back after injury.
"It was nice to do that race" says Anna. "I have trained with my dad for years so racing with him is even better. I can probably count on one hand how many times I have raced in the same race as him. I did one at the start of the spring this year and that was nice as I caught him up in that but in Ponteland, I couldn't catch him up in my first race back (after injury); he was too fast for us! Even before the race, warming up together and going to the start line, it's like having your best friend on the startline".
The Injury
Going back to the beginning of the cyclocross season, I asked Anna how she came to be injured?
"I had an endurance ride to do on the road one day and so I went out early and I was crossing a big road in Belgium and a driver of a car pulled in on us and knocked me off and I broke my collarbone. The break was right at the end of the collarbone, so it was a really difficult break as there was a small piece off the end. I tore a ligament and displaced other ligaments. But the treatment in Belgium was brilliant as I had really good surgeon".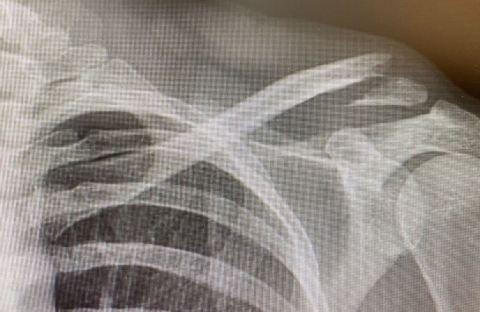 "The crash happened on a Monday morning and I got the surgery Monday night. He put a massive plate in and six screws and then he made an artificial ligament for us as well and that all helped reduce my recover time. I was treated really well."
Coming so soon after the start of her season, such an injury must have been really hard to take mentally I said to Anna? "Mentally, I was very disappointed as I knew I would not be back for the CX races in the United States and I didn't know how long I was going to be out of racing as I have never had surgery before or had to recover from a broken bone or ligament damage".
"I have a really good physio at home who started it pretty much from day one. And that has really really paid off. I still get some stiffness with the injury and when sleeping, it can be sore, but both shoulders are the same height and same strength and that's the most important thing".
Coming back to racing though can't be easy for cyclo cross riders as the sport is so demanding physically. "Cyclocross is very demanding" agreed Anna "because you have to lift the bike at times during a race and even when you are turning corners, you are using the arm and shoulder muscles a lot. Getting off and on the bike at the hurdles is very hard on the arms and shoulders so in cyclocross you are using your whole body to race."
"So it was really important to me that I got everything back in terms of strength equally before I started cross training and then racing. I didn't want it come back to haunt me in a years time because it hadn't healed properly."
For a lot of riders when they break a collarbone, it means a lot of time on the indoor trainer. For Anna, that was also the case as she explained. "A really generous guy bought a Wahoo Kickr bike, one that moves up and down (gradient wise) so it was really handy. I think I had around a week off as Paul said to me to make sure I had fully recovered as you don't want any trauma, fatigue or tiredness before I got back on the bike."
"As I had the Wahoo Kickr bike straight away, I could move it up 10 per cent so I didn't have to put any pressure on my shoulder and I did a few weeks of that with a lot of hours but it was really comfortable to do it on. So I was really lucky to have that".
"Paul was having me doing double days, morning and afternoon, just so that I wasn't putting a lot of stress on my shoulder in the one go. So, it was like an hour or hour and half at a time instead of three hours at once."
Anna admits, like so many riders do after a break from riding their bike outdoors, that it was a strange feeling going back out on her bike outside. "It was really strange getting back on my bike outside especially going on the road. I was apprehensive at first and it took probably well over a week to start to feel normal again; relaxed and comfortable."
Talking about how she works with her trainSharp coach Paul, Anna says "we usually have a call once a week but I probably check in with him every other day and he checks in with me as well. I really like that communication side with a coach. Sometimes my training is a week in advance or a week and half but then it can change depending on how I feel and he's flexible with things like if I don't feel good, he'll come back and say we'll change this or that and make it easier. I also like knowing what I am going to do so I can plan ahead as I like planning!"
Moving on to women's cyclocross racing, we talked about how its changed over the years since Anna has been racing in Belgium full time which is three years now. "It keeps developing every year and the level is going up. I think last year everyone was shocked how the level had gone up and this year it's even higher. There so many more women who are riding it now but also so many young riders who have brought the level up even further. It's crazy and while it makes it harder, it is good to see too".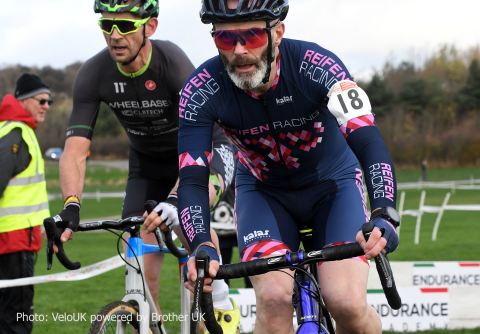 Bill Kay, Anna's dad, is a keen cyclocross racer in the North East and is pictured at the National Trophy in Sunderland recently
Anna explained how living in Belgium with her manager's family is like a second home to her now and how being taken to races makes it perfect for her. Places to ride are easy to come by too. "There are so many cycle paths compared to England, it's ridiculous. Every road has a cycle path and sometimes the cycle path is better than the road! It's the national sport here and I think I was probably better treated here in hospital because I am a cyclist as they knew I needed quick a recovery".
Now the injury is behind her by and large, what are Anna's goals for the rest of the season? "I need to keep getting more and UCI points as my gridding is far back so the for the events I really like, I want to keep building the points up so I can get better results by the end of the season and for the worlds and nationals. I am hoping to come into good form in December when the heavy race programme is and then hopefully get some good results over the Christmas period so I'm in good form for the nationals. That is when I want to be going at my best".
Anna admits that because her season is shorter than normal she would also like to tackle the classics on the road too."I may not be completely exhausted at the end of this season so it might be nice if I have some form left to kind of hold on to it and then take a break after them but we'll have to see on that one."
Good luck to Anna as the key month of December is now just days away and the win a few weeks ago was a big confidence boost… fingers crossed luck is now on Anna's side and she is able to make the most of her form.
Thanks to Paul at trainSharp coaching for helping arrange this interview… www.trainsharpcyclecoaching.co.uk
---
---
Cycle Division's Shop
---
Send your results as well as club, team & event news here
---
Other Results on VeloUK (including reports containing results)

---
Other News on VeloUK