Question and answer with a rider who's a familiar name in the women's peloton, Sian Botteley who is based in Rutland and will be racing for the Women's team, Brother UK-LDN in 2022
Quiz Time Sian Botteley (Brother UK/Team LDN)
Question and answer with a rider who's a familiar name in the women's peloton, Sian Botteley, who is based in Rutland and will be racing for the Women's team, Brother UK-LDN in 2022
Q: How long have you been racing and how did you come to race bikes?
Sian: Not far off 10 years in total now! Making myself feel old. My dad has raced since he was younger than me so I guess it was inevitable I'd pick it up at some point. I started with the local cyclocross league where I was quite rubbish to start with but quickly got competitive when I started to beat people and never really looked back.
Q: So far, what has been your career highlight(s) in cycle sport?
Sian: Difficult to choose! Gent Wevelgem a few years ago, the one with the really grim weather, was a pretty amazing thing to be a part of but I also didn't have enough racing experience to fully appreciate it at the time. I went on a trip with the Dave Rayner Fund to Belgium with a few other under 23s in 2017 where we did something like six races in nine days and it was a really great taste of what the racing out there is like. I should be heading out to Belgium a few times this year with Brother UK-LDN so hopefully I'll find my feet quickly thanks to the prior experience of that trip.
Q: What are the goals for 2022?
Sian: Some might say I'm being ambitious for this year based on my performance over the last couple of years. In 2017, I had four or five top ten's in the national road series so this year I'd love the make a podium at least once. I think I'm capable of that and I've got a lot to prove to myself. I've also never cracked the top 10 in a Tour Series round so that would be nice too.
Q: How difficult was 2020 with little racing and socialising with cycling friends or did it give you time to reset, refresh and focus on 2021?
Sian: Next to no racing wasn't much fun but it did allow me to remind myself how much I enjoy just riding bikes. The introduction of working from home left me more time to train and I spent plenty of time just riding to cafes in the sun which is easily as enjoyable as racing, so it wasn't all that bad!
Team Brother UK-LDN at a recent get together
Q: Do you think you came out of 2020 stronger, the same or less strong as you were before that season of no road races?
Sian: I think I was perhaps a bit stronger, but compared to how much others gained over lockdown thanks to things like zwift racing (which I avoid like the plague), I was probably a bit on the back foot coming out of 2020.
Q: What was the highlight of your racing in 2021?
Sian: My highlight of 2021 was the Curlew Cup (Stamfordham). After couple of years performing below where I'd been as a under 23, putting myself 2nd wheel with 150m to go was a sign to me that I can still do it. I didn't have much of a sprint in me after a less than ideal few weeks of training leading up to the race, but putting myself in the position to win showed to me what I'm capable of achieving and definitely gave me a renewed confidence and drive heading into 2022.
Q: The team have some exciting new signings for the year and looks even stronger now. When you expect to start racing?
Sian: We had our first team meet up last weekend and off the back of that, I know we've got a mega group for 2022. A real mix of strength and speed with riders to suit all race situations. Not only that though, it's such a genuinely nice group of people and I'm sure we'll work really well together and achieve a lot off the back of that. We'll start racing in March I think, which is coming around pretty quick!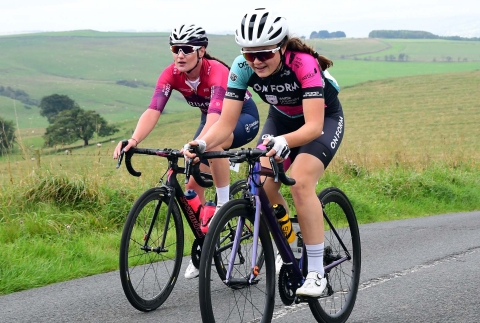 Q: How important is it to the riders to be part of such a strong squad with big name sponsors?
Sian: Sponsors are a big deal for all of us, ultimately we wouldn't be able to do what we do without them. Knowing that we've got the backing of some big companies gives us motivation to perform well and opens up more opportunities for us in the future.
Q: What race you have done during your career is the one that still gives you the biggest buzz and motivation when out training in the cold and damp?
Sian: Living in Rutland and riding the roads of the race every week ,it's got to be the Cicle Classic. The race suits me with its technical, unpredictable nature and I think I could hang the wheels up happy if I were to win that race one day. Also, as much as I don't really like training in the rain, I love racing in it, so that in itself is a motivator.
Q: What's the furthest you have traveled for a bike race in 2021 and is travel a chore or a joy (seeing pastures new) to do when going to a bike race?
Sian: Living reasonably centrally in the country means an epic drive is fairly rare. I guess the furthest last year was for the Castle Douglas Tour Series in Scotland. The whole five hour drive back in one hit for work at 8:30 the next day wasn't the most fun. Travelling is part of what I enjoy about racing though, seeing new parts of the world you wouldn't ordinarily see, so it's definitely no chore for me.
Q: How much training (hours and/or days) do you do in a given week in the winter and how does that differ from the time spent on the bike in the summer when you are racing?
Sian: I normally do between 10 and 15 hours a week. The time I spend on the bike isn't much different winter to summer, mostly because I don't necessarily have time to follow the conventional approach of more volume in the winter as I'm working full time and don't like riding in the dark. So winter is more volume at weekends, summer more in the week and less at weekends when I'm mostly racing.
Q: Do you train on a training bike or a race bike …?
Sian: Normally I'll ride a winter bike, but I'm still on my race bike at the moment. But the plan is to find a new race bike for 2022, meaning my current race bike will be demoted to the winter hack.
Q: Do you cross train at all (running, swimming, gym or other disciplines like MTB)?
Sian: I've very recently started going to the gym again. I did this a few years ago and didn't enjoy it much, but I can't really ignore the obvious benefits it gives you anymore so I'm embracing it now and quite enjoying it. I also ride a bit of MTB and race some cyclocross in the winter which I love!
Q: Where is your favourite training ride?
Sian: The Bourne-Casterton-Bourne Christmas Classic. Bourne Wheelers Christmas ride: ride to the cafe where we have a full Christmas lunch with pudding then race home and try not throw your lunch up. The winner is always either Ali Slater, or my dad (because Ali lets him win).
Q: What type of race suits you best?
Sian: A road race that's fairly hard but not too hilly, with a bunch kick at the end. If there's a bit of a hill in the last kilometre that normally suits me too.
Q: What will be the one big race you really want to be part of in 2022?
Sian: I'm looking forward to the whole year with Brother UK-LDN to be honest so there's not really one race in particular. We've got a couple of potential stage races on the continent in the calendar as well as trips to Belgium that I can't wait to get stuck into. It's opportunities like that that I'm really looking forward to this year.
Q: Finally, who do you want to thank for helping you during your cycling career?
Sian: There's a few people. Mostly my parents for carting me up and down the country. Steve Palmer for giving me confidence in myself when I was younger and surrounded by far better riders than myself. Mostly my dad for being my favourite training partner!
thank you Sian! ;-) Good luck for 2022
XXXXXXXXXXXXXXXXXXXXXXXXXXXXX
---
---
Cycle Division's Shop
---
Send your results as well as club, team & event news here
---
Other Results on VeloUK (including reports containing results)

---
Other News on VeloUK