Finn Crockett of Ribble Cycles/Weldtite Pro Cycling and Mary Wilkinson winners at the Capernwray Road Races on Sunday (March 27)
Results: Capernwray Road Races
Photos: Ellen Isherwood of Lancs Racing Scene
Sunday 27 March saw the traditional early-season Northern spring classic at Capernwray. This year there were races for men and women at National B level as the first round of three in the Cold Dark North's new Proper Northern Road Race Series.
The riders were greeted by a stunning spring day in North Lancashire for this traditionally difficult race which includes multiple ascents of Sunny Bank as part of an undulating 12km course through the quiet back lanes around Borwick and Arkholme.
The men's race was dominated by Ribble Weldtite Pro Cycling with Finn Crockett taking advantage of the work done in an early three man break which he'd led together with Josh Whitehead of Wiv Sungod and Matthew Fox of Wheelbase.
After multiple laps ahead of the bunch by around a minute, eventually on the final ascent of Sunny Bank Crockett was able to solo away from Whitehead who was reeled in by Crockett's team mates Alex Peters and Zeb Kyffin to give Ribble Weldtite Pro Cycling a podium sweep and an obvious victory in the Team classification too.
WiV Sungod and Dolan Ellesse made up the team podium with Tactic Sport UK in 4th. Whitehead held on for 4th ahead of Joe Wilson of Dolan Ellesse. The leading junior was Bjoern Koerdt in an impressive 15th and Whitehead claimed the KOM and Combativity prizes for his work in the break.
Women's Race
In the afternoon, a very strong women's field took centre stage and put on a brilliant race in the now warm spring sunshine. The front of the race stayed together throughout, with a stacked group of around 15-20 riders working hard to distance the remainder of the field after a few laps – that group was led up the climb of Sunny Bank 4 times by QOM winner Sammie Stuart of Team LDN – Brother UK and entered the last lap together.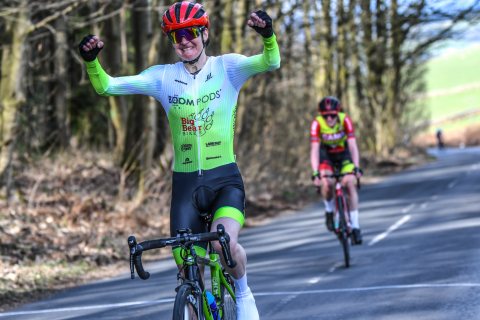 On the final climb of Sunny Bank it was CAMS-Basso's Becky Storrie who came around the final bend in the lead having shattered the group behind, but it was Mary Wilkinson of Team Boompods who emerged from her shadow to stretch every sinew in the final metres to win by a couple of bike lengths. A much deserved win for Wilkinson, with Storrie valiant in second and Stuart breaking out of the bunch for an impressive third place.
Olivia Bentley of Torelli-Cayman-Islands-Scimitar was 4th and Kerry Middleton took a well fought fifth. The team winners were Team Boompods with Wilkinson joined by Amy Graham, Louise Hart and Lauren Watson on the podium. Team Ldn-Brother UK and Pro-Noctis-Rotor-Redchilli Bikes presented by Heidi Kjeldsen were in 2nd and 3rd in the team standings.
The leading Junior in the women's race was Freya Whiteside of RFDA and the Combativity award went to Boompod's Watson for her efforts tracking back into the leading group on a number of laps.
Cold Dark North would like to thank sponsors Ribble Cycles together with Attacus Cycling, Become Wild Edale, Crimson Performance and prize sponsors Fell Brewery and Atkinsons Coffee for their support.
The next round of the Proper Northern Road Race Series will be at Aughton on 15 May and entries are open now.
… continued after the advert.
RESULTS
Men's Race
1 Finn Crockett Ribble Weldtite Pro Cycling
2 Alex Peters Ribble Weldtite Pro Cycling
3 Zeb Kyffin Ribble Weldtite Pro Cycling
4 Josh Whitehead WiV Sungod
5 Joe Wilson Dolan Ellesse Race Team
6 Lucas Rowley Tactic Sport UK Race Team
7 Matthew Bostock WiV Sungod
8 Matthew Fox Cabtech wheelbase castelli
9 Damien Clayton WiV Sungod
10 John Russell 05/03
11 James Harrison Manx Viking Wheelers CC
12 Ciaran McSherry The Cycling Academy
13 Corrin Leeming Manx Viking Wheelers CC
14 Jordan Retallack 05/03
15 Bjoern Koerdt Shibden Cycling Club
16 Steven Parsonage Richardsons Trek DAS
17 Jack Crook Dolan Ellesse Race Team
18 Joe Wilson Cog Set
19 Jacob Gilkes Bridgnorth Cycling Club
20 Sam Shepherd 05/03
21 Conor McKinnon Dolan Ellesse Race Team
22 Elijah Kwon The Cycling Academy
23 George Radcliffe Identity Racing
24 Christopher Humphries Bioracer UK RT
25 Thomas Stringer Moonglu CC
26 Declan Hudson Dolan Ellesse Race Team
27 William Dykes Spokes Racing Team
28 Harry Paveley Identity Racing
29 Sean Taylor Private Member
30 Sean Dawson INFLITE
31 Christopher Booth Giant Kendal-Sidas Uk
32 Joseph Bowers Tactic Sport UK Race Team
33 Isaac Lawrence Brother UK-Orientation marketing
Women's Race
WOMEN
1 Mary Wilkinson Team Boompods
2 Becky Storrie CAMS-Basso
3 Sammie Stuart Team LDN – Brother UK
4 Olivia Bentley Torelli-Cayman-Islands-Scimitar
5 Kerry Middleton Team LDN – Brother UK
6 Jessie Carridge Brother UK-Orientation marketing
7 Amy Graham Team Boompods
8 Corinne Side Pro-Noctis – Rotor – Redchilli Bikes Heidi Kjeldsen
9 Lucy Ellmore Pro-Noctis – Rotor – Redchilli Bikes Heidi Kjeldsen
10 Holly Breck Torelli-Cayman-Islands-Scimitar
11 Christina Wiejak Saint Piran WRT
12 Monica Greenwood Macclesfield Wheelers
13 Beth Harley-Jepson Jadan – Vive le Velo
14 Hannah Bayes Saint Piran WRT
15 Heather Mayer Team LDN – Brother UK
16 Beth Maciver Alba Development Road Team
17 Gemma Sargent Saint Piran WRT
18 Amy Gornall Pro-Noctis – Rotor – Redchilli Bikes Heidi Kjeldsen
19 Sophie Enever Alba Development Road Team
20 Lauren Watson Team Boompods
21 Jenny Holl TEKKERZ CC
22 Jo Tindley Pro-Noctis – Rotor – Redchilli Bikes by Heidi Kjeldsen
23 Louise Hart Team Boompods
24 Harriet Gilson Wigan Wheelers CC
25 Harri Wilson Torvelo Racing
26 Kinga Ingram Storey Racing
27 Kim Baptista LVIV CYCLING TEAM (Womens)
28 Helen Jackson Kendal Cycle Club
29 Anna Weaver Team Kirkley Cycles
30 Charlotte Broughton AWOL- OShea
31 Louise Scupham Jadan – Vive le Velo
32 Emma Watson Grinta Coaching
33 Freya Whiteside RFDA
34 Avril McClory RFDA
35 Laura Cheesman Evans Cycles Race Team
36 Hebe Picking RFDA
37 Erin Murphy Alba Development Road Team
38 Lola Ellis Backstedt Bike Performance JRT
39 Amy Mourne RFDA
40 Grace Rudkin Innovation Racing
41 Karolina Chudzikiewicz Jadan – Vive le Velo
---
---
Cycle Division's Shop
---
Send your results as well as club, team & event news here
---
Other Results on VeloUK (including reports containing results)

---
Other News on VeloUK